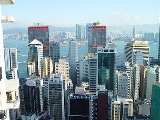 Urban planning
Urban planning
incorporates areas such as
economics
Economics
Economics is the social science that analyzes the production, distribution, and consumption of goods and services. The term economics comes from the Ancient Greek from + , hence "rules of the house"...
,
design
Design
Design as a noun informally refers to a plan or convention for the construction of an object or a system while "to design" refers to making this plan...
,
ecology
Ecology
Ecology is the scientific study of the relations that living organisms have with respect to each other and their natural environment. Variables of interest to ecologists include the composition, distribution, amount , number, and changing states of organisms within and among ecosystems...
,
sociology
Sociology
Sociology is the study of society. It is a social science—a term with which it is sometimes synonymous—which uses various methods of empirical investigation and critical analysis to develop a body of knowledge about human social activity...
,
geography
Geography
Geography is the science that studies the lands, features, inhabitants, and phenomena of Earth. A literal translation would be "to describe or write about the Earth". The first person to use the word "geography" was Eratosthenes...
,
law
Law
Law is a system of rules and guidelines which are enforced through social institutions to govern behavior, wherever possible. It shapes politics, economics and society in numerous ways and serves as a social mediator of relations between people. Contract law regulates everything from buying a bus...
,
political science
Political science
Political Science is a social science discipline concerned with the study of the state, government and politics. Aristotle defined it as the study of the state. It deals extensively with the theory and practice of politics, and the analysis of political systems and political behavior...
, and
statistics
Statistics
Statistics is the study of the collection, organization, analysis, and interpretation of data. It deals with all aspects of this, including the planning of data collection in terms of the design of surveys and experiments....
to guide and ensure the orderly development of settlements and communities.
Prominent features of urban planning are
land use planning
Land use planning
Land-use planning is the term used for a branch of public policy encompassing various disciplines which seek to order and regulate land use in an efficient and ethical way, thus preventing land-use conflicts. Governments use land-use planning to manage the development of land within their...
,
zoning
Zoning
Zoning is a device of land use planning used by local governments in most developed countries. The word is derived from the practice of designating permitted uses of land based on mapped zones which separate one set of land uses from another...
,
environmental planning
Environmental planning
Environmental Planning is the process of facilitating decision making to carry out development with due consideration given to the natural environmental, social, political, economic and governance factors and provides a holistic frame work to achieve sustainable outcomes.-Elements of environmental...
and
transportation planning
Transportation planning
Transportation planning is a field involved with the evaluation, assessment, design and siting of transportation facilities .-Models and Sustainability :...
.
Urban planning can include
urban renewal
Urban renewal
Urban renewal is a program of land redevelopment in areas of moderate to high density urban land use. Renewal has had both successes and failures. Its modern incarnation began in the late 19th century in developed nations and experienced an intense phase in the late 1940s – under the rubric of...
, by adapting urban planning methods to existing cities suffering from decay and lack of investment.
In the Neolithic period, agriculture and other techniques facilitated larger populations than the very small communities of the
Paleolithic
Paleolithic
The Paleolithic Age, Era or Period, is a prehistoric period of human history distinguished by the development of the most primitive stone tools discovered , and covers roughly 99% of human technological prehistory...
, which probably led to the stronger, more coercive governments emerging at that time.