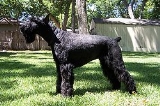 Giant Schnauzer
The
Giant Schnauzer
is a large, powerful, and compact
breed
Dog breed
Dog breeds are groups of closely related and visibly similar domestic dogs, which are all of the subspecies Canis lupus familiaris, having characteristic traits that are selected and maintained by humans, bred from a known foundation stock....
of
dog
Dog
The domestic dog is a domesticated form of the gray wolf, a member of the Canidae family of the order Carnivora. The term is used for both feral and pet varieties. The dog may have been the first animal to be domesticated, and has been the most widely kept working, hunting, and companion animal in...
. It is one of the three
Schnauzer
Schnauzer
A Schnauzer is a German dog type that originated in Germany in the 15th and 16th centuries. The term comes from Schnauze , the German word for "snout", because of the dog's distinctively bearded snout. The word Schnauzer also means moustache in German; some authorities, such as Encyclopædia...
breeds. Like most large breeds, the Giant Schnauzer needs a fair amount of exercise.
Appearance
When hand-stripped, the Giant Schnauzer has a harsh, wiry
outer coat
Outer coat
Outer coat can refer to:* Guard hair - the longest, most coarse hairs in a mammal's coat* Tunica adventitia - the outermost layer of a blood vessel...
and dense, soft undercoat.
Coat
Coat (dog)
The coat of the domestic dog refers to the hair that covers its body. A dog's coat may be a double coat, made up of a soft undercoat and a coarser topcoat, or a single coat, which lacks an undercoat...
color is either black or salt and pepper (gray). It weighs between 70 and 100 lb (32 to 45 kg) and stands 23.5 to 27.5 in (59 to 70 cm) at the
withers
Withers
The withers is the ridge between the shoulder blades of a four-legged animal. In many species it is the tallest point of the body, and in horses and dogs it is the standard place to measure the animal's height .-Horses:The withers in horses are formed by the dorsal spinal processes of roughly the...
.
When moving at a fast trot, a properly built Giant Schnauzer will
single-track
Gait (dog)
The gait of a dog is its quality of movement. It is given a great deal of importance in the breed standard of some breeds, of lesser importance in other standards, and in some breeds gait is not described in the standard at all. A dog's gait is much similar to a horse's.A dog judge must know the...
. Back remains strong, firm, and flat.
The American Kennel Club lists the Giant as low shedding along with both other breeds of Schnauzers. However, Giant Schnauzers, as with almost all dogs, do shed. When allowed, the hair on a Schnauzer will grow long, which increases shedding, and thereby potentially increasing allergens. This can be mitigated with consistent grooming to include mostly Long hair. The Giant Schnauzer does not moult as much as normal dogs.
Temperament
The Giant Schnauzer is a great dog if one is looking for a playful yet guarding protector. For those who like the large dogs, the size of the Giant can be very discouraging for any would-be offender, but it is not necessarily a Gentle Giant as say the Great Dane. Some tend to have a herding instinct at a young age so it is best to teach puppies or younger dogs to not nip or mouth at all. In many cases it has led to the dog going straight back to the breeder or worse, a shelter. Some Giants can be aggressive, but that is common with all Schnauzers. Poorly socialized dogs will have themselves a problem of a large dog unwelcoming of house guests and showing aggression towards other dogs. Some have even shown aggression to just female sexes.
This is a working breed and such requires some amount of exercise or troubling behaviors may occur to relinquish that bored state they may have. A good jog or a let loose in a park with other dogs and maybe a water source will give the owner a well-mannered and tired friend coming home. They are a water breed, which means unless the owner wants to give a bath after their dog has been soaking in a well filled ditch or pond, proper training will be needed or Giants will jump head first into any body of water to swim and even drink. They are not a breed that will take off the moment one lets them off the leash. Some will even turn back mid-stride to make sure their owner is near and may even turn back if too far away. This is not to say to let a dog off in an open park as there are of course risks, especially with leash laws, but they are a distinguishing breed than most that would take off and not look back. Using caution will minimize the risk.
The Giant has received four stars out of five on protection. They're usually a very alert dog. This is a dog who loves to give and get affection from the family. But understand firm training is needed, otherwise this affectionate nature may lead to people aggression if not properly socialized. This is not a dog to stick in the backyard and leave it at that. Acquaintances, friends and even family members can find themselves on the wrong end of the Giant's massive mouth which will lead to much bigger legal problems. Proper training and socialization will suffice. Be wary of possible domineering attitudes, although this is an uncommon occurrence. The Giant Schnauzer is a powerful breed that demands a steady, yet very gentle hand and with proper leadership, this large breed can not only be a couch companion and jogging partner, but a loyal and a not too overprotective friend that will take a bullet for its owner.
They can be a bit rambunctious for small children.
Activities
Giant Schnauzers can compete in
dog agility
Dog agility
Dog agility is a dog sport in which a handler directs a dog through an obstacle course in a race for both time and accuracy. Dogs run off-leash with no food or toys as incentives, and the handler can touch neither dog nor obstacles...
trials,
carting
Carting
Carting is a dog sport or activity in which a dog pulls a Dogcart filled with supplies, such as farm goods or firewood, but sometimes pulling people. Carting as a sport is also known as dryland mushing and is practiced all around the world, often to keep winter sled dogs in competition form during...
,
obedience
Obedience training
Obedience training usually refers to the training of a dog and the term is most commonly used in that context. Obedience training ranges from very basic training, such as teaching the dog to reliably respond to basic commands such as "sit", "down", "come", and "stay", to high level competition...
,
flyball
Flyball
Flyball is a dog sport in which teams of dogs race against each other from a start/finish line, over a line of hurdles, to a box that releases a tennis ball to be caught when the dog presses the spring-loaded pad, then back to their handlers while carrying the ball.Flyball is run in teams of four...
,
Schutzhund
Schutzhund
Schutzhund is a dog sport that was developed in Germany in the early 1900s as a breed suitability test for the German Shepherd Dog. The test would determine if the dog displayed the appropriate traits and characteristics of a proper working German Shepherd Dog...
,
tracking
Tracking (dog)
Tracking is a technique in which dogs are trained to locate certain objects, such as a downed bird, using the object's scent. Many bird and rabbit hunters train their dogs in tracking. The scent hounds are generally regarded as having the best tracking abilities among all dog breeds.In dog sports,...
, and
herding
Herding
Herding is the act of bringing individual animals together into a group , maintaining the group and moving the group from place to place—or any combination of those. While the layperson uses the term "herding", most individuals involved in the process term it mustering, "working stock" or...
events.
Herding
Herding
Herding is the act of bringing individual animals together into a group , maintaining the group and moving the group from place to place—or any combination of those. While the layperson uses the term "herding", most individuals involved in the process term it mustering, "working stock" or...
instincts and trainability can be measured at noncompetitive herding tests. Giant Schnauzers exhibiting basic herding instincts can be trained to compete in herding trials.
Health problems
Health problems in the breed include:
Autoimmune disease

Autoimmune disease

Autoimmune diseases arise from an overactive immune response of the body against substances and tissues normally present in the body. In other words, the body actually attacks its own cells. The immune system mistakes some part of the body as a pathogen and attacks it. This may be restricted to...


s (hypothyroidism

Hypothyroidism

Hypothyroidism is a condition in which the thyroid gland does not make enough thyroid hormone.Iodine deficiency is the most common cause of hypothyroidism worldwide but it can be caused by other causes such as several conditions of the thyroid gland or, less commonly, the pituitary gland or...


, Autoimmune hemolytic anemia

Autoimmune hemolytic anemia

Autoimmune hemolytic anemia occurs when antibodies directed against the person's own red blood cells cause the RBCs to burst , leading to insufficient plasma concentration. The lifetime of the RBCs is reduced from the normal 100–120 days to just a few days in serious cases...


(AIHA) (also called Immune Mediated Hemolytic Anemia (IMHA)), SLO, Crohn's disease

Crohn's disease

Crohn's disease, also known as regional enteritis, is a type of inflammatory bowel disease that may affect any part of the gastrointestinal tract from mouth to anus, causing a wide variety of symptoms...


, and so on)
Epilepsy

Epilepsy in animals

Epilepsy can occur in animals other than humans . It is characterized by recurrent, unprovoked seizures. Canine epilepsy is often genetic. Epilepsy in cats and other pets is rarer, likely because there is no hereditary component to epilepsy in these animals.-Canine epilepsy:In dogs, epilepsy is...



Hip dysplasia
Incontinence

Urinary incontinence

Urinary incontinence is any involuntary leakage of urine. It is a common and distressing problem, which may have a profound impact on quality of life. Urinary incontinence almost always results from an underlying treatable medical condition but is under-reported to medical practitioners...



Toe Cancer

Cancer

Cancer , known medically as a malignant neoplasm, is a large group of different diseases, all involving unregulated cell growth. In cancer, cells divide and grow uncontrollably, forming malignant tumors, and invade nearby parts of the body. The cancer may also spread to more distant parts of the...



Gastric Torsion
History
Giants have been described as far back as 1832 from cattle and pig farms in the Bavarian highlands region of Germany and had been called oberlanders, although a written breed standard was not established until 1923. It was at this time (breed description and showing of these dogs) that some breeders used standard schnauzers to help fix the schnauzer type and developed the central German type Giant Schnauzer. The Munich type and oblanders were used for power and size.
After World War I, the Giant Schnauzer was significantly reduced in numbers. The Kennel (Kinzigtal) owned by C. Clalaminus, contributed to reestablishing the breed. It was this kennel that admitted to three crosses to dogs of other breeds to assist with dominant black colour, well-crested neck and correct head proportions. It is speculated that the black Great Dane, and or the Bouvier des Flandres may have been the breed of the three unknown crosses. Still the foundation stock was oblanders to which oversize standard schnauzers were added.
In the book
Cat's Cradle
Cat's Cradle
Cat's Cradle is the fourth novel by American writer Kurt Vonnegut, first published in 1963. It explores issues of science, technology, and religion, satirizing the arms race and many other targets along the way...
by
Kurt Vonnegut
Kurt Vonnegut
Kurt Vonnegut, Jr. was a 20th century American writer. His works such as Cat's Cradle , Slaughterhouse-Five and Breakfast of Champions blend satire, gallows humor and science fiction. He was known for his humanist beliefs and was honorary president of the American Humanist Association.-Early...
, Celia raises giant schnauzers on Shelter Island, New York.
External links
Breed clubs
Information
Giant Schnauzers in the Media