Neapolitan Mastiff
The
Neapolitan

Naples

Naples is a city in Southern Italy, situated on the country's west coast by the Gulf of Naples. Lying between two notable volcanic regions, Mount Vesuvius and the Phlegraean Fields, it is the capital of the region of Campania and of the province of Naples...


Mastiff
,
Italian Mastiff
, (
Mastino Napoletano
in
Italian
Italian language
Italian is a Romance language spoken mainly in Europe: Italy, Switzerland, San Marino, Vatican City, by minorities in Malta, Monaco, Croatia, Slovenia, France, Libya, Eritrea, and Somalia, and by immigrant communities in the Americas and Australia...
) is a large, ancient
dog
Dog
The domestic dog is a domesticated form of the gray wolf, a member of the Canidae family of the order Carnivora. The term is used for both feral and pet varieties. The dog may have been the first animal to be domesticated, and has been the most widely kept working, hunting, and companion animal in...
breed
Dog breed
Dog breeds are groups of closely related and visibly similar domestic dogs, which are all of the subspecies Canis lupus familiaris, having characteristic traits that are selected and maintained by humans, bred from a known foundation stock....
. This massive breed is often used as a
guard
Guard dog
A guard dog, an attack dog or watch dog is a dog used to guard against, and watch for, unwanted or unexpected people or animals. The dog is discriminating so that it does not annoy or attack familiar people.-Barking:...
and defender of family and property due to their protective instincts and their fearsome appearance.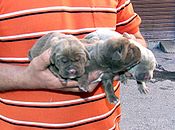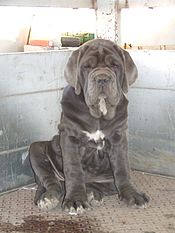 Size and proportion
According to
American Kennel Club
American Kennel Club
The American Kennel Club is a registry of purebred dog pedigrees in the United States. Beyond maintaining its pedigree registry, this kennel club also promotes and sanctions events for purebred dogs, including the Westminster Kennel Club Dog Show, an annual event which predates the official...
(AKC) standards, male Neapolitan Mastiffs should measure 26–31
inch
Inch
An inch is the name of a unit of length in a number of different systems, including Imperial units, and United States customary units. There are 36 inches in a yard and 12 inches in a foot...
es (66–79
cm
Centimetre
A centimetre is a unit of length in the metric system, equal to one hundredth of a metre, which is the SI base unit of length. Centi is the SI prefix for a factor of . Hence a centimetre can be written as or — meaning or respectively...
) at the
withers
Withers
The withers is the ridge between the shoulder blades of a four-legged animal. In many species it is the tallest point of the body, and in horses and dogs it is the standard place to measure the animal's height .-Horses:The withers in horses are formed by the dorsal spinal processes of roughly the...
, weigh 130–155
pound
Pound (mass)
The pound or pound-mass is a unit of mass used in the Imperial, United States customary and other systems of measurement...
s (60-70
kg
Kilogram
The kilogram or kilogramme , also known as the kilo, is the base unit of mass in the International System of Units and is defined as being equal to the mass of the International Prototype Kilogram , which is almost exactly equal to the mass of one liter of water...
), while females should measure 24–29 inches (61–74 cm) and weigh 110–130 pounds (50–60 kg). Body length should be 10–15% greater than height.
Temperament
The Neapolitan Mastiff is fearless and extremely protective of its home and family. They prefer to be with their family and to remain in and around the home at all times. The Neapolitan Mastiff rarely barks unless under provocation, renowned for sneaking up on intruders as opposed to first alerting them of their presence.
Neopolitan Mastiffs, as a breed, are extremely intelligent dogs with a tendency to be independent thinkers. They learn quickly, which is both good
and
bad, since this guardian breed needs extensive proper socialization to learn to accept strangers, especially within the home; without proper early socialization and training, these dogs are likely to become aggressive towards strangers and unfamiliar dogs. Like with other breeds, forceful training methods, "alpha roles", and a general "dominance" mentality will not work with these dogs, especially since it is difficult to try to physically dominate a dog that is nearly as large as an adult human; if you want a well mannered dog, prevent problems before they happen by using positive training methods, beginning socializing early, and continuing socializing throughout life.
The Neapolitan Mastiff is not a breed for most people, and certainly not a dog for beginners. Neapolitans must be well socialized with people, especially children, as Neos are large, powerful dogs and do not always know their own strength. Additionally, young children have young friends, and even with extensive socialization and training, Neapolitans will be wary of strangers and protective of their family, which can be disastrous for small children.
Additional protection training is unnecessary because they are natural guard dogs and always have been. As with every breed,
obedience training
Obedience training
Obedience training usually refers to the training of a dog and the term is most commonly used in that context. Obedience training ranges from very basic training, such as teaching the dog to reliably respond to basic commands such as "sit", "down", "come", and "stay", to high level competition...
is very important. The Mastino is very tolerant of pain due to the breed's early fighting background and the fact the skin is loose on the body, so it is important to routinely check for health problems, as a Neo may not behave differently when injured or ill. They also are renowned for drooling especially after drinking or if they get excited. Their temperament and protective instincts are noticeably sharper as compared to allied "heavy molosser" breeds such as the Dogue de Bordeaux, the English Mastiff, the Mastín Españ̃ol etc. and therefore they have been used as a breed component in the development of many modern protection breeds such as the
Swinford Bandog
Swinford Bandog
-History:The name "Bandog" has been around for many centuries and was a term used to describe a type of guard dog; however, the popularity of the "Bandog" name was revived in the mid 1960's by veterinarian John B. Swinford. Dr...
(also known as the American Bandog Mastiff) and others. This breed is not particularly dog-aggressive, but males are known to be very dominant and, at times, confrontational.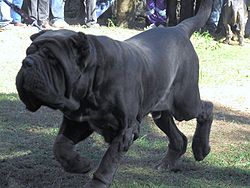 Health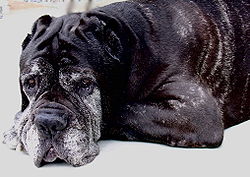 The Neo has some specific health concerns. The most common is
Cherry eye
Cherry eye
Cherry eye is the term used to refer to canine nictitans gland prolapse, a common congenital eye defect in various dog breeds where the gland of the third eyelid known as the nictitating membrane prolapses and becomes visible. Commonly affected breeds include the Bulldog, Chihuahua, Cocker...
.
Others include:
Hip dysplasia
Ectropion

Ectropion

Ectropion is a medical condition in which the lower eyelid turns outwards. It is one of the notable aspects of newborns exhibiting congenital Harlequin type ichthyosis, but ectropion can occur due to any weakening of tissue of the lower eyelid. The condition can be repaired surgically...



Entropion

Entropion

Entropion is a medical condition in which the eyelid folds inward. It is very uncomfortable, as the eyelashes constantly rub against the cornea. Entropion is usually caused by genetic factors and may be congenital...



Elbow dysplasia

Elbow dysplasia

Elbow dysplasia is a condition involving multiple developmental abnormalities of the elbow-joint in the dog, specifically the growth of cartilage or the structures surrounding it. These abnormalities, known as 'primary lesions', give rise to osteoarthritic processes...



Progressive retinal atrophy

Progressive retinal atrophy

Progressive retinal atrophy is a group of genetic diseases seen in certain breeds of dogs and, more rarely, cats. Similar to retinitis pigmentosa in humans, it is characterized by the bilateral degeneration of the retina, causing progressive vision loss culminating in blindness...



Hypothyroidism

Hypothyroidism

Hypothyroidism is a condition in which the thyroid gland does not make enough thyroid hormone.Iodine deficiency is the most common cause of hypothyroidism worldwide but it can be caused by other causes such as several conditions of the thyroid gland or, less commonly, the pituitary gland or...



Cardiomyopathy

Cardiomyopathy

Cardiomyopathy, which literally means "heart muscle disease," is the deterioration of the function of the myocardium for any reason. People with cardiomyopathy are often at risk of arrhythmia or sudden cardiac death or both. Cardiomyopathy can often go undetected, making it especially dangerous to...



Bloat

Bloat

Bloat is a medical condition in which the stomach becomes overstretched by excessive gas content. It is also commonly referred to as torsion, gastric torsion, and gastric dilatation-volvulus when the stomach is also twisted. The word bloat is often used as a general term to cover gas distension...



Skin infection

Skin infection

A skin infection is an infection of the skin. Infection of the skin is distinguished from dermatitis, which is inflammation of the skin, but a skin infection can result in skin inflammation...


s between skin fold

Skin fold

Skin folds are areas of skin where it folds. Many skin folds are distinct, heritable anatomical features, and may be used for identification of animal species, while others are non-specific and may be produced either by individual development of an organism or by arbitrary application of force to...


s called Pyoderma
Anesthetic Sensitivity
Additionally, Neos do not do well in hot weather, and are prone to
heatstroke
Hyperthermia
Hyperthermia is an elevated body temperature due to failed thermoregulation. Hyperthermia occurs when the body produces or absorbs more heat than it can dissipate...
. Like most giant breeds, the Neapolitan Mastiff is not particularly long-lived, averaging 7 to 9 years, however, with a proper biologically appropriate diet, safe exercise, and proper weight maintenance, there is no reason that the average Neo cannot live beyond that.
Care and maintenance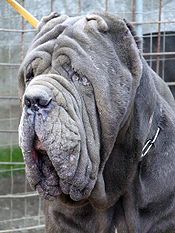 When it comes to exercise, Neapolitans are not a very active breed as their energy tends to be short lived and their weight causes stress to their joints when excessive. However, they can and will have short, extremely powerful bursts of energy.
History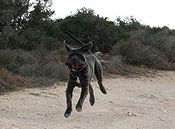 The Neapolitan Mastiff is one of the
Molosser
Molosser
Molosser is a category of large, solidly-built dog that includes several breeds, probably all descended from the same root stock. The name derives from Molossia, a subregion of ancient Epirus, ancient Greece, where the large shepherd dog was known as the Molossus.The proper noun "Mastiff", however,...
type of dogs, which probably descend from a common stock; whether this was the
Molossus
Molossus (dog)
-History:This ancient extinct breed of dog is commonly considered to be the ancestor of today's Mastiff-type dogs and of many other modern breeds. Mastiff-type dogs are often referred to as Molossus dogs or Molossers...
attested in antiquity is controversial.
Despite centuries of popularity throughout Europe, this type of dog was almost lost after World War II. Soon after the war, Italian painter Piero Scanziani established a breeding kennel to turn the mastiff-type dogs of Italy into a formal breed which was then named the Neapolitan Mastiff and
English Mastiff
English Mastiff
The English Mastiff, referred to by virtually all Kennel Clubs simply as the Mastiff, is a breed of large dog perhaps descended from the ancient Alaunt through the Pugnaces Britanniae. Distinguishable by enormous size, massive head, and a limited range of colors, but always displaying a black mask,...
was used to help in this process.
A Neapolitan Mastiff has set the record for giving birth to 24 puppies, although 4 of them didn't surive.
Neapolitan Mastiffs in the media
Alan from the film Babe: Pig in the City

Babe: Pig in the City

Babe: Pig in the City is a 1998 sequel to the 1995 film Babe. It occurs in the fictional city of Metropolis. Due to the unexpected darker and more mature subject matter , the film was not received as well as the first Babe film was, as it flopped at the box office and reviews were generally...


.
Fang from the Harry Potter

Harry Potter

Harry Potter is a series of seven fantasy novels written by the British author J. K. Rowling. The books chronicle the adventures of the adolescent wizard Harry Potter and his best friends Ron Weasley and Hermione Granger, all of whom are students at Hogwarts School of Witchcraft and Wizardry...


films (in the books, Fang is a boarhound, an old term for a Great Dane

Great Dane

The Great Dane , also known as German Mastiff or Danish Hound , is a breed of domestic dog known for its giant size...


, while in the films he is a Neapolitan Mastiff).
Pansy from the Burke series

Burke (character)

Burke is the protagonist of the Burke Series by Andrew Vachss.He is a career criminal, an orphan raised by the State who was abused throughout his childhood in state institutions and foster homes. Burke lives in New York City, always on the edges of society...


of novels by Andrew Vachss

Andrew Vachss

Andrew Henry Vachss is an American crime fiction author, child protection consultant, and attorney exclusively representing children and youths...


.
Sweetie from Robert K. Tanenbaum's

Robert K. Tanenbaum

Robert K. Tanenbaum is an attorney, author of crime novels, and the creator of a series of novels featuring Butch Karp and Marlene Ciampi, lawyers for the New York District Attorney's office....


Butch Karp novels.
A Neapolitan was featured in the movie American Gangster as a domestic pet belonging to an Italian Mafia Boss Dominic Cattano.
A Neapolitan Mastiff appears in a scene in the movie DragonHeart

Dragonheart

Dragonheart is a 1996 fantasy adventure film directed by Rob Cohen. It stars Dennis Quaid, David Thewlis, Pete Postlethwaite, Dina Meyer, and the voice of Sean Connery. It was nominated for the Academy Award for Best Visual Effects and various other awards in 1996 and 1997...


.
A Neapolitan Mastiff appears in a scene in the movie "Belly

Belly (film)

Belly is a 1998 film, the film directorial debut of music video director Hype Williams. Filmed in New York City as an urban drama, the film stars rappers DMX and Nas, alongside with Taral Hicks, Method Man dancehall artist Louie Rankin, R&B singer T-Boz...


".
Julius (Marguerite's dog) from the Argeneau Family novels is a Neapolitan Mastiff.
External links