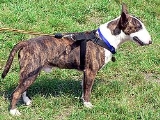 Bull Terrier
The
Bull Terrier
or
English Bull Terrier
is a
breed of dog
Dog breed
Dog breeds are groups of closely related and visibly similar domestic dogs, which are all of the subspecies Canis lupus familiaris, having characteristic traits that are selected and maintained by humans, bred from a known foundation stock....
in the
terrier
Terrier
A terrier is a dog of any one of many breeds or landraces of terrier type, which are typically small, wiry, very active and fearless dogs. Terrier breeds vary greatly in size from just a couple of pounds to over 70 pounds and are usually categorized by size or function...
family. They are known for their large, egg-shaped head, small triangular eyes, and "jaunty gait." Their temperament has been described as generally fun-loving, active and clownish. Bull terriers have appeared as characters in many cartoons, books, movies, and advertisements, perhaps most famously as party loving
Spuds MacKenzie
Spuds MacKenzie
Spuds MacKenzie was a fictional dog character created for use in an advertising campaign marketing Bud Light beer in the late 1980s. The dog first showed up in a Bud Light Super Bowl XXI ad in 1987...
in
Budweiser
Budweiser
Budweiser is a German adjective describing something or someone from the city of České Budějovice in Southern Bohemia, Czech Republic.Beer brewing in České Budějovice dates back to the 13th century...
beer commercials in the late 1980s, and more recently as Bullseye the
Target
Target Corporation
Target Corporation, doing business as Target, is an American retailing company headquartered in Minneapolis, Minnesota. It is the second-largest discount retailer in the United States, behind Walmart. The company is ranked at number 33 on the Fortune 500 and is a component of the Standard & Poor's...
dog.
The Bull Terrier's most recognizable feature is its head, described as 'egg shaped' when viewed from the front, almost flat at the top, with a Roman muzzle sloping evenly down to the end of the nose with no
stop
Snout
The snout, or muzzle, is the protruding portion of an animal's face, consisting of its nose, mouth, and jaw.-Terminology:The term "muzzle", used as a noun, can be ambiguous...
.