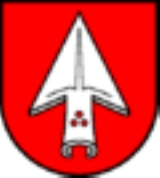 Grenchen
Grenchen
is a
municipality
Municipalities of Switzerland
Communes , also known as municipalities, are the smallest government division in Switzerland, numbering 2,596 . While many have a population of a few hundred citizens, the largest cities such as Zürich or Geneva also have the legal status of municipalities...
in the district of
Lebern
Lebern (district)
Lebern District is one of the ten districts of the canton of Solothurn, Switzerland, situated to the west of the canton. Together with the city of Solothurn, it forms the Amtei of Solothurn-Lebern...
in the
canton
Cantons of Switzerland
The 26 cantons of Switzerland are the member states of the federal state of Switzerland. Each canton was a fully sovereign state with its own borders, army and currency from the Treaty of Westphalia until the establishment of the Swiss federal state in 1848...
of Solothurn in
Switzerland
Switzerland
Switzerland name of one of the Swiss cantons. ; ; ; or ), in its full name the Swiss Confederation , is a federal republic consisting of 26 cantons, with Bern as the seat of the federal authorities. The country is situated in Western Europe,Or Central Europe depending on the definition....
.
It is located at the foot of the
Jura mountains
Jura mountains
The Jura Mountains are a small mountain range located north of the Alps, separating the Rhine and Rhone rivers and forming part of the watershed of each...
between
Solothurn
Solothurn
The city of Solothurn is the capital of the Canton of Solothurn in Switzerland. The city also comprises the only municipality of the district of the same name.-Pre-roman settlement:...
and Biel. With over 16,000 inhabitants, it is one of the larger towns of the canton of Solothurn. The city is well known for its
watch
Watch
A watch is a small timepiece, typically worn either on the wrist or attached on a chain and carried in a pocket, with wristwatches being the most common type of watch used today. They evolved in the 17th century from spring powered clocks, which appeared in the 15th century. The first watches were...
industry, that has been present for more than 150 years.
Grenchen is the 2008 winner of the
Wakker Prize
Wakker Prize
The Wakker Prize is awarded annually by the Swiss Heritage Society to a Municipality of Switzerland for the development and preservation of its architectural heritage....
for architectural heritage.
Jura-Sternwarte Grenchen
Jura-Sternwarte Grenchen
Jura-Sternwarte Grenchen is an astronomical observatory owned and operated by Stiftung Jura-Sternwarte. Built in 1976, it is located near Grenchen in the Canton of Solothurn, Switzerland....
is located at Grenchen.
History
Around 1000 AD, the local barons built a castle on the local cliff that was inhabited for three centuries. The name Grenchen was first documented in 1131 as
Granechun
. The name comes from the gallo-romanic
graneca
, meaning
by the grainery
.
1851: Clock manufacture begins
1918: General strike
Geography
Grenchen has an area, , of 26.01 square kilometres (10 sq mi). Of this area, 9.85 km² (3.8 sq mi) or 37.9% is used for agricultural purposes, while 10.42 km² (4 sq mi) or 40.1% is forested. Of the rest of the land, 5.39 km² (2.1 sq mi) or 20.7% is settled (buildings or roads), 0.34 km² (0.131274733921462 sq mi) or 1.3% is either rivers or lakes and 0.05 km² (12.4 acre) or 0.2% is unproductive land.
Of the built up area, industrial buildings made up 2.2% of the total area while housing and buildings made up 9.7% and transportation infrastructure made up 6.8%. while parks, green belts and sports fields made up 1.4%. Out of the forested land, 38.5% of the total land area is heavily forested and 1.5% is covered with orchards or small clusters of trees. Of the agricultural land, 25.8% is used for growing crops and 6.0% is pastures and 5.3% is used for alpine pastures. All the water in the municipality is flowing water.
The municipality is the capital of the Lebern District. It is the second largest city in the Canton of Solothurn. The municipality stretches from the
hamlet
Hamlet (place)
A hamlet is usually a rural settlement which is too small to be considered a village, though sometimes the word is used for a different sort of community. Historically, when a hamlet became large enough to justify building a church, it was then classified as a village...
of Staad along the Aare river, (at an elevation of 430 m (1,410.8 ft)) to the first mountain range of the
Jura Mountains
Jura mountains
The Jura Mountains are a small mountain range located north of the Alps, separating the Rhine and Rhone rivers and forming part of the watershed of each...
(the Oberer Grenchenberg is 1348 m (4,422.6 ft)).
Demographics
Grenchen has a population of . , 28.7% of the population are resident foreign nationals. Over the last 10 years (1999–2009 ) the population has changed at a rate of -1.3%.
Most of the population speaks
German
German language
German is a West Germanic language, related to and classified alongside English and Dutch. With an estimated 90 – 98 million native speakers, German is one of the world's major languages and is the most widely-spoken first language in the European Union....
(13,033 or 81.8%), with
Italian
Italian language
Italian is a Romance language spoken mainly in Europe: Italy, Switzerland, San Marino, Vatican City, by minorities in Malta, Monaco, Croatia, Slovenia, France, Libya, Eritrea, and Somalia, and by immigrant communities in the Americas and Australia...
being second most common (1,022 or 6.4%) and
French
French language
French is a Romance language spoken as a first language in France, the Romandy region in Switzerland, Wallonia and Brussels in Belgium, Monaco, the regions of Quebec and Acadia in Canada, and by various communities elsewhere. Second-language speakers of French are distributed throughout many parts...
being third (460 or 2.9%). There are 16 people who speak Romansh.
, the gender distribution of the population was 49.2% male and 50.8% female. The population was made up of 5,328 Swiss men (33.3% of the population) and 2,547 (15.9%) non-Swiss men. There were 5,845 Swiss women (36.5%) and 2,289 (14.3%) non-Swiss women. Of the population in the municipality 5,606 or about 35.2% were born in Grenchen and lived there in 2000. There were 2,017 or 12.7% who were born in the same canton, while 4,258 or 26.7% were born somewhere else in Switzerland, and 3,433 or 21.5% were born outside of Switzerland.
In there were 75 live births to Swiss citizens and 47 births to non-Swiss citizens, and in same time span there were 167 deaths of Swiss citizens and 10 non-Swiss citizen deaths. Ignoring immigration and emigration, the population of Swiss citizens decreased by 92 while the foreign population increased by 37. There were 21 Swiss men and 16 Swiss women who immigrated back to Switzerland. At the same time, there were 103 non-Swiss men and 59 non-Swiss women who immigrated from another country to Switzerland. The total Swiss population change in 2008 (from all sources, including moves across municipal borders) was a decrease of 20 and the non-Swiss population increased by 190 people. This represents a population growth rate of 1.1%.
The age distribution, , in Grenchen is; 942 children or 5.9% of the population are between 0 and 6 years old and 2,291 teenagers or 14.4% are between 7 and 19. Of the adult population, 838 people or 5.3% of the population are between 20 and 24 years old. 4,463 people or 28.0% are between 25 and 44, and 4,000 people or 25.1% are between 45 and 64. The senior population distribution is 2,551 people or 16.0% of the population are between 65 and 79 years old and there are 853 people or 5.4% who are over 80.
, there were 5,771 people who were single and never married in the municipality. There were 7,679 married individuals, 1,264 widows or widowers and 1,224 individuals who are divorced.
the average number of residents per living room was 0.56 which is about equal to the cantonal average of 0.56 per room. In this case, a room is defined as space of a housing unit of at least 4 m² (43.1 sq ft) as normal bedrooms, dining rooms, living rooms, kitchens and habitable cellars and attics. About 29.7% of the total households were owner occupied, or in other words did not pay rent (though they may have a
mortgage
Mortgage loan
A mortgage loan is a loan secured by real property through the use of a mortgage note which evidences the existence of the loan and the encumbrance of that realty through the granting of a mortgage which secures the loan...
or a rent-to-own agreement).
, there were 7,409 private households in the municipality, and an average of 2.1 persons per household. There were 2,910 households that consist of only one person and 352 households with five or more people. Out of a total of 7,532 households that answered this question, 38.6% were households made up of just one person and there were 55 adults who lived with their parents. Of the rest of the households, there are 2,275 married couples without children, 1,741 married couples with children There were 355 single parents with a child or children. There were 73 households that were made up of unrelated people and 123 households that were made up of some sort of institution or another collective housing.
there were 1,336 single family homes (or 48.4% of the total) out of a total of 2,763 inhabited buildings. There were 940 multi-family buildings (34.0%), along with 310 multi-purpose buildings that were mostly used for housing (11.2%) and 177 other use buildings (commercial or industrial) that also had some housing (6.4%). Of the single family homes 67 were built before 1919, while 187 were built between 1990 and 2000. The greatest number of single family homes (388) were built between 1946 and 1960.
there were 8,639 apartments in the municipality. The most common apartment size was 3 rooms of which there were 2,925. There were 429 single room apartments and 1,631 apartments with five or more rooms. Of these apartments, a total of 7,267 apartments (84.1% of the total) were permanently occupied, while 584 apartments (6.8%) were seasonally occupied and 788 apartments (9.1%) were empty. , the construction rate of new housing units was 0.9 new units per 1000 residents.
the average price to rent an average apartment in Grenchen was 862.63
Swiss franc
Swiss franc
The franc is the currency and legal tender of Switzerland and Liechtenstein; it is also legal tender in the Italian exclave Campione d'Italia. Although not formally legal tender in the German exclave Büsingen , it is in wide daily use there...
s (CHF) per month (US$690, £390, €550 approx. exchange rate from 2003). The average rate for a one room apartment was 571.19 CHF (US$460, £260, €370), a two room apartment was about 637.30 CHF (US$510, £290, €410), a three room apartment was about 776.90 CHF (US$620, £350, €500) and a six or more room apartment cost an average of 1477.07 CHF (US$1180, £660, €950). The average apartment price in Grenchen was 77.3% of the national average of 1116 CHF. The vacancy rate for the municipality, , was 2.38%.
The historical population is given in the following chart:
Politics
In the 2007
federal election
Swiss federal election, 2007
Elections to the Swiss Federal Assembly, the federal parliament of Switzerland, were held on Sunday, 21 October 2007. In a few cantons, a second round of the elections to the Council of States was held on 11 November, 18 November, and 25 November 2007...
the most popular party was the
SVP
Swiss People's Party
The Swiss People's Party , also known as the Democratic Union of the Centre , is a conservative political party in Switzerland. Chaired by Toni Brunner, but spearheaded by Christoph Blocher, the party is the largest party in the Federal Assembly, with 58 members of the National Council and 6 of...
which received 33.83% of the vote. The next three most popular parties were the
SP
Social Democratic Party of Switzerland
The Social Democratic Party of Switzerland is the largest centre-left political party in Switzerland....
(27.67%), the
FDP
FDP.The Liberals
FDP.The Liberals is a classical liberal political party in Switzerland. It is the joint-largest party in the Federal Council, third-largest party in the National Council, and second-largest in the Council of States....
(15.28%) and the
CVP
Christian Democratic People's Party of Switzerland
The Christian Democratic People's Party of Switzerland is a Christian democratic political party in Switzerland. It is the fourth-largest party in the National Council, with 31 seats, and the largest in the Council of States, with 15 seats. It has one seat, that of Doris Leuthard, on the Swiss...
(14.81%). In the federal election, a total of 4,273 votes were cast, and the
voter turnout
Voter turnout
Voter turnout is the percentage of eligible voters who cast a ballot in an election . After increasing for many decades, there has been a trend of decreasing voter turnout in most established democracies since the 1960s...
was 43.2%.
Transport
Although Grenchen is a small city, it has its own airport with facilities for the transport of goods. It is mostly used by private pilots and parachutists, but also for business travel. The freeway A5 and a connection to Grenchen lie in the vicinity of the airport.
Two railway stations (Grenchen North on the Basel-Biel line and Grenchen South on the Geneva-Zurich line) provide for an excellent connection of the city on the rail network. The Grenchen Tunnel, an 8.5 km long railroad tunnel that was built between 1911 and 1915, offers a connection between the
Swiss plateau
Swiss plateau
The Swiss Plateau or Central Plateau constitutes one of the three major landscapes in Switzerland alongside the Jura mountains and the Swiss Alps. It covers about 30% of the Swiss surface...
and
Delémont
Delémont
Delémont is the capital of the Swiss canton of Jura. The city has approximately 11,000 inhabitants as of 2007.-Geography:Delémont lies southwest of Basel, about halfway between Basel and Bienne...
/
Basel
Basel
Basel or Basle In the national languages of Switzerland the city is also known as Bâle , Basilea and Basilea is Switzerland's third most populous city with about 166,000 inhabitants. Located where the Swiss, French and German borders meet, Basel also has suburbs in France and Germany...
. Construction of the tunnel attracted many foreign workers to Grenchen, coming mostly from Italy.
Grenchen has an own bus company "BGU". The bus lines connect Grenchen with
Bettlach
Bettlach, Switzerland
Bettlach is a municipality in the district of Lebern in the canton of Solothurn in Switzerland.-History:Bettlach is first mentioned in 1181 as Betelacho. In 1279 it was mentioned as Bettelage and in 1329 as Betlach.-Geography:...
, Lengnau,
Büren
Büren an der Aare
Büren an der Aare is a municipality in the Seeland administrative district in the canton of Bern in Switzerland.-Geography:...
,
Rüti
Rüti bei Büren
Rüti bei Büren is a municipality in the Seeland administrative district in the canton of Bern in Switzerland. It is also a reformed church parish.-Geography:...
and
Selzach
Selzach
Selzach is a municipality in the district of Lebern in the canton of Solothurn in Switzerland.-Geography:Selzach has an area, , of . Of this area, or 50.3% is used for agricultural purposes, while or 38.2% is forested...
Economy
, Grenchen had an unemployment rate of 5.7%. , there were 122 people employed in the primary economic sector and about 36 businesses involved in this sector. 5,906 people were employed in the secondary sector and there were 217 businesses in this sector. 4,197 people were employed in the tertiary sector, with 544 businesses in this sector. There were 7,988 residents of the municipality who were employed in some capacity, of which females made up 43.8% of the workforce.
the total number of
full-time equivalent
Full-time equivalent
Full-time equivalent , is a unit to measure employed persons or students in a way that makes them comparable although they may work or study a different number of hours per week. FTE is often used to measure a worker's involvement in a project, or to track cost reductions in an organization...
jobs was 9,004. The number of jobs in the primary sector was 85, of which 77 were in agriculture and 8 were in forestry or lumber production. The number of jobs in the secondary sector was 5,635 of which 5,189 or (92.1%) were in manufacturing and 367 (6.5%) were in construction. The number of jobs in the tertiary sector was 3,284. In the tertiary sector; 742 or 22.6% were in the sale or repair of motor vehicles, 188 or 5.7% were in the movement and storage of goods, 236 or 7.2% were in a hotel or restaurant, 61 or 1.9% were in the information industry, 119 or 3.6% were the insurance or financial industry, 211 or 6.4% were technical professionals or scientists, 371 or 11.3% were in education and 910 or 27.7% were in health care.
, there were 5,261 workers who commuted into the municipality and 3,273 workers who commuted away. The municipality is a net importer of workers, with about 1.6 workers entering the municipality for every one leaving. Of the working population, 13.8% used public transportation to get to work, and 52.8% used a private car.
Watch industry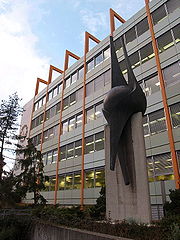 Grenchen has a large traditional watch industry and several famous manufacturers are based in the city:
Atlantic Watch Production Ltd
Breitling

Breitling

Breitling is a luxury brand of Swiss watches produced by Breitling SA, a private company headquartered in Grenchen, Canton of Solothurn . The company exclusively offered Certified Chronometers in all models since 2000...


SA
Epos

Epos (watches)

Epos is an independent Swiss manufacturer of mechanical watches, with headquarters in Grenchen, Switzerland. As well as making watches under their own brand, they manufacture watches for boutique watch companies such as Montblanc and MarcelloC.- External links :* *...



ETA SA
Fortis

Fortis Uhren AG

Fortis is a watchmaker founded and based in Grenchen Switzerland that was established by Walter Vogt in 1912.- History :12 years after its establishment, Walter Vogt set up production with John Harwood, the inventor of the automatic wristwatch. In 1926, Fortis released the first self-winding...



Eterna

Eterna

Eterna is a Swiss luxury watch company founded in Grenchen, Canton Solothurn on the 7th of November 1856 by Dr Josef Girard and Urs Schild. They initially specialised in producing pocket watches with alarms. In 1906 the company name changed from U. Schild to Eterna. In 1908 they became the first...


SA
Nivada

Nivada

Nivada is a Swiss watch company. It was founded in 1879 in the town of Grenchen, Switzerland.-History:Though founded in 1879, there is much confusion of who owns the actual rights to the brand name "Nivada". They display the line at the Swiss Basel Watch & Jewelry Fair every year.In 1879, Nivada...



Titoni Ltd.

Titoni

TITONI LTD. is a Swiss watch company which was founded in 1919 by Fritz Schluep in the city of Grenchen. Nowadays the company is still in family property and employs around 50 workers. Since its foundation, the watches are sold mainly in the Asian and Middle East market.-History:In the year 1851,...



Religion
From the , 5,654 or 35.5% were Roman Catholic, while 5,754 or 36.1% belonged to the
Swiss Reformed Church
Swiss Reformed Church
The Reformed branch of Protestantism in Switzerland was started in Zürich by Huldrych Zwingli and spread within a few years to Basel , Bern , St...
. Of the rest of the population, there were 154
members of an Orthodox church
Orthodox Christianity
The term Orthodox Christianity may refer to:* the Eastern Orthodox Church and its various geographical subdivisions...
(or about 0.97% of the population), there were 171 individuals (or about 1.07% of the population) who belonged to the
Christian Catholic Church
Christian Catholic Church of Switzerland
The Christian Catholic Church of Switzerland is the Swiss member church of the Union of Utrecht, also known as Old Catholic Church, originally founded by the jansenists, with a later influx of discontented Catholics following their disappointment with the First Vatican Council. It has 14,000...
, and there were 284 individuals (or about 1.78% of the population) who belonged to another Christian church. There were 3 individuals (or about 0.02% of the population) who were
Jewish
Judaism
Judaism ) is the "religion, philosophy, and way of life" of the Jewish people...
, and 1,145 (or about 7.18% of the population) who were
Islam
Islam
Islam . The most common are and . : Arabic pronunciation varies regionally. The first vowel ranges from ~~. The second vowel ranges from ~~~...
ic. There were 70 individuals who were
Buddhist
Buddhism
Buddhism is a religion and philosophy encompassing a variety of traditions, beliefs and practices, largely based on teachings attributed to Siddhartha Gautama, commonly known as the Buddha . The Buddha lived and taught in the northeastern Indian subcontinent some time between the 6th and 4th...
, 90 individuals who were
Hindu
Hinduism
Hinduism is the predominant and indigenous religious tradition of the Indian Subcontinent. Hinduism is known to its followers as , amongst many other expressions...
and 17 individuals who belonged to another church. 2,019 (or about 12.67% of the population) belonged to no church, are
agnostic
Agnosticism
Agnosticism is the view that the truth value of certain claims—especially claims about the existence or non-existence of any deity, but also other religious and metaphysical claims—is unknown or unknowable....
or
atheist
Atheism
Atheism is, in a broad sense, the rejection of belief in the existence of deities. In a narrower sense, atheism is specifically the position that there are no deities...
, and 577 individuals (or about 3.62% of the population) did not answer the question.
Education
In Grenchen about 5,773 or (36.2%) of the population have completed non-mandatory upper secondary education, and 1,457 or (9.1%) have completed additional higher education (either
university
or a
Fachhochschule
Fachhochschule
A Fachhochschule or University of Applied Sciences is a German type of tertiary education institution, sometimes specialized in certain topical areas . Fachhochschulen were founded in Germany and later adopted by Austria, Liechtenstein, Switzerland and Greece...
). Of the 1,457 who completed tertiary schooling, 64.2% were Swiss men, 20.9% were Swiss women, 10.1% were non-Swiss men and 4.9% were non-Swiss women.
During the 2010-2011 school year there were a total of 1,309 students in the Grenchen school system. The
education system
Education in Switzerland
The education system in Switzerland is very diverse, because the constitution of Switzerland delegates the authority for the school system mainly to the cantons...
in the Canton of Solothurn allows young children to attend two years of non-obligatory
Kindergarten
Kindergarten
A kindergarten is a preschool educational institution for children. The term was created by Friedrich Fröbel for the play and activity institute that he created in 1837 in Bad Blankenburg as a social experience for children for their transition from home to school...
. During that school year, there were 276 children in kindergarten. The canton's school system requires students to attend six years of primary school, with some of the children attending smaller, specialized classes. In the municipality there were 699 students in primary school and 108 students in the special, smaller classes. The
secondary school
Secondary school
Secondary school is a term used to describe an educational institution where the final stage of schooling, known as secondary education and usually compulsory up to a specified age, takes place...
program consists of three lower, obligatory years of schooling, followed by three to five years of optional, advanced schools. 226 lower secondary students attend school in Grenchen.
, there were 171 students in Grenchen who came from another municipality, while 267 residents attended schools outside the municipality.
Grenchen is home to the
Stadtbibliothek Grenchen
library. The library has 36,000 books or other media, and loaned out 57,000 items in the same year. It was open a total of 258 days with average of 19 hours per week during that year.
External links