 Christian Catholic Church of Switzerland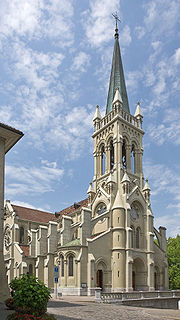 The
Christian Catholic Church of Switzerland
is the
Swiss
Switzerland
Switzerland name of one of the Swiss cantons. ; ; ; or ), in its full name the Swiss Confederation , is a federal republic consisting of 26 cantons, with Bern as the seat of the federal authorities. The country is situated in Western Europe,Or Central Europe depending on the definition....
member church of the Union of Utrecht, also known as Old Catholic Church, originally founded by the jansenists, with a later influx of discontented Catholics following their disappointment with the First Vatican Council. It has 14,000 members and 40 parishes. The church is a national Swiss church and recognised (as are the Evangelical Reformed and the Roman Catholic churches) in 11 cantons by the government. Since 1874, the
University of Berne
University of Berne
The University of Bern is a university in the Swiss capital of Bern and was founded in 1834. It is regulated and financed by the Canton of Bern. It is a comprehensive university offering a broad choice of courses and programmes in eight faculties and some 160 institutes. The university is an...
has had its own Christian Catholic theological faculty, which is now one part (as the Christian Catholic section) of the Faculty of Theology. The strongest concentration of Christian Catholics lies in the cantons of
Solothurn
Canton of Solothurn
Solothurn is a canton of Switzerland. It is located in the northwest of Switzerland. The capital is Solothurn.-History:The territory of the canton comprises land acquired by the capital...
,
Aargau
Aargau
Aargau is one of the more northerly cantons of Switzerland. It comprises the lower course of the river Aare, which is why the canton is called Aar-gau .-History:...
,
Zurich
Canton of Zürich
The Canton of Zurich has a population of . The canton is located in the northeast of Switzerland and the city of Zurich is its capital. The official language is German, but people speak the local Swiss German dialect called Züritüütsch...
and
Geneva
Canton of Geneva
The Republic and Canton of Geneva is the French speaking westernmost canton or state of Switzerland, surrounded on almost all sides by France. As is the case in several other Swiss cantons The Republic and Canton of Geneva is the French speaking westernmost canton or state of Switzerland,...
.