 Geestland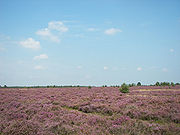 Geest
is a type of slightly raised landscape that occurs in the plains of in Northern
Germany
Germany
Germany , officially the Federal Republic of Germany , is a federal parliamentary republic in Europe. The country consists of 16 states while the capital and largest city is Berlin. Germany covers an area of 357,021 km2 and has a largely temperate seasonal climate...
, the Northern
Netherlands
Netherlands
The Netherlands is a constituent country of the Kingdom of the Netherlands, located mainly in North-West Europe and with several islands in the Caribbean. Mainland Netherlands borders the North Sea to the north and west, Belgium to the south, and Germany to the east, and shares maritime borders...
and
Denmark
Denmark
Denmark is a Scandinavian country in Northern Europe. The countries of Denmark and Greenland, as well as the Faroe Islands, constitute the Kingdom of Denmark . It is the southernmost of the Nordic countries, southwest of Sweden and south of Norway, and bordered to the south by Germany. Denmark...
. It is a landscape of sandy and gravelly soils, usually mantled by a heathland vegetation, comprising
glacial
Glacier
A glacier is a large persistent body of ice that forms where the accumulation of snow exceeds its ablation over many years, often centuries. At least 0.1 km² in area and 50 m thick, but often much larger, a glacier slowly deforms and flows due to stresses induced by its weight...
deposits left behind after the last
ice age
Ice age
An ice age or, more precisely, glacial age, is a generic geological period of long-term reduction in the temperature of the Earth's surface and atmosphere, resulting in the presence or expansion of continental ice sheets, polar ice sheets and alpine glaciers...
during the
Pleistocene
Pleistocene
The Pleistocene is the epoch from 2,588,000 to 11,700 years BP that spans the world's recent period of repeated glaciations. The name pleistocene is derived from the Greek and ....
epoch.
Geest lands are made up of
moraine
Moraine
A moraine is any glacially formed accumulation of unconsolidated glacial debris which can occur in currently glaciated and formerly glaciated regions, such as those areas acted upon by a past glacial maximum. This debris may have been plucked off a valley floor as a glacier advanced or it may have...
s and
sandar
Sandur
A sandur is a glacial outwash plain formed of sediments deposited by meltwater at the terminus of a glacier.- Formation :Sandar are found in glaciated areas, such as Svalbard, Kerguelen Islands, and Iceland...
s. They are almost always next to flat
marsh
Marsh
In geography, a marsh, or morass, is a type of wetland that is subject to frequent or continuous flood. Typically the water is shallow and features grasses, rushes, reeds, typhas, sedges, other herbaceous plants, and moss....
lands, the geest being higher and better protected against flood but, compared to the marsh, with poor soil for agriculture. Where the geest borders the sea directly, sand
cliff
Cliff
In geography and geology, a cliff is a significant vertical, or near vertical, rock exposure. Cliffs are formed as erosion landforms due to the processes of erosion and weathering that produce them. Cliffs are common on coasts, in mountainous areas, escarpments and along rivers. Cliffs are usually...
s exist.
The oldest settlements in Northern Germany and Denmark lie on geest, since it provided better protection against storm floods. Many important towns are on the boundary between geest and marshland where people could enjoy the flood-protection of the geest but still use the much more fertile soil in the marsh.
Examples of regions characterised by geest are:
the Burgdorf-Peine Geest

Burgdorf-Peine Geest

The Burgdorf-Peine Geest is a geest landscape, dominated by end and ground moraines, between Hanover and Brunswick in North Germany, with an area of about...



the Cloppenburg Geest

Cloppenburg Geest

The Cloppenburg Geest is a geest region near the town of Cloppenburg in North Germany and the centre of the Saalian glaciation Upper Pleistocene terrain of the Ems-Hunte Geest region. The meltwater sands of the advancing ice sheet covered the old terrain with outwash sands...


near Cloppenburg

Cloppenburg

Cloppenburg is a town in Lower Saxony, Germany, capital of Cloppenburg District. It lies 38 km south-south-west of Oldenburg in the Weser-Ems region between Bremen and the Dutch border. Cloppenburg is not far from the A1, the major motorway connecting the Ruhr area to Bremen and Hamburg...



the geest slopes between Wedel

Wedel

Wedel is a town in the district of Pinneberg, in Schleswig-Holstein, Germany. It is situated on the right bank of the Elbe, approximately south of Elmshorn, and mile, west of Hamburg.-Foundation and Middle Ages:...


, Altona

Hamburg

-History:The first historic name for the city was, according to Claudius Ptolemy's reports, Treva.But the city takes its modern name, Hamburg, from the first permanent building on the site, a castle whose construction was ordered by the Emperor Charlemagne in AD 808...


and Hamburg-Neustadt

Hamburg

-History:The first historic name for the city was, according to Claudius Ptolemy's reports, Treva.But the city takes its modern name, Hamburg, from the first permanent building on the site, a castle whose construction was ordered by the Emperor Charlemagne in AD 808...


and between Hamburg-St. Georg

Hamburg

-History:The first historic name for the city was, according to Claudius Ptolemy's reports, Treva.But the city takes its modern name, Hamburg, from the first permanent building on the site, a castle whose construction was ordered by the Emperor Charlemagne in AD 808...


, Bergedorf, Geesthacht

Geesthacht

Geesthacht is the largest city in the District of the Duchy of Lauenburg in Schleswig-Holstein in Northern Germany, 34 km southeast of Hamburg on the right bank of the river Elbe.-History:*Around 800: A church is documented....


and Lauenburg

Lauenburg/Elbe

Lauenburg/Elbe is a town in the state of Schleswig-Holstein, Germany. It is situated at the northern bank of the river Elbe, east of Hamburg. It is the southernmost town of Schleswig-Holstein. Lauenburg belongs to the Kreis of Herzogtum Lauenburg and had a population of 11,900 as of 2002...


north of the Elbe

Elbe

The Elbe is one of the major rivers of Central Europe. It rises in the Krkonoše Mountains of the northwestern Czech Republic before traversing much of Bohemia , then Germany and flowing into the North Sea at Cuxhaven, 110 km northwest of Hamburg...



the central geest areas of the islands of Amrum

Amrum

Amrum is one of the North Frisian Islands on the German North Sea coast, south of Sylt and west of Föhr. It is part of the Nordfriesland district in the federal state of Schleswig-Holstein...


, Föhr

Föhr

Föhr is one of the North Frisian Islands on the German coast of the North Sea. It is part of the Nordfriesland district in the federal state of Schleswig-Holstein. Föhr is the second-largest North Sea island of Germany....


and Sylt

Sylt

Sylt is an island in northern Germany, part of Nordfriesland district, Schleswig-Holstein, and well known for the distinctive shape of its shoreline. It belongs to the North Frisian Islands and is the largest island in North Frisia...



the Hanoverian Moor Geest

Hanoverian Moor Geest

The Hanoverian Moor Geest is a gently rolling landscape between Hanover and Nienburg in the German state of Lower Saxony covering an area of around . It belongs to the raised bog regions of northwest Germany, which cover the geest terrain formed during the ice age and which stretch from the...



the Heide-Itzehoe Geest

Heide-Itzehoe Geest

The Heide-Itzehoe Geest is a division of a larger natural region in the west of the German state of Schleswig-Holstein. It belongs to the Hohe Geest and thus to the Schleswig-Holstein Geest natural region....



the Linteln Geest

Linteln Geest

The Linteln Geest , shown on some maps as the Verden Heath, is a geest region in the north German state of Lower Saxony and belongs administratively to the borough of Kirchlinteln.- Geography :The Linteln Geest covers the historic Duchy of Verden which nowadays comprises the fringes of the Lüneburg...


near Kirchlinteln

Kirchlinteln

Kirchlinteln is a municipality in the district of Verden, in Lower Saxony, Germany. Its central village is situated approximately 6 km east of Verden, and 40 km southeast of Bremen. It is surrounded by the Linteln Geest which is dominated by woods, hills, heath and small villages...



the Lüneburg Heath

Lüneburg Heath

The Lüneburg Heath is a large area of heath, geest and woodland in northeastern part of the state of Lower Saxony in northern Germany. It forms part of the hinterland for the cities of Hamburg, Hanover, and Bremen and is named after the town of Lüneburg. Most of the area is a nature reserve...


in Lower Saxony

Lower Saxony

Lower Saxony is a German state situated in north-western Germany and is second in area and fourth in population among the sixteen states of Germany...



the Rehden Geest Moor
the Schleswig Geest

Schleswig Geest

The Schleswig Geest lies between the North Frisian Marsh and Schleswig-Holstein Uplands in the north of Schleswig-Holstein in Germany. To the south, it transitions into the Eider-Treene Depression. Geest is one of the three landscape forms in Schleswig-Holstein. Its sandy soils contrast with the...



the Stade Geest

Stade Geest

The Stade Geest is a natural region of low, sandy heath in the North German Plain.It includes a large part of the Elbe-Weser Triangle between the cities of Hamburg, Bremen and Cuxhaven and is bordered by the natural regions of the Elbe Marsch, Weser Marsch, Weser-Aller Plain and Lüneburg Heath...


near Stade

Stade

Stade is a city in Lower Saxony, Germany and part of the Hamburg Metropolitan Region . It is the seat of the district named after it...



the Wildeshausen Geest

Wildeshausen Geest

The Wildeshausen Geest is part of the northwest Germany's geest ridge, that begins near Meppen on the river Ems with the Hümmling, is broken by the Weser depression, continues with the Osterholz Geest and reaches the marshes of Kehdingen by the river Elbe with the ridges of the Wingst and Stade...


in Lower Saxony

Lower Saxony

Lower Saxony is a German state situated in north-western Germany and is second in area and fourth in population among the sixteen states of Germany...



the Wingst

Wingst (ridge)

The Wingst is a ridge, up to 74 metres high, in northern Lower Saxony, Germany.- Geography :The ridge is located in northeast part of the district of Cuxhaven, just a few kilometres south of the mouth of the River Elbe on the North Sea coast, and west of the lower reaches of the Oste between...


northwest of Hemmoor

Hemmoor

Hemmoor is a municipality in the district of Cuxhaven, in Lower Saxony, Germany. It is situated near the river Oste, approx. 40 km northeast of Bremerhaven, and 25 km south of Brunsbüttel.-History:...


(Lower Saxony)