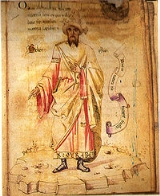 Hydrochloric acid
Hydrochloric acid
is a
solution
Solution
In chemistry, a solution is a homogeneous mixture composed of only one phase. In such a mixture, a solute is dissolved in another substance, known as a solvent. The solvent does the dissolving.- Types of solutions :...
of
hydrogen chloride
Hydrogen chloride
The compound hydrogen chloride has the formula HCl. At room temperature, it is a colorless gas, which forms white fumes of hydrochloric acid upon contact with atmospheric humidity. Hydrogen chloride gas and hydrochloric acid are important in technology and industry...
(
H
Hydrogen
Hydrogen is the chemical element with atomic number 1. It is represented by the symbol H. With an average atomic weight of , hydrogen is the lightest and most abundant chemical element, constituting roughly 75% of the Universe's chemical elemental mass. Stars in the main sequence are mainly...
Cl
Chlorine
Chlorine is the chemical element with atomic number 17 and symbol Cl. It is the second lightest halogen, found in the periodic table in group 17. The element forms diatomic molecules under standard conditions, called dichlorine...
) in water, that is a highly
corrosive
Corrosive
A corrosive substance is one that will destroy or irreversibly damage another surface or substance with which it comes into contact. The main hazards to people include damage to the eyes, the skin, and the tissue under the skin; inhalation or ingestion of a corrosive substance can damage the...
,
strong
Strong acid
A strong acid is an acid that ionizes completely in an aqueous solution by losing one proton, according to the equationFor sulfuric acid which is diprotic, the "strong acid" designation refers only to dissociation of the first protonMore precisely, the acid must be stronger in aqueous solution than...
mineral acid
Mineral acid
A mineral acid is an acid derived from one or more inorganic compounds. A mineral acid is not organic and all mineral acids release hydrogen ions when dissolved in water.-Characteristics:...
with many industrial uses. It is found naturally in
gastric acid
Gastric acid
Gastric acid is a digestive fluid, formed in the stomach. It has a pH of 1 to 2 and is composed of hydrochloric acid , and large quantities of potassium chloride and sodium chloride...
.
Historically called
muriatic acid
, and
spirits of salt
, hydrochloric acid was produced from
vitriol
Sulfuric acid
Sulfuric acid is a strong mineral acid with the molecular formula . Its historical name is oil of vitriol. Pure sulfuric acid is a highly corrosive, colorless, viscous liquid. The salts of sulfuric acid are called sulfates...
(sulfuric acid) and
common salt
Sodium chloride
Sodium chloride, also known as salt, common salt, table salt or halite, is an inorganic compound with the formula NaCl. Sodium chloride is the salt most responsible for the salinity of the ocean and of the extracellular fluid of many multicellular organisms...
. It first appeared during the
Renaissance
Renaissance
The Renaissance was a cultural movement that spanned roughly the 14th to the 17th century, beginning in Italy in the Late Middle Ages and later spreading to the rest of Europe. The term is also used more loosely to refer to the historical era, but since the changes of the Renaissance were not...
, and then it was used by chemists such as
Glauber
Johann Rudolf Glauber
Johann Rudolf Glauber was a German-Dutch alchemist and chemist. Some historians of science have described him as one of the first chemical engineers...
,
Priestley
Joseph Priestley
Joseph Priestley, FRS was an 18th-century English theologian, Dissenting clergyman, natural philosopher, chemist, educator, and political theorist who published over 150 works...
and
Davy
Humphry Davy
Sir Humphry Davy, 1st Baronet FRS MRIA was a British chemist and inventor. He is probably best remembered today for his discoveries of several alkali and alkaline earth metals, as well as contributions to the discoveries of the elemental nature of chlorine and iodine...
in their scientific research.
With major production starting in the
Industrial Revolution
Industrial Revolution
The Industrial Revolution was a period from the 18th to the 19th century where major changes in agriculture, manufacturing, mining, transportation, and technology had a profound effect on the social, economic and cultural conditions of the times...
, hydrochloric acid is used in the
chemical industry
Chemical industry
The chemical industry comprises the companies that produce industrial chemicals. Central to the modern world economy, it converts raw materials into more than 70,000 different products.-Products:...
as a chemical reagent in the large-scale production of
vinyl chloride
Vinyl chloride
Vinyl chloride is the organochloride with the formula H2C:CHCl. It is also called vinyl chloride monomer, VCM or chloroethene. This colorless compound is an important industrial chemical chiefly used to produce the polymer polyvinyl chloride . At ambient pressure and temperature, vinyl chloride...
for
PVC
Polyvinyl chloride
Polyvinyl chloride, commonly abbreviated PVC, is a thermoplastic polymer. It is a vinyl polymer constructed of repeating vinyl groups having one hydrogen replaced by chloride. Polyvinyl chloride is the third most widely produced plastic, after polyethylene and polypropylene. PVC is widely used in...
plastic, and
MDI
Methylene diphenyl diisocyanate
Methylene diphenyl diisocyanate, most often abbreviated as MDI, is an aromatic diisocyanate. It exists in three isomers, 2,2'-MDI, 2,4'-MDI, and 4,4'-MDI, but the 4,4' isomer is most widely used. This isomer is also known as Pure MDI. MDI reacts with polyols in the manufacture of polyurethane...
/
TDI
Toluene diisocyanate
Toluene diisocyanate is an aromatic diisocyanate. It is produced for reaction with polyols to form polyurethanes. It exists in two isomers, 2,4-TDI and 2,6-TDI . 2,4-TDI is produced in the pure state, but TDI is often marketed as 80/20 and 65/35 mixtures of the 2,4 and 2,6 isomers respectively...
for
polyurethane
Polyurethane
A polyurethane is any polymer composed of a chain of organic units joined by carbamate links. Polyurethane polymers are formed through step-growth polymerization, by reacting a monomer with another monomer in the presence of a catalyst.Polyurethanes are...
.