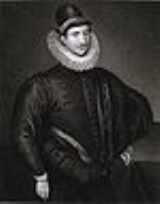 Fulke Greville, 1st Baron Brooke
Fulke Greville, 1st Baron Brooke,
de jure
13th Baron Latimer and 5th Baron Willoughby de Broke (3 October 1554 – 30 September 1628), known before 1621 as Sir Fulke Greville, was an
Elizabethan
Elizabethan era
The Elizabethan era was the epoch in English history of Queen Elizabeth I's reign . Historians often depict it as the golden age in English history...
poet
Poet
A poet is a person who writes poetry. A poet's work can be literal, meaning that his work is derived from a specific event, or metaphorical, meaning that his work can take on many meanings and forms. Poets have existed since antiquity, in nearly all languages, and have produced works that vary...
, dramatist, and
statesman
Statesman
A statesman is usually a politician or other notable public figure who has had a long and respected career in politics or government at the national and international level. As a term of respect, it is usually left to supporters or commentators to use the term...
.
Greville was a capable administrator who served the English Crown under Elizabeth I and
James I
James I of England
James VI and I was King of Scots as James VI from 24 July 1567 and King of England and Ireland as James I from the union of the English and Scottish crowns on 24 March 1603...
as, successively, treasurer of the navy, chancellor of the exchequer, and commissioner of the Treasury, and who for his services was in 1621 made Baron Brooke, peer of the realm, and granted
Warwick Castle
Warwick Castle
Warwick Castle is a medieval castle in Warwick, the county town of Warwickshire, England. It sits on a bend on the River Avon. The castle was built by William the Conqueror in 1068 within or adjacent to the Anglo-Saxon burh of Warwick. It was used as a fortification until the early 17th century,...
, which he substantially improved. Greville is however best known today as the biographer of Sir Philip Sidney, and for his sober poetry, which presents dark, thoughtful, and distinctly
Calvinist
Calvinism
Calvinism is a Protestant theological system and an approach to the Christian life...
views on art, literature, beauty, and other philosophical matters.
Life
Named after his father, Sir
Fulke Greville
Fulke Greville, 4th Baron Willoughby de Broke
Sir Fulke Greville was an English gentleman.Fulke Greville was born circa 1526 at Broke, Wiltshire, the son of Sir Fulke Greville and Elizabeth Willoughby , eldest daughter of Robert Willoughby, 2nd Baron Willoughby de Broke, called Lord Broke, the wealthiest heiress of her time...
, Greville was born at Beauchamp Court, near
Alcester
Alcester
Alcester is an old market town of Roman origin at the junction of the River Alne and River Arrow in Warwickshire, England. It is situated approximately west of Stratford-upon-Avon, and 8 miles south of Redditch, close to the Worcestershire border...
,
Warwickshire
Warwickshire
Warwickshire is a landlocked non-metropolitan county in the West Midlands region of England. The county town is Warwick, although the largest town is Nuneaton. The county is famous for being the birthplace of William Shakespeare...
. He was sent in 1564, on the same day as his life-long friend, Philip Sidney, to
Shrewsbury School
Shrewsbury School
Shrewsbury School is a co-educational independent school for pupils aged 13 to 18, founded by Royal Charter in 1552. The present campus to which the school moved in 1882 is located on the banks of the River Severn in Shrewsbury, Shropshire, England...
. He enrolled at
Jesus College, Cambridge
Jesus College, Cambridge
Jesus College is a constituent college of the University of Cambridge, England.The College was founded in 1496 on the site of a Benedictine nunnery by John Alcock, then Bishop of Ely...
, in 1568.
He was elected MP for
Southampton
Southampton (UK Parliament constituency)
Southampton was a parliamentary constituency which was represented in the British House of Commons. Centred on the town of Southampton, it returned two Members of Parliament from 1295 until it was abolished for the 1950 general election....
in 1572. Sir
Henry Sidney
Henry Sidney
Sir Henry Sidney , Lord Deputy of Ireland was the eldest son of Sir William Sidney of Penshurst, a prominent politician and courtier during the reigns of Henry VIII and Edward VI, from both of whom he received extensive grants of land, including the manor of Penshurst in Kent, which became the...
, Philip's father, and president of the Council of Wales and the Marches, gave him in 1576 a post connected with the court of the
Welsh Marches
Welsh Marches
The Welsh Marches is a term which, in modern usage, denotes an imprecisely defined area along and around the border between England and Wales in the United Kingdom. The precise meaning of the term has varied at different periods...
, but Greville resigned it in 1577 to go to attend court of
Queen Elizabeth
Elizabeth I of England
Elizabeth I was queen regnant of England and Ireland from 17 November 1558 until her death. Sometimes called The Virgin Queen, Gloriana, or Good Queen Bess, Elizabeth was the fifth and last monarch of the Tudor dynasty...
along with Philip Sidney. There, young Greville became a great favourite with the Queen, who valued his sober character and administrative skills, making him secretary to the principality of Wales in 1583; however he was more than once disgraced for leaving the country against her wishes.
Philip Sidney, Sir Edward Dyer and Greville were members of the "
Areopagus
Areopagus (poetry)
The Areopagus is a speculated or hinted poetry movement centered around Edmund Spenser and Gabriel Harvey. The label is used as a critical shorthand for a group of poets that included Spenser, Harvey, Edward Dyer and Sir Philip Sidney...
", the literary clique which, under the leadership of
Gabriel Harvey
Gabriel Harvey
Gabriel Harvey was an English writer. Harvey was a notable scholar, though his reputation suffered from his quarrel with Thomas Nashe...
, supported the introduction of classical metres into English verse. Sidney and Greville arranged to sail with Sir Francis Drake in 1585 in his expedition against the Spanish West Indies, but Elizabeth forbade Drake to take them with him, and also refused Greville's request to be allowed to join
Robert Dudley's
Robert Dudley, 1st Earl of Leicester
Robert Dudley, 1st Earl of Leicester, KG was an English nobleman and the favourite and close friend of Elizabeth I from her first year on the throne until his death...
army in the
Netherlands
Netherlands
The Netherlands is a constituent country of the Kingdom of the Netherlands, located mainly in North-West Europe and with several islands in the Caribbean. Mainland Netherlands borders the North Sea to the north and west, Belgium to the south, and Germany to the east, and shares maritime borders...
. Philip Sidney, who took part in the campaign, was killed on 17 October 1586. Greville memorialized his beloved friend in his
Life of the Renowned Sir Philip Sidney.
He participated in the
Battle of Coutras
Battle of Coutras
The Battle of Coutras, fought on 20 October 1587, was a major engagement in the eighth and final war of the French Religious Wars between an army under Henry of Navarre and a royal army led by Anne, Duke of Joyeuse...
in 1587. About 1591 Greville served further for a short time in
Normandy
Normandy
Normandy is a geographical region corresponding to the former Duchy of Normandy. It is in France.The continental territory covers 30,627 km² and forms the preponderant part of Normandy and roughly 5% of the territory of France. It is divided for administrative purposes into two régions:...
under Henry of Navarre in the
French Wars of Religion
French Wars of Religion
The French Wars of Religion is the name given to a period of civil infighting and military operations, primarily fought between French Catholics and Protestants . The conflict involved the factional disputes between the aristocratic houses of France, such as the House of Bourbon and House of Guise...
. This was his last experience of war.
Greville represented
Warwickshire
Warwickshire (UK Parliament constituency)
Warwickshire was a parliamentary constituency in the Warwickshire in England. It returned two Members of Parliament , traditionall known as knights of the shire, to the House of Commons of the Parliament of the United Kingdom, elected by the bloc vote system.-Boundaries and franchise:The...
in parliament in 1592-1593, 1597, 1601 and 1621. In 1598 he was made
Treasurer of the Navy
Treasurer of the Navy
The Treasurer of the Navy was an office in the British government between the mid-16th and early 19th century. The office-holder was responsible for the financial maintenance of the Royal Navy. The office was a political appointment, and frequently was held by up-and-coming young politicians who...
, and he retained the office through the early years of the reign of James I. In 1614 he became chancellor and under-treasurer of the exchequer, and throughout the reign he was a valued supporter of James I, although in 1615 he advocated the summoning of a parliament. In 1618 he became commissioner of the treasury, and in 1621 he was raised to the peerage with the title of Baron Brooke, a title which had belonged to the family of his paternal grandmother, Elizabeth Willoughby. He received from James I the grant of Warwick Castle, in the restoration of which he is said to have spent £20,000.
Death
Fulke Greville died in consequence of a knife wound inflicted by a servant who felt he had been cheated in his master's will on 30 September 1628. After stabbing Greville, the murderer, Ralph Heywood, turned the knife on himself. Lord Brooke was buried in the
Collegiate Church of St Mary, Warwick
Collegiate Church of St Mary, Warwick
The Collegiate Church of St Mary is a Church of England parish church in the town of Warwick, England. It lies in the centre of the town just east of the market place. It is a member of the Greater Churches Group....
, and on his tomb was inscribed the epitaph he had composed for himself: "Folk Grevill Servant to Queene Elizabeth Conceller to King James Frend to Sir Philip Sidney. Trophaeum Peccati.".
Works
It is by his biography of Sidney that Fulke Greville is best known. The full title expresses the scope of the work. He includes some autobiographical matter in what amounts to a treatise on government.
His poetry consist of
closet
Closet drama
A closet drama is a play that is not intended to be performed onstage, but read by a solitary reader or, sometimes, out loud in a small group. A related form, the "closet screenplay," developed during the 20th century.-Form:...
tragedies,
sonnet
Sonnet
A sonnet is one of several forms of poetry that originate in Europe, mainly Provence and Italy. A sonnet commonly has 14 lines. The term "sonnet" derives from the Occitan word sonet and the Italian word sonetto, both meaning "little song" or "little sound"...
s, and poems on political and moral subjects. His style is grave and sententious.
Greville's works include:
Biography
The Life of the Renowned Sir Philip Sidney

Philip Sidney

Sir Philip Sidney was an English poet, courtier and soldier, and is remembered as one of the most prominent figures of the Elizabethan Age...


(1625)
Closet drama
Verse poems
Caelica in CX Sonnets
Of Monarchy
A Treatise of Religion
A Treatie of Humane Learning
An Inquisition upon Fame and Honour
A Treatie of Warres
Miscellaneous prose
a letter to an "Honourable Lady,"
a letter to Grevill Varney in France,
a short speech delivered on behalf of Francis Bacon

Francis Bacon

Francis Bacon, 1st Viscount St Albans, KC was an English philosopher, statesman, scientist, lawyer, jurist, author and pioneer of the scientific method. He served both as Attorney General and Lord Chancellor of England...



Editions
His works were collected and reprinted by
Alexander Balloch Grosart
Alexander Balloch Grosart
Alexander Balloch Grosart was a Scottish clergyman and literary editor. He is chiefly remembered for reprinting much rare Elizabethan literature, a work which he undertook because of his interest in Puritan theology.-Life:...
, in 1870, in four volumes.
Poetry and Drama of Fulke Greville,
edited by Geoffery Bullough, was published in 1938.
The Prose Works of Fulke Greville
, edited by John Gouws, were published in 1986. "The Selected Poems of Fulke Greville," edited by
Thom Gunn
Thom Gunn
Thom Gunn, born Thomson William Gunn , was an Anglo-American poet who was praised both for his early verses in England, where he was associated with The Movement and his later poetry in America, even after moving toward a looser, free-verse style...
, with an afterword by Bradin Cormack, was published in 2009 (University of Chicago Press, ISBN 9780226308463.)
Critical views
Of Brooke
Charles Lamb
Charles Lamb
Charles Lamb was an English essayist, best known for his Essays of Elia and for the children's book Tales from Shakespeare, which he produced with his sister, Mary Lamb . Lamb has been referred to by E.V...
says
"He is nine parts Machiavel and Tacitus, for one of Sophocles and Seneca.... Whether we look into his plays or his most passionate love-poems, we shall find all frozen and made rigid with intellect."
He goes on to speak of the obscurity of expression that runs through all Brooke's poetry.
Andrea McCrea sees the influence of
Justus Lipsius
Justus Lipsius
Justus Lipsius was a Southern-Netherlandish philologist and humanist. Lipsius wrote a series of works designed to revive ancient Stoicism in a form that would be compatible with Christianity. The most famous of these is De Constantia...
in the
Letter to an Honourable Lady
, but elsewhere detects a scepticism more akin to
Michel de Montaigne
Michel de Montaigne
Lord Michel Eyquem de Montaigne , February 28, 1533 – September 13, 1592, was one of the most influential writers of the French Renaissance, known for popularising the essay as a literary genre and is popularly thought of as the father of Modern Skepticism...
.
A rhyming elegy on Brooke, published in
Henry Huth
Henry Huth
Henry Huth was an English merchant banker and prominent bibliophile.-Early life:He was the third son of Frederick Huth of Hanover, who settled at Corunna in Spain. Frederick Huth left Spain during the Napoleonic Wars, with his family under convoy of the British squadron, and landed in England in...
's
Inedited Poetical Miscellanies
, brings charges of miserliness against him.
Robert Pinsky
Robert Pinsky
Robert Pinsky is an American poet, essayist, literary critic, and translator. From 1997 to 2000, he served as Poet Laureate Consultant in Poetry to the Library of Congress. Pinsky is the author of nineteen books, most of which are collections of his own poetry...
has asserted that this work is comparable in force of imagination to
John Donne
John Donne
John Donne 31 March 1631), English poet, satirist, lawyer, and priest, is now considered the preeminent representative of the metaphysical poets. His works are notable for their strong and sensual style and include sonnets, love poetry, religious poems, Latin translations, epigrams, elegies, songs,...
.
Some believe that Greville is the true author of several plays attributed to
William Shakespeare
William Shakespeare
William Shakespeare was an English poet and playwright, widely regarded as the greatest writer in the English language and the world's pre-eminent dramatist. He is often called England's national poet and the "Bard of Avon"...
.
Family
He left no natural heirs, and his senior (Brooke) barony passed to his cousin and adopted son, Robert Greville (1608–1643), who took the side of
Parliament
Parliament
A parliament is a legislature, especially in those countries whose system of government is based on the Westminster system modeled after that of the United Kingdom. The name is derived from the French , the action of parler : a parlement is a discussion. The term came to mean a meeting at which...
part in the
English Civil War
English Civil War
The English Civil War was a series of armed conflicts and political machinations between Parliamentarians and Royalists...
, and defeated the
Royalists
Cavalier
Cavalier was the name used by Parliamentarians for a Royalist supporter of King Charles I and son Charles II during the English Civil War, the Interregnum, and the Restoration...
in a skirmish at
Kineton
Kineton
Kineton is a village and civil parish on the River Dene in south-eastern Warwickshire, England. The village is part of Stratford-on-Avon district, and in the 2001 census it had a population of 2,278....
in August 1642. Robert was killed during the siege of
Lichfield
Lichfield
Lichfield is a cathedral city, civil parish and district in Staffordshire, England. One of eight civil parishes with city status in England, Lichfield is situated roughly north of Birmingham...
on 2 March 1643, having survived the elder Greville by only fifteen years. His other barony (Willoughby de Broke) was inherited by his sister
Margaret
Margaret Greville, 6th Baroness Willoughby de Broke
Margaret Greville, 6th Baroness Willoughby de Broke and de jure 14th Baroness Latimer was a peeress in the peerage of England....
who married Sir Richard Verney.
See also
Canons of Elizabethan poetry
External links
Attribution