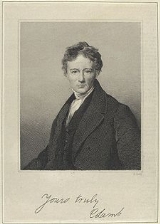 Charles Lamb
Charles Lamb
was an
English
England
England is a country that is part of the United Kingdom. It shares land borders with Scotland to the north and Wales to the west; the Irish Sea is to the north west, the Celtic Sea to the south west, with the North Sea to the east and the English Channel to the south separating it from continental...
essayist
, best known for his
Essays of Elia
Essays of Elia
Essays of Elia is a collection of essays written by Charles Lamb; it was first published in book form in 1823, with a second volume, Last Essays of Elia, issued in 1833 by the publisher Edward Moxon....
and for the children's book
Tales from Shakespeare
Tales from Shakespeare
Tales from Shakespeare was an English children's book written by Charles Lamb with his sister Mary Lamb in 1807. It was illustrated by Arthur Rackham in 1899 and 1909....
, which he produced with his sister,
Mary Lamb
Mary Lamb
Mary Ann Lamb , was an English writer, the sister and collaborator of Charles Lamb.-Biography:She was born on 3 December 1764. In 1796, Mary, who had suffered a breakdown from the strain of caring for her family, killed her mother with a kitchen knife, and from then on had to be kept under constant...
(1764–1847). Lamb has been referred to by E.V. Lucas, his principal biographer, as the most lovable figure in English literature.
Lamb was honoured by
The Latymer School
The Latymer School
The Latymer School is a selective, mixed grammar school in Edmonton, north London, England.- Examination procedures :Approximately 180 pupils are admitted to Year 7 annually. Places are awarded on the basis of competitive examination, though 20 are reserved for students with exceptional musical...
, a grammar school in Edmonton, a suburb of London where he lived for a time; it has six houses, one of which, "Lamb", is named after Charles.
Lamb was the son of Elizabeth Field and John Lamb.
I have had playmates, I have had companions,In my days of childhood, in my joyful school days—All, all are gone, the old familiar faces.

Old Familiar Faces (1798)
For God's sake (I never was more serious), don't make me ridiculous any more by terming me gentle-hearted in print.

Letter to Coleridge (August 6, 1800)
Please to blot out gentle hearted, and substitute drunken dog, ragged head, seld-shaven, odd-ey'd, stuttering, or any other epithet which truly and properly belongs to the Gentleman in question.

Letter to Coleridge (August 14, 1800)
Separate from the pleasure of your company, I don't much care if I never see a mountain in my life.

Letter to Wordsworth (January 30, 1801)
The man must have a rare recipe for melancholy, who can be dull in Fleet Street.

Letter to Thomas Manning (February 15, 1802)
Nursed amid her [London's] noise, her crowds, her beloved smoke, what have I been doing all my life, if I have not lent out my heart with usury to such scenes?

Letter to Thomas Manning (February 15, 1802)
Gone beforeTo that unknown and silent shore.

Hester, st. 7 (1803)
For thy sake, Tobacco, IWould do anything but die.

A Farewell to Tobacco (1805)
A good-natured woman...which is as much as you can expect from a friend's wife, whom you got acquainted with a bachelor.

Letter to Hazlitt (November 10, 1805)
Any thing awful makes me laugh. I misbehaved once at a funeral.

Letter to Southey (August 9, 1815)