 Francesco Geminiani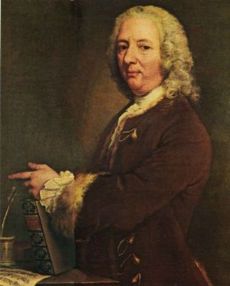 Francesco Saverio Geminiani
(5 December 1687 – 17 September 1762) was an
Italian
Italy
Italy , officially the Italian Republic languages]] under the European Charter for Regional or Minority Languages. In each of these, Italy's official name is as follows:;;;;;;;;), is a unitary parliamentary republic in South-Central Europe. To the north it borders France, Switzerland, Austria and...
violin
Violin
The violin is a string instrument, usually with four strings tuned in perfect fifths. It is the smallest, highest-pitched member of the violin family of string instruments, which includes the viola and cello....
ist, composer, and
music theorist
Music theory
Music theory is the study of how music works. It examines the language and notation of music. It seeks to identify patterns and structures in composers' techniques across or within genres, styles, or historical periods...
.
Biography
Born at
Lucca
Lucca
Lucca is a city and comune in Tuscany, central Italy, situated on the river Serchio in a fertile plainnear the Tyrrhenian Sea. It is the capital city of the Province of Lucca...
, he received lessons in music from
Alessandro Scarlatti
Alessandro Scarlatti
Alessandro Scarlatti was an Italian Baroque composer especially famous for his operas and chamber cantatas. He is considered the founder of the Neapolitan school of opera. He was the father of two other composers, Domenico Scarlatti and Pietro Filippo Scarlatti.-Life:Scarlatti was born in...
, and studied the violin under Carlo Ambrogio (Ambrosio) Lonati in
Milan
Milan
Milan is the second-largest city in Italy and the capital city of the region of Lombardy and of the province of Milan. The city proper has a population of about 1.3 million, while its urban area, roughly coinciding with its administrative province and the bordering Province of Monza and Brianza ,...
and afterwards under
Arcangelo Corelli
Arcangelo Corelli
Arcangelo Corelli was an Italian violinist and composer of Baroque music.-Biography:Corelli was born at Fusignano, in the current-day province of Ravenna, although at the time it was in the province of Ferrara. Little is known about his early life...
. From 1707 he took the place of his father in the Cappella Palatina of Lucca. From 1711, he led the opera orchestra at
Naples
Naples
Naples is a city in Southern Italy, situated on the country's west coast by the Gulf of Naples. Lying between two notable volcanic regions, Mount Vesuvius and the Phlegraean Fields, it is the capital of the region of Campania and of the province of Naples...
, as Leader of the Opera Orchestra and
concertmaster
Concertmaster
The concertmaster/mistress is the spalla or leader, of the first violin section of an orchestra. In the UK, the term commonly used is leader...
, which gave him many opportunities for contact with Alessandro Scarlatti. After a brief return to Lucca, in 1714, he set off for
London
London
London is the capital city of :England and the :United Kingdom, the largest metropolitan area in the United Kingdom, and the largest urban zone in the European Union by most measures. Located on the River Thames, London has been a major settlement for two millennia, its history going back to its...
, where he arrived with the reputation of a virtuoso violinist, and soon attracted attention and patrons, including
William Capel, 3rd Earl of Essex
Earl of Essex
Earl of Essex is a title that has been held by several families and individuals. The earldom was first created in the 12th century for Geoffrey II de Mandeville . Upon the death of the third earl in 1189, the title became dormant or extinct...
, who remained a consistent patron. In 1715 Geminiani played his violin concerti for the court of
George I
George I of Great Britain
George I was King of Great Britain and Ireland from 1 August 1714 until his death, and ruler of the Duchy and Electorate of Brunswick-Lüneburg in the Holy Roman Empire from 1698....
, with
Handel
George Frideric Handel
George Frideric Handel was a German-British Baroque composer, famous for his operas, oratorios, anthems and organ concertos. Handel was born in 1685, in a family indifferent to music...
at the keyboard.
Geminiani made a living by teaching and writing music, and tried to keep pace with his passion for collecting by dealing in art, not always successfully.
Many of his students went on to have successful careers such as
Charles Avison
Charles Avison
Charles Avison – 10 May 1770) was an English composer during the Baroque and Classical periods. He was a church organist at St John The Baptist Church in Newcastle and at St. Nicholas's Church...
,
Matthew Dubourg
Matthew Dubourg
Matthew Dubourg was an Irish violinist, conductor, and composer. Dubourg also enjoys the distinction of having led the orchestra at the premiere of Georg Friedrich Handel's great oratorio Messiah...
,
Michael Christian Festing
Michael Christian Festing
Michael Christian Festing was an English violinist and composer. His reputation lies mostly on his work as a violin virtuoso.-Biography:...
,
Bernhard Joachim Hagen
Bernhard Joachim Hagen
Bernhard Joachim Hagen was a German composer, violinist and lutenist. He was the last important composer of lute music in 18th century Germany.-Life:...
, and
Cecilia Young
Cecilia Young
Cecilia Young was one of the greatest English sopranos of the eighteenth century, the wife of composer Thomas Arne, and the mother of composer Michael Arne...
.
After visiting
Paris
Paris
Paris is the capital and largest city in France, situated on the river Seine, in northern France, at the heart of the Île-de-France region...
and residing there for some time, he returned to England in 1755. In 1761, on one of his sojourns in
Dublin
, a servant robbed him of a musical manuscript on which he had bestowed much time and labour. His vexation at this loss is said to have hastened his death.
He appears to have been a first-rate violinist. His Italian pupils reportedly called him
Il Furibondo,
the Madman, because of his expressive rhythms. He is best known for three sets of
concerti grossi
Concerto grosso
The concerto grosso is a form of baroque music in which the musical material is passed between a small group of soloists and full orchestra...
, his Opus 2 (1732), Opus 3 (1733) and Opus 7 (1746), (there are 42 concerti in all) which introduce the
viola
Viola
The viola is a bowed string instrument. It is the middle voice of the violin family, between the violin and the cello.- Form :The viola is similar in material and construction to the violin. A full-size viola's body is between and longer than the body of a full-size violin , with an average...
as a member of the
concertino
Concertino (group)
A concertino is the smaller group of instruments in a concerto grosso. This is opposed to the ripieno which is the larger group contrasting with the concertino....
group of soloists, making them essentially concerti for
string quartet
String quartet
A string quartet is a musical ensemble of four string players – usually two violin players, a violist and a cellist – or a piece written to be performed by such a group...
. These works are deeply
contrapuntal
Counterpoint
In music, counterpoint is the relationship between two or more voices that are independent in contour and rhythm and are harmonically interdependent . It has been most commonly identified in classical music, developing strongly during the Renaissance and in much of the common practice period,...
to please a London audience still in love with
Corelli
Arcangelo Corelli
Arcangelo Corelli was an Italian violinist and composer of Baroque music.-Biography:Corelli was born at Fusignano, in the current-day province of Ravenna, although at the time it was in the province of Ferrara. Little is known about his early life...
, compared to the
galant
Galant
In music, Galant was a term referring to a style, principally occurring in the third quarter of the 18th century, which featured a return to classical simplicity after the complexity of the late Baroque era...
work that was fashionable on the Continent at the time of their composition. Geminiani also reworked a group of violin sonatas from his teacher Corelli into
concerti grossi
.
His
Art of Playing the Violin
published in London (1751) is the best-known summation of the 18th century Italian method of violin playing, and is an invaluable source for study of late
Baroque
Baroque music
Baroque music describes a style of Western Classical music approximately extending from 1600 to 1760. This era follows the Renaissance and was followed in turn by the Classical era...
performance practice, giving detailed information on
vibrato
Vibrato
Vibrato is a musical effect consisting of a regular, pulsating change of pitch. It is used to add expression to vocal and instrumental music. Vibrato is typically characterised in terms of two factors: the amount of pitch variation and the speed with which the pitch is varied .-Vibrato and...
,
trill
Trill
Trill may refer to:* Trill , a type of musical ornament* Trill consonant, a type of sound used in some languages*Trill, a type of bird food-Fiction:* Trill , two symbiotic races of aliens in the fictional Star Trek universe...
s, and other violin techniques. His
Guida harmonica
(c.1752, with an addendum in 1756) is one of the most unusual
harmony
Harmony
In music, harmony is the use of simultaneous pitches , or chords. The study of harmony involves chords and their construction and chord progressions and the principles of connection that govern them. Harmony is often said to refer to the "vertical" aspect of music, as distinguished from melodic...
treatises of the late Baroque, serving as a sort of encyclopedia of basso continuo patterns and realizations. There are 2236 patterns in all, and at the end of each pattern is a page number reference for a potential next pattern; thus a student composer studying the book would have an idea of all the subsequent possibilities available after any given short bass line.
Geminiani published a number of solos for the violin, three sets of violin concerti, twelve violin trios, The
Art of Accompaniment on the Harpsichord, Organ, etc.
(1754),
Lessons for the Harpsichord
,
Art of Playing the Guitar
(1760) and some other works.
External links
This entry incorporates corrected and expanded material originally from the 1911 Encyclopedia Britannica.