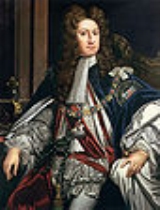 George I of Great Britain
George I
was King of
Great Britain
Kingdom of Great Britain
The former Kingdom of Great Britain, sometimes described as the 'United Kingdom of Great Britain', That the Two Kingdoms of Scotland and England, shall upon the 1st May next ensuing the date hereof, and forever after, be United into One Kingdom by the Name of GREAT BRITAIN. was a sovereign...
and
Ireland
Kingdom of Ireland
The Kingdom of Ireland refers to the country of Ireland in the period between the proclamation of Henry VIII as King of Ireland by the Crown of Ireland Act 1542 and the Act of Union in 1800. It replaced the Lordship of Ireland, which had been created in 1171...
from 1 August 1714 until his death, and ruler of the Duchy and Electorate of Brunswick-Lüneburg (Hanover) in the
Holy Roman Empire
Holy Roman Empire
The Holy Roman Empire was a realm that existed from 962 to 1806 in Central Europe.It was ruled by the Holy Roman Emperor. Its character changed during the Middle Ages and the Early Modern period, when the power of the emperor gradually weakened in favour of the princes...
from 1698.
George was born in
Hanover
Hanover
Hanover or Hannover, on the river Leine, is the capital of the federal state of Lower Saxony , Germany and was once by personal union the family seat of the Hanoverian Kings of Great Britain, under their title as the dukes of Brunswick-Lüneburg...
, in what is now Germany, and inherited the titles and lands of the Duchy of Brunswick-Lüneburg from his father and uncles. A succession of European wars expanded his German domains during his lifetime, and in 1708 he was ratified as
prince-elector
Prince-elector
The Prince-electors of the Holy Roman Empire were the members of the electoral college of the Holy Roman Empire, having the function of electing the Roman king or, from the middle of the 16th century onwards, directly the Holy Roman Emperor.The heir-apparent to a prince-elector was known as an...
of Hanover.