 Fixed Platform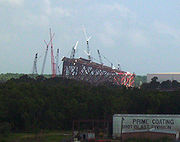 A
fixed platform
is a type of offshore platform used for the production of
oil
Petroleum
Petroleum or crude oil is a naturally occurring, flammable liquid consisting of a complex mixture of hydrocarbons of various molecular weights and other liquid organic compounds, that are found in geologic formations beneath the Earth's surface. Petroleum is recovered mostly through oil drilling...
or
gas
Natural gas
Natural gas is a naturally occurring gas mixture consisting primarily of methane, typically with 0–20% higher hydrocarbons . It is found associated with other hydrocarbon fuel, in coal beds, as methane clathrates, and is an important fuel source and a major feedstock for fertilizers.Most natural...
. These platforms are built on
concrete
Concrete
Concrete is a composite construction material, composed of cement and other cementitious materials such as fly ash and slag cement, aggregate , water and chemical admixtures.The word concrete comes from the Latin word...
and/or
steel
Steel
Steel is an alloy that consists mostly of iron and has a carbon content between 0.2% and 2.1% by weight, depending on the grade. Carbon is the most common alloying material for iron, but various other alloying elements are used, such as manganese, chromium, vanadium, and tungsten...
legs anchored directly onto the seabed, supporting a deck with space for drilling rigs, production facilities and crew quarters. Such platforms are, by virtue of their immobility, designed for very long term use (for instance the
Hibernia platform
Hibernia (oil field)
Hibernia is an oil field in the North Atlantic Ocean, approximately east-southeast of St. John's, Newfoundland, Canada.The production platform Hibernia is the world's largest oil platform and consists of a 37,000-tonne integrated topsides facility mounted on a 600,000-tonne gravity base structure...
). Various types of structure are used, steel jacket, concrete
caisson
Caisson (engineering)
In geotechnical engineering, a caisson is a retaining, watertight structure used, for example, to work on the foundations of a bridge pier, for the construction of a concrete dam, or for the repair of ships. These are constructed such that the water can be pumped out, keeping the working...
, floating steel and even floating concrete. Steel jackets are vertical sections made of tubular steel members, and are usually piled into the seabed. Concrete caisson structures, pioneered by the
Condeep
Condeep
Condeep refers to a make of gravity base structure for oil platforms developed and fabricated by Norwegian Contractors in Stavanger, Norway. A Condeep usually consists of a base of concrete oil storage tanks from which one, three or four concrete shafts rise...
concept, often have in-built oil storage in tanks below the sea surface and these tanks were often used as a flotation capability, allowing them to be built close to shore (
Norwegian
Norway
Norway , officially the Kingdom of Norway, is a Nordic unitary constitutional monarchy whose territory comprises the western portion of the Scandinavian Peninsula, Jan Mayen, and the Arctic archipelago of Svalbard and Bouvet Island. Norway has a total area of and a population of about 4.9 million...
fjord
Fjord
Geologically, a fjord is a long, narrow inlet with steep sides or cliffs, created in a valley carved by glacial activity.-Formation:A fjord is formed when a glacier cuts a U-shaped valley by abrasion of the surrounding bedrock. Glacial melting is accompanied by rebound of Earth's crust as the ice...
s and
Scottish
Scotland
Scotland is a country that is part of the United Kingdom. Occupying the northern third of the island of Great Britain, it shares a border with England to the south and is bounded by the North Sea to the east, the Atlantic Ocean to the north and west, and the North Channel and Irish Sea to the...
firth
Firth
Firth is the word in the Lowland Scots language and in English used to denote various coastal waters in Scotland and England. In mainland Scotland it is used to describe a large sea bay, or even a strait. In the Northern Isles it more usually refers to a smaller inlet...
s are popular because they are sheltered and deep enough) and then floated to their final position where they are sunk to the seabed. Fixed platforms are economically feasible for installation in water depths up to about 1,700 feet (520 m).
See also