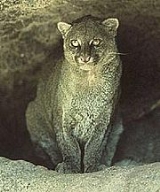 Felinae
Felinae
is a subfamily of the
family
Family (biology)
In biological classification, family is* a taxonomic rank. Other well-known ranks are life, domain, kingdom, phylum, class, order, genus, and species, with family fitting between order and genus. As for the other well-known ranks, there is the option of an immediately lower rank, indicated by the...
Felidae
Felidae
Felidae is the biological family of the cats; a member of this family is called a felid. Felids are the strictest carnivores of the thirteen terrestrial families in the order Carnivora, although the three families of marine mammals comprising the superfamily pinnipedia are as carnivorous as the...
which includes the genera and species listed below. Most are small to medium-sized cats, although the group does include some larger animals, such as the Cougar and
Cheetah
Cheetah
The cheetah is a large-sized feline inhabiting most of Africa and parts of the Middle East. The cheetah is the only extant member of the genus Acinonyx, most notable for modifications in the species' paws...
.
The earliest records of the Felinae are ascribed
Felis attica
Felis attica
Felis attica is an extinct felid of the subfamily Felinae. Around 12 million years ago, the genus Felis appeared and eventually gave rise to many of the modern small cats...
from the late
Miocene
Miocene
The Miocene is a geological epoch of the Neogene Period and extends from about . The Miocene was named by Sir Charles Lyell. Its name comes from the Greek words and and means "less recent" because it has 18% fewer modern sea invertebrates than the Pliocene. The Miocene follows the Oligocene...
(9 Ma) of western
Eurasia
Eurasia
Eurasia is a continent or supercontinent comprising the traditional continents of Europe and Asia ; covering about 52,990,000 km2 or about 10.6% of the Earth's surface located primarily in the eastern and northern hemispheres...
.
Genera

Genus Acinonyx

Acinonyx

Acinonyx is a genus of mammals from the family Felidae. It is currently distributed in Africa and Asia, but at one time was also present in Europe. The cheetah is the only extant species in the genus. Wozencraft put the genus Acinonyx in their own monophyletic subfamily, Acinonychinae. Salles ,...


(Brookes

Joshua Brookes

'Joshua Brookes was a British anatomist and naturalist.He studied under John Hunter in London. He became a teacher of anatomy in London, and the founder of the Brookesian Museum of Comparative Anatomy.This private museum is described in his 1830 catalogue Museum Brookesianum Embracing an Almost...


, 1828)
Genus Caracal

Caracal

The caracal is a fiercely territorial medium-sized cat ranging over Western Asia, South Asia and Africa.The word caracal comes from the Turkish word "karakulak", meaning "black ear". In North India and Pakistan, the caracal is locally known as syahgosh or shyahgosh, which is a Persian term...


(Gray

John Edward Gray

John Edward Gray, FRS was a British zoologist. He was the elder brother of George Robert Gray and son of the pharmacologist and botanist Samuel Frederick Gray ....


, 1843)

Caracal caracal

Caracal

The caracal is a fiercely territorial medium-sized cat ranging over Western Asia, South Asia and Africa.The word caracal comes from the Turkish word "karakulak", meaning "black ear". In North India and Pakistan, the caracal is locally known as syahgosh or shyahgosh, which is a Persian term...


(Schreber

Johann Christian Daniel von Schreber

Johann Christian Daniel von Schreber , often styled I.C.D. von Schreber, was a German naturalist.-Career:He was elected Professor of Materia medica at the University of Erlangen in 1769....


, 1776) – Caracal


Genus Catopuma

Catopuma

Catopuma is a genus including two small Asian felines, the Bay Cat and the Asian Golden Cat .Both are typically reddish brown in colour, with darker markings on the head. They inhabit forested environments in South East Asia, with the Bay Cat being restricted to the island of Borneo...


(Severtzov, 1858)

Catopuma badia

Bay Cat

The Bay Cat , also known as Bornean Cat, Bornean Bay Cat, Bornean Marbled Cat, is a wild cat endemic to the island of Borneo that appears relatively rare compared to sympatric felids, based on the paucity of historical as well as recent records...


(Gray

John Edward Gray

John Edward Gray, FRS was a British zoologist. He was the elder brother of George Robert Gray and son of the pharmacologist and botanist Samuel Frederick Gray ....


, 1874) – Bay Cat
Catopuma temminckii (Vigors

Nicholas Aylward Vigors

Nicholas Aylward Vigors was an Irish zoologist and politician.Vigors was born at Old Leighlin, County Carlow. He studied at Trinity College, Oxford. He served in the army during the Peninsular War from 1809 to 1811. He then returned to Oxford, graduating with a B.A. in 1815 and in 1817 with an...


& Horsfield

Thomas Horsfield

Thomas Horsfield M. D. was an American physician and naturalist.Horsfield was born in Bethlehem, Pennsylvania, and studied medicine at the University of Pennsylvania. He was the grandson of Timothy Horsfield, Sr., a colonel and justice of the peace in Bethlehem, and a friend mentioned in Benjamin...


, 1827) – Asian Golden Cat


Genus Felis

Felis

Felis is a genus of cats in the family Felidae, including the familiar domestic cat and its closest wild relatives. The wild species are distributed widely across Europe, southern and central Asia, and Africa; the domestic cat has been introduced worldwide.Members of the genus Felis are all small...


(Linnaeus, 1758)
Genus Leopardus

Leopardus

Leopardus is a genus consisting of small spotted cats mostly native to Middle and South America. Very few range into the southern United States. The genus is considered the oldest branch of the part of the cat family to cross into the Americas, followed by the genera Lynx and Puma...


(Gray

John Edward Gray

John Edward Gray, FRS was a British zoologist. He was the elder brother of George Robert Gray and son of the pharmacologist and botanist Samuel Frederick Gray ....


, 1842)
Leopardus pardalis

Ocelot

The ocelot , pronounced /ˈɒsəˌlɒt/, also known as the dwarf leopard or McKenney's wildcat is a wild cat distributed over South and Central America and Mexico, but has been reported as far north as Texas and in Trinidad, in the Caribbean...


(Linnaeus, 1758) – Ocelot
Leopardus tigrinus (Schreber

Johann Christian Daniel von Schreber

Johann Christian Daniel von Schreber , often styled I.C.D. von Schreber, was a German naturalist.-Career:He was elected Professor of Materia medica at the University of Erlangen in 1769....


, 1775) – Oncilla
Leopardus wiedii

Margay

The Margay is a spotted cat native to Middle and South America. Named for Prince Maximilian of Wied-Neuwied, it is a solitary and nocturnal animal that prefers remote sections of the rainforest. Although it was once believed to be vulnerable to extinction, the IUCN now lists it as "Near Threatened"...


(Schinz

Heinrich Rudolf Schinz

Heinrich Rudolf Schinz was a Swiss physician and naturalist.Schinz was born at Zurich and studied medicine at Würzburg and Jena, returning to Zurich in 1798 to practice...


, 1821) – Margay

Genus Leptailurus (Severtzov, 1858)

Leptailurus serval

Serval

The serval , Leptailurus serval or Caracal serval, known in Afrikaans as Tierboskat, "tiger-forest-cat", is a medium-sized African wild cat. DNA studies have shown that the serval is closely related to the African golden cat and the caracal...


(Schreber, 1776) – Serval


Genus Lynx

Lynx

A lynx is any of the four Lynx genus species of medium-sized wildcats. The name "lynx" originated in Middle English via Latin from Greek word "λύγξ", derived from the Indo-European root "*leuk-", meaning "light, brightness", in reference to the luminescence of its reflective eyes...


(Kerr

Robert Kerr (writer)

Robert Kerr FRS was a scientific writer and translator from Scotland.Kerr was born in Roxburghshire as the son of a jeweller. He studied medicine at the University of Edinburgh and practised at the Edinburgh Foundling Hospital as a surgeon...


, 1792)
Genus †Miracinonyx

Miracinonyx

Miracinonyx is an extinct genus of the family Felidae, endemic to North America during the Pleistocene epoch , existing for approximately ....




†Miracinonyx trumani
†Miracinonyx inexpectatus
†Miracinonyx studeri


Genus Otocolobus

Otocolobus manul (Pallas

Peter Simon Pallas

Peter Simon Pallas was a German zoologist and botanist who worked in Russia.- Life and work :Pallas was born in Berlin, the son of Professor of Surgery Simon Pallas. He studied with private tutors and took an interest in natural history, later attending the University of Halle and the University...


, 1776) – Pallas's Cat


Genus Pardofelis

Marbled Cat

The Marbled Cat is a small wild cat of South and Southeast Asia. Since 2002 it has been listed as vulnerable by IUCN as it occurs at low densities, and its total effective population size is suspected to be fewer than 10,000 mature individuals, with no single population numbering more than...


(Severtzov, 1858)

Pardofelis marmorata

Marbled Cat

The Marbled Cat is a small wild cat of South and Southeast Asia. Since 2002 it has been listed as vulnerable by IUCN as it occurs at low densities, and its total effective population size is suspected to be fewer than 10,000 mature individuals, with no single population numbering more than...


(Martin

William Charles Linnaeus Martin

William Charles Linnaeus Martin was an English naturalist.-Biography:William Charles Linnaeus Martin was the son of William Martin who had published early colour books on the fossils of Derbyshire...


, 1837) – Marbled Cat


Genus Prionailurus

Prionailurus

Prionailurus is a genus of four species of small, spotted wild cats found in Asia. They are typically forest-dwelling. Most are able to swim well; some species are actually semi-aquatic and feed mainly on fish and other aquatic animals....


(Severtzov

Nikolai Alekseevich Severtzov

Nikolai Alekseevich Severtzov was a Russian explorer and naturalist.On an expedition to the Syr Darya he was captured by bandits and freed after a month. In 1865-68 he explored the Tien Shan and Lake Issyk Kul...


, 1858)
Genus Profelis

African Golden Cat

The African Golden Cat is a medium-sized wild cat distributed over the rainforests of West and Central Africa. It is about long, and has a tail of about in length...


(Severtzov, 1858)

Profelis aurata

African Golden Cat

The African Golden Cat is a medium-sized wild cat distributed over the rainforests of West and Central Africa. It is about long, and has a tail of about in length...


(Temminck

Coenraad Jacob Temminck

Coenraad Jacob Temminck was a Dutch aristocrat and zoologist.Temminck was the first director of the National Natural History Museum at Leiden from 1820 until his death. His Manuel d'ornithologie, ou Tableau systematique des oiseaux qui se trouvent en Europe was the standard work on European birds...


, 1827) – African Golden Cat


Genus Puma

Puma (genus)

Puma is a genus in Felidae that contains the cougar and the jaguarundi, and may also include several poorly known Old World fossil representatives .-Species:*Puma concolor – CougarPuma pardoides Puma is a genus in Felidae that contains the cougar (also known as the puma, among other names)...


(Jardine

William Jardine (naturalist)

Sir William Jardine, 7th Baronet of Applegirth, Dumfriesshire was a Scottish naturalist.-Work:...


, 1834)

Puma concolor (Linnaeus, 1771) – Cougar
Puma yagouaroundi

Jaguarundi

The jaguarundi is a small-sized wild cat native to Central and South America. In 2002, the IUCN classified the jaguarundi as Least Concern as it is likely that no conservation units, with the probable exception of the mega-reserves of the Amazon basin could sustain long-term viable populations. It...


(Geoffroy

Étienne Geoffroy Saint-Hilaire

Étienne Geoffroy Saint-Hilaire was a French naturalist who established the principle of "unity of composition". He was a colleague of Jean-Baptiste Lamarck and expanded and defended Lamarck's evolutionary theories...


, 1803) – Jaguarundi