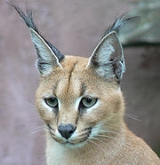 Caracal
The
caracal
is a fiercely territorial medium-sized
cat
Felidae
Felidae is the biological family of the cats; a member of this family is called a felid. Felids are the strictest carnivores of the thirteen terrestrial families in the order Carnivora, although the three families of marine mammals comprising the superfamily pinnipedia are as carnivorous as the...
ranging over Western Asia,
South Asia
South Asia
South Asia, also known as Southern Asia, is the southern region of the Asian continent, which comprises the sub-Himalayan countries and, for some authorities , also includes the adjoining countries to the west and the east...
and
Africa
Africa
Africa is the world's second largest and second most populous continent, after Asia. At about 30.2 million km² including adjacent islands, it covers 6% of the Earth's total surface area and 20.4% of the total land area...
.
The word
caracal
comes from the
Turkish
Turkish language
Turkish is a language spoken as a native language by over 83 million people worldwide, making it the most commonly spoken of the Turkic languages. Its speakers are located predominantly in Turkey and Northern Cyprus with smaller groups in Iraq, Greece, Bulgaria, the Republic of Macedonia, Kosovo,...
word "karakulak", meaning "black ear". In
North India
North India
North India, known natively as Uttar Bhārat or Shumālī Hindustān , is a loosely defined region in the northern part of India. The exact meaning of the term varies by usage...
and
Pakistan
Pakistan
Pakistan , officially the Islamic Republic of Pakistan is a sovereign state in South Asia. It has a coastline along the Arabian Sea and the Gulf of Oman in the south and is bordered by Afghanistan and Iran in the west, India in the east and China in the far northeast. In the north, Tajikistan...
, the caracal is locally known as
syahgosh
(स्याहगोष/سیاه گوش) or
shyahgosh
, which is a Persian term meaning
black ears
. In
Afrikaans
Afrikaans
Afrikaans is a West Germanic language, spoken natively in South Africa and Namibia. It is a daughter language of Dutch, originating in its 17th century dialects, collectively referred to as Cape Dutch .Afrikaans is a daughter language of Dutch; see , , , , , .Afrikaans was historically called Cape...
it is called
Rooikat
, "
red
Red
Red is any of a number of similar colors evoked by light consisting predominantly of the longest wavelengths of light discernible by the human eye, in the wavelength range of roughly 630–740 nm. Longer wavelengths than this are called infrared , and cannot be seen by the naked eye...
cat".
Although it has traditionally had the alternative names
Persian Lynx
,
Egyptian Lynx
and
African Lynx
, it is no longer considered to be an actual
lynx
Lynx
A lynx is any of the four Lynx genus species of medium-sized wildcats. The name "lynx" originated in Middle English via Latin from Greek word "λύγξ", derived from the Indo-European root "*leuk-", meaning "light, brightness", in reference to the luminescence of its reflective eyes...
.