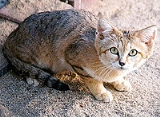 Sand Cat
The
sand cat
also referred to as the "sand dune cat", is a small wild
cat
Felinae
Felinae is a subfamily of the family Felidae which includes the genera and species listed below. Most are small to medium-sized cats, although the group does include some larger animals, such as the Cougar and Cheetah....
distributed over
Africa
Africa
Africa is the world's second largest and second most populous continent, after Asia. At about 30.2 million km² including adjacent islands, it covers 6% of the Earth's total surface area and 20.4% of the total land area...
n and
Asia
Asia
Asia is the world's largest and most populous continent, located primarily in the eastern and northern hemispheres. It covers 8.7% of the Earth's total surface area and with approximately 3.879 billion people, it hosts 60% of the world's current human population...
n deserts. (The name "desert cat" is reserved for
Felis silvestris lybica
, the African wildcat.) The Sand cat lives in arid areas that are too hot and dry even for the African Wildcat: the
Sahara
Sahara
The Sahara is the world's second largest desert, after Antarctica. At over , it covers most of Northern Africa, making it almost as large as Europe or the United States. The Sahara stretches from the Red Sea, including parts of the Mediterranean coasts, to the outskirts of the Atlantic Ocean...
, the
Arabian Desert
Arabian Desert
The Arabian Desert is a vast desert wilderness stretching from Yemen to the Persian Gulf and Oman to Jordan and Iraq. It occupies most of the Arabian Peninsula, with an area of...
, and the deserts of
Iran
Iran
Iran , officially the Islamic Republic of Iran , is a country in Southern and Western Asia. The name "Iran" has been in use natively since the Sassanian era and came into use internationally in 1935, before which the country was known to the Western world as Persia...
and
Pakistan
Pakistan
Pakistan , officially the Islamic Republic of Pakistan is a sovereign state in South Asia. It has a coastline along the Arabian Sea and the Gulf of Oman in the south and is bordered by Afghanistan and Iran in the west, India in the east and China in the far northeast. In the north, Tajikistan...
.
Victor Loche
Victor Loche
Victor Loche was a French soldier and naturalist. He was the author of Histoire naturelle des mammifères de l'Algérie and Histoire naturelle des Oiseaux de l'Algérie . Loche first described the Sand Cat , which he identified as a distinct species while exploring the North Sahara.-References:...
was the first European to describe the sand cat for science (in 1858).