 Fanny zu Reventlow
Franziska Reventlow
(real name
Fanny Liane Wilhelmine Sophie Auguste Adrienne Gräfin zu Reventlow
, 18 May 1871 – 26 July 1918) was a German
writer
Writer
A writer is a person who produces literature, such as novels, short stories, plays, screenplays, poetry, or other literary art. Skilled writers are able to use language to portray ideas and images....
,
artist
Artist
An artist is a person engaged in one or more of any of a broad spectrum of activities related to creating art, practicing the arts and/or demonstrating an art. The common usage in both everyday speech and academic discourse is a practitioner in the visual arts only...
and
translator
Translation
Translation is the communication of the meaning of a source-language text by means of an equivalent target-language text. Whereas interpreting undoubtedly antedates writing, translation began only after the appearance of written literature; there exist partial translations of the Sumerian Epic of...
, who became famous as the "Bohemian Countess" of
Schwabing
Schwabing
Schwabing is a borough in the northern part of Munich, the capital of the German state of Bavaria. It is divided into the city borough 4 and the city borough 12...
(an entertainment district in Munich) in the years leading up to
World War I
World War I
World War I , which was predominantly called the World War or the Great War from its occurrence until 1939, and the First World War or World War I thereafter, was a major war centred in Europe that began on 28 July 1914 and lasted until 11 November 1918...
.
Life
Fanny (or Franziska, as she was also called later) Reventlow was born in the family seat at Husum in the north of Germany, the fifth of six children of the Prussian aristocrat Ludwig, Count zu
Reventlow
Reventlow
The name Reventlow, a noble Danish surname, may refer to:* Anne Sophie Reventlow, queen consort of Denmark * Christian Detlev Reventlow Danish diplomat and military leader 1671-1738)...
(1825–1894) and his wife Emilie (1834–1905). The family were on friendly terms with the North German writer
Theodor Storm
Theodor Storm
Hans Theodor Woldsen Storm , commonly known as Theodor Storm, was a German writer.-Life:Storm was born in Husum, at the west coast of Schleswig than an independent duchy and ruled by the king of Denmark...
. Her eldest brother Theodor died as a fifteen-year-old, her brother
Ernst
Ernst Graf zu Reventlow
Ernst, Count Reventlow was a German naval officer, journalist and Nazi politician.-Early life:Ernst Christian Einar Ludwig Detlev Graf zu Reventlow was born at Husum, Schleswig-Holstein, Germany, the son of Ludwig Reventlow, a Danish nobleman, and Emilie Julie Anna Louise Rantzau...
was an ultra-nationalist writer and eventually became a Nazi.
While young she was in constant conflict with her mother. She was thrown out of boarding school for misbehavior and lack of respect for the authorities. After being sent to stay with a family friend in 1893, she fled to Hamburg. Here she met Walter Lübke, who paid for her studying art in
Munich
Munich
Munich The city's motto is "" . Before 2006, it was "Weltstadt mit Herz" . Its native name, , is derived from the Old High German Munichen, meaning "by the monks' place". The city's name derives from the monks of the Benedictine order who founded the city; hence the monk depicted on the city's coat...
, and whom she married in 1894.
The marriage broke up when she set off again in 1895 to Munich, to continue her art studies. They were divorced in 1897. In September of that year her son Rolf was born; she never divulged the name of the father.
In Munich she supported herself by translation work for the
Albert Langen
Albert Langen
Albert Langen was a German publisher and founder of the satirical publication Simplicissimus.-Early years:...
Publishing House and by writing short articles for magazines and newspapers such as
Simplicissimus
Simplicissimus
Simplicissimus was a satirical German weekly magazine started by Albert Langen in April 1896 and published through 1967, with a hiatus from 1944-1954. It became a biweekly in 1964...
and the
Frankfurter Zeitung
Frankfurter Zeitung
The Frankfurter Zeitung was a German language newspaper that appeared from 1856 to 1943. It emerged from a market letter that was published in Frankfurt...
. After taking some acting lessons in 1898 she had a short engagement at the
Theater am Gärtnerplatz
Staatstheater am Gärtnerplatz
Staatstheater am Gärtnerplatz is an opera house and opera company in Munich. Designed by the architect Michael Reiffenstuel, it opened on 5 November 1865 as the city's second opera house after the National Theatre....
. Otherwise she took casual jobs as a secretary, assistant cook, insurance agent and so on to keep going. As usual in Bohemian circles she also received financial help from male friends and casual acquaintances.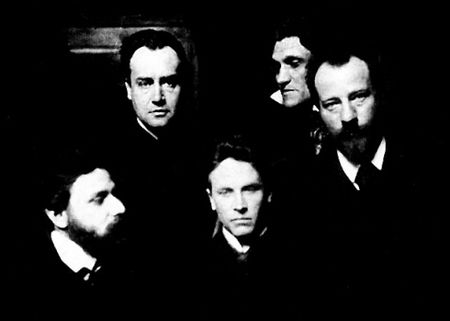 She was a friend of
Ludwig Klages
Ludwig Klages
Ludwig Klages was a German philosopher, psychologist and a theoretician in the field of handwriting analysis.-Life:...
and thus became part of the Munich Cosmic Circle based around the mystic
Alfred Schuler
Alfred Schuler
Alfred Schuler was a religious founder, a gnostic, a mystic and a visionary. Franz Wegener has called Schuler the last of the German Cathars. Schuler saw himself as a reborn Roman of the late imperial era...
, which also included
Karl Wolfskehl
Karl Wolfskehl
Karl Wolfskehl was a German Jewish author who wrote poetry, prose and drama in German. He also translated from French, English, Italian, Hebrew, Latin and Middle High German into German....
. It broke up in acrimonious circumstances in 1904. She wrote about her experiences with the Circle in her
Roman à clef
Roman à clef
Roman à clef or roman à clé , French for "novel with a key", is a phrase used to describe a novel about real life, overlaid with a façade of fiction. The fictitious names in the novel represent real people, and the "key" is the relationship between the nonfiction and the fiction...
Herrn Dames Aufzeichnungen
(1913). She also got to know
Theodor Lessing
Theodor Lessing
Theodor Lessing was a German Jewish philosopher.He is known for opposing the rise of Hindenburg as president of the Weimar Republic and for his classic on Jewish self-hatred , a book which he wrote in 1930, three years before Hitler came to power, in which he tried to explain the phenomenon of...
,
Erich Mühsam
Erich Mühsam
Erich Mühsam was a German-Jewish anarchist essayist, poet and playwright. He emerged at the end of World War I as one of the leading agitators for a federated Bavarian Soviet Republic....
,
Oskar Panizza
Oskar Panizza
Leopold Hermann Oskar Panizza was a German psychiatrist and avant-garde author, playwright, novelist, poet, essayist, publisher and literary journal editor...
,
Rainer Maria Rilke
Rainer Maria Rilke
René Karl Wilhelm Johann Josef Maria Rilke , better known as Rainer Maria Rilke, was a Bohemian–Austrian poet. He is considered one of the most significant poets in the German language...
,
Marianne von Werefkin
Marianne von Werefkin
Marianne von Werefkin , born Marianna Wladimirowna Werewkina , was a Russian-Swiss Expressionist painter.-Life and career:...
,
Alexej von Jawlensky
Alexej von Jawlensky
Alexej Georgewitsch von Jawlensky was a Russian expressionist painter active in Germany. He was a key member of the New Munich Artist's Association , Der Blaue Reiter group and later the Die Blaue Vier .-Life and work:Alexej von Jawlensky was born in Torzhok, a town in Tver...
, Franz Wedekind and many others of the "Munich Moderns". With her son she travelled to
Samos
Samoš
Samoš is a village in Serbia. It is situated in the Kovačica municipality, in the South Banat District, Vojvodina province. The village has a Serb ethnic majority and its population numbering 1,247 people .-See also:...
(1900),
Italy
Italy
Italy , officially the Italian Republic languages]] under the European Charter for Regional or Minority Languages. In each of these, Italy's official name is as follows:;;;;;;;;), is a unitary parliamentary republic in South-Central Europe. To the north it borders France, Switzerland, Austria and...
(1904, 1907) and
Corfu
Corfu
Corfu is a Greek island in the Ionian Sea. It is the second largest of the Ionian Islands, and, including its small satellite islands, forms the edge of the northwestern frontier of Greece. The island is part of the Corfu regional unit, and is administered as a single municipality. The...
(1906/1907).
She left Munich for
Ascona
Ascona
Ascona is a municipality in the district of Locarno in the canton of Ticino in Switzerland.It is located on the shore of Lake Maggiore.The town is a popular tourist destination, and holds a yearly jazz festival, the Ascona Jazz Festival....
in Switzerland in 1910 (
Monte Verità
Monte Verita
Monte Verità is a hill in Ascona , which has served as the site of many different Utopian and cultural events and communities since the beginning of the twentieth century.-History:...
), where she wrote her "Schwabing" novels. In 1911 married Baron Alexander von Rechenberg-Linten, a marriage of convenience, which enabled him to inherit 20,000 Marks. However, he lost this in a bank collapse in 1914.
In 1916 she moved to
Muralto
Muralto
Muralto is a municipality in the district of Locarno, in the canton of Ticino in Switzerland.-Roman settlement:In the second half of the 19th Century, the ruins of a Roman settlement were discovered. However, all the items discovered in these early excavations are either lost or they are kept in...
on Lago Maggiore. She died in 1918 in a clinic in
Locarno
Locarno
Locarno is the capital of the Locarno district, located on the northern tip of Lake Maggiore in the Swiss canton of Ticino, close to Ascona at the foot of the Alps. It has a population of about 15,000...
following a bicycle accident and was buried in the cemetery of the Santa Maria in Selva church in Locarno.
Emil Ludwig
Emil Ludwig
Emil Ludwig was a German author, known for his biographies.-Biography:Emil Ludwig was born in Breslau, now part of Poland. Ludwig studied law but chose writing as a career. At first he wrote plays and novella, but also worked as a journalist...
spoke at her funeral.
Feminism
Reventlow is best known as one of the most unorthodox voices of the early women's movement in
Europe
Europe
Europe is, by convention, one of the world's seven continents. Comprising the westernmost peninsula of Eurasia, Europe is generally 'divided' from Asia to its east by the watershed divides of the Ural and Caucasus Mountains, the Ural River, the Caspian and Black Seas, and the waterways connecting...
. While many of her peers were pressing for improved social, political, and economic
rights for women
Women's rights
Women's rights are entitlements and freedoms claimed for women and girls of all ages in many societies.In some places these rights are institutionalized or supported by law, local custom, and behaviour, whereas in others they may be ignored or suppressed...
, Reventlow argued that ardent feminists, whom she labelled "
virago
Virago
Virago is a term used to describe a woman who demonstrates exemplary and heroic qualities. The word comes from the Latin word vir, meaningvirile 'man,' to which the suffix -ago is added, a suffix that effectively re-genders the word to be female...
es," were actually harming women by attempting to erase or deny the natural differences between men and women. Reventlow maintained that sexual freedom, and the abolition of the institution of
marriage
Marriage
Marriage is a social union or legal contract between people that creates kinship. It is an institution in which interpersonal relationships, usually intimate and sexual, are acknowledged in a variety of ways, depending on the culture or subculture in which it is found...
, were the best means by which women could hope to achieve a more equal social standing with men.
Works
(with Otto Eugen Thossan) Klosterjungen. Humoresken (two stories), Wigand, Leipzig 1897
Das Männerphantom der Frau (Essay), in: Zürcher Diskußionen 1898
Was Frauen ziemt (Essay); under the title Viragines oder Hetären? in: Zürcher Diskußionen 1899
Erziehung und Sittlichkeit (Essay), in: Otto Falckenberg, Das Buch von der Lex Heinze. Leipzig 1900
Ellen Olestjerne, J. Marchlewski, Munich 1903
Von Paul zu Pedro, Langen, Munich 1912
Herrn Dames Aufzeichnungen oder Begenheiten aus einem merkwürdigen Stadtteil", Langen, Munich 1913
Der Geldkomplex, Langen, Munich 1916
Das Logierhaus zur Schwankenden Weltkugel und andere Novellen, Langen, Munich 1917
Tagebücher (ed. Irene Weiser, Jürgen Gutsch), Stutz, Passau 2006
External links