 Eusociality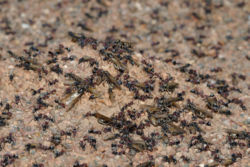 Eusociality
is a term used for the highest level of social organization in a
hierarchical
Hierarchy
A hierarchy is an arrangement of items in which the items are represented as being "above," "below," or "at the same level as" one another...
classification.
The lower levels of social organization, presociality, were classified using different terms, including
presocial
Presociality
Presociality is a phenomenon in which animals exhibit more than just sexual interactions with members of the same species, but fall short of qualifying as eusocial...
,
subsocial
Subsociality
Subsociality is a term used simply to refer to when an organism exhibits any form of parental behaviour. It is the most common and widespread form of sociality. In many species the mother, father or both parents either care for the young directly, or simply build a nest....
,
semisocial
,
parasocial
and
quasisocial
. In analogy with some human societies, groups of specialized individuals are sometimes called
caste
Caste
Caste is an elaborate and complex social system that combines elements of endogamy, occupation, culture, social class, tribal affiliation and political power. It should not be confused with race or social class, e.g. members of different castes in one society may belong to the same race, as in India...
s.
Examples
The most familiar examples of eusocial insects are
ant
Ant
Ants are social insects of the family Formicidae and, along with the related wasps and bees, belong to the order Hymenoptera. Ants evolved from wasp-like ancestors in the mid-Cretaceous period between 110 and 130 million years ago and diversified after the rise of flowering plants. More than...
s,
bee
Bee
Bees are flying insects closely related to wasps and ants, and are known for their role in pollination and for producing honey and beeswax. Bees are a monophyletic lineage within the superfamily Apoidea, presently classified by the unranked taxon name Anthophila...
s, and
wasp
Wasp
The term wasp is typically defined as any insect of the order Hymenoptera and suborder Apocrita that is neither a bee nor an ant. Almost every pest insect species has at least one wasp species that preys upon it or parasitizes it, making wasps critically important in natural control of their...
s (order
Hymenoptera
Hymenoptera
Hymenoptera is one of the largest orders of insects, comprising the sawflies, wasps, bees and ants. There are over 130,000 recognized species, with many more remaining to be described. The name refers to the heavy wings of the insects, and is derived from the Ancient Greek ὑμήν : membrane and...
), as well as
termite
Termite
Termites are a group of eusocial insects that, until recently, were classified at the taxonomic rank of order Isoptera , but are now accepted as the epifamily Termitoidae, of the cockroach order Blattodea...
s (order Isoptera) - all with reproductive queens and more or less
sterile
Infertility
Infertility primarily refers to the biological inability of a person to contribute to conception. Infertility may also refer to the state of a woman who is unable to carry a pregnancy to full term...
workers and/or soldiers.
Austroplatypus incompertus
Austroplatypus incompertus
Austroplatypus incompertus is a species of weevil native to Australia with a verified distribution in New South Wales and Victoria. It forms colonies in the heartwood of Eucalyptus trees and is the first beetle to be recognized as a eusocial insect....
, a species of
weevil
Weevil
A weevil is any beetle from the Curculionoidea superfamily. They are usually small, less than , and herbivorous. There are over 60,000 species in several families, mostly in the family Curculionidae...
native to Australia, is the first beetle (order Coleoptera) to be recognized as eusocial.
The only mammalian examples are the
naked mole rat
Naked Mole Rat
The naked mole rat , also known as the sand puppy or desert mole rat, is a burrowing rodent native to parts of East Africa and the only species currently classified in the genus Heterocephalus...
and the
Damaraland mole rat
Damaraland Mole Rat
The Damaraland Mole Rat, or Damaraland blesmol is a burrowing rodent found in sub-Saharan Africa. Along with the smaller, less hairy Naked Mole Rat, it is one of only two known eusocial mammals....
.
Eusociality with biologically sterile individuals represents the most extreme form of
kin selection
Kin selection
Kin selection refers to apparent strategies in evolution that favor the reproductive success of an organism's relatives, even at a cost to the organism's own survival and reproduction. Charles Darwin was the first to discuss the concept of group/kin selection...
. The analysis of eusociality played a key role in the development of theories in
sociobiology
Sociobiology
Sociobiology is a field of scientific study which is based on the assumption that social behavior has resulted from evolution and attempts to explain and examine social behavior within that context. Often considered a branch of biology and sociology, it also draws from ethology, anthropology,...
.
The phenomenon of reproductive specialization is found in various organisms. It generally involves the production of sterile members of the species, which carry out specialized tasks, effectively caring for the reproductive members. It can manifest in the appearance of individuals within a group whose behavior (and sometimes anatomy) is modified for group defense, including self-sacrificing ("
altruism
Altruism
Altruism is a concern for the welfare of others. It is a traditional virtue in many cultures, and a core aspect of various religious traditions, though the concept of 'others' toward whom concern should be directed can vary among cultures and religions. Altruism is the opposite of...
").
History
The term "eusocial" was introduced in 1966 by Suzanne Batra and given a more definitive meaning by
E. O. Wilson
E. O. Wilson
Edward Osborne Wilson is an American biologist, researcher , theorist , naturalist and author. His biological specialty is myrmecology, the study of ants....
. It was originally defined to include those organisms (originally, only
invertebrate
Invertebrate
An invertebrate is an animal without a backbone. The group includes 97% of all animal species – all animals except those in the chordate subphylum Vertebrata .Invertebrates form a paraphyletic group...
s) that had certain features:
Reproductive division of labor (with or without sterile castes)
Overlapping generations
Cooperative care of young
Definition debates
Subsequent to Wilson's original definition, other authors have sought to expand or narrow the definition of eusociality, focusing on the nature and degree of the division of labor, which was not originally specified. A narrower definition specifies the requirement for irreversibly distinct behavioral groups or castes (with respect to sterility and/or other features), and such a definition excludes all social
vertebrate
Vertebrate
Vertebrates are animals that are members of the subphylum Vertebrata . Vertebrates are the largest group of chordates, with currently about 58,000 species described. Vertebrates include the jawless fishes, bony fishes, sharks and rays, amphibians, reptiles, mammals, and birds...
s (including mole rats), none of which have irreversible castes. A broader definition allows for any temporary division of labor or non-random distribution of reproductive success to constitute eusociality, and some have accordingly argued that even humans may be considered eusocial. Others believe that the hierarchical classification may not serve much purpose.
Theories of social evolution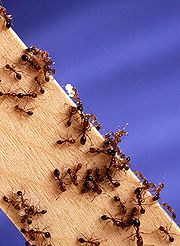 In spite of the obvious advantages of common
foraging
Foraging
- Definitions and significance of foraging behavior :Foraging is the act of searching for and exploiting food resources. It affects an animal's fitness because it plays an important role in an animal's ability to survive and reproduce...
and defense, eusocial animals have appeared paradoxical to many theorists of the field of evolution, including
W. D. Hamilton
W. D. Hamilton
William Donald Hamilton FRS was a British evolutionary biologist, widely recognised as one of the greatest evolutionary theorists of the 20th century....
: if
adaptive evolution
Adaptation
An adaptation in biology is a trait with a current functional role in the life history of an organism that is maintained and evolved by means of natural selection. An adaptation refers to both the current state of being adapted and to the dynamic evolutionary process that leads to the adaptation....
unfolds by differential survival of individuals, how can individuals incapable of passing on their genes possibly evolve and persist? Since they do not breed, their fitness should be zero and any
gene
Gene
A gene is a molecular unit of heredity of a living organism. It is a name given to some stretches of DNA and RNA that code for a type of protein or for an RNA chain that has a function in the organism. Living beings depend on genes, as they specify all proteins and functional RNA chains...
s causing this condition should be eliminated from the population immediately. In
Origin of Species
(first edition, Ch. 8), Darwin called this behavior the "one special difficulty, which at first appeared to me insuperable, and actually fatal to my theory." Darwin anticipated that a possible resolution to the paradox might lie in the close family relationship, but specific theories (e.g.
kin selection
Kin selection
Kin selection refers to apparent strategies in evolution that favor the reproductive success of an organism's relatives, even at a cost to the organism's own survival and reproduction. Charles Darwin was the first to discuss the concept of group/kin selection...
or
inclusive fitness
Inclusive fitness
In evolutionary biology and evolutionary psychology, the inclusive fitness of an organism is the sum of its classical fitness and the number of equivalents of its own offspring it can add to the population by supporting others...
) had to wait for the discovery of the mechanisms for genetic inheritance.
Early ideas on eusociality included suggestions that
trophallaxis
Trophallaxis
Trophallaxis is the transfer of food or other fluids among members of a community through mouth-to-mouth or anus-to-mouth feeding. It is most highly developed in social insects such as ants, termites, wasps and bees. The word was introduced by the entomologist William Morton Wheeler in 1918...
or food sharing was a basis for sociality.
According to inclusive fitness theory, eusociality may be easier for species like ants to evolve, due to their haplodiploidy, which facilitates the operation of
kin selection
Kin selection
Kin selection refers to apparent strategies in evolution that favor the reproductive success of an organism's relatives, even at a cost to the organism's own survival and reproduction. Charles Darwin was the first to discuss the concept of group/kin selection...
. Sisters are more related to each other than to their offspring. This mechanism of sex determination gives rise to what
W. D. Hamilton
W. D. Hamilton
William Donald Hamilton FRS was a British evolutionary biologist, widely recognised as one of the greatest evolutionary theorists of the 20th century....
first termed "supersisters" who share 75 percent of their genes on average. Sterile workers are more closely related to their supersisters than to any offspring they might have, if they were to breed themselves. From the "selfish gene's" point-of-view, it is advantageous to raise more sisters. Even though workers often do not reproduce, they are potentially passing on more of their genes by caring for sisters than they would by having their own offspring (each of which would only have 50% of their genes). This unusual situation where females may have greater fitness when they help rear siblings rather than producing offspring is often invoked to explain the multiple independent evolutions of eusociality (arising some 11 separate times) within the haplodiploid group Hymenoptera — ants, bees and wasps.
Reeve and
Holldobler
Bert Hölldobler
Bert Hölldobler is a German behavioral biologist and Sociobiologist whose primary study subjects are social insects and in particular ants. He is a co-winner of the Pulitzer Prize for his work on The Ants with Edward O. Wilson...
's version of
superorganism
Superorganism
A superorganism is an organism consisting of many organisms. This is usually meant to be a social unit of eusocial animals, where division of labour is highly specialised and where individuals are not able to survive by themselves for extended periods of time. Ants are the best-known example of...
theory further elaborates this model by considering competition and co-operation between groups as well as within groups. In this case, an individual's inclusive fitness varies depending on how much it invests in within-group competition (e.g. hoarding a private food cache) versus between-group competition (e.g. contributing to common foraging); and on its relatedness to the other group members. In a hymenopteran colony with one breeder (queen) and many workers as described above, the
evolutionarily stable state
Evolutionarily stable state
"A population is said to be in an evolutionarily stable state if its genetic composition is restored by selection after a disturbance, provided the disturbance is not too large...
is for each individual to invest entirely in helping the group, leading to a perfect "superorganism", which implies the stability of eusociality in this case. This agrees with Hamilton's model. This is implied even without considering between-group interactions. However, they further show that any group of relatives may show high "superorganismness", provided that there are many groups competing for the same resources. This may favour eusociality, or a degree of eusociality in non-hymenopterans. Indeed, a non-zero level of intra-group co-operation is predicted, even if the group members are entirely unrelated, as long as there is competition between groups.
Theories of
parental manipulation
Parental manipulation
-Definition:The major competing explanations of the evolution of eusociality are parental manipulation and kin selection. Parental manipulation has been proposed by Alexander and Michener and Brothers and accounts for the evolution of altruism by selection on parents.Parents which increase their...
point out that the transition from solitary to eusocial appears to involve intermediate stages where dominance interactions are required to suppress the reproductive tendencies of group members; that is, females are
manipulated
into acting as workers, even if it is against their own self-interest. This model does not require that individuals be highly related, though high relatedness will reduce expected levels of resistance to manipulation.
However, now many eusocial species have been discovered that are not haplodiploid (in addition to termites, such as a species of platypodid
ambrosia beetle
Ambrosia beetle
Ambrosia beetles are beetles of the weevil subfamilies Scolytinae and Platypodinae , which live in nutritional symbiosis with ambrosia fungi and probably with bacteria...
s, several independent lines of
Synalpheus
Synalpheus
Synalpheus is a genus of snapping shrimp of the family Alpheidae, presently containing more than 100 species; new ones are being described on a regular basis, and the exact number even of described species is disputed: the genus Zuzalpheus was established for S. gambarelloides, S. brooksi, and...
sponge-dwelling shrimp and
bathyergid mole rats
Blesmol
The blesmols, also known as mole rats, or African mole-rats, are burrowing rodents of the family Bathyergidae. They represent a distinct evolution of a subterranean life among rodents much like the pocket gophers of North America, the tuco-tucos in South America, or the Spalacidae.- Distribution...
). Conversely the solitary bees are (as all bees) haplodiploid yet are not eusocial. The association between haplodiploidy and eusociality is below
statistical significance
Statistical significance
In statistics, a result is called statistically significant if it is unlikely to have occurred by chance. The phrase test of significance was coined by Ronald Fisher....
, all of which suggests that haplodiploidy alone is neither necessary or sufficient for eusociality to emerge.
Other examples
Recently, some species of gall-making
aphid
Aphid
Aphids, also known as plant lice and in Britain and the Commonwealth as greenflies, blackflies or whiteflies, are small sap sucking insects, and members of the superfamily Aphidoidea. Aphids are among the most destructive insect pests on cultivated plants in temperate regions...
s (Order
Hemiptera
Hemiptera
Hemiptera is an order of insects most often known as the true bugs , comprising around 50,000–80,000 species of cicadas, aphids, planthoppers, leafhoppers, shield bugs, and others...
) and
thrips
Thrips
Thrips are tiny, slender insects with fringed wings . Other common names for thrips include thunderflies, thunderbugs, storm flies, thunderblights, and corn lice...
(Order Thysanoptera) were found to be eusocial, with many separate origins of the state. These species have extremely high relatedness among individuals due to their partially
asexual mode of reproduction
Asexual reproduction
Asexual reproduction is a mode of reproduction by which offspring arise from a single parent, and inherit the genes of that parent only, it is reproduction which does not involve meiosis, ploidy reduction, or fertilization. A more stringent definition is agamogenesis which is reproduction without...
(sterile soldier castes being of the same clone as the reproducing female), but the gall-inhabiting behavior gives these species a defensible resource that sets them apart from related species with similar genetics. In these groups, therefore, high relatedness alone does not lead to the evolution of social behavior, but requires that groups occur in a restricted, shared area.
Similarly, eusociality has arisen among some
crustacean
Crustacean
Crustaceans form a very large group of arthropods, usually treated as a subphylum, which includes such familiar animals as crabs, lobsters, crayfish, shrimp, krill and barnacles. The 50,000 described species range in size from Stygotantulus stocki at , to the Japanese spider crab with a leg span...
s and other
arthropod
Arthropod
An arthropod is an invertebrate animal having an exoskeleton , a segmented body, and jointed appendages. Arthropods are members of the phylum Arthropoda , and include the insects, arachnids, crustaceans, and others...
s. On some tropical reefs several species of minute
Synalpheus
pistol shrimp, that depend on certain sponges for the survival of their colony, live eusocially with a single breeding female and a preponderance of male defenders, armed with enlarged snapping claws. Again, there is a single shared domicile for the colony members, and the non-breeding members act to defend it.
A single species of
beetle
Beetle
Coleoptera is an order of insects commonly called beetles. The word "coleoptera" is from the Greek , koleos, "sheath"; and , pteron, "wing", thus "sheathed wing". Coleoptera contains more species than any other order, constituting almost 25% of all known life-forms...
,
Austroplatypus incompertus
Austroplatypus incompertus
Austroplatypus incompertus is a species of weevil native to Australia with a verified distribution in New South Wales and Victoria. It forms colonies in the heartwood of Eucalyptus trees and is the first beetle to be recognized as a eusocial insect....
, is known to be eusocial.
See also
External links