 Endosymbiotic theory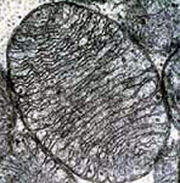 The
endosymbiotic theory
concerns the
mitochondria
Mitochondrion
In cell biology, a mitochondrion is a membrane-enclosed organelle found in most eukaryotic cells. These organelles range from 0.5 to 1.0 micrometers in diameter...
, plastids (e.g.
chloroplast
Chloroplast
Chloroplasts are organelles found in plant cells and other eukaryotic organisms that conduct photosynthesis. Chloroplasts capture light energy to conserve free energy in the form of ATP and reduce NADP to NADPH through a complex set of processes called photosynthesis.Chloroplasts are green...
s), and possibly other organelles of
eukaryotic
Eukaryote
A eukaryote is an organism whose cells contain complex structures enclosed within membranes. Eukaryotes may more formally be referred to as the taxon Eukarya or Eukaryota. The defining membrane-bound structure that sets eukaryotic cells apart from prokaryotic cells is the nucleus, or nuclear...
cells. According to this theory, certain organelles originated as free-living
bacteria
Bacteria
Bacteria are a large domain of prokaryotic microorganisms. Typically a few micrometres in length, bacteria have a wide range of shapes, ranging from spheres to rods and spirals...
that were taken inside another cell as
endosymbiont
Endosymbiont
An endosymbiont is any organism that lives within the body or cells of another organism, i.e. forming an endosymbiosis...
s. Mitochondria developed from
proteobacteria
Proteobacteria
The Proteobacteria are a major group of bacteria. They include a wide variety of pathogens, such as Escherichia, Salmonella, Vibrio, Helicobacter, and many other notable genera....
(in particular,
Rickettsiales
Rickettsiales
The Rickettsiales, also called rickettsias, are an order of small proteobacteria. Most of those described survive only as endosymbionts of other cells. Some are notable pathogens, including Rickettsia, which causes a variety of diseases in humans...
, the
SAR11 clade
SAR11 clade
The SAR11 clade, or Pelagibacteraceae, defines a lineage of bacteria that is extremely common in the ocean. Bacteria in the SAR11 clade make up roughly one in three cells at the ocean's surface...
, or close relatives) and chloroplasts from
cyanobacteria
.
History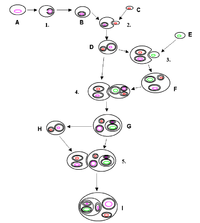 The endosymbiotic (from the Greek: endo- meaning inside and -symbiosis meaning cohabiting) theory was first articulated by the Russian botanist
Konstantin Mereschkowski
Konstantin Mereschkowski
Konstantin Mereschcowsky was a prominent Russian biologist, botanist and advocate of eugenics active mainly around Kazan, whose research on lichens led him to propose the theory of symbiogenesis - that larger, more complex cells evolved from the symbiotic relationship between less complex ones...
in 1905. Mereschkowski was familiar with work by botanist
Andreas Schimper
Andreas Franz Wilhelm Schimper
Andreas Franz Wilhelm Schimper was a botanist and phytogeographer who made major contributions in the fields of histology, ecology and plant geography.-Biography:...
, who had observed in 1883 that the division of
chloroplast
Chloroplast
Chloroplasts are organelles found in plant cells and other eukaryotic organisms that conduct photosynthesis. Chloroplasts capture light energy to conserve free energy in the form of ATP and reduce NADP to NADPH through a complex set of processes called photosynthesis.Chloroplasts are green...
s in green plants closely resembled that of free-living
cyanobacteria
, and who had himself tentatively proposed (in a footnote) that green plants had arisen from a symbiotic union of two organisms.
Ivan Wallin extended the idea of an endosymbiotic origin to
mitochondria
Mitochondrion
In cell biology, a mitochondrion is a membrane-enclosed organelle found in most eukaryotic cells. These organelles range from 0.5 to 1.0 micrometers in diameter...
in the 1920s. These theories were initially dismissed or ignored. More detailed electron microscopic comparisons between cyanobacteria and chloroplasts (for example studies by Hans Ris), combined with the discovery that plastids and mitochondria contain their own DNA (which by that stage was recognized to be the hereditary material of organisms) led to a resurrection of the idea in the 1960s.
The endosymbiotic theory was advanced and substantiated with microbiological evidence by
Lynn Margulis
Lynn Margulis
Lynn Margulis was an American biologist and University Professor in the Department of Geosciences at the University of Massachusetts Amherst. She is best known for her theory on the origin of eukaryotic organelles, and her contributions to the endosymbiotic theory, which is now generally accepted...
in a 1967 paper,
The Origin of Mitosing Eukaryotic Cells.
In her 1981 work
Symbiosis in Cell Evolution
she argued that eukaryotic cells originated as communities of interacting entities, including endosymbiotic
spirochaete
Spirochaete
Spirochaetes belong to a phylum of distinctive Gram-negative bacteria, which have long, helically coiled cells...
s that developed into eukaryotic
flagella
Flagellum
A flagellum is a tail-like projection that protrudes from the cell body of certain prokaryotic and eukaryotic cells, and plays the dual role of locomotion and sense organ, being sensitive to chemicals and temperatures outside the cell. There are some notable differences between prokaryotic and...
and
cilia
Cilium
A cilium is an organelle found in eukaryotic cells. Cilia are slender protuberances that project from the much larger cell body....
. This last idea has not received much acceptance, because flagella lack DNA and do not show ultrastructural similarities to bacteria or archaea. See also
Evolution of flagella
Evolution of flagella
The evolution of flagella is of great interest to biologists because the three known varieties of flagella each represent a sophisticated cellular structure that requires the interaction of many different systems....
.
According to Margulis and
Dorion Sagan
Dorion Sagan
Dorion Sagan is an American science writer, essayist, and theorist. He has written and co-authored many books on culture, evolution, and the history and philosophy of science, most recently "The Sciences of Avatar: from Anthropology to Xenology" and "Death and Sex," which won first place at the...
, "Life did not take over the globe by combat, but by networking" (i.e., by cooperation). The possibility that
peroxisome
Peroxisome
Peroxisomes are organelles found in virtually all eukaryotic cells. They are involved in the catabolism of very long chain fatty acids, branched chain fatty acids, D-amino acids, polyamines, and biosynthesis of plasmalogens, etherphospholipids critical for the normal function of mammalian brains...
s may have an endosymbiotic origin has also been considered, although they lack DNA.
Christian de Duve
Christian de Duve
Christian René, viscount de Duve is a Nobel Prize-winning cytologist and biochemist. De Duve was born in Thames Ditton, Surrey, Great Britain, as a son of Belgian refugees. They returned to Belgium in 1920...
proposed that they may have been the first endosymbionts, allowing cells to withstand growing amounts of free molecular oxygen in the Earth's atmosphere. However, it now appears that they may be formed
de novo
, contradicting the idea that they have a symbiotic origin.
It is believed that over millennia these endosymbionts transferred some of their own DNA to the host cell's nucleus during the evolutionary transition from a symbiotic community to an instituted eukaryotic cell (called "serial endosymbiosis").
Evidence
Evidence that mitochondria and plastids arose from bacteria is as follows:
New mitochondria and plastids are formed only through a process similar to binary fission.
In some algae

Algae

Algae are a large and diverse group of simple, typically autotrophic organisms, ranging from unicellular to multicellular forms, such as the giant kelps that grow to 65 meters in length. They are photosynthetic like plants, and "simple" because their tissues are not organized into the many...


, such as Euglena

Euglena

Euglena is a genus of unicellular flagellate protists. It is the best known and most widely studied member of the phylum Euglenozoa , a diverse group containing some 44 genera and at least 800 species. Species of Euglena are found in fresh and salt waters...


, the plastids can be destroyed by certain chemicals or prolonged absence of light without otherwise affecting the cell. In such a case, the plastids will not regenerate. This shows that the plastic regeneration relies on an extracellular source, such as from cell division

Cell division

Cell division is the process by which a parent cell divides into two or more daughter cells . Cell division is usually a small segment of a larger cell cycle. This type of cell division in eukaryotes is known as mitosis, and leaves the daughter cell capable of dividing again. The corresponding sort...


or endosymbiosis.
They are surrounded by two or more membranes

Biological membrane

A biological membrane or biomembrane is an enclosing or separatingmembrane that acts as a selective barrier, within or around a cell. It consists of a lipid bilayer with embedded proteins that may constitute close to 50% of membrane content...


, and the innermost of these shows differences in composition from the other membranes of the cell. They are composed of a peptidoglycan cell wall characteristic of a bacterial cell.
Both mitochondria and plastids contain DNA

DNA

Deoxyribonucleic acid is a nucleic acid that contains the genetic instructions used in the development and functioning of all known living organisms . The DNA segments that carry this genetic information are called genes, but other DNA sequences have structural purposes, or are involved in...


that is different from that of the cell nucleus and that is similar to that of bacteria

Bacteria

Bacteria are a large domain of prokaryotic microorganisms. Typically a few micrometres in length, bacteria have a wide range of shapes, ranging from spheres to rods and spirals...


(both in their size and their having a circular form).
DNA sequence analysis and phylogenetic estimates suggest that nuclear DNA contains genes that probably came from plastids.
These organelles' ribosome

Ribosome

A ribosome is a component of cells that assembles the twenty specific amino acid molecules to form the particular protein molecule determined by the nucleotide sequence of an RNA molecule....


s are like those found in bacteria (70S).
Proteins of organelle origin, like those of bacteria, use N-formylmethionine as the initiating amino acid.
Much of the internal structure and biochemistry of plastids, for instance the presence of thylakoid

Thylakoid

A thylakoid is a membrane-bound compartment inside chloroplasts and cyanobacteria. They are the site of the light-dependent reactions of photosynthesis. Thylakoids consist of a thylakoid membrane surrounding a thylakoid lumen. Chloroplast thylakoids frequently form stacks of disks referred to as...


s and particular chlorophyll

Chlorophyll

Chlorophyll is a green pigment found in almost all plants, algae, and cyanobacteria. Its name is derived from the Greek words χλωρος, chloros and φύλλον, phyllon . Chlorophyll is an extremely important biomolecule, critical in photosynthesis, which allows plants to obtain energy from light...


s, is very similar to that of cyanobacteria. Phylogenetic estimates constructed with bacteria, plastids, and eukaryotic genomes also suggest that plastids are most closely related to cyanobacteria.
Mitochondria have several enzymes and transport systems similar to those of bacteria.
Some proteins encoded in the nucleus are transported to the organelle, and both mitochondria and plastids have small genomes compared to bacteria. This is consistent with an increased dependence on the eukaryotic host after forming an endosymbiosis. Most genes on the organellar genomes have been lost or moved to the nucleus. Most genes needed for mitochondrial and plastid function are located in the nucleus. Many originate from the bacterial endosymbiont.
Plastids are present in very different groups of protist

Protist

Protists are a diverse group of eukaryotic microorganisms. Historically, protists were treated as the kingdom Protista, which includes mostly unicellular organisms that do not fit into the other kingdoms, but this group is contested in modern taxonomy...


s, some of which are closely related to forms lacking plastids. This suggests that if chloroplasts originated de novo, they did so multiple times, in which case their close similarity to each other is difficult to explain.
Many of these protists contain "primary" plastids that have not yet been acquired from other plastid-containing eukaryotes.
Among eukaryotes that acquired their plastids directly from bacteria (known as Archaeplastida

Archaeplastida

The Archaeplastida are a major group of eukaryotes, comprising the red and green algae and the land plants, together with a small group called the glaucophytes. The plastids of all of these organisms are surrounded by two membranes, suggesting they developed directly from endosymbiotic...


), the glaucophyte

Glaucophyte

The glaucophytes, also known as glaucocystophytes or glaucocystids, are a small group of freshwater microscopic algae. Together with the red algae and green algae plus land plants , they form the Archaeplastida...


algae have chloroplasts that strongly resemble cyanobacteria. In particular, they have a peptidoglycan

Peptidoglycan

Peptidoglycan, also known as murein, is a polymer consisting of sugars and amino acids that forms a mesh-like layer outside the plasma membrane of bacteria , forming the cell wall. The sugar component consists of alternating residues of β- linked N-acetylglucosamine and N-acetylmuramic acid...


cell wall between the two membranes.
Mitochondria and plastids are similar in size to bacteria.
Secondary endosymbiosis
Primary endosymbiosis involves the engulfment of a bacterium by another free living organism. Secondary endosymbiosis occurs when the product of primary endosymbiosis is itself engulfed and retained by another free living eukaryote. Secondary endosymbiosis has occurred several times and has given rise to extremely diverse groups of algae and other eukaryotes. Some organisms can take opportunistic advantage of a similar process, where they engulf an alga and use the products of its photosynthesis, but once the prey item dies (or is lost) the host returns to a free living state. Obligate secondary endosymbionts become dependent on their organelles and are unable to survive in their absence (for a review see McFadden 2001).
RedToL
RedToL
RedToL, or Red Algal Tree of Life, is part of the collaborative National Science Foundation Assembling the Tree of Life activity , funded through the Division of Environmental Biology, Directorate for Biological Sciences...
, the Red Algal Tree of Life Initiative funded by the
National Science Foundation
National Science Foundation
The National Science Foundation is a United States government agency that supports fundamental research and education in all the non-medical fields of science and engineering. Its medical counterpart is the National Institutes of Health...
highlights the role
red algae
Red algae
The red algae are one of the oldest groups of eukaryotic algae, and also one of the largest, with about 5,000–6,000 species of mostly multicellular, marine algae, including many notable seaweeds...
or Rhodophyta played in the evolution of our planet through secondary endosymbiosis.
One possible secondary endosymbiosis in process has been observed by Okamoto & Inouye (2005). The heterotrophic protist
Hatena
Hatena
Hatena arenicola is a species of single-celled eukaryotes described in 2006. The species is a flagellate, and can resemble a plant at one stage of its life, in which it carries a photosynthesizing alga inside itself, or an animal, acting as predator in another stage of its life...
behaves like a predator until it ingests a green alga, which loses its flagella and cytoskeleton, while
Hatena
, now a host, switches to photosynthetic nutrition, gains the ability to move towards light and loses its feeding apparatus.
The process of secondary endosymbiosis left its evolutionary signature within the unique topography of plastid membranes. Secondary plastids are surrounded by three (in euglenophytes and some
dinoflagellate
Dinoflagellate
The dinoflagellates are a large group of flagellate protists. Most are marine plankton, but they are common in fresh water habitats as well. Their populations are distributed depending on temperature, salinity, or depth...
s) or four membranes (in
haptophyte
Haptophyte
The haptophytes, classified either as the Prymnesiophyta or Haptophyta, are a division of algae.The term "Haptophyceae" is sometimes used. This ending implies classification at a lower level...
s,
heterokont
Heterokont
The heterokonts or stramenopiles are a major line of eukaryotes currently containing more than 100,000 known species. Most are algae, ranging from the giant multicellular kelp to the unicellular diatoms, which are a primary component of plankton...
s,
cryptophyte
Cryptophyte
Cryptophyte may refer to:*a plant which survives the unfavorable season underground or underwater in the Raunkiær plant life-form classification...
s, and
chlorarachniophyte
Chlorarachniophyte
Chlorarachniophytes are a small group of algae occasionally found in tropical oceans. They are typically mixotrophic, ingesting bacteria and smaller protists as well as conducting photosynthesis. Normally they have the form of small amoebae, with branching cytoplasmic extensions that capture prey...
s). The two additional membranes are thought to correspond to the plasma membrane of the engulfed alga and the phagosomal membrane of the host cell. The endosymbiotic acquisition of a eukaryote cell is represented in the cryptophytes; where the remnant nucleus of the red algal symbiont (the
nucleomorph
Nucleomorph
Nucleomorphs are small, reduced eukaryotic nuclei found in certain plastids. So far, only two groups of organisms are known to contain a nucleomorph: the cryptomonads of the supergroup Chromista and the chlorarachniophytes of the supergroup Rhizaria. The nucleomorphs support the endosymbiotic...
) is present between the two inner and two outer plastid membranes.
Despite the diversity of organisms containing plastids, the morphology, biochemistry, genomic organisation, and molecular phylogeny of plastid RNAs and proteins suggest a single origin of all extant plastids – although this theory is still debated.
Some species including
Pediculus humanus
Pediculus humanus
Pediculus humanus is a species of lice that infects humans. It comprises two subspecies:*Pediculus humanus humanus Linnaeus, 1758 – the body louse*Pediculus humanus capitis De Geer, 1767 – the head louse...
have multiple chromosomes in the mitochondrion. This and the pylogenetics of the genes encoded within the mitochondrion suggests that the ancestors of mitochondria may have been acquired on several occasions rather than just once.
Extensions
Neither mitochondria nor plastids can survive in oxygen or outside the cell, having lost many essential hormones required for survival. The standard counterargument points to the large timespan that the mitochondria/plastids have co-existed with their hosts. In this view, genes and systems that were no longer necessary were simply deleted, or in many cases, transferred into the host genome instead. (In fact these transfers constitute an important way for the host cell to regulate plastid or mitochondrial activity.) For example, most plastids are not able to produce respiratory proteins necessary for respiration. Like many living cells, plastids would die if energy is not provided to them by respiration.
A large cell, especially one equipped for phagocytosis, has vast energetic requirements, which cannot be achieved without the internalisation of energy production (due to the decrease in the surface area to volume ratio as size increases). This implies that, for the cell to gain mitochondria, it could not have been a eukaryote, and must have been a prokaryote

Prokaryote

The prokaryotes are a group of organisms that lack a cell nucleus , or any other membrane-bound organelles. The organisms that have a cell nucleus are called eukaryotes. Most prokaryotes are unicellular, but a few such as myxobacteria have multicellular stages in their life cycles...


. This in turn implies that the emergence of the eukaryotes and the formation of mitochondria were achieved simultaneously. This may be explained by possibly a very close symbiotic relationship between two types of prokaryotes which eventually led to gene exchange and engulfing of the mitochondria precursors through partial fusion or engulfing by the host bacteria.
Genetic analysis of small eukaryotes that lack mitochondria shows that they all still retain genes for mitochondrial proteins. This implies that all these eukaryotes once had mitochondria. This objection can be answered if, as suggested above, the origin of the eukaryotes coincided with the formation of mitochondria. Alternatively, we may postulate extinction of all other descendants of a mitochondrion-free ancestral eukaryote, perhaps due to competition from the symbiotic clade, or oxygen poisoning as levels continued to rise.
These last two problems are accounted for in the
Hydrogen hypothesis
Hydrogen hypothesis
The hydrogen hypothesis is a model proposed by William F. Martin and Miklós Müller in 1998 that describes a possible way in which the mitochondrion arose as an endosymbiont within a prokaryote , giving rise to a symbiotic association of two cells from which the first eukaryotic cell could have...
.
See also
External links