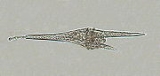 Dinoflagellate
The
dinoflagellates
are a large group of
flagellate
Flagellate
Flagellates are organisms with one or more whip-like organelles called flagella. Some cells in animals may be flagellate, for instance the spermatozoa of most phyla. Flowering plants do not produce flagellate cells, but ferns, mosses, green algae, some gymnosperms and other closely related plants...
protist
Protist
Protists are a diverse group of eukaryotic microorganisms. Historically, protists were treated as the kingdom Protista, which includes mostly unicellular organisms that do not fit into the other kingdoms, but this group is contested in modern taxonomy...
s. Most are
marine
Marine (ocean)
Marine is an umbrella term. As an adjective it is usually applicable to things relating to the sea or ocean, such as marine biology, marine ecology and marine geology...
plankton
Plankton
Plankton are any drifting organisms that inhabit the pelagic zone of oceans, seas, or bodies of fresh water. That is, plankton are defined by their ecological niche rather than phylogenetic or taxonomic classification...
, but they are common in
fresh water
Fresh Water
Fresh Water is the debut album by Australian rock and blues singer Alison McCallum, released in 1972. Rare for an Australian artist at the time, it came in a gatefold sleeve...
habitats as well. Their populations are distributed depending on
temperature
Sea surface temperature
Sea surface temperature is the water temperature close to the oceans surface. The exact meaning of surface varies according to the measurement method used, but it is between and below the sea surface. Air masses in the Earth's atmosphere are highly modified by sea surface temperatures within a...
,
salinity
Salinity
Salinity is the saltiness or dissolved salt content of a body of water. It is a general term used to describe the levels of different salts such as sodium chloride, magnesium and calcium sulfates, and bicarbonates...
, or depth. Many dinoflagellates are known to be
photosynthetic
Photosynthesis
Photosynthesis is a chemical process that converts carbon dioxide into organic compounds, especially sugars, using the energy from sunlight. Photosynthesis occurs in plants, algae, and many species of bacteria, but not in archaea. Photosynthetic organisms are called photoautotrophs, since they can...
, but a large fraction of these are in fact mixotrophic, combining photosynthesis with ingestion of prey
. Dinoflagellates are the largest group of marine eukaryotic aside from the
diatom
Diatom
Diatoms are a major group of algae, and are one of the most common types of phytoplankton. Most diatoms are unicellular, although they can exist as colonies in the shape of filaments or ribbons , fans , zigzags , or stellate colonies . Diatoms are producers within the food chain...
s.