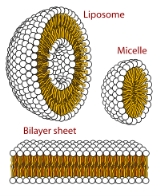 Biological membrane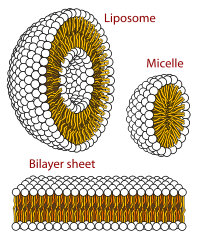 A
biological membrane
or
biomembrane
is an enclosing or separating
membrane
Membrane (selective barrier)
A membrane is a layer of material which serves as a selective barrier between two phases and remains impermeable to specific particles, molecules, or substances when exposed to the action of a driving force...
that acts as a selective barrier, within or around a
cell
Cell (biology)
The cell is the basic structural and functional unit of all known living organisms. It is the smallest unit of life that is classified as a living thing, and is often called the building block of life. The Alberts text discusses how the "cellular building blocks" move to shape developing embryos....
. It consists of a
lipid bilayer
Lipid bilayer
The lipid bilayer is a thin membrane made of two layers of lipid molecules. These membranes are flat sheets that form a continuous barrier around cells. The cell membrane of almost all living organisms and many viruses are made of a lipid bilayer, as are the membranes surrounding the cell nucleus...
with embedded
proteins
Integral membrane protein
An integral membrane protein is a protein molecule that is permanently attached to the biological membrane. Proteins that cross the membrane are surrounded by "annular" lipids, which are defined as lipids that are in direct contact with a membrane protein...
that may constitute close to 50% of membrane content. The cellular membranes should not be confused with isolating
tissues
Tissue (biology)
Tissue is a cellular organizational level intermediate between cells and a complete organism. A tissue is an ensemble of cells, not necessarily identical, but from the same origin, that together carry out a specific function. These are called tissues because of their identical functioning...
formed by layers of cells, such as
mucous
Mucous membrane
The mucous membranes are linings of mostly endodermal origin, covered in epithelium, which are involved in absorption and secretion. They line cavities that are exposed to the external environment and internal organs...
and
basement
Basement membrane
The basement membrane is a thin sheet of fibers that underlies the epithelium, which lines the cavities and surfaces of organs including skin, or the endothelium, which lines the interior surface of blood vessels.- Composition :...
membranes.
Function
Membranes in cells typically define enclosed spaces or compartments in which cells may maintain a
chemical
Chemistry
Chemistry is the science of matter, especially its chemical reactions, but also its composition, structure and properties. Chemistry is concerned with atoms and their interactions with other atoms, and particularly with the properties of chemical bonds....
or
biochemical
Biochemistry
Biochemistry, sometimes called biological chemistry, is the study of chemical processes in living organisms, including, but not limited to, living matter. Biochemistry governs all living organisms and living processes...
environment
Environment (biophysical)
The biophysical environment is the combined modeling of the physical environment and the biological life forms within the environment, and includes all variables, parameters as well as conditions and modes inside the Earth's biosphere. The biophysical environment can be divided into two categories:...
that differs from the outside. For example, the membrane around
peroxisome
Peroxisome
Peroxisomes are organelles found in virtually all eukaryotic cells. They are involved in the catabolism of very long chain fatty acids, branched chain fatty acids, D-amino acids, polyamines, and biosynthesis of plasmalogens, etherphospholipids critical for the normal function of mammalian brains...
s shields the rest of the cell from
peroxide
Peroxide
A peroxide is a compound containing an oxygen–oxygen single bond or the peroxide anion .The O−O group is called the peroxide group or peroxo group. In contrast to oxide ions, the oxygen atoms in the peroxide ion have an oxidation state of −1.The simplest stable peroxide is hydrogen peroxide...
s, and the cell membrane separates a cell from its surrounding medium. Most
organelle
Organelle
In cell biology, an organelle is a specialized subunit within a cell that has a specific function, and is usually separately enclosed within its own lipid bilayer....
s are defined by such membranes, and are called "membrane-bound" organelles.
Probably the most important feature of a biomembrane is that it is a selectively permeable structure. This means that the size,
charge
Electric charge
Electric charge is a physical property of matter that causes it to experience a force when near other electrically charged matter. Electric charge comes in two types, called positive and negative. Two positively charged substances, or objects, experience a mutual repulsive force, as do two...
, and other chemical properties of the atoms and molecules attempting to cross it will determine whether they succeed in doing so. Selective permeability is essential for effective separation of a cell or organelle from its surroundings. Biological membranes also have certain mechanical or
elastic properties
Elasticity of cell membranes
A cell membrane defines a boundary between the living cell and its environment. It consists of lipids, proteins, carbohydrates etc. Lipids and proteins are dominant components of membranes. One of the principal types of lipids in membranes is phospholipid. A phospholipid molecule has a polar...
.
Particles that are required for cellular function but are unable to diffuse freely across a membrane enter through a membrane transport protein or are taken in by means of
endocytosis
Endocytosis
Endocytosis is a process by which cells absorb molecules by engulfing them. It is used by all cells of the body because most substances important to them are large polar molecules that cannot pass through the hydrophobic plasma or cell membrane...
.
Diversity of biological membranes
Many types of specialized plasma membranes can separate cell from external environment: apical, basolateral, presynaptic and postsynaptic ones, membranes of flagella, cilia,
microvillus
Microvillus
Microvilli are microscopic cellular membrane protrusions that increase the surface area of cells, and are involved in a wide variety of functions, including absorption, secretion, cellular adhesion, and mechanotransduction....
,
filopodia
Filopodia
Filopodia are slender cytoplasmic projections that extend beyond the leading edge of lamellipodia in migrating cells. They contain actin filaments cross-linked into bundles by actin-binding proteins, e.g. fascin and fimbrin. Filopodia form focal adhesions with the substratum, linking it to the...
and
lamellipodia
Lamellipodia
The lamellipodium is a cytoskeletal protein actin projection on the mobile edge of the cell. It contains a quasi-two-dimensional actin mesh; the whole structure propels the cell across a substrate...
, the
sarcolemma
Sarcolemma
The sarcolemma is the cell membrane of a muscle cell . It consists of a true cell membrane, called the plasma membrane, and an outer coat made up of a thin layer of polysaccharide material that contains numerous thin collagen fibrils...
of muscle cells, as well as specialized
myelin
Myelin
Myelin is a dielectric material that forms a layer, the myelin sheath, usually around only the axon of a neuron. It is essential for the proper functioning of the nervous system. Myelin is an outgrowth of a type of glial cell. The production of the myelin sheath is called myelination...
and
dendritic spine
Dendritic spine
A dendritic spine is a small membranous protrusion from a neuron's dendrite that typically receives input from a single synapse of an axon. Dendritic spines serve as a storage site for synaptic strength and help transmit electrical signals to the neuron's cell body...
membranes of neurons. Plasma membranes can also form different types of "supramembrane" structures such as caveola,
postsynaptic density
Postsynaptic density
The postsynaptic density is a protein dense specialization attached to the postsynaptic membrane. PSDs were originally identified by electron microscopy as an electron-dense region at the membrane of a postsynaptic neuron...
,
podosome
Podosome
Podosomes are small cylindrical ECM adhesion structures approximately 0.5 um in diameter. They contain focal contact proteins like vinculin and paxillin and are found primarily in malignant cells. They can also be found in normal cells such as macrophages and osteoclasts...
, invadopodium,
desmosome
Desmosome
A desmosome , also known as macula adherens , is a cell structure specialized for cell-to-cell adhesion...
,
hemidesmosome
Hemidesmosome
Hemidesmosomes are very small stud- or rivet-like structures on the inner basal surface of keratinocytes in the epidermis of skin. They are similar in form to desmosomes when visualized by electron microscopy. While desmosomes link two cells together, hemidesmosomes attach one cell to the...
,
focal adhesion
Focal adhesion
In cell biology, focal adhesions are specific types of large macromolecular assemblies through which both mechanical force and regulatory signals are transmitted. More precisely, they can be considered as sub-cellular macromolecules that mediate the regulatory effects In cell biology, focal...
, and cell junctions. These types of membranes differ in lipid and protein composition.
Distinct types of membranes also create intracellular
organelle
Organelle
In cell biology, an organelle is a specialized subunit within a cell that has a specific function, and is usually separately enclosed within its own lipid bilayer....
s:
endosome
Endosome
In biology, an endosome is a membrane-bound compartment inside eukaryotic cells. It is a compartment of the endocytic membrane transport pathway from the plasma membrane to the lysosome. Molecules internalized from the plasma membrane can follow this pathway all the way to lysosomes for...
; smooth and rough
endoplasmic reticulum
Endoplasmic reticulum
The endoplasmic reticulum is an organelle of cells in eukaryotic organisms that forms an interconnected network of tubules, vesicles, and cisternae...
; sarcoplasmic reticulum;
Golgi apparatus
Golgi apparatus
The Golgi apparatus is an organelle found in most eukaryotic cells. It was identified in 1898 by the Italian physician Camillo Golgi, after whom the Golgi apparatus is named....
;
lysosome
Lysosome
thumb|350px|Schematic of typical animal cell, showing subcellular components. [[Organelle]]s: [[nucleoli]] [[cell nucleus|nucleus]] [[ribosomes]] [[vesicle |vesicle]] rough [[endoplasmic reticulum]]...
;
mitochondrion
Mitochondrion
In cell biology, a mitochondrion is a membrane-enclosed organelle found in most eukaryotic cells. These organelles range from 0.5 to 1.0 micrometers in diameter...
(inner and outer membranes);
nucleus
Cell nucleus
In cell biology, the nucleus is a membrane-enclosed organelle found in eukaryotic cells. It contains most of the cell's genetic material, organized as multiple long linear DNA molecules in complex with a large variety of proteins, such as histones, to form chromosomes. The genes within these...
(inner and outer membranes);
peroxisome
Peroxisome
Peroxisomes are organelles found in virtually all eukaryotic cells. They are involved in the catabolism of very long chain fatty acids, branched chain fatty acids, D-amino acids, polyamines, and biosynthesis of plasmalogens, etherphospholipids critical for the normal function of mammalian brains...
;
vacuole
Vacuole
A vacuole is a membrane-bound organelle which is present in all plant and fungal cells and some protist, animal and bacterial cells. Vacuoles are essentially enclosed compartments which are filled with water containing inorganic and organic molecules including enzymes in solution, though in certain...
; cytoplasmic
granules
Granule (cell biology)
In cell biology, a granule is a small particle. It can be any structure barely visible by light microscopy. The term is most often used to describe a secretory vesicle.-Leukocytes:...
; cell
vesicles
Vesicle (biology)
A vesicle is a bubble of liquid within another liquid, a supramolecular assembly made up of many different molecules. More technically, a vesicle is a small membrane-enclosed sack that can store or transport substances. Vesicles can form naturally because of the properties of lipid membranes , or...
(
phagosome
Phagosome
In cell biology, a phagosome is a vacuole formed around a particle absorbed by phagocytosis. The vacuole is formed by the fusion of the cell membrane around the particle. A phagosome is a cellular compartment in which pathogenic microorganisms can be killed and digested...
, autophagosome, clathrin-coated vesicles, COPI-coated and COPII-coated vesicles) and secretory vesicles (including
synaptosome
Synaptosome
A synaptosome is an isolated terminal of a neuron. Synaptosomes are obtained after homogenization and fractionation of nerve tissue. The fractionation step involves several centrifugations to separate various organelles from the synaptosomes...
,
acrosome
Acrosome
The acrosome is an organelle that develops over the anterior half of the head in the spermatozoa of many animals. It is a cap-like structure derived from the Golgi apparatus. Acrosome formation is completed during testicular maturation. In Eutherian mammals the acrosome contains digestive enzymes...
s, melanosomes, and chromaffin granules).
Different types of biological membranes have diverse lipid and protein compositions. The content of membranes defines their physical and biological properties. Some components of membranes play a key role in medicine, such as the efflux pumps that pump drugs out of a cell.
See also
Bladder (disambiguation)
S-layer

S-layer

An S-layer is a part of the cell envelope commonly found in bacteria, as well as among archaea.It consists of a monomolecular layer composed of identical proteins or glycoproteins. This two-dimensional structure is built via self-assembly and encloses the whole cell surface. Thus, the S-layer...



Membrane lipids

Membrane lipids

The three major classes of membrane lipids are phospholipids, glycolipids, and cholesterol.-Phospholipids :Phospholipids and glycolipids consist of two long, nonpolar hydrocarbon chains linked to a hydrophilic head group....



Biofilm

Biofilm

A biofilm is an aggregate of microorganisms in which cells adhere to each other on a surface. These adherent cells are frequently embedded within a self-produced matrix of extracellular polymeric substance...



Membrane protein

Membrane protein

A membrane protein is a protein molecule that is attached to, or associated with the membrane of a cell or an organelle. More than half of all proteins interact with membranes.-Function:...



Osmosis

Osmosis

Osmosis is the movement of solvent molecules through a selectively permeable membrane into a region of higher solute concentration, aiming to equalize the solute concentrations on the two sides...



Mucous membrane

Mucous membrane

The mucous membranes are linings of mostly endodermal origin, covered in epithelium, which are involved in absorption and secretion. They line cavities that are exposed to the external environment and internal organs...



Fetal membranes

Fetal membranes

The fetal membranes, or chorioamniotic membranes, are the amnion and chorion which surround and protect a developing fetus....


of amnion

Amnion

The amnion is a membrane building the amniotic sac that surrounds and protects an embryo. It is developed in reptiles, birds, and mammals, which are hence called "Amniota"; but not in amphibians and fish , which are consequently termed "Anamniota". The primary role of this is the protection of the...


and chorion

Chorion

The chorion is one of the membranes that exist during pregnancy between the developing fetus and mother. It is formed by extraembryonic mesoderm and the two layers of trophoblast and surrounds the embryo and other membranes...



Basement membrane

Basement membrane

The basement membrane is a thin sheet of fibers that underlies the epithelium, which lines the cavities and surfaces of organs including skin, or the endothelium, which lines the interior surface of blood vessels.- Composition :...



Serous membrane

Serous membrane

In anatomy, serous membrane is a smooth membrane consisting of a thin layer of cells which secrete serous fluid. Serous membranes line and enclose several body cavities, known as serous cavities, where they secrete a lubricating fluid which reduces friction from muscle movement...



Tympanic membrane