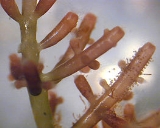 Red algae
The
red algae
are one of the oldest groups of eukaryotic algae, and also one of the largest, with about 5,000–6,000 species of mostly multicellular,
marine
Ocean
An ocean is a major body of saline water, and a principal component of the hydrosphere. Approximately 71% of the Earth's surface is covered by ocean, a continuous body of water that is customarily divided into several principal oceans and smaller seas.More than half of this area is over 3,000...
algae
Algae
Algae are a large and diverse group of simple, typically autotrophic organisms, ranging from unicellular to multicellular forms, such as the giant kelps that grow to 65 meters in length. They are photosynthetic like plants, and "simple" because their tissues are not organized into the many...
, including many notable
seaweed
Seaweed
Seaweed is a loose, colloquial term encompassing macroscopic, multicellular, benthic marine algae. The term includes some members of the red, brown and green algae...
s. Other references indicate as many as 10,000 species; more detailed counts indicate ~4,000 in ~600 genera (3,738 marine spp in 546 genera and 10 orders (plus the unclassifiable); 164 freshwater spp in 30 genera in 8 orders).
The red algae form a distinct group characterized by the following attributes: eukaryotic cells without flagella and
centriole
Centriole
A Centriole is a barrel-shaped cell structure found in most animal eukaryotic cells, though it is absent in higher plants and most fungi. The walls of each centriole are usually composed of nine triplets of microtubules...
s, using floridean starch as food reserve, with
phycobiliprotein
Phycobiliprotein
Phycobiliproteins are water-soluble proteins present in cyanobacteria and certain algae that capture light energy, which is then passed on to chlorophylls during photosynthesis. Phycobiliproteins are formed of a complex between proteins and covalently bound phycobilins that act as chromophores...
s as
accessory pigment
Accessory pigment
Accessory pigments are light-absorbing compounds, found in photosynthetic organisms, that work in conjunction with chlorophyll a. They include other forms of this pigment, such as chlorophyll b in green algal and higher plant antennae, while other algae may contain chlorophyll c or d...
s (giving them their red color), and with
chloroplast
Chloroplast
Chloroplasts are organelles found in plant cells and other eukaryotic organisms that conduct photosynthesis. Chloroplasts capture light energy to conserve free energy in the form of ATP and reduce NADP to NADPH through a complex set of processes called photosynthesis.Chloroplasts are green...
s lacking external
endoplasmic reticulum
Endoplasmic reticulum
The endoplasmic reticulum is an organelle of cells in eukaryotic organisms that forms an interconnected network of tubules, vesicles, and cisternae...
and containing unstacked
thylakoid
Thylakoid
A thylakoid is a membrane-bound compartment inside chloroplasts and cyanobacteria. They are the site of the light-dependent reactions of photosynthesis. Thylakoids consist of a thylakoid membrane surrounding a thylakoid lumen. Chloroplast thylakoids frequently form stacks of disks referred to as...
s. Most red algae are also multicellular, macroscopic, marine, and have
sexual reproduction
Sexual reproduction
Sexual reproduction is the creation of a new organism by combining the genetic material of two organisms. There are two main processes during sexual reproduction; they are: meiosis, involving the halving of the number of chromosomes; and fertilization, involving the fusion of two gametes and the...
.
Many of the
coralline algae
Coralline algae
Coralline algae are red algae in the order Corallinales. They are characterized by a thallus that is hard because of calcareous deposits contained within the cell walls...
, which secrete
calcium carbonate
Calcium carbonate
Calcium carbonate is a chemical compound with the formula CaCO3. It is a common substance found in rocks in all parts of the world, and is the main component of shells of marine organisms, snails, coal balls, pearls, and eggshells. Calcium carbonate is the active ingredient in agricultural lime,...
and play a major role in building
coral reef
Coral reef
Coral reefs are underwater structures made from calcium carbonate secreted by corals. Coral reefs are colonies of tiny living animals found in marine waters that contain few nutrients. Most coral reefs are built from stony corals, which in turn consist of polyps that cluster in groups. The polyps...
s, belong here.