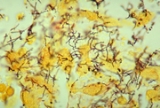 Spirochaete
Spirochaetes
belong to a phylum of distinctive
Gram-negative
Gram-negative
Gram-negative bacteria are bacteria that do not retain crystal violet dye in the Gram staining protocol. In a Gram stain test, a counterstain is added after the crystal violet, coloring all Gram-negative bacteria with a red or pink color...
bacteria
Bacteria
Bacteria are a large domain of prokaryotic microorganisms. Typically a few micrometres in length, bacteria have a wide range of shapes, ranging from spheres to rods and spirals...
, which have long,
helically
Helix
A helix is a type of smooth space curve, i.e. a curve in three-dimensional space. It has the property that the tangent line at any point makes a constant angle with a fixed line called the axis. Examples of helixes are coil springs and the handrails of spiral staircases. A "filled-in" helix – for...
coiled (spiral-shaped) cells. Spirochaetes are chemoheterotrophic in nature, with lengths between 5 and 250 µm and diameters around 0.1-0.6 µm.
Spirochaetes are distinguished from other bacterial phyla by the location of their
flagella
Flagellum
A flagellum is a tail-like projection that protrudes from the cell body of certain prokaryotic and eukaryotic cells, and plays the dual role of locomotion and sense organ, being sensitive to chemicals and temperatures outside the cell. There are some notable differences between prokaryotic and...
, sometimes called axial filaments, which run lengthwise between the bacterial inner membrane and outer membrane in
periplasmic space
Periplasmic space
The periplasmic space or periplasm is a space between the peptidoglycan cell wall and inner membrane of Gram-negative bacteria or the equivalent space outside the inner membrane of Gram-positive bacteria. It may constitute up to 40% of the total cell volume in Gram-negative species, and is...
. These cause a twisting motion which allows the spirochaete to move about. When reproducing, a spirochaete will undergo asexual transverse binary fission.
Most spirochaetes are free-living and
anaerobic
Anaerobic organism
An anaerobic organism or anaerobe is any organism that does not require oxygen for growth. It could possibly react negatively and may even die if oxygen is present...
, but there are numerous exceptions.
Classification
The spirochaetes are divided into three families (
Brachyspiraceae
Brachyspiraceae
Brachyspiraceae is a family of spirochaetes.Spirochetosis of the appendix, caused by Brachyspira aalborgi, can present as acute appendicitis. One study showed spirochetosis in 0.7% of all appendicies removed for clinical acute appendicitis....
,
Leptospiraceae
Leptospiraceae
Leptospiraceae is a family of spirochetes.It includes the genus Leptospira....
, and
Spirochaetaceae
Spirochaetaceae
Spirochaetaceae is a family of spirochetes most notable for the genus that causes Lyme disease and relapsing fever....
), all placed within a single order (Spirochaetales). Disease-causing members of this phylum include the following:
Cavalier-Smith has postulated that the Spirochaetes belong in a larger
clade
Clade
A clade is a group consisting of a species and all its descendants. In the terms of biological systematics, a clade is a single "branch" on the "tree of life". The idea that such a "natural group" of organisms should be grouped together and given a taxonomic name is central to biological...
called
Gracilicutes
Gracilicutes
Gracilicutes is a controversial taxon in Bacterial taxonomy.Traditionally Gram staining results were most commonly used as a classification tool, consequently until the advent of molecular phylogeny, the Kingdom Prokaryotae was divided into four divisions,*...
.
Phylogeny
The currently accepted taxonomy is based on the List of Prokaryotic names with Standing in Nomenclature (LSPN)
and the phylogeny is based on 16S rRNA-based LTP release 106 by The All-Species Living Tree Project
Notes:
♦ Type strain lost or not available
♪ Prokaryotes where no pure (
axenic
Axenic
In biology, axenic describes a culture of an organism that is entirely free of all other "contaminating" organisms. The earliest axenic cultures were of bacteria or unicellular eukaryotes, but axenic cultures of many multicellular organisms are also possible...
) cultures are isolated or available, i. e. not cultivated or can not be sustained in culture for more than a few serial passages
♠ Strains found at the
National Center for Biotechnology Information
National Center for Biotechnology Information
The National Center for Biotechnology Information is part of the United States National Library of Medicine , a branch of the National Institutes of Health. The NCBI is located in Bethesda, Maryland and was founded in 1988 through legislation sponsored by Senator Claude Pepper...
(NCBI) but not listed in the List of Prokaryotic names with Standing in Nomenclature (LSPN)
Historical
Salvarsan, the first partially organic antimicrobial drug in medical history, was effective against spirochaetes only and was primarily used to cure
syphilis
Syphilis
Syphilis is a sexually transmitted infection caused by the spirochete bacterium Treponema pallidum subspecies pallidum. The primary route of transmission is through sexual contact; however, it may also be transmitted from mother to fetus during pregnancy or at birth, resulting in congenital syphilis...
.
See also
External links