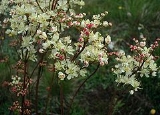 Dropwort
Dropwort
also known as
Fern-leaf Dropwort
, is a
perennial
Perennial plant
A perennial plant or simply perennial is a plant that lives for more than two years. The term is often used to differentiate a plant from shorter lived annuals and biennials. The term is sometimes misused by commercial gardeners or horticulturalists to describe only herbaceous perennials...
herb of the family Rosaceae closely related to
Meadowsweet
Meadowsweet
Filipendula ulmaria, commonly known as Meadowsweet, is a perennial herb in the family Rosaceae that grows in damp meadows. It is native throughout most of Europe and Western Asia...
. It is found in dry
pasture
Pasture
Pasture is land used for grazing. Pasture lands in the narrow sense are enclosed tracts of farmland, grazed by domesticated livestock, such as horses, cattle, sheep or swine. The vegetation of tended pasture, forage, consists mainly of grasses, with an interspersion of legumes and other forbs...
s across much of
Europe
Europe
Europe is, by convention, one of the world's seven continents. Comprising the westernmost peninsula of Eurasia, Europe is generally 'divided' from Asia to its east by the watershed divides of the Ural and Caucasus Mountains, the Ural River, the Caspian and Black Seas, and the waterways connecting...
and central and northern
Asia
Asia
Asia is the world's largest and most populous continent, located primarily in the eastern and northern hemispheres. It covers 8.7% of the Earth's total surface area and with approximately 3.879 billion people, it hosts 60% of the world's current human population...
.
Growth
It has finely-cut, radical
leaves
Leaf
A leaf is an organ of a vascular plant, as defined in botanical terms, and in particular in plant morphology. Foliage is a mass noun that refers to leaves as a feature of plants....
, fern-like in appearance, and an erect stem 20–50 cm (7.9–19.7 in) tall bearing a loose terminal
inflorescence
Inflorescence
An inflorescence is a group or cluster of flowers arranged on a stem that is composed of a main branch or a complicated arrangement of branches. Strictly, it is the part of the shoot of seed plants where flowers are formed and which is accordingly modified...
of small white
flower
Flower
A flower, sometimes known as a bloom or blossom, is the reproductive structure found in flowering plants . The biological function of a flower is to effect reproduction, usually by providing a mechanism for the union of sperm with eggs...
s. The tiny flowers appear in dense clusters from late spring to mid summer. The crushed leaves and roots have a scent of oil of wintergreen (
Methyl salicylate
Methyl salicylate
Methyl salicylate is a natural product of many species of plants. Some of the plants which produce it are called wintergreens, hence the common name.-Botanical background:...
)
This plant prefers full sun to partial shade. It is more tolerant of dry conditions than most other members of its genus.