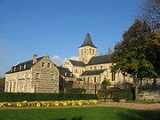 Priory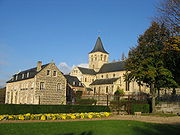 A
priory
is a
house
House
A house is a building or structure that has the ability to be occupied for dwelling by human beings or other creatures. The term house includes many kinds of different dwellings ranging from rudimentary huts of nomadic tribes to free standing individual structures...
of men or women under religious vows that is headed by a
prior
Prior
Prior is an ecclesiastical title, derived from the Latin adjective for 'earlier, first', with several notable uses.-Monastic superiors:A Prior is a monastic superior, usually lower in rank than an Abbot. In the Rule of St...
or prioress. Priories may be houses of
mendicant
Mendicant
The term mendicant refers to begging or relying on charitable donations, and is most widely used for religious followers or ascetics who rely exclusively on charity to survive....
friar
Friar
A friar is a member of one of the mendicant orders.-Friars and monks:...
s or religious sisters (as the
Dominicans
Dominican Order
The Order of Preachers , after the 15th century more commonly known as the Dominican Order or Dominicans, is a Catholic religious order founded by Saint Dominic and approved by Pope Honorius III on 22 December 1216 in France...
, Augustinians and
Carmelites
Carmelites
The Order of the Brothers of Our Lady of Mount Carmel or Carmelites is a Catholic religious order perhaps founded in the 12th century on Mount Carmel, hence its name. However, historical records about its origin remain uncertain...
, for instance), or
monasteries
Monastery
Monastery denotes the building, or complex of buildings, that houses a room reserved for prayer as well as the domestic quarters and workplace of monastics, whether monks or nuns, and whether living in community or alone .Monasteries may vary greatly in size – a small dwelling accommodating only...
of
monk
Monk
A monk is a person who practices religious asceticism, living either alone or with any number of monks, while always maintaining some degree of physical separation from those not sharing the same purpose...
s or
nun
Nun
A nun is a woman who has taken vows committing her to live a spiritual life. She may be an ascetic who voluntarily chooses to leave mainstream society and live her life in prayer and contemplation in a monastery or convent...
s (as the Carthusians).
The Benedictines and their offshoots (
Cistercians
and
Trappists
Trappists
The Order of Cistercians of the Strict Observance , or Trappists, is a Roman Catholic religious order of cloistered contemplative monks who follow the Rule of St. Benedict...
among them), the Premonstratensians, and the military orders distinguish between
conventual
and simple or
obedientiary
priories.
Conventual priories
are those autonomous houses which have no
abbot
Abbot
The word abbot, meaning father, is a title given to the head of a monastery in various traditions, including Christianity. The office may also be given as an honorary title to a clergyman who is not actually the head of a monastery...
s, either because the canonically required number of twelve monks has not yet been reached, or for some other reason. At present the Benedictine Order has twenty-seven conventual priories.
Simple
or
obedientiary priories
are dependencies of
abbey
Abbey
An abbey is a Catholic monastery or convent, under the authority of an Abbot or an Abbess, who serves as the spiritual father or mother of the community.The term can also refer to an establishment which has long ceased to function as an abbey,...
s. Their superior, who is subject to the
abbot
Abbot
The word abbot, meaning father, is a title given to the head of a monastery in various traditions, including Christianity. The office may also be given as an honorary title to a clergyman who is not actually the head of a monastery...
in everything, is called a "prior." These monasteries are satellites of the mother abbey. The Cluniac order is notable for being organised entirely on this obedientiary principle, with a single abbot at the Abbey of Cluny, and all other houses dependent priories.
Priory may also refer to schools operated or sponsored by the Benedictines, such as the
Saint Louis Priory School
Saint Louis Priory School
The Saint Louis Priory School, a Roman Catholic secondary day school for boys, is located in suburban St. Louis, Missouri, within the Archdiocese of Saint Louis. The school is run by the Benedictine monks of Saint Louis Abbey as part of their religious ministry.- History :The school was...
or the
Woodside Priory School
Woodside Priory School
The Woodside Priory School, sometimes known as The Priory, is an independent, coeducational, Roman Catholic, college preparatory, day and boarding school in the Benedictine tradition located in Portola Valley, California in the United States...
. Priory is also used to refer to the geographic headquarters of several
commanderies
Commandry (feudalism)
Commandry , or commandery , was the smallest division of the European landed estate or manor under the control of a commendator, or commander, of an order of knights...
of
knight
Knight
A knight was a member of a class of lower nobility in the High Middle Ages.By the Late Middle Ages, the rank had become associated with the ideals of chivalry, a code of conduct for the perfect courtly Christian warrior....
s.