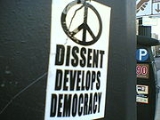 Dissent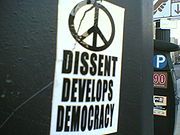 Dissent
is a sentiment or philosophy of non-agreement or opposition to a prevailing
idea
Idea
In the most narrow sense, an idea is just whatever is before the mind when one thinks. Very often, ideas are construed as representational images; i.e. images of some object. In other contexts, ideas are taken to be concepts, although abstract concepts do not necessarily appear as images...
(e.g. a
government
Government
Government refers to the legislators, administrators, and arbitrators in the administrative bureaucracy who control a state at a given time, and to the system of government by which they are organized...
's policies) or an
entity
Entity
An entity is something that has a distinct, separate existence, although it need not be a material existence. In particular, abstractions and legal fictions are usually regarded as entities. In general, there is also no presumption that an entity is animate.An entity could be viewed as a set...
(e.g. an
individual
Individual
An individual is a person or any specific object or thing in a collection. Individuality is the state or quality of being an individual; a person separate from other persons and possessing his or her own needs, goals, and desires. Being self expressive...
or
political party
Political party
A political party is a political organization that typically seeks to influence government policy, usually by nominating their own candidates and trying to seat them in political office. Parties participate in electoral campaigns, educational outreach or protest actions...
which supports such policies). The term's antonyms include
agreement
,
consensus
(when all or nearly all parties agree on something) and
consent
Consent
Consent refers to the provision of approval or agreement, particularly and especially after thoughtful consideration.- Types of consent :*Implied consent is a controversial form of consent which is not expressly granted by a person, but rather inferred from a person's actions and the facts and...
(when one party agrees to a proposition made by another).
In some political systems, dissent may be formally expressed by way of
opposition politics
Opposition (parliamentary)
Parliamentary opposition is a form of political opposition to a designated government, particularly in a Westminster-based parliamentary system. Note that this article uses the term government as it is used in Parliamentary systems, i.e. meaning the administration or the cabinet rather than the state...
, while
politically repressive
Political repression
Political repression is the persecution of an individual or group for political reasons, particularly for the purpose of restricting or preventing their ability to take political life of society....
regimes may prohibit any form of dissent, leading to
suppression of dissent
Suppression of dissent
Suppression of dissent occurs when an individual or group which is more powerful than another tries to directly or indirectly censor, persecute or otherwise oppress the other party, rather than engage with and constructively respond to or accommodate the other party's arguments or viewpoint...
and the encouragement of social or political
activism
Activism
Activism consists of intentional efforts to bring about social, political, economic, or environmental change. Activism can take a wide range of forms from writing letters to newspapers or politicians, political campaigning, economic activism such as boycotts or preferentially patronizing...
. Individuals who do not conform or support the policies of certain states have been described as "
dissident
Dissident
A dissident, broadly defined, is a person who actively challenges an established doctrine, policy, or institution. When dissidents unite for a common cause they often effect a dissident movement....
s." Several thinkers have argued that a healthy society needs not only to protect, but also to encourage dissent.
In a well-known letter to
Arnold Ruge
Arnold Ruge
Arnold Ruge was a German philosopher and political writer.-Studies in university and prison:Born in Bergen auf Rügen, he studied in Halle, Jena and Heidelberg. As an advocate of a free and united Germany he was jailed for five years in 1825 in the fortress of Kolberg, where he studied Plato and...
,
Karl Marx
Karl Marx
Karl Heinrich Marx was a German philosopher, economist, sociologist, historian, journalist, and revolutionary socialist. His ideas played a significant role in the development of social science and the socialist political movement...
wrote: "if constructing the future and settling everything for all times are not our affair, it is all the more clear what we have to accomplish at present: I am referring to ruthless criticism of all that exists, ruthless both in the sense of not being afraid of the results it arrives at and in the sense of being just as little afraid of conflict with the powers that be."
See also