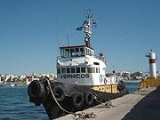 Direction finding
Direction finding
refers to the establishment of the direction from which a received signal was transmitted. This can refer to
radio
Radio
Radio is the transmission of signals through free space by modulation of electromagnetic waves with frequencies below those of visible light. Electromagnetic radiation travels by means of oscillating electromagnetic fields that pass through the air and the vacuum of space...
or other forms of wireless communication. By combining the direction information from two or more suitably spaced
receivers
Receiver (radio)
A radio receiver converts signals from a radio antenna to a usable form. It uses electronic filters to separate a wanted radio frequency signal from all other signals, the electronic amplifier increases the level suitable for further processing, and finally recovers the desired information through...
(or a single mobile receiver), the source of a transmission may be located in space via
triangulation
Triangulation
In trigonometry and geometry, triangulation is the process of determining the location of a point by measuring angles to it from known points at either end of a fixed baseline, rather than measuring distances to the point directly...
.
Antennas
Direction finding often requires an antenna that is directional (more sensitive in certain directions than in others). Many antenna designs exhibit this property. For example, a
Yagi antenna
Yagi antenna
A Yagi-Uda array, commonly known simply as a Yagi antenna, is a directional antenna consisting of a driven element and additional parasitic elements...
has quite pronounced directionality, so the source of a transmission can be determined simply by pointing it in the direction where the maximum signal level is obtained. However, to establish direction to great accuracy requires much more sophisticated techniques.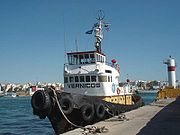 A simple form of directional antenna is the
loop aerial
Loop antenna
A loop antenna is a radio antenna consisting of a loop of wire, tubing, or other electrical conductor with its ends connected to a balanced transmission line...
. This consists of an open loop of
wire
Wire
A wire is a single, usually cylindrical, flexible strand or rod of metal. Wires are used to bear mechanical loads and to carry electricity and telecommunications signals. Wire is commonly formed by drawing the metal through a hole in a die or draw plate. Standard sizes are determined by various...
on an insulating former, or a metal ring that forms the antenna elements itself, where the diameter of the loop is a tenth of a wavelength or smaller at the target frequency. Such an antenna will be
least
sensitive to signals that are normal to its face and
most
responsive to those meeting edge-on. This is caused by the phase output of the transmitting beacon. The phase changing phase causes a difference between the voltages induced on either side of the loop at any instant. Turning the loop face on will not induce any current flow: think of the radio wave slipping through the loop. Simply turning the antenna to obtain minimum signal will establish two possible directions from which the signal could be emanating. The NULL is used, as small angular deflections of the loop aerial near its null positions produce larger changes in current than similar angular changes near the loops max positions. For this reason, a null position of the loop aerial is used.
To resolve the two direction possibilities, a sense antenna is used, the sense aerial has no directional properties but has the same sensitivity as the loop aerial. By adding the steady signal from the sense aerial to the alternating signal from the loop signal as it rotates, there is now only one position as the loop rotates 360° at which there is zero current. This acts as a phase ref point, allowing the correct null point to be identified, thus removing the 180° ambiguity. A
dipole
Dipole
In physics, there are several kinds of dipoles:*An electric dipole is a separation of positive and negative charges. The simplest example of this is a pair of electric charges of equal magnitude but opposite sign, separated by some distance. A permanent electric dipole is called an electret.*A...
antenna exhibits similar properties, and is the basis for the Yagi antenna, which is familiar as the common VHF or
UHF
Ultra high frequency
Ultra-High Frequency designates the ITU Radio frequency range of electromagnetic waves between 300 MHz and 3 GHz , also known as the decimetre band or decimetre wave as the wavelengths range from one to ten decimetres...
television
Television
Television is a telecommunication medium for transmitting and receiving moving images that can be monochrome or colored, with accompanying sound...
aerial. For much higher frequencies still,
parabolic
Parabola
In mathematics, the parabola is a conic section, the intersection of a right circular conical surface and a plane parallel to a generating straight line of that surface...
antennas can be used, which are highly directional, focusing received signals from a very narrow angle to a receiving element at the centre.
More sophisticated techniques such as
phased array
Phased array
In wave theory, a phased array is an array of antennas in which the relative phases of the respective signals feeding the antennas are varied in such a way that the effective radiation pattern of the array is reinforced in a desired direction and suppressed in undesired directions.An antenna array...
s are generally used for highly accurate direction finding systems called
goniometer
Goniometer
A goniometer is an instrument that either measures an angle or allows an object to be rotated to a precise angular position. The term goniometry is derived from two Greek words, gōnia, meaning angle, and metron, meaning measure....
s such as are used in signals intelligence (SIGINT). A
helicopter
Helicopter
A helicopter is a type of rotorcraft in which lift and thrust are supplied by one or more engine-driven rotors. This allows the helicopter to take off and land vertically, to hover, and to fly forwards, backwards, and laterally...
based DF system was designed by
ESL Incorporated
ESL Incorporated
ESL Incorporated, or Electromagnetic Systems Laboratory, was a subsidiary of TRW, a high technology firm in the United States that was engaged in software design, systems analysis and hardware development for the strategic reconnaissance marketplace. Founded in January, 1964 in Palo Alto,...
for the U.S. Government as early as 1972.
Single channel DF
Single-channel DF refers to the use of a multi-antenna array with a single channel radio receiver. This approach to DF obviously offers some advantages and drawbacks. Since it only uses one receiver, mobility and lower power consumption are obvious benefits but without the ability to look at each antenna simultaneously (which would be the case if one were to use multiple receivers) more complex operations need to occur at the antenna in order to present the signal to the receiver.
The two main categories that a single channel DF algorithm falls into are
amplitude comparison
and
phase comparison
. Some algorithms can be hybrids of the two.
Pseudo-doppler DF technique
The pseudo-doppler technique is a phase based DF method that produces a bearing estimate on the received signal by measuring the doppler shift induced on the signal by sampling around the elements of a circular array. The original method used a single antenna that physically moved in a circle but the modern approach uses a multi-antenna circular array with each antenna sampled in succession.
Watson-Watt / Adcock antenna array
The
Watson-Watt
Robert Watson-Watt
Sir Robert Alexander Watson-Watt, KCB, FRS, FRAeS is considered by many to be the "inventor of radar". Development of radar, initially nameless, was first started elsewhere but greatly expanded on 1 September 1936 when Watson-Watt became...
technique uses two Adcock antenna pairs to perform an amplitude comparison on the incoming signal. An Adcock antenna pair is a pair of monopole or dipole antennas that takes the vector difference of the received signal at each antenna so that there is only one output from the pair of antennas. Two of these pairs are co-located but perpendicularly oriented to produce what can be referred to as the N-S (North-South) and E-W (East-West) signals that will then be passed to the receiver. In the receiver, the bearing angle can then be computed by taking the arctangent of the ratio of the N-S to E-W signal.
Radio navigation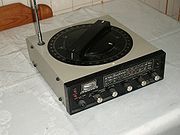 Radio direction finding, or RDF was once the primary aviation navigational aid. Beacons were used to mark "airways" intersections and to define departure and approach procedures. Since the signal transmitted contains no information about bearing or distance, these beacons are referred to as non-directional beacon

Non-directional beacon

A non-directional beacon is a radio transmitter at a known location, used as an aviation or marine navigational aid. As the name implies, the signal transmitted does not include inherent directional information, in contrast to other navigational aids such as low frequency radio range, VHF...


s, or NDB in the aviation

Aviation

Aviation is the design, development, production, operation, and use of aircraft, especially heavier-than-air aircraft. Aviation is derived from avis, the Latin word for bird.-History:...


world. Starting in the 1950s, these beacons are generally being replaced by the VOR

VHF omnidirectional range

VOR, short for VHF omnidirectional radio range, is a type of radio navigation system for aircraft. A VOR ground station broadcasts a VHF radio composite signal including the station's identifier, voice , and navigation signal. The identifier is typically a two- or three-letter string in Morse code...


system, in which the bearing to the navigational aid is measured from the signal itself, therefore no specialized antenna with moving parts is required. Due to relatively low purchase, maintenance and calibration cost, NDB's are still used to mark locations of smaller aerodromes and important helicopter landing sites.
Similar beacons located in coastal areas are also used for maritime radio navigation, as almost every ship is (was) equipped with a direction finder (Appleyard 1988). Very few maritime radionavigation beacons remain active today (2008) as ships have abandoned navigation via RDF in favor of GPS navigation.
In the United Kingdom a radio direction finding service is available on 121.5 MHz and 243.0 MHz to aircraft pilots who are in distress or are experiencing difficulties. The service is based on a number of radio DF units located at civil and military airports and certain HM Coastguard stations. These stations can obtain a "fix" of the aircraft and transmit it by radio to the pilot.
Location of illegal, secret or hostile transmitters - SIGINT
In WW2 considerable effort was expended on identifying secret transmitters in the United Kingdom (UK) by direction finding. The work was undertaken by the Radio Security Service (RSS also MI8). Initially three U Adcock HF DF stations were set up in 1939 by the General Post Office but with the declaration of war,
MI5
MI5
The Security Service, commonly known as MI5 , is the United Kingdom's internal counter-intelligence and security agency and is part of its core intelligence machinery alongside the Secret Intelligence Service focused on foreign threats, Government Communications Headquarters and the Defence...
and
RSS
RSS
-Mathematics:* Root-sum-square, the square root of the sum of the squares of the elements of a data set* Residual sum of squares in statistics-Technology:* RSS , "Really Simple Syndication" or "Rich Site Summary", a family of web feed formats...
developed this into a larger network. One of the problems with providing coverage of an area the size of the UK was installing sufficient DF stations to cover the entire area to receive
skywave
Skywave
Skywave is the propagation of electromagnetic waves bent back to the Earth's surface by the ionosphere. As a result of skywave propagation, a broadcast signal from a distant AM broadcasting station at night, or from a shortwave radio station can sometimes be heard as clearly as local...
signals reflected back from the ionised layers in the upper atmosphere. Even with the expanded network, some areas were not adequately covered and for this reason up to 1700 voluntary interceptors (radio amateurs) were recruited to detect illicit transmissions by ground wave. In addition to the fixed stations RSS ran a fleet of mobile DF vehicles around the UK. If a transmitter was identified by the fixed DF stations or voluntary interceptors, the mobile units were sent to the area to home in on the source. The mobile units were HF Adcock systems
By 1941 only a couple of illicit transmitters had been identified in the UK but they were German agents that had been 'turned' and were transmitting under MI5 control. But many illicit transmissions had been logged emanating from German agents in occupied and neutral countries in Europe. The traffic became a valuable source of intelligence and the control of RSS was subsequently passed to MI6 who were responsible for secret intelligence originating from outside the UK. The direction finding and interception operation increased in volume and importance until 1945.
The HF Adcock stations consisted of four 10m vertical antennas surrounding a small wooden operators hut containing a receiver and a radio-
goniometer
Goniometer
A goniometer is an instrument that either measures an angle or allows an object to be rotated to a precise angular position. The term goniometry is derived from two Greek words, gōnia, meaning angle, and metron, meaning measure....
which was adjusted to obtain the bearing. MF stations were also used which used four guyed 30m lattice tower antennas. In 1941 RSS began experimenting with Spaced Loop direction finders developed by the Marconi company and the UK National Physical Laboratories. These consisted of two parallel loops 1 to 2m square on the ends of a rotatable 3 to 8m beam. The angle of the beam was combined with results from a radiogoniometer to provide a bearing. The bearing obtained was considerably sharper than that obtained with the U Adcock system but there were ambiguities which prevented the installation of 7 proposed S.L df systems. The SL systems involved the operator being located in a metal tank underground directly below the antennas. 7 underground tanks were installed but only two SL systems were installed at Wymondham, Norfolk and Weaverthorp in Yorkshire. Problems were encountered resulting in the remaining 5 underground tanks being fitted with U adcock systems. The rotating SL antenna was turned by hand by the operator in the underground tank which meant successive measurements were a lot slower than turning the dial of a goniometer. Another experimental SL station was built near Aberdeen in 1942 for the Air Ministry and this involved a semi-underground concrete bunker but this too was abandoned because of operating difficulties. By 1944 a mobile version of the spaced loop had been developed and was used by RSS in France following the D-Day invasion of Normandy. The US military used a shore based version of the Spaced Loop DF in WW2 called "DAB". The loops were placed at the ends of a beam, all of which was located inside a wooden hut with the electronics in a large cabinet with
cathode ray tube
Cathode ray tube
The cathode ray tube is a vacuum tube containing an electron gun and a fluorescent screen used to view images. It has a means to accelerate and deflect the electron beam onto the fluorescent screen to create the images. The image may represent electrical waveforms , pictures , radar targets and...
display at the centre of the beam and everything being supported on a central axis. The beam was rotated manually by the operator.
The Royal Navy introduced a variation on the shore based HF DF stations in 1944 to track U-boats in the North Atlantic. They built groups of 5 df stations so that bearings from individual stations in the group could be combined and a mean taken. Four such groups were built in Britain at Ford End, Essex, Gonhavern, Cornwall, Anstruther and Bowermadden in the Scottish Highlands. Groups were also built in Iceland, Nova Scotia and Jamaica. The anticipated improvements were not realised but later statistical work improved the system and the Goonhavern and Ford End groups continued to be used during the Cold War.
Arguably the most comprehensive book on wireless direction finding was written by Roland Keen who was head of the engineering department of RSS at Hanslope Park during WW2. The DF systems mentioned here are described in detail in his exhaustive treatment of the subject in the 1947 edition of his book Wireless Direction Finding.
At the end of WW2 a number of RSS DF stations continued to operate into the cold war under the control of GCHQ the British SIGINT organisation.
Most direction finding effort within the UK now (2009) is directed towards locating unauthorised 'pirate' FM broadcast radio transmissions. A network of remotely operated VHF direction finders are used mainly located around the major cities. The transmissions from mobile telephone handsets are also located by a form of direction finding using the comparative signal strength at the surrounding local 'cell' receivers. This technique is often offered as evidence in UK criminal prosecutions and, almost certainly, for SIGINT purposes.
Modern dead drop techniques
Emergency aid
There are many forms of radio transmitters designed to transmit as a beacon in the event of an emergency, which are widely deployed on civil
aircraft
Aircraft
An aircraft is a vehicle that is able to fly by gaining support from the air, or, in general, the atmosphere of a planet. An aircraft counters the force of gravity by using either static lift or by using the dynamic lift of an airfoil, or in a few cases the downward thrust from jet engines.Although...
. Modern emergency beacons transmit a unique identification signal that can aid in finding the exact location of the transmitter.
Avalanche rescue
Avalanche transceiver
Avalanche transceiver
Avalanche transceivers are a class of radio transceivers specialized to the purpose of finding people or equipment buried under snow. They are variously called Trackers, Pieps, or Arva's in a reference to some of the popular brands, "avalanche beacons" or "avalanche transceivers" - with many...
s operate on a standard 457 kHz, and are designed to help locate people and equipment buried by avalanches. Since the power of the beacon is so low the directionality of the radio signal is dominated by small scale field effects and can be quite complicated to locate.
Wildlife tracking
Location of radio-tagged animals by
triangulation
Triangulation
In trigonometry and geometry, triangulation is the process of determining the location of a point by measuring angles to it from known points at either end of a fixed baseline, rather than measuring distances to the point directly...
is a widely applied research technique for studying the movement of
animal
Animal
Animals are a major group of multicellular, eukaryotic organisms of the kingdom Animalia or Metazoa. Their body plan eventually becomes fixed as they develop, although some undergo a process of metamorphosis later on in their life. Most animals are motile, meaning they can move spontaneously and...
s. The technique was first used in the early 1960s, when the technology used in radio transmitters and
batteries
Battery (electricity)
An electrical battery is one or more electrochemical cells that convert stored chemical energy into electrical energy. Since the invention of the first battery in 1800 by Alessandro Volta and especially since the technically improved Daniell cell in 1836, batteries have become a common power...
made them small enough to attach to
wild animals
Wildlife
Wildlife includes all non-domesticated plants, animals and other organisms. Domesticating wild plant and animal species for human benefit has occurred many times all over the planet, and has a major impact on the environment, both positive and negative....
, and is now widely deployed for a variety of wildlife studies. Most tracking of wild animals that have been affixed with radio transmitter equipment is done by a field researcher using a handheld radio direction finding device. When the researcher wants to locate a particular animal, the location of the animal can be triangulated by determining the direction to the transmitter from several locations.
Reconnaissance
Phased array
Phased array
In wave theory, a phased array is an array of antennas in which the relative phases of the respective signals feeding the antennas are varied in such a way that the effective radiation pattern of the array is reinforced in a desired direction and suppressed in undesired directions.An antenna array...
s and other advanced
antenna
Antenna (radio)
An antenna is an electrical device which converts electric currents into radio waves, and vice versa. It is usually used with a radio transmitter or radio receiver...
techniques are utilized to track launches of
rocket
Rocket
A rocket is a missile, spacecraft, aircraft or other vehicle which obtains thrust from a rocket engine. In all rockets, the exhaust is formed entirely from propellants carried within the rocket before use. Rocket engines work by action and reaction...
systems and their resulting trajectories. These systems can be used for defensive purposes and also to gain intelligence on operation of
missile
Missile
Though a missile may be any thrown or launched object, it colloquially almost always refers to a self-propelled guided weapon system.-Etymology:The word missile comes from the Latin verb mittere, meaning "to send"...
s belonging to other nations. These same techniques are used for detection and tracking of conventional
aircraft
Aircraft
An aircraft is a vehicle that is able to fly by gaining support from the air, or, in general, the atmosphere of a planet. An aircraft counters the force of gravity by using either static lift or by using the dynamic lift of an airfoil, or in a few cases the downward thrust from jet engines.Although...
.
Sport
Events hosted by groups and organizations that involve the use of radio direction finding skills to locate transmitters at unknown locations have been popular since the end of
World War II
World War II
World War II, or the Second World War , was a global conflict lasting from 1939 to 1945, involving most of the world's nations—including all of the great powers—eventually forming two opposing military alliances: the Allies and the Axis...
. Many of these events were first promoted in order to practice the use of radio direction finding techniques for
disaster response
Disaster response
Disaster response is a phase of the disaster management cycle. Its preceding cycles aim to reduce the need for a disaster response, or to avoid it altogether.The level of disaster response depends on a number of factors and particular situation awareness...
and
civil defense
Civil defense
Civil defense, civil defence or civil protection is an effort to protect the citizens of a state from military attack. It uses the principles of emergency operations: prevention, mitigation, preparation, response, or emergency evacuation, and recovery...
purposes, or to practice locating the source of radio frequency interference. The most popular form of the sport, worldwide, is known as
Amateur Radio Direction Finding
Amateur Radio Direction Finding
Amateur radio direction finding is an amateur racing sport that combines radio direction finding with the map and compass skills of orienteering...
or by its international acronym ARDF. Another form of the activity, known as "
transmitter hunting
Transmitter hunting
Transmitter hunting , is an activity wherein participants use radio direction finding techniques to locate one or more radio transmitters hidden within a designated search area...
", "mobile T-hunting" or "fox hunting" takes place in a larger geographic area, such as the metropolitan area of a large city, and most participants travel in motor vehicles while attempting to locate one or more radio transmitters with radio direction finding techniques.
See also
Amateur Radio Direction Finding

Amateur Radio Direction Finding

Amateur radio direction finding is an amateur racing sport that combines radio direction finding with the map and compass skills of orienteering...



Amplitude monopulse
Cardioid

Cardioid

A cardioid is a plane curve traced by a point on the perimeter of a circle that is rolling around a fixed circle of the same radius. It is therefore a type of limaçon and can also be defined as an epicycloid having a single cusp...



Elephant Cage
Geolocation

Geolocation

Geolocation is the identification of the real-world geographic location of an object, such as a radar, mobile phone or an Internet-connected computer terminal...



Phase interferometry
Radio direction finder

Radio direction finder

A radio direction finder is a device for finding the direction to a radio source. Due to low frequency propagation characteristic to travel very long distances and "over the horizon", it makes a particularly good navigation system for ships, small boats, and aircraft that might be some distance...



Signals intelligence
TDOA
Traffic analysis

Traffic analysis

Traffic analysis is the process of intercepting and examining messages in order to deduce information from patterns in communication. It can be performed even when the messages are encrypted and cannot be decrypted. In general, the greater the number of messages observed, or even intercepted and...



HF/DF

Huff-Duff

High-frequency direction finding, usually known by its abbreviation HF/DF is the common name for a type of radio direction finding employed especially during the two World Wars....



Wullenweber

Wullenweber

The Wullenweber is a type of Circularly Disposed Antenna Array sometimes referred to as a Circularly Disposed Dipole Array . It is a large circular antenna array used for radio direction finding...



FLR-9
Further reading