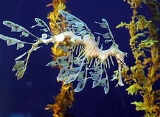 Leafy sea dragon
The
leafy seadragon
or
Glauert's seadragon
,
Phycodurus eques
, is a marine
fish
Fish
Fish are a paraphyletic group of organisms that consist of all gill-bearing aquatic vertebrate animals that lack limbs with digits. Included in this definition are the living hagfish, lampreys, and cartilaginous and bony fish, as well as various extinct related groups...
in the family
Syngnathidae
Syngnathidae
Syngnathidae is a family of fish which includes the seahorses, the pipefishes, and the weedy and leafy sea dragons. The name is derived from Greek, meaning "fused jaw" - syn meaning fused or together, and gnathus meaning jaws. This fused jaw trait is something the entire family has in common...
, which also includes the
seahorse
Seahorse
Seahorses compose the fish genus Hippocampus within the family Syngnathidae, in order Syngnathiformes. Syngnathidae also includes the pipefishes. "Hippocampus" comes from the Ancient Greek hippos meaning "horse" and kampos meaning "sea monster".There are nearly 50 species of seahorse...
s. It is the only member of the genus
Phycodurus
. It is found along the southern and western coasts of
Australia
Australia
Australia , officially the Commonwealth of Australia, is a country in the Southern Hemisphere comprising the mainland of the Australian continent, the island of Tasmania, and numerous smaller islands in the Indian and Pacific Oceans. It is the world's sixth-largest country by total area...
. The name is derived from the appearance, with long leaf-like protrusions coming from all over the body. These protrusions are not used for propulsion; they serve only as
camouflage
Camouflage
Camouflage is a method of concealment that allows an otherwise visible animal, military vehicle, or other object to remain unnoticed, by blending with its environment. Examples include a leopard's spotted coat, the battledress of a modern soldier and a leaf-mimic butterfly...
.