 Commander-in-Chief, India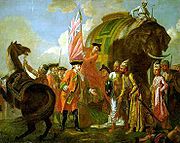 During the period of the
British Raj
British Raj
British Raj was the British rule in the Indian subcontinent between 1858 and 1947; The term can also refer to the period of dominion...
, the
Commander-in-Chief

Commander-in-Chief

A commander-in-chief is the commander of a nation's military forces or significant element of those forces. In the latter case, the force element may be defined as those forces within a particular region or those forces which are associated by function. As a practical term it refers to the military...


, India
(often "Commander-in-Chief
in
or
of
India") was the supreme commander of the
Indian Army
British Indian Army
The British Indian Army, officially simply the Indian Army, was the principal army of the British Raj in India before the partition of India in 1947...
. The Commander-in-Chief and most of his staff were based at General Headquarters, India, and liaised with the civilian
Governor-General of India
Governor-General of India
The Governor-General of India was the head of the British administration in India, and later, after Indian independence, the representative of the monarch and de facto head of state. The office was created in 1773, with the title of Governor-General of the Presidency of Fort William...
. Following the creation of the Republic of India in 1951, the post was merged into the new office of President of the Republic. Today the president is Commander-in-Chief of the
Indian Armed Forces
Indian Armed Forces
The Indian Armed Forces are the military forces of the Republic of India. They consist of the Army, Navy and Air Force, supported by three paramilitary forces and various inter-service institutions such as the Strategic Forces Command.The President of India is...
. Prior to independence, the official residence was the
Flafstaff House
, which later became the residence of the
first Prime Minister of India
Jawaharlal Nehru
Jawaharlal Nehru , often referred to with the epithet of Panditji, was an Indian statesman who became the first Prime Minister of independent India and became noted for his "neutralist" policies in foreign affairs. He was also one of the principal leaders of India's independence movement in the...
, and is now a museum, Teen Murti House.
This is a list of people who were the military
Commander-in-Chief, India
. The rank and title are the final ones for the officer's career and not necessarily applicable to his tenure as Commander-in-Chief, India.
List of Commanders-in-Chief
Commanders-in-Chief of India, 1748-1798
Name
Notes
Served
Major-General Stringer Lawrence

Stringer Lawrence

Major-General Stringer Lawrence was an English soldier, the first Commander-in-Chief, India, sometimes regarded as the "Father of the Indian Army"....



Foiled French plans

Joseph François Dupleix

Joseph-François, Marquis Dupleix was governor general of the French establishment in India, and the rival of Robert Clive.-Biography:Dupleix was born in Landrecies, France...


to conquer southern India.
Reorganized the Madras Army.
1748 January
Lieutenant-General John Adlercron

John Adlercron

Lieutenant General John Adlercron was Commander-in-Chief, India.-Military career:Born into a Huguenot family who had taken refuge in Dublin at the end of the seventeenth century, Adlercron joined the Royal Army: in 1754 he went to India as Commanding Officer of the 39th Regiment of Foot to...



1754
Major-General Robert Clive

Robert Clive, 1st Baron Clive

Major-General Robert Clive, 1st Baron Clive, KB , also known as Clive of India, was a British officer who established the military and political supremacy of the East India Company in Bengal. He is credited with securing India, and the wealth that followed, for the British crown...



Established the military supremacy of the East India Company

British East India Company

The East India Company was an early English joint-stock company that was formed initially for pursuing trade with the East Indies, but that ended up trading mainly with the Indian subcontinent and China...


in southern India

India

India , officially the Republic of India , is a country in South Asia. It is the seventh-largest country by geographical area, the second-most populous country with over 1.2 billion people, and the most populous democracy in the world...


and Bengal

Bengal

Bengal is a historical and geographical region in the northeast region of the Indian Subcontinent at the apex of the Bay of Bengal. Today, it is mainly divided between the sovereign land of People's Republic of Bangladesh and the Indian state of West Bengal, although some regions of the previous...


.
1756 December
Brigadier-General John Caillaud

John Caillaud

Brigadier-General John Caillaud was Commander-in-Chief, India.-Military career:Caillaud was commissioned into Onslow's Regiment in 1743. In 1746, during the Jacobite Rebellion, he took part in the Battle of Falkirk and the Battle of Culloden. In 1752 he was made a Captain in the Madras Army...



Active in southern India against the French until 1759 when he was dispatched to Bengal.
1760 February
Brigadier-General John Carnac

John Carnac

Brigadier-General John Carnac was a British officer who served three times as Commander-in-Chief of India.-Military career:...



Defeated the Delhi Emperor near Bihar

Bihar

Bihar is a state in eastern India. It is the 12th largest state in terms of geographical size at and 3rd largest by population. Almost 58% of Biharis are below the age of 25, which is the highest proportion in India....


.
1760 December
Lieutenant-General Sir Eyre Coote

Eyre Coote (East India Company officer)

Lieutenant-General Sir Eyre Coote, KB was an Irish soldier. He is best known for his many years of service with the British Army in India. His victory at the Battle of Wandiwash is considered a decisive turning point in the struggle for control in India between British and France...



Captained the 39th Regiment

39th (Dorsetshire) Regiment of Foot

The 39th Regiment of Foot was an infantry regiment of the British Army, formed in 1719 and amalgamated into The Dorsetshire Regiment in 1881.The regiment was raised by Colonel Richard Coote in Ireland in August 1702...


, the first British regiment sent to India.
1761 April
Major Thomas Adams

Thomas Adams (Indian Army officer)

-Military career:Adams became Commander-in-Chief of the East India Company's troops in June 1763 following the British Declaration of War against Mir Qasim on account of the killing by Qasim's men of the British Resident at the Court of the Nawab of Bengal....



Officiating
1763
Brigadier-General John Carnac

John Carnac

Brigadier-General John Carnac was a British officer who served three times as Commander-in-Chief of India.-Military career:...



2nd time appointment as Commander-in-Chief.
Promoted to Brigadier-General during this time.
1764 January
General Sir Hector Munro

Hector Munro

General Sir Hector Munro KB was a Scottish soldier in the British army who became the ninth Commander-in-Chief of India .-Early Military Career in Scotland:...



Suppressed sepoy

Sepoy

A sepoy was formerly the designation given to an Indian soldier in the service of a European power. In the modern Indian Army, Pakistan Army and Bangladesh Army it remains in use for the rank of private soldier.-Etymology and Historical usage:...


mutiny at Patna

Patna

Paṭnā , is the capital of the Indian state of Bihar and the second largest city in Eastern India . Patna is one of the oldest continuously inhabited places in the world...


. Won the victories of Buxar

Buxar

Buxar district is one of the thirty-eight districts of Bihar state, India. The district headquarters are located at Buxar.-Mythology:This place was also known as "Siddhashram", "Vedgarbhapuri", "Karush", "Tapovan", "Chaitrath", "VyaghraSar", "Buxar" in ancient history. The History of Buxar dates...


against Shuja-ud-Dowlah, the nawab wasir of Oudh, and Mir Kasim, which ranks amongst the most decisive battles ever fought in India

India

India , officially the Republic of India , is a country in South Asia. It is the seventh-largest country by geographical area, the second-most populous country with over 1.2 billion people, and the most populous democracy in the world...


.
1764 July
Brigadier-General John Carnac

John Carnac

Brigadier-General John Carnac was a British officer who served three times as Commander-in-Chief of India.-Military career:...



3rd appointment as Commander-in-Chief.
Defeated the Maratha Empire

Maratha Empire

The Maratha Empire or the Maratha Confederacy was an Indian imperial power that existed from 1674 to 1818. At its peak, the empire covered much of South Asia, encompassing a territory of over 2.8 million km²....


in the Doab.
1765 January
Major-General Robert Clive
2nd time appointment as Commander-in-Chief.
Conquered Bengal

Bengal

Bengal is a historical and geographical region in the northeast region of the Indian Subcontinent at the apex of the Bay of Bengal. Today, it is mainly divided between the sovereign land of People's Republic of Bangladesh and the Indian state of West Bengal, although some regions of the previous...


from Nawab Siraj ud Dullah.
1765 May
Brigadier-General Richard Smith
Exerted considerable influence in the East India Company, and was a prominent creditor of the Nawab of Arcot.
1767 January
Brigadier-General Sir Robert Barker

Sir Robert Barker, 1st Baronet of Bushbridge

Brigadier-General Sir Robert Barker Bt was Commander-in-Chief, India.-Military career:Barker went to India in 1749 and in 1757, during the Seven Years' War, commanded the artillery at the Capture of Chandannagar and at the Battle of Plassey...



Signed a treaty with the Rohilla

Rohilla

The Rohilla are a community of Hindi-speaking Pashtun also known as Pathan, historically found in the state of Uttar Pradesh, in North India. Most are now also found in Pakistan where they are now part of the Mohajir community. At one time, they form one of the largest Pashtun diaspora community...


s against the Maratha Empire

Maratha Empire

The Maratha Empire or the Maratha Confederacy was an Indian imperial power that existed from 1674 to 1818. At its peak, the empire covered much of South Asia, encompassing a territory of over 2.8 million km²....


.
1770 March
Colonel Charles Chapman

Charles Chapman (British Army officer)

Colonel Charles Chapman was Commander-in-Chief, India.-Military career:Educated at Balliol College, Oxford, Chapman served as Commanding Officer of the 3rd European Regiment in Bengal before becoming Commander-in-Chief, India in December 1773.He became discredited as an elderly officer whose chief...



Civil servant of the East India Company who studied tribal ethnicities and cultures, and reported his findings to the Bengal Government.
1773 December
Brigadier-General Alexander Champion

Alexander Champion

Brigadier-General Alexander Champion was Commander-in-Chief, India.-Military career:Champion was commissioned into service for the British East India Company in 1768. He rose through the ranks and was appointed Commander-in-Chief, India in January 1774...



1774 January
Lieutenant-General Sir John Clavering
1774 November
Lieutenant-General Giles Stibbert

Giles Stibbert

Lieutenant General Giles Stibbert was Commander-in-Chief, India.-Military career:Stibber arrived in India in 1756 and took part in the Battle of Plassey in 1757. He then raised a battalion of native infantry at Bankipore in 1761 and commanded them at the Siege of Patna where he was wounded in 1763...



Officiating
1777 October
Lieutenant-General Sir Eyre Coote

Eyre Coote (East India Company officer)

Lieutenant-General Sir Eyre Coote, KB was an Irish soldier. He is best known for his many years of service with the British Army in India. His victory at the Battle of Wandiwash is considered a decisive turning point in the struggle for control in India between British and France...



Reappointment. Won the Battle of

Second Anglo-Mysore War

The Second Anglo-Mysore War was a conflict in Mughal India between the Sultanate of Mysore and the British East India Company. At the time, Mysore was a key French ally in India, and the Franco-British conflict raging on account of the American Revolutionary War helped spark Anglo-Mysorean...


Porto Novo

Parangipettai

Parangipettai , historically called Porto Novo, is a panchayat town in Cuddalore district in the Indian state of Tamil Nadu. Parangipettai is situated on the north bank of the mouth of the Vellar river at a distance of 30 km from Cuddalore. From Chennai, Parangipettai can be reached through...


against odds of five to one, regarded as one of the greatest feats by the British in India.
1779 March
Lieutenant-General Giles Stibbert

Giles Stibbert

Lieutenant General Giles Stibbert was Commander-in-Chief, India.-Military career:Stibber arrived in India in 1756 and took part in the Battle of Plassey in 1757. He then raised a battalion of native infantry at Bankipore in 1761 and commanded them at the Siege of Patna where he was wounded in 1763...



Reappointment
1783 April
General Sir Robert Sloper

Robert Sloper

General Sir Robert Sloper KB was Commander-in-Chief, India.-Military career:Educated privately at Bishops Cannings in Wiltshire, Sloper was commissioned into the 10th Dragoons being promoted to Major in 1755. He was appointed Commanding Officer of 1st King's Dragoon Guards in 1759 and subsequently...



1785 July
General Charles Cornwallis

Charles Cornwallis, 1st Marquess Cornwallis

Charles Cornwallis, 1st Marquess Cornwallis KG , styled Viscount Brome between 1753 and 1762 and known as The Earl Cornwallis between 1762 and 1792, was a British Army officer and colonial administrator...



Promulgated the Permanent Settlement of Bengal

Permanent Settlement

The Permanent Settlement — also known as the Permanent Settlement of Bengal — was an agreement between the East India Company and Bengali landlords to fix revenues to be raised from land, with far-reaching consequences for both agricultural methods and productivity in the entire Empire and the...


.
Served twice as Governor-General of India

Governor-General of India

The Governor-General of India was the head of the British administration in India, and later, after Indian independence, the representative of the monarch and de facto head of state. The office was created in 1773, with the title of Governor-General of the Presidency of Fort William...


.
1786 September
General Sir Robert Abercromby

Robert Abercromby of Airthrey

General Sir Robert Abercromby GCB , the youngest brother of Sir Ralph Abercromby, was a general in the army, a knight of the Bath, and at one period the governor of Bombay and commander-in-chief of the British forces in India.-Military career:...



Officiating
1793 October
Major-General Charles Morgan

Charles Morgan (British Army officer)

Lieutenant General Charles Morgan was Commander-in-Chief, India.-Military career:Brought up in Caernarfon, Morgan was for many years a senior officer of the Bengal establishment. He officiated as Commander-in-Chief, India from 1797 to 1798 at the time that Zaman Shah threatened to invade the...



Officiating
1797 January
Field Marshal Sir Alured Clarke

Alured Clarke

Field-marshal Sir Alured Clarke KB was an officer of the British army, lieutenant governor of the colonial Province of Quebec, and civil administrator of Lower Canada...



1798 May
Commanders-in-Chief of India, 1801-1857
Name
Notes
Served
General Sir James Craig

James Henry Craig

General Sir James Henry Craig KB was a British military officer and colonial administrator.-Early life and military service:...



Officiating
1801 February
General Gerard Lake

Gerard Lake, 1st Viscount Lake

General Gerard Lake, 1st Viscount Lake was a British general. He commanded British forces during the Irish Rebellion of 1798 and later served as Commander-in-Chief of the military in British India.-Background:...



Improved the Indian Army by making all arms, infantry, cavalry and artillery, more mobile and more manageable.
1801 March
General Charles Cornwallis

Charles Cornwallis, 1st Marquess Cornwallis

Charles Cornwallis, 1st Marquess Cornwallis KG , styled Viscount Brome between 1753 and 1762 and known as The Earl Cornwallis between 1762 and 1792, was a British Army officer and colonial administrator...



Reappointment. With Sir Arthur Wellesley

Arthur Wellesley, 1st Duke of Wellington

Field Marshal Arthur Wellesley, 1st Duke of Wellington, KG, GCB, GCH, PC, FRS , was an Irish-born British soldier and statesman, and one of the leading military and political figures of the 19th century...


, he supervised the Second Anglo-Maratha War

Second Anglo-Maratha War

The Second Anglo-Maratha War was the second conflict between the British East India Company and the Maratha Empire in India.-Background:...


against the Sindhia and the Holkar

Holkar

The Holkar dynasty , whose earliest known clan-man was Malhar Rao, who joined the service of the Peshwa in 1721, and quickly rose to the ranks of Subedar...


.
1805 July
General Gerard Lake

Gerard Lake, 1st Viscount Lake

General Gerard Lake, 1st Viscount Lake was a British general. He commanded British forces during the Irish Rebellion of 1798 and later served as Commander-in-Chief of the military in British India.-Background:...



Reappointment. Upon Cornwallis' death, Lake pursued the Holkar

Holkar

The Holkar dynasty , whose earliest known clan-man was Malhar Rao, who joined the service of the Peshwa in 1721, and quickly rose to the ranks of Subedar...


to the Punjab

Punjab region

The Punjab , also spelled Panjab |water]]s"), is a geographical region straddling the border between Pakistan and India which includes Punjab province in Pakistan and the states of the Punjab, Haryana, Himachal Pradesh, Chandigarh and some northern parts of the National Capital Territory of Delhi...


. The Holkar capitulated at Amritsar

Amritsar

Amritsar is a city in the northern part of India and is the administrative headquarters of Amritsar district in the state of Punjab, India. The 2001 Indian census reported the population of the city to be over 1,500,000, with that of the entire district numbering 3,695,077...


in December 1805.
1805 October
General John Simcoe

John Graves Simcoe

John Graves Simcoe was a British army officer and the first Lieutenant Governor of Upper Canada from 1791–1796. Then frontier, this was modern-day southern Ontario and the watersheds of Georgian Bay and Lake Superior...



Appointed to post in England

England

England is a country that is part of the United Kingdom. It shares land borders with Scotland to the north and Wales to the west; the Irish Sea is to the north west, the Celtic Sea to the south west, with the North Sea to the east and the English Channel to the south separating it from continental...


, but died before departing for India and replaced by Lake
General Gerard Lake

Gerard Lake, 1st Viscount Lake

General Gerard Lake, 1st Viscount Lake was a British general. He commanded British forces during the Irish Rebellion of 1798 and later served as Commander-in-Chief of the military in British India.-Background:...



Reappointment following death of John Graves Simcoe

John Graves Simcoe

John Graves Simcoe was a British army officer and the first Lieutenant Governor of Upper Canada from 1791–1796. Then frontier, this was modern-day southern Ontario and the watersheds of Georgian Bay and Lake Superior...


, who died after accepting the appointment in England
1806
General Sir George Hewett

Sir George Hewett, 1st Baronet

General Sir George Hewett, 1st Baronet GCB, PC was Commander-in-Chief in India and then Commander-in-Chief in Ireland for the British Army.-Military career:...



Transformed Meerut into a British stronghold that would be used as a launching point for future military campaigns into northern India.
1807 October
Lieutenant-General Forbes Champagné

Forbes Champagné

Lieutenant General Forbes Champagné was Commander-in-Chief, India.-Military career:Champagné was commissioned into the 4th Regiment of Foot in 1773. He served in the Southern Colonies during the American Revolutionary War and took part in the Battle of Wetzell's Mill in 1781...



Officiating
1807 December
Field Marshal Sir George Nugent
1811 January
General Francis Rawdon-Hastings

Francis Rawdon-Hastings, 1st Marquess of Hastings

Francis Edward Rawdon-Hastings, 1st Marquess of Hastings KG PC , styled The Honourable Francis Rawdon from birth until 1762 and as The Lord Rawdon between 1762 and 1783 and known as The Earl of Moira between 1793 and 1816, was an Irish-British politician and military officer who served as...



Oversaw British forces in the Gurkha War

Gurkha War

The Gurkha War , sometimes called the Gorkha War or the Anglo–Nepalese War, was fought between the Kingdom of Nepal and the British East India Company as a result of border tensions and ambitious expansionism...


; conquered

Third Anglo-Maratha War

The Third Anglo-Maratha War was the final and decisive conflict between the British East India Company and the Maratha Empire in India. The war left the Company in control of most of India. It began with an invasion of Maratha territory by 110,400 British East India Company troops, the largest...


the Maratha

Maratha

The Maratha are an Indian caste, predominantly in the state of Maharashtra. The term Marāthā has three related usages: within the Marathi speaking region it describes the dominant Maratha caste; outside Maharashtra it can refer to the entire regional population of Marathi-speaking people;...


s; repaired the Mogul

Mughal Empire

The Mughal Empire ,‎ or Mogul Empire in traditional English usage, was an imperial power from the Indian Subcontinent. The Mughal emperors were descendants of the Timurids...


canals in Delhi

Delhi

Delhi , officially National Capital Territory of Delhi , is the largest metropolis by area and the second-largest by population in India, next to Mumbai. It is the eighth largest metropolis in the world by population with 16,753,265 inhabitants in the Territory at the 2011 Census...


; instituted educational reforms.
1813 October
General Sir Edward Paget

Edward Paget

General Sir Edward Paget GCB was a British Army officer.-Career:Born the fourth son of Henry Paget, 1st Earl of Uxbridge, Edward Paget became a cornet in the 1st Regiment of Life Guards in 1792...



1823 January
Field Marshal Stapleton Cotton
1st Viscount Combermere
1825 October
General George Ramsay

George Ramsay, 9th Earl of Dalhousie

General George Ramsay, 9th Earl of Dalhousie GCB , styled Lord Ramsay until 1787, was a Scottish soldier and colonial administrator...



Began the British suppression of the Thuggee

Thuggee

Thuggee is the term for a particular kind of murder and robbery of travellers in South Asia and particularly in India.They are sometimes called Phansigar i.e...


murder-cults.
1830 January
Lieutenant-General Sir Edward Barnes

Edward Barnes (British Army officer)

Lieutenant General Sir Edward Barnes, GCB was a British soldier who became governor of Ceylon.-Military career:Barnes joined the 47th Regiment of Foot in 1792, and quickly rose to field rank. He was promoted to lieutenant-colonel in 1807, serving in the Invasion of Martinique in 1809, and colonel...



Constructed the military road between Colombo

Colombo

Colombo is the largest city of Sri Lanka. It is located on the west coast of the island and adjacent to Sri Jayawardenapura Kotte, the capital of Sri Lanka. Colombo is often referred to as the capital of the country, since Sri Jayawardenapura Kotte is a satellite city of Colombo...


and Kandy

Kandy

Kandy is a city in the center of Sri Lanka. It was the last capital of the ancient kings' era of Sri Lanka. The city lies in the midst of hills in the Kandy plateau, which crosses an area of tropical plantations, mainly tea. Kandy is one of the most scenic cities in Sri Lanka; it is both an...


, made the first census of the population, and introduced coffee cultivation.
1832 January
General Lord William Bentinck

Lord William Bentinck

Lieutenant-General Lord William Henry Cavendish-Bentinck GCB, GCH, PC , known as Lord William Bentinck, was a British soldier and statesman...



Suppressed the Hindu

Hindu

Hindu refers to an identity associated with the philosophical, religious and cultural systems that are indigenous to the Indian subcontinent. As used in the Constitution of India, the word "Hindu" is also attributed to all persons professing any Indian religion...


custom of suttee.
1833 October
General Lord William Bentinck

Lord William Bentinck

Lieutenant-General Lord William Henry Cavendish-Bentinck GCB, GCH, PC , known as Lord William Bentinck, was a British soldier and statesman...



Reappointment
1834 April
General Sir James Watson

James Watson (British Army officer)

Lieutenant General Sir James Watson KCB was Commander-in-Chief, India.-Military career:Watson was commissioned into the 14th Regiment of Foot reaching the rank of Major in 1802...



Established the famous police organisation known as the "Thuggee

Thuggee

Thuggee is the term for a particular kind of murder and robbery of travellers in South Asia and particularly in India.They are sometimes called Phansigar i.e...


and Dacoity

Dacoity

Dacoity is a term used for "banditry" in India. The spelling is the anglicized version of the Hindi word and as a colloquial Anglo-Indian word with this meaning, also appears in the Glossary of Colloquial Anglo-Indian Words and Phrases Banditry is criminal activity involving robbery by groups of...


Department" within the Government of India

Government of India

The Government of India, officially known as the Union Government, and also known as the Central Government, was established by the Constitution of India, and is the governing authority of the union of 28 states and seven union territories, collectively called the Republic of India...


.
1835 March
General Sir Henry Fane
1835 September
General Sir Jasper Nicolls

Jasper Nicolls

Lieutenant General Sir Jasper Nicolls KCB was Commander-in-Chief, India.-Military career:Born at East Farleigh in Kent and educated at a private school in Ballygall and at Trinity College, Dublin, Nicolls was commissioned into the 45th Regiment of Foot in 1793.He was present at the Battle of...



Officiating
1839 December
Field Marshal Hugh Gough

Hugh Gough, 1st Viscount Gough

Field Marshal Sir Hugh Gough, 1st Viscount Gough, KP, GCSI, KCB, PC , was an Irish British Army officer. He was said to have commanded in more general actions than any other British officer of the 19th century except the Duke of Wellington.- Early career :Born at Woodstown House, Co...



Defeated the Mahratta

Mahratta

Mahratta may refer to* the Maratha caste, a ruling class of the Indian subcontinent* the Maratha EmpireShips*SS Mahratta , lost in a collision with SS Victoria in 1887 in the River Hoogly.* SS Mahratta , lost on the Goodwin Sands in 1909....


s at Maharajpur. Conducted operations against the Sikh

Sikh

A Sikh is a follower of Sikhism. It primarily originated in the 15th century in the Punjab region of South Asia. The term "Sikh" has its origin in Sanskrit term शिष्य , meaning "disciple, student" or शिक्ष , meaning "instruction"...


s and won the battles of Mudki

Battle of Mudki

The Battle of Mudki was fought on 18 December 1845, between the forces of the British East India Company and part of the Khalsa, the army of the Sikh Empire of the Punjab. The British army won an untidy encounter battle, suffering heavy casualties....


, Ferozeshah

Battle of Ferozeshah

The Battle of Ferozeshah was fought on 21 December and 22 December 1845 between the British and the Sikhs, at the village of Ferozeshah in Punjab. The British were led by Sir Hugh Gough and Governor-General Sir Henry Hardinge, while the Sikhs were led by Lal Singh.The British emerged victorious,...


and Sobraon

Battle of Sobraon

The Battle of Sobraon was fought on 10 February 1846, between the forces of the British East India Company and the Sikh Khalsa Army, the army of the Sikh Empire of the Punjab...


. Soonafter, the Sikhs surrendered at Lahore

Lahore

Lahore is the capital of the Pakistani province of Punjab and the second largest city in the country. With a rich and fabulous history dating back to over a thousand years ago, Lahore is no doubt Pakistan's cultural capital. One of the most densely populated cities in the world, Lahore remains a...


.
1843 August
General Sir Charles James Napier

Charles James Napier

General Sir Charles James Napier, GCB , was a general of the British Empire and the British Army's Commander-in-Chief in India, notable for conquering the Sindh Province in what is now Pakistan.- His genealogy :...



Conquered Sindh

Sindh

Sindh historically referred to as Ba'ab-ul-Islam , is one of the four provinces of Pakistan and historically is home to the Sindhi people. It is also locally known as the "Mehran". Though Muslims form the largest religious group in Sindh, a good number of Christians, Zoroastrians and Hindus can...


and made it part of Bombay Presidency

Bombay Presidency

The Bombay Presidency was a province of British India. It was established in the 17th century as a trading post for the English East India Company, but later grew to encompass much of western and central India, as well as parts of post-partition Pakistan and the Arabian Peninsula.At its greatest...


.
1849 May
Field Marshal Sir William Gomm

William Maynard Gomm

Field Marshal Sir William Maynard Gomm GCB , was a British Army commander.-Military career:He was gazetted to the 9th Foot at the age of ten in recognition of the services of his father, Lieutenant-Colonel William Gomm, who was killed in the attack on Guadaloupe...



1851 December
Major-General George Anson
Outbreak of the Indian Rebellion of 1857

Indian Rebellion of 1857

The Indian Rebellion of 1857 began as a mutiny of sepoys of the British East India Company's army on 10 May 1857, in the town of Meerut, and soon escalated into other mutinies and civilian rebellions largely in the upper Gangetic plain and central India, with the major hostilities confined to...


. Died of cholera during his march against the Indian mutineers at Delhi

Delhi

Delhi , officially National Capital Territory of Delhi , is the largest metropolis by area and the second-largest by population in India, next to Mumbai. It is the eighth largest metropolis in the world by population with 16,753,265 inhabitants in the Territory at the 2011 Census...


in May, 1857.
1856 January
Lieutenant-General Sir Patrick Grant

Patrick Grant

Field Marshal Sir Patrick Grant, GCB, GCMG was a senior British Army officer.-Military career:He was the second son of Major John Grant, of the 97th Regiment of Foot, of Auchterblair, Invernessshire, where he was born....



Directed operations against the Indian mutineers, sending forces under Havelock

Henry Havelock

Major-General Sir Henry Havelock, KCB was a British general who is particularly associated with India. He was noted for his recapture of Cawnpore from rebels during Indian Rebellion of 1857.-Early life:...


and Outram

Sir James Outram, 1st Baronet

Lieutenant General Sir James Outram, 1st Baronet GCB KSI was an English general who fought in the Indian Rebellion of 1857, and is considered a British hero.-Early life:...


for the relief of Cawnpore and Lucknow

Lucknow

Lucknow is the capital city of Uttar Pradesh in India. Lucknow is the administrative headquarters of Lucknow District and Lucknow Division....


, until the arrival of Sir Colin Campbell

Colin Campbell, 1st Baron Clyde

Field Marshal Colin Campbell, 1st Baron Clyde GCB, KSI was a British Army officer from Scotland who led the Highland Brigade in the Crimea and was in command of the 'Thin red line' at the battle of Balaclava...


from England.
1857 June
General Colin Campbell

Colin Campbell, 1st Baron Clyde

Field Marshal Colin Campbell, 1st Baron Clyde GCB, KSI was a British Army officer from Scotland who led the Highland Brigade in the Crimea and was in command of the 'Thin red line' at the battle of Balaclava...



Abandoned then recaptured Lucknow

Lucknow

Lucknow is the capital city of Uttar Pradesh in India. Lucknow is the administrative headquarters of Lucknow District and Lucknow Division....


. Supervised military operations in Oudh until the Indian Rebellion

Indian Rebellion of 1857

The Indian Rebellion of 1857 began as a mutiny of sepoys of the British East India Company's army on 10 May 1857, in the town of Meerut, and soon escalated into other mutinies and civilian rebellions largely in the upper Gangetic plain and central India, with the major hostilities confined to...


had been subdued.
1857 August
Commanders-in-Chief of India, 1861-1947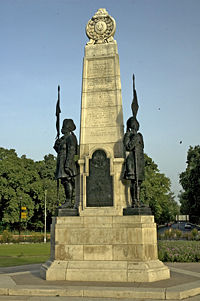 Name
Notes
Served
Lieutenant-General Sir Hugh Rose
Improved discipline and enabled the amalgamation of the East India Company's army into the Queen's army to be carried out.
1861 June 4
General Sir William Mansfield
Prior to his appointment, Mansfield served in the Sutlej campaign

Sutlej

The Sutlej River is the longest of the five rivers that flow through the historic crossroad region of Punjab in northern India and Pakistan. It is located north of the Vindhya Range, south of the Hindu Kush segment of the Himalayas, and east of the Central Sulaiman Range in Pakistan.The Sutlej...


, commanded the 53rd Regiment in the Punjab

Punjab (British India)

Punjab was a province of British India, it was one of the last areas of the Indian subcontinent to fall under British rule. With the end of British rule in 1947 the province was split between West Punjab, which went to Pakistan, and East Punjab, which went to India...


, and was part of Peshawar

Peshawar

Peshawar is the capital of Khyber-Pakhtunkhwa and the administrative center and central economic hub for the Federally Administered Tribal Areas of Pakistan....


operations in the northwest frontier

North-West Frontier Province

Khyber Pakhtunkhwa , formerly known as the North-West Frontier Province and various other names, is one of the four provinces of Pakistan, located in the north-west of the country...


.
1865 March 23
General Robert Napier

Robert Napier, 1st Baron Napier of Magdala

Field Marshal Robert Cornelis Napier, 1st Baron Napier of Magdala, GCB, GCSI, CIE, FRS was a British soldier.-Early life:...



1st Baron Napier of Magdala. He did much to benefit the army and to encourage good shooting.
1870 April 9
General Sir Frederick Haines
1876 April 10
General Sir Donald Stewart

Donald Martin Stewart

Field Marshal Sir Donald Martin Stewart, 1st Baronet, GCB GCSI CIE was a British field marshal. He was for five years Commander-in-Chief, India, and afterwards a member of the Council of the Secretary of State for India....



1881 April 8
Lieutenant-General Frederick Roberts

Frederick Roberts, 1st Earl Roberts

Field Marshal Frederick Sleigh Roberts, 1st Earl Roberts, Bt, VC, KG, KP, GCB, OM, GCSI, GCIE, KStJ, PC was a distinguished Indian born British soldier who regarded himself as Anglo-Irish and one of the most successful British commanders of the 19th century.-Early life:Born at Cawnpore, India, on...



1st Baron Roberts of Kandahar
1885 November 28
General Sir George Stuart White
1893 April 8
General Sir Charles Nairne

Charles Edward Nairne

General Sir Charles Edward Nairne KCB was Commander-in-Chief, India.-Military career:Educated at Addiscombe College, Nairne was commissioned into the Bengal Artillery in 1855. He took part in suppressing the Indian Mutiny in 1857...



Officiating
1898 March 20
General Sir William Lockhart

William Stephen Alexander Lockhart

General Sir William Stephen Alexander Lockhart, GCB KCSI was a British general.-Military career:Lockhart was born in Scotland, his father being a Lanarkshire clergyman....



1898 November 4
General Sir Arthur Palmer
1900 March 19
General Horatio Kitchener
1st Viscount Kitchener. Reconstructed the disorganised Indian Army

British Indian Army

The British Indian Army, officially simply the Indian Army, was the principal army of the British Raj in India before the partition of India in 1947...


against the wishes of the viceroy Lord Curzon.
1902 November 28
General Sir Garrett O'Moore Creagh
1909 September 10
General Sir Beauchamp Duff

Beauchamp Duff

General Sir Beauchamp Duff, GCB, GCSI, KCVO, CIE, KStJ , was a Scottish officer with a distinguished military career in the British Indian Army serving as Commander-in-Chief of India during World War I.- Early life :...



1914 March 8
General Sir Charles Monro

Charles Carmichael Monro

General Sir Charles Carmichael Monro, 1st Baronet of Bearcrofts, GCB, GCSI, GCMG, was a British Army General during World War I and Governor of Gibraltar from 1923 to 1929.-Military career:...



1916 October 1
General Henry Rawlinson

Henry Rawlinson, 1st Baron Rawlinson

General Henry Seymour Rawlinson, 1st Baron Rawlinson, GCB, GCSI, GCVO, KCMG , known as Sir Henry Rawlinson, Bt between 1895 and 1919, was a British First World War general most famous for his roles in the Battle of the Somme of 1916 and the Battle of Amiens in 1918.-Military career:Rawlinson was...



1920 November 21
General Sir Claud Jacob

Claud Jacob

Field-Marshal Sir Claud William Jacob GCB GCSI KCMG was a British Army officer who served in the First World War.-Military career:...



1925 April 3
Field Marshal Sir William Birdwood

William Birdwood, 1st Baron Birdwood

Field Marshal William Riddell Birdwood, 1st Baron Birdwood, GCB, GCSI, GCMG, GCVO, GBE, CIE, DSO was a First World War British general who is best known as the commander of the Australian and New Zealand Army Corps during the Gallipoli Campaign in 1915.- Youth and early career :Birdwood was born...



1925 August 6
Field Marshal Sir Philip Chetwode

Philip Chetwode, 1st Baron Chetwode

Field Marshal Philip Walhouse Chetwode, 1st Baron Chetwode, 7th Baronet of Oakley, GCB, OM, GCSI, KCMG, DSO was a British cavalry officer who became Commander in Chief in India.-Early life and education:...



1930 November 30
General Sir Robert Cassels

Robert Cassels

General Sir Robert Archibald Cassels GCB GCSI DSO was an Indian Army officer.-Military career:Cassels was commissioned into Indian Staff Corps in 1896. He went on to serve in World War I...



1935 November 30
General Sir Claude Auchinleck

Claude Auchinleck

Field Marshal Sir Claude John Eyre Auchinleck, GCB, GCIE, CSI, DSO, OBE , nicknamed "The Auk", was a British army commander during World War II. He was a career soldier who spent much of his military career in India, where he developed a love of the country and a lasting affinity for the soldiers...



1941 January 27
General Sir Archibald Wavell

Archibald Wavell, 1st Earl Wavell

Field Marshal Archibald Percival Wavell, 1st Earl Wavell GCB, GCSI, GCIE, CMG, MC, PC was a British field marshal and the commander of British Army forces in the Middle East during the Second World War. He led British forces to victory over the Italians, only to be defeated by the German army...



Left to take command of the short lived ABDACOM; later became Viceroy.
1941 July 5
General Sir Alan Hartley

Alan Hartley

General Sir Alan Fleming Hatley GCIE KCSI CB DSO was a British Army General during World War II.-Military career:...



1942 January 5
Field Marshal Sir Archibald Wavell

Archibald Wavell, 1st Earl Wavell

Field Marshal Archibald Percival Wavell, 1st Earl Wavell GCB, GCSI, GCIE, CMG, MC, PC was a British field marshal and the commander of British Army forces in the Middle East during the Second World War. He led British forces to victory over the Italians, only to be defeated by the German army...



Reappointment. Sir Alan Hartley appointed Deputy Commander-in-Chief.
1942 March 7
Field Marshal Sir Claude Auchinleck

Claude Auchinleck

Field Marshal Sir Claude John Eyre Auchinleck, GCB, GCIE, CSI, DSO, OBE , nicknamed "The Auk", was a British army commander during World War II. He was a career soldier who spent much of his military career in India, where he developed a love of the country and a lasting affinity for the soldiers...



Reappointment: 1947 August 15. Became Supreme Commander of India

India

India , officially the Republic of India , is a country in South Asia. It is the seventh-largest country by geographical area, the second-most populous country with over 1.2 billion people, and the most populous democracy in the world...


and Pakistan

Pakistan

Pakistan , officially the Islamic Republic of Pakistan is a sovereign state in South Asia. It has a coastline along the Arabian Sea and the Gulf of Oman in the south and is bordered by Afghanistan and Iran in the west, India in the east and China in the far northeast. In the north, Tajikistan...


. Oversaw division of the Armed forces between the two new countries.
1943 June 20
General Sir Robert Lockhart

Rob Lockhart

General Sir Robert McGregor MacDonald Lockhart KCB CIE MC was a British Indian Army general of World War II and an early Scouting notable.-Military career:...



Commander-in-Chief of Post-Partition India
1947 August 15
General Sir Roy Bucher

Roy Bucher

General Sir Roy Bucher KBE CB MC was Commander-in-Chief of the Indian Army.-Military career:Educated at the Edinburgh Academy, Bucher served in World War I with 1st Bn Cameronians in France from 1914 to 1915 when he joined the 55th Cokes Rifles in India...



Commander-in-Chief of Post-Partition India
1947 December 31
See also