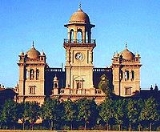 Peshawar
Peshawar
is the capital of Khyber-Pakhtunkhwa and the administrative center and central economic hub for the
Federally Administered Tribal Areas
Federally Administered Tribal Areas
The Federally Administered Tribal Areas are a semi-autonomous tribal region in the northwest of Pakistan, lying between the province of Khyber Pakhtunkhwa, Balochistan, and the neighboring country of Afghanistan. The FATA comprise seven Agencies and six FRs...
of
Pakistan
Pakistan
Pakistan , officially the Islamic Republic of Pakistan is a sovereign state in South Asia. It has a coastline along the Arabian Sea and the Gulf of Oman in the south and is bordered by Afghanistan and Iran in the west, India in the east and China in the far northeast. In the north, Tajikistan...
.
Peshawar is situated in a large valley near the eastern end of the
Khyber Pass
Khyber Pass
The Khyber Pass, is a mountain pass linking Pakistan and Afghanistan.The Pass was an integral part of the ancient Silk Road. It is mentioned in the Bible as the "Pesh Habor," and it is one of the oldest known passes in the world....
, between the eastern edge of the
Iranian plateau
Iranian plateau
The Iranian plateau, or Iranic plateau, is a geological formation in Southwest Asia. It is the part of the Eurasian Plate wedged between the Arabian and Indian plates, situated between the Zagros mountains to the west, the Caspian Sea and the Kopet Dag to the north, the Hormuz Strait and Persian...
and the Indus Valley. Known as "City on the Frontier" in Persian, Peshawar's strategic location on the crossroads of
Central Asia
Central Asia
Central Asia is a core region of the Asian continent from the Caspian Sea in the west, China in the east, Afghanistan in the south, and Russia in the north...
and
South Asia
South Asia
South Asia, also known as Southern Asia, is the southern region of the Asian continent, which comprises the sub-Himalayan countries and, for some authorities , also includes the adjoining countries to the west and the east...
has made it one of the most culturally vibrant and lively cities in the greater region.
Peshawar has evolved into one of Pakistan's most ethnically, linguistically, and religiously diverse cities.