 Civil township
A
civil township
is a widely used unit of
local government
Local government
Local government refers collectively to administrative authorities over areas that are smaller than a state.The term is used to contrast with offices at nation-state level, which are referred to as the central government, national government, or federal government...
in the
United States
United States
The United States of America is a federal constitutional republic comprising fifty states and a federal district...
, subordinate to, and geographic divisions of, a
county
County (United States)
In the United States, a county is a geographic subdivision of a state , usually assigned some governmental authority. The term "county" is used in 48 of the 50 states; Louisiana is divided into parishes and Alaska into boroughs. Parishes and boroughs are called "county-equivalents" by the U.S...
. Specific responsibilities and the degree of autonomy vary based on each
state
U.S. state
A U.S. state is any one of the 50 federated states of the United States of America that share sovereignty with the federal government. Because of this shared sovereignty, an American is a citizen both of the federal entity and of his or her state of domicile. Four states use the official title of...
. Civil townships are distinct from
survey townships
Survey township
Survey township, sometimes called Congressional township, as used by the United States Public Land Survey System, refers to a square unit of land, that is nominally six miles on a side...
, but in states that have both, the boundaries often coincide. The U.S. Census Bureau classifies civil townships (called
"towns"
in
New England
New England town
The New England town is the basic unit of local government in each of the six New England states. Without a direct counterpart in most other U.S. states, New England towns are conceptually similar to civil townships in other states, but are incorporated, possessing powers like cities in other...
, New York and Wisconsin) as
minor civil division
Minor civil division
Minor civil division is a term used by the United States Census Bureau to designate the primary governmental and/or administrative divisions of a county, such as a civil township, precinct, or magisterial district...
s.
Township functions are generally attended to by a governing board (the name varies from state to state) and a clerk or trustee. Township officers frequently include
justice of the peace
Justice of the Peace
A justice of the peace is a puisne judicial officer elected or appointed by means of a commission to keep the peace. Depending on the jurisdiction, they might dispense summary justice or merely deal with local administrative applications in common law jurisdictions...
,
road commissioner
Numbered highways in the United States
Highways in the United States are split into at least four different types of systems.*Interstate Highways**The Interstate Highway System is a federally funded and administered system of freeways that forms the transportation backbone of the U.S., with millions of Americans relying on it for...
,
assessor
Assessor (property)
An assessor is a specialist who calculates the value of property. The value calculated by the assessor is then used as the basis for determining the amounts to be paid or assessed for tax or insurance purposes....
,
constable
Constable
A constable is a person holding a particular office, most commonly in law enforcement. The office of constable can vary significantly in different jurisdictions.-Etymology:...
, and
surveyor
Surveying
See Also: Public Land Survey SystemSurveying or land surveying is the technique, profession, and science of accurately determining the terrestrial or three-dimensional position of points and the distances and angles between them...
. In the 20th century many townships also added a township
administrator
Administrator of the Government
An Administrator in the constitutional practice of some countries in the Commonwealth is a person who fulfils a role similar to that of a Governor or a Governor-General...
or
supervisor
Supervisor
A supervisor, foreperson, team leader, overseer, cell coach, facilitator, or area coordinator is a manager in a position of trust in business...
to the officers as an
executive
Executive (government)
Executive branch of Government is the part of government that has sole authority and responsibility for the daily administration of the state bureaucracy. The division of power into separate branches of government is central to the idea of the separation of powers.In many countries, the term...
for the board. In some cases townships run local
libraries
Library
In a traditional sense, a library is a large collection of books, and can refer to the place in which the collection is housed. Today, the term can refer to any collection, including digital sources, resources, and services...
,
senior citizen
Senior citizen
Senior citizen is a common polite designation for an elderly person in both UK and US English, and it implies or means that the person is retired. This in turn implies or in fact means that the person is over the retirement age, which varies according to country. Synonyms include pensioner in UK...
services, youth services, disabled citizen services, emergency assistance, and even
cemetery
Cemetery
A cemetery is a place in which dead bodies and cremated remains are buried. The term "cemetery" implies that the land is specifically designated as a burying ground. Cemeteries in the Western world are where the final ceremonies of death are observed...
services.
Midwestern, central and western states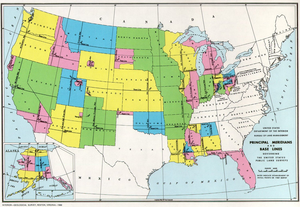 Most western states have survey townships that were mandated upon entry into the union. Depending on the state, the township government has varying degrees of authority.
In the state of
Kansas
Kansas
Kansas is a US state located in the Midwestern United States. It is named after the Kansas River which flows through it, which in turn was named after the Kansa Native American tribe, which inhabited the area. The tribe's name is often said to mean "people of the wind" or "people of the south...
some civil townships provide services such as Road Maintenance and Fire Protection Services not provided by the county.
In the
Upper Midwest
Upper Midwest
The Upper Midwest is a region in the northern portion of the U.S. Census Bureau's Midwestern United States. It is largely a sub-region of the midwest. Although there are no uniformly agreed-upon boundaries, the region is most commonly used to refer to the states of Minnesota, Wisconsin, and...
ern states near the
Great Lakes
Great Lakes
The Great Lakes are a collection of freshwater lakes located in northeastern North America, on the Canada – United States border. Consisting of Lakes Superior, Michigan, Huron, Erie, and Ontario, they form the largest group of freshwater lakes on Earth by total surface, coming in second by volume...
, civil townships (known in
Michigan
Michigan
Michigan is a U.S. state located in the Great Lakes Region of the United States of America. The name Michigan is the French form of the Ojibwa word mishigamaa, meaning "large water" or "large lake"....
as general law townships) are often, but not always, overlaid on the survey townships. The degree to which these townships are functioning governmental entities varies from state to state and in some cases even within a state. For example,
Illinois
Illinois
Illinois is the fifth-most populous state of the United States of America, and is often noted for being a microcosm of the entire country. With Chicago in the northeast, small industrial cities and great agricultural productivity in central and northern Illinois, and natural resources like coal,...
townships in the northern part of the state are active in providing public services — such as road maintenance, after-school care, and senior services — whereas townships in southern Illinois frequently abandon these services in favor of the county. In contrast, civil townships in
Indiana
Indiana
Indiana is a US state, admitted to the United States as the 19th on December 11, 1816. It is located in the Midwestern United States and Great Lakes Region. With 6,483,802 residents, the state is ranked 15th in population and 16th in population density. Indiana is ranked 38th in land area and is...
are operated in a relatively consistent manner state-wide and tend to be well organized, with each served by a
township trustee
Township Trustee
A Township Trustee is an elected official in the local government of the U.S. state of Indiana. A township trustee administers a township, which is a political subdivision of a county, and in common with most other state officials serves a term of four years....
and a three-member board. Most townships in Illinois also provide services such as snow removal, senior transportation and emergency services to households residing in unincorporated parts of the county.
Civil townships in these states are generally not considered to be
incorporated
Municipality
A municipality is essentially an urban administrative division having corporate status and usually powers of self-government. It can also be used to mean the governing body of a municipality. A municipality is a general-purpose administrative subdivision, as opposed to a special-purpose district...
, and nearby cities may
annex
Annexation
Annexation is the de jure incorporation of some territory into another geo-political entity . Usually, it is implied that the territory and population being annexed is the smaller, more peripheral, and weaker of the two merging entities, barring physical size...
land in adjoining townships with relative ease. In Michigan, general law townships can incorporate as
charter township
Charter township
A charter township is a form of local government in the U.S. state of Michigan. Townships in Michigan are organized governments. A charter township is a township that has been granted a charter, which allows it certain rights and responsibilities of home rule that are generally intermediary in...
s, a status intended to protect against annexation from nearby municipalities and which grants the township some
home rule
Home rule
Home rule is the power of a constituent part of a state to exercise such of the state's powers of governance within its own administrative area that have been devolved to it by the central government....
powers similar to cities. In
Wisconsin
Wisconsin
Wisconsin is a U.S. state located in the north-central United States and is part of the Midwest. It is bordered by Minnesota to the west, Iowa to the southwest, Illinois to the south, Lake Michigan to the east, Michigan to the northeast, and Lake Superior to the north. Wisconsin's capital is...
, such regions are known as "towns" rather than townships, but they are essentially the same. In
Minnesota
Minnesota
Minnesota is a U.S. state located in the Midwestern United States. The twelfth largest state of the U.S., it is the twenty-first most populous, with 5.3 million residents. Minnesota was carved out of the eastern half of the Minnesota Territory and admitted to the Union as the thirty-second state...
, state statute refers to such entities as towns yet requires them to have a name in the form "
Name
Township". In both documents and conversation, "town" and "township" are used interchangeably. Minnesota townships can be either Non-Urban or
Urban
Urban township
An urban township or urban town is a designation of a unit of local government in several midwestern U.S. states. Generally, an urban township is afforded more local authority than that of a township and less than that of a city. Often, urban townships use this authority for greater economic...
(giving the township government greater power), but this is not reflected in the township's name. In
Ohio
Ohio
Ohio is a Midwestern state in the United States. The 34th largest state by area in the U.S.,it is the 7th‑most populous with over 11.5 million residents, containing several major American cities and seven metropolitan areas with populations of 500,000 or more.The state's capital is Columbus...
, a city or village is overlaid onto a township unless it withdraws by establishing a
paper township
Paper township
A paper township is a type of civil township under Ohio law that does not act as a functioning unit of civil government. Such townships usually exist due to annexation by cities and villages.-Defunct townships:...
. Where the paper township does not extend to the city limits, property owners pay taxes for both the township and municipality. Ten other states also allow townships and municipalities to overlap.
See also:Political subdivisions of Wisconsin

Political subdivisions of Wisconsin

The definitions of the political subdivisions of the U.S. state of Wisconsin differ from those in some other countries or even other U.S. states, leading to misunderstandings regarding the governmental nature of an area....



Pennsylvania and New Jersey
A
Pennsylvania township
Township (Pennsylvania)
A township in the Commonwealth of Pennsylvania, a state of the United States of America, is one of four types of municipalities in the state . Townships were established based on convenient geographical boundaries and vary in size from six to forty square miles...
is a unit of local government, responsible for services such as police departments, local road and street
maintenance
Maintenance, Repair and Operations
Maintenance, repair, and operations or maintenance, repair, and overhaul involves fixing any sort of mechanical or electrical device should it become out of order or broken...
. They act the same as cities or
borough
Borough
A borough is an administrative division in various countries. In principle, the term borough designates a self-governing township although, in practice, official use of the term varies widely....
s. Townships were established based on convenient geographical boundaries and vary in size from six to fifty-two square miles(10–135 km²).
New Jersey township
Township (New Jersey)
A township, in the context of New Jersey local government, refers to one of five types and one of eleven forms of municipal government. As a political entity, a township is a full-fledged municipality, on par with any town, city, borough, or village, collecting property taxes and providing...
is a form of municipal government equal in status to a
village
Village (New Jersey)
A Village in the context of New Jersey local government, refers to one of five types and one of eleven forms of municipal government.The Village Act of 1891 defined the form of government to consist of a five-member board of trustees to be elected to three-year staggered terms. One member serves...
,
town
Town (New Jersey)
A Town in the context of New Jersey local government refers to one of five types and one of eleven forms of municipal government...
,
borough
Borough (New Jersey)
A borough in the context of New Jersey local government refers to one of five types and one of eleven forms of municipal government....
, or
city
City (New Jersey)
A City in the context of New Jersey local government refers to one of five types and one of eleven forms of municipal government....
.
Northeastern states
In
New England
New England
New England is a region in the northeastern corner of the United States consisting of the six states of Maine, New Hampshire, Vermont, Massachusetts, Rhode Island, and Connecticut...
and
New York
New York
New York is a state in the Northeastern region of the United States. It is the nation's third most populous state. New York is bordered by New Jersey and Pennsylvania to the south, and by Connecticut, Massachusetts and Vermont to the east...
, counties are further subdivided into towns and
cities
City
A city is a relatively large and permanent settlement. Although there is no agreement on how a city is distinguished from a town within general English language meanings, many cities have a particular administrative, legal, or historical status based on local law.For example, in the U.S...
, the principal forms of local government. These states use the term
town
, instead of
township
. The settlement patterns of these towns are more like civil townships than "towns" as that term is generally understood in most of the United States. However, New England and New York towns are incorporated municipalities. Some residents of these states do not generally recognize the word "township" as applying to their local governments, although the U.S. Census Bureau treats them identically. (Even though towns in these states are legally equal to cities in status, the Census is more concerned with patterns of settlement and development than the means of government; New England and New York towns are similar to townships in the northern Midwest in typically having one or more small built-up central districts surrounded by a much larger area of less intensive development. However, cities in New England may have this development pattern as well.) In sparsely settled portions of
New Hampshire
New Hampshire
New Hampshire is a state in the New England region of the northeastern United States of America. The state was named after the southern English county of Hampshire. It is bordered by Massachusetts to the south, Vermont to the west, Maine and the Atlantic Ocean to the east, and the Canadian...
,
Vermont
Vermont
Vermont is a state in the New England region of the northeastern United States of America. The state ranks 43rd in land area, , and 45th in total area. Its population according to the 2010 census, 630,337, is the second smallest in the country, larger only than Wyoming. It is the only New England...
and, especially,
Maine
Maine
Maine is a state in the New England region of the northeastern United States, bordered by the Atlantic Ocean to the east and south, New Hampshire to the west, and the Canadian provinces of Quebec to the northwest and New Brunswick to the northeast. Maine is both the northernmost and easternmost...
, county subdivisions that are not incorporated
are
referred to as townships, or by other terms such as 'gore,' 'grant,' 'location,' 'plantation', or 'purchase.'
See also: Political subdivisions of New York
Southern states
In
the South
Southern United States
The Southern United States—commonly referred to as the American South, Dixie, or simply the South—constitutes a large distinctive area in the southeastern and south-central United States...
, outside of cities and towns there is generally no local government other than the county.
North Carolina
North Carolina
North Carolina is a state located in the southeastern United States. The state borders South Carolina and Georgia to the south, Tennessee to the west and Virginia to the north. North Carolina contains 100 counties. Its capital is Raleigh, and its largest city is Charlotte...
is no exception to that rule, but it does have townships as minor geographical subdivisions of counties, including both unincorporated territory and also land within the bounds of incorporated cities and towns (as well as the
extraterritorial jurisdiction
Extraterritorial jurisdiction
Extraterritorial jurisdiction is the legal ability of a government to exercise authority beyond its normal boundaries.Any authority can, of course, claim ETJ over any external territory they wish...
of municipalities). Every county is divided into townships as mandated since the
North Carolina Constitution
North Carolina Constitution
The Constitution of the State of North Carolina governs the structure and function of the state government of North Carolina, United States; it is the highest legal document for the state and subjugates North Carolina law...
of 1868. Some
urbanize
Urbanization
Urbanization, urbanisation or urban drift is the physical growth of urban areas as a result of global change. The United Nations projected that half of the world's population would live in urban areas at the end of 2008....
d counties such as
Mecklenburg County
Mecklenburg County, North Carolina
-Air:The county's primary commercial aviation airport is Charlotte Douglas International Airport in Charlotte.- Intercity rail :With twenty-five freight trains a day, Mecklenburg is a freight railroad transportation center, largely due to its place on the NS main line between Washington and Atlanta...
(
Charlotte
Charlotte, North Carolina
Charlotte is the largest city in the U.S. state of North Carolina and the seat of Mecklenburg County. In 2010, Charlotte's population according to the US Census Bureau was 731,424, making it the 17th largest city in the United States based on population. The Charlotte metropolitan area had a 2009...
) now number their townships (i.e. "Township 12") rather than using names. Townships all over the state used to have some official organization and duties but now are only considered ceremonial divisions of each county. Township names are still used quite extensively at the county government level in North Carolina as a way of determining and dividing up areas for administrative purposes; primarily for collecting county taxes, determining fire districts, for real estate purposes such as categorizing land deeds,
land survey
Cadastre
A cadastre , using a cadastral survey or cadastral map, is a comprehensive register of the metes-and-bounds real property of a country...
s and other
real estate
Real estate
In general use, esp. North American, 'real estate' is taken to mean "Property consisting of land and the buildings on it, along with its natural resources such as crops, minerals, or water; immovable property of this nature; an interest vested in this; an item of real property; buildings or...
document
Document
The term document has multiple meanings in ordinary language and in scholarship. WordNet 3.1. lists four meanings :* document, written document, papers...
s, and for voter registration purposes. In most areas of North Carolina that are outside of any municipal limit (outside cities or towns), townships are used to determine voter polling places, and in most instances county election boards divide up their voter precincts by township. However, there is no government per se at the township level in North Carolina, and there are no elected or appointed offices associated with townships.
Survey townships exist in
Alabama
Alabama
Alabama is a state located in the southeastern region of the United States. It is bordered by Tennessee to the north, Georgia to the east, Florida and the Gulf of Mexico to the south, and Mississippi to the west. Alabama ranks 30th in total land area and ranks second in the size of its inland...
,
Arkansas
Arkansas
Arkansas is a state located in the southern region of the United States. Its name is an Algonquian name of the Quapaw Indians. Arkansas shares borders with six states , and its eastern border is largely defined by the Mississippi River...
,
Florida
Florida
Florida is a state in the southeastern United States, located on the nation's Atlantic and Gulf coasts. It is bordered to the west by the Gulf of Mexico, to the north by Alabama and Georgia and to the east by the Atlantic Ocean. With a population of 18,801,310 as measured by the 2010 census, it...
,
Louisiana
Louisiana
Louisiana is a state located in the southern region of the United States of America. Its capital is Baton Rouge and largest city is New Orleans. Louisiana is the only state in the U.S. with political subdivisions termed parishes, which are local governments equivalent to counties...
and
Mississippi
Mississippi
Mississippi is a U.S. state located in the Southern United States. Jackson is the state capital and largest city. The name of the state derives from the Mississippi River, which flows along its western boundary, whose name comes from the Ojibwe word misi-ziibi...
.
See also
Township (United States)

Township (United States)

A township in the United States is a small geographic area. Townships range in size from 6 to 54 square miles , with being the norm.The term is used in three ways....



Survey township

Survey township

Survey township, sometimes called Congressional township, as used by the United States Public Land Survey System, refers to a square unit of land, that is nominally six miles on a side...



Charter township

Charter township

A charter township is a form of local government in the U.S. state of Michigan. Townships in Michigan are organized governments. A charter township is a township that has been granted a charter, which allows it certain rights and responsibilities of home rule that are generally intermediary in...



County (United States)

County (United States)

In the United States, a county is a geographic subdivision of a state , usually assigned some governmental authority. The term "county" is used in 48 of the 50 states; Louisiana is divided into parishes and Alaska into boroughs. Parishes and boroughs are called "county-equivalents" by the U.S...



Political divisions of the United States

Political divisions of the United States

The political units and divisions of the United States include:*The 50 states are subdivided into counties . The counties may be further subdivided into townships, or towns in New York and New England...



Minor civil division

Minor civil division

Minor civil division is a term used by the United States Census Bureau to designate the primary governmental and/or administrative divisions of a county, such as a civil township, precinct, or magisterial district...



Hundred (country subdivision)
Township

Township

The word township is used to refer to different kinds of settlements in different countries. Township is generally associated with an urban area. However there are many exceptions to this rule. In Australia, the United States, and Canada, they may be settlements too small to be considered urban...


for other divisions called "township"
Unorganized territory

Unorganized territory

An unorganized territory is a region of land without a "normally" constituted system of government. This does not mean that the territory has no government at all or that it is unclaimed territory...



List of subnational entities
Civil parish

Civil parish

In England, a civil parish is a territorial designation and, where they are found, the lowest tier of local government below districts and counties...


or community council

Community council

A community council is a public representative body in Great Britain.In England they may be statutory parish councils by another name, under the Local Government and Public Involvement in Health Act 2007, or they may be non-statutory bodies...


- The UK

United Kingdom

The United Kingdom of Great Britain and Northern IrelandIn the United Kingdom and Dependencies, other languages have been officially recognised as legitimate autochthonous languages under the European Charter for Regional or Minority Languages...


equivalent of a civil township
External links