 Cimitero Monumentale di Milano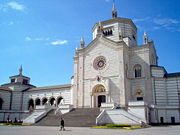 The
Cimitero Monumentale
in
Milan
Milan
Milan is the second-largest city in Italy and the capital city of the region of Lombardy and of the province of Milan. The city proper has a population of about 1.3 million, while its urban area, roughly coinciding with its administrative province and the bordering Province of Monza and Brianza ,...
,
Italy
Italy
Italy , officially the Italian Republic languages]] under the European Charter for Regional or Minority Languages. In each of these, Italy's official name is as follows:;;;;;;;;), is a unitary parliamentary republic in South-Central Europe. To the north it borders France, Switzerland, Austria and...
is a very large cemetery, noted for its abundance of highly artistic and often imposing tombs.
It was designed by the architect Carlo Maciachini (1818-1899). It was planned to consolidate a number of small cemeteries that used to be scattered around the city into a single location, at that time well removed from the thickly built central city area.
It opened in 1866 and since then has been filled with a wide range of both contemporary and classical Italian sculptures as well as
Greek temple
Greek temple
Greek temples were structures built to house deity statues within Greek sanctuaries in Greek paganism. The temples themselves did usually not directly serve a cult purpose, since the sacrifices and rituals dedicated to the respective deity took place outside them...
s, elaborate
obelisk
Obelisk
An obelisk is a tall, four-sided, narrow tapering monument which ends in a pyramid-like shape at the top, and is said to resemble a petrified ray of the sun-disk. A pair of obelisks usually stood in front of a pylon...
s, and other original works such as a scaled-down version of
Trajan's Column
Trajan's Column
Trajan's Column is a Roman triumphal column in Rome, Italy, which commemorates Roman emperor Trajan's victory in the Dacian Wars. It was probably constructed under the supervision of the architect Apollodorus of Damascus at the order of the Roman Senate. It is located in Trajan's Forum, built near...
. Many of the tombs belong to noted industrialist dynasties, sometimes eponymous of world famous businesses and brands.
The main entrance is through the large
Famedio
, a massive
Hall-of-Fame
-like Neo-Medieval style building of marble and stone that contains the tombs of some of the city's and the country's most honored citizens.
The
Civico Mausoleo Palanti
Civico Mausoleo Palanti
The Edicola Palanti inside the Cimitero Monumentale di Milano, work by architect Mario Palanti built in 1924-28, become Civico Mausoleo to honorable citizens of Milan in 1981, february 4...
designed by the architect
Mario Palanti
Mario Palanti
Mario Palanti was an Italian architect who designed important buildings in the capital cities of both Argentina and Uruguay. Born in 1885 in Milan, Italy, he studied architecture in the Brera Academy and in the Politecnico di Milano university...
is a tomb built to house the dead famous "Milanesi" not enough for admission to the memorial chapel, but representative of some merit had in life. The memorial of about 800 Milanese killed in Nazi concentration camps is located in the center instead, just get off the stairs of the memorial chapel, and is the work of the group BBPR, formed by leading exponents of Italian rationalist architecture, one of which (Gianluigi Banfi) died in Mauthausen in 1945. The cemetery has a special section for those who do not belong to the Catholic religion.
The cemetery has a non-Catholic section and a
Jewish
Judaism
Judaism ) is the "religion, philosophy, and way of life" of the Jewish people...
section.
Near the entrance is an exhibit of prints, photographs, and maps outlining its historical development. The exhibit includes two battery-operated electric hearses built in the 1920s.
Famous graves
Discreet posters located throughout the cemetery point visitors to several of the most remarkable tombs and monuments. Some of the personages interred here include:
Alberto Ascari

Alberto Ascari

Alberto Ascari was an Italian racing driver and twice Formula One World Champion. He is one of only two Italian Formula One World Champions in the history of the sport, and the only one winning his two championships in a Ferrari....


(1918-1955), Formula One

Formula One

Formula One, also known as Formula 1 or F1 and referred to officially as the FIA Formula One World Championship, is the highest class of single seater auto racing sanctioned by the Fédération Internationale de l'Automobile . The "formula" designation in the name refers to a set of rules with which...


champion driver
Antonio Ascari

Antonio Ascari

Antonio Ascari was an Italian Grand Prix motor racing champion.Antonio Ascari was born near Mantua, in the Lombardy region of Italy, as the son of a corn dealer. He began racing cars at the top levels in Italy in 1919, using a modified 1914 Fiat...


(1888-1925), Grand Prix champion driver
Ernesto Bazzaro

Ernesto Bazzaro

Ernesto Bazzaro was an Italian sculptor.-Biography:Like his elder brother, Leonardo, Ernesto Bazzaro studied at the Brera Academy in Milan, which he attended from 1875, winning the Luigi Canonica Prize in 1881...


(1859 - 1937), sculptor
Luca Beltrami

Luca Beltrami

Luca Beltrami was an Italian architect and architectural historian, known particularly for restoration projects. He was a student of Camillo Boito at the Brera Academy...


(1854-1933), architect
Arrigo Boito

Arrigo Boito

Arrigo Boito , aka Enrico Giuseppe Giovanni Boito, pseudonym Tobia Gorrio, was an Italian poet, journalist, novelist and composer, best known today for his libretti, especially those for Giuseppe Verdi's operas Otello and Falstaff, and his own opera Mefistofele...


(1842-1918), composer and librettist
Gino Bramieri

Gino Bramieri

Gino Bramieri was an Italian comedian and actor. He was especially known as a television comedian, but also performed in theatres, on radio, and in about thirty movies. He was nicknamed "Il Re della barzelletta" for his burlesque comic style, which was largely based on his skill at telling funny...


(1928-1996), comedian and actor
Carlo Cattaneo

Carlo Cattaneo

Carlo Cattaneo was an Italian philosopher, writer and patriot.-Biography:Cattaneo was born in Milan; he died in Castagnola, close to Lugano in the Swiss canton of Ticino, where he had spent the last twenty years of his life in exile.A republican in his convictions, during his youth he had taken...


(1801-1869), philosopher, patriot
Alfredo Catalani

Alfredo Catalani

Alfredo Catalani was an Italian operatic composer. He is best remembered for his operas Loreley and La Wally...


(1854-1893), composer
Walter Chiari

Walter Chiari

Walter Chiari, stage name of Walter Annichiarico , was a hugely successful Italian stage and screen actor, mostly in comedy roles....


(1924-1991), actor
Franco Corelli

Franco Corelli

Franco Corelli was a famous Italian tenor who had a major international opera career between 1951 and 1976. Associated in particular with the spinto and dramatic tenor roles of the Italian repertory, he was celebrated universally for his powerhouse voice, electrifying top notes, clear timbre, a...


(1921-2003), opera tenor
Filippo Filippi

Filippo Filippi

Filippo Filippi was an Italian music critic. He wrote for the Milanese music magazine La perseveranza, and was an admirer of and frequent correspondent with Giuseppe Verdi....


(1830-1887), journalist, music critic
Eva Duarte de Perón (1919-1952), trade union and charity leader; secretly buried as María Maggi between 1955 and 1971
Giorgio Gaber

Giorgio Gaber

Giorgio Gaber, byname of Giorgio Gaberscik , was an Italian singer-songwriter, actor and playwright. He was also an accomplished guitar player and author of one of the first rock songs in Italian...


(1939-2003), singer-songwriter, comedian
Giuseppe Gervasini (1867-1941), religious figure
Luigi Giussani

Luigi Giussani

Monsignor Luigi Giovanni Giussani , Italian Catholic priest, educator, public intellectual and founder of the international Catholic movement Communion and Liberation .-Biography:...


(1922-2005), priest, founder of "Communion and Liberation"
Vladimir Horowitz

Vladimir Horowitz

Vladimir Samoylovich Horowitz was a Russian-American classical virtuoso pianist and minor composer. His technique and use of tone color and the excitement of his playing were legendary. He is widely considered one of the greatest pianists of the 20th century.-Life and early...


(1903-1989), pianist
Herbert Kilpin

Herbert Kilpin

Herbert Kilpin was an English football pioneer, player and manager. He is best known as the founder of Italian club A.C. Milan.- Early years :...


(1870-1916), founder of football club A.C. Milan

A.C. Milan

Associazione Calcio Milan, commonly referred to as A.C. Milan or simply Milan , is a professional Italian football club based in Milan, Lombardy, that plays in the Serie A. Milan was founded in 1899 by English lace-maker Herbert Kilpin and businessman Alfred Edwards among others...



Anna Kuliscioff

Anna Kuliscioff

Anna Kuliscioff was a Jewish Russian revolutionary, a prominent feminist, an anarchist influenced by Mikhail Bakunin, and eventually a Marxist socialist militant; she was mainly active in Italy, where she was one of the first women graduated in Medicine.Persecuted by the Imperial...


(1857, 1925), political activist
Emilio Longoni

Emilio Longoni

Emilio Longoni was an Italian painter.-Biography:He was born in Barlassina on July 9, 1859, fourth of twelve children, from Garibaldi's volunteer and horseshoer Matteo Longoni and from tailor Luigia Meroni....


(1859-1932), painter
Alessandro Manzoni

Alessandro Manzoni

Alessandro Francesco Tommaso Manzoni was an Italian poet and novelist.He is famous for the novel The Betrothed , generally ranked among the masterpieces of world literature...


(1785-1873) poet, novelist, considered the founder of modern Italian language, tomb located at the very center of the Famedio
Filippo Tommaso Marinetti

Filippo Tommaso Marinetti

Filippo Tommaso Emilio Marinetti was an Italian poet and editor, the founder of the Futurist movement, and a fascist ideologue.-Childhood and adolescence:...


(1876-1944), poet and main founder of the futurist

Futurism (art)

Futurism was an artistic and social movement that originated in Italy in the early 20th century. It emphasized and glorified themes associated with contemporary concepts of the future, including speed, technology, youth and violence, and objects such as the car, the airplane and the industrial city...


movement
Giovanni Pesce

Giovanni Pesce

Giovanni Pesce was an Italian anti-fascist partisan who fought in the Spanish Civil War and World War II. A former Communist councillor for Milan, he wrote extensively about his experiences in several books....


(1918-2007), communist partisan
Francesco Maria Piave

Francesco Maria Piave

Francesco Maria Piave was an Italian opera librettist who was born in Murano in the lagoon of Venice, during the brief Napoleonic Kingdom of Italy. His career spanned over twenty years working with many of the significant composers of his day...


(1810-1876), librettist, poet
Amilcare Ponchielli

Amilcare Ponchielli

Amilcare Ponchielli was an Italian composer, largely of operas.-Biography:Born in Paderno Fasolaro, now Paderno Ponchielli, near Cremona, Ponchielli won a scholarship at the age of nine to study music at the Milan Conservatory, writing his first symphony by the time he was ten years old.Two years...


(1834-1886), composer
Salvatore Quasimodo

Salvatore Quasimodo

Salvatore Quasimodo was an Italian author and poet. In 1959 he won the Nobel Prize for Literature "for his lyrical poetry, which with classical fire expresses the tragic experience of life in our own times". Along with Giuseppe Ungaretti and Eugenio Montale, he is one of the foremost Italian poets...


(1901-1968), 1959 Nobel prize in literature
Medardo Rosso

Medardo Rosso

Medardo Rosso was an Italian sculptor. He is thought to have developed the Post Impressionism style in sculpture along with Auguste Rodin....


(1858-1928), sculptor
Temistocle Solera

Temistocle Solera

Temistocle Solera was an Italian opera composer and librettist.He was born at Ferrara. He received his education at the Imperial College in Vienna and at the University of Pavia. Throughout his life he actively participated in anti-Austrian resistance. At one point, he was incarcerated for his...


(1815-1878), poet, opera composer, librettist
Arturo Toscanini

Arturo Toscanini

Arturo Toscanini was an Italian conductor. One of the most acclaimed musicians of the late 19th and 20th century, he was renowned for his intensity, his perfectionism, his ear for orchestral detail and sonority, and his photographic memory...


(1867-1957), conductor and cellist
Filippo Turati

Filippo Turati

Filippo Turati was an Italian sociologist, poet and Socialist politician.-Early life:Born in Canzo, province of Como, he graduated in law at the University of Bologna in 1877, and participated in the Scapigliatura movement with the most important artists of the period in Milan, publishing poetry...


(1857-1932), politician
Bruno Munari

Bruno Munari

Bruno Munari was an Italian artist and designer, who contributed fundamentals to many fields of visual arts and non visual arts with his research on games, didactic method and creativity.-Biography:Bruno Munari was born in Milan but spent his...


(1907-1998), artist
Leo Valiani

Leo Valiani

Leo Valiani was an Italian politician and journalist.He was born in Rijeka , on the Adriatic, which is today in independent Croatia but was then a leading seaport for the largely landlocked Austro-Hungarian Empire...


(1909-1999), writer, politician
Giuseppe Verdi

Giuseppe Verdi

Giuseppe Fortunino Francesco Verdi was an Italian Romantic composer, mainly of opera. He was one of the most influential composers of the 19th century...


(1813 – 1901), composer, was buried there for about one month before being moved to the Casa di Riposo per Musicisti

Casa di Riposo per Musicisti

The Casa di Riposo per Musicisti is a rest home for retired opera singers and musicians in Milan, northern Italy, founded by the Italian composer Giuseppe Verdi in 1896. The building was designed in the neo-Gothic style by Italian architect, Camillo Boito. Both Verdi and his wife, Giuseppina...



In the movies
The Hall of Fame of the Monumentale is prominently featured in a climactic scene of the 2009 film
I Am Love
I Am Love (film)
I Am Love is a 2009 Italian film directed by Luca Guadagnino set around 2000 in Milan. The film follows a haute bourgeoisie family through changing times and fortunes, and its disruption by the force of passion. The cast is led by Tilda Swinton as Emma Recchi...
.
See also
Certosa di Bologna

Certosa di Bologna

The Certosa di Bologna is a former Carthusian monastery in Bologna, central Italy, which was founded in 1334 and suppressed in 1797. In 1801 it became the city's Monumental Cemetery which would be much praised by Byron and others...


, the site of the city's monumental cemetery
Monumental Cemetery of Staglieno

Monumental Cemetery of Staglieno

The Cimitero monumentale di Staglieno is an extensive cemetery located on a hillside in the district of Staglieno of Genoa, Italy, famous for its monumental sculpture...


, in Genoa
Monumental Cemetery of Bonaria

Monumental Cemetery of Bonaria

The Monumental Cemetery of Bonaria is located in Cagliari, Sardinia.In use between 1829 and 1968, the cemetery originally occupied an area at the base of the hill of Bonaria, and over time expanded upwards. The main entrance is located in Piazza Cimitero, with a second entrance in Ravenna, at the...


in Sardinia
External links