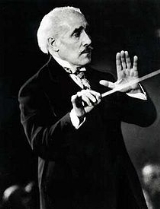 Arturo Toscanini
Arturo Toscanini
was an
Italian
Italian people
The Italian people are an ethnic group that share a common Italian culture, ancestry and speak the Italian language as a mother tongue. Within Italy, Italians are defined by citizenship, regardless of ancestry or country of residence , and are distinguished from people...
conductor. One of the most acclaimed musicians of the late 19th and 20th century, he was renowned for his intensity, his perfectionism, his ear for orchestral detail and sonority, and his photographic memory. As music director of the
NBC Symphony Orchestra
NBC Symphony Orchestra
The NBC Symphony Orchestra was a radio orchestra established by David Sarnoff of the National Broadcasting Company especially for conductor Arturo Toscanini...
he became a household name (especially in the U.S.) through his radio and television broadcasts and many recordings of the operatic and symphonic repertoire.
Toscanini was born in
Parma
Parma
Parma is a city in the Italian region of Emilia-Romagna famous for its ham, its cheese, its architecture and the fine countryside around it. This is the home of the University of Parma, one of the oldest universities in the world....
,
Emilia-Romagna
Emilia-Romagna
Emilia–Romagna is an administrative region of Northern Italy comprising the two historic regions of Emilia and Romagna. The capital is Bologna; it has an area of and about 4.4 million inhabitants....
, and won a scholarship to the local music conservatory, where he studied the
cello
Cello
The cello is a bowed string instrument with four strings tuned in perfect fifths. It is a member of the violin family of musical instruments, which also includes the violin, viola, and double bass. Old forms of the instrument in the Baroque era are baryton and viol .A person who plays a cello is...
.