Chez Panisse
Chez Panisse
is a
Berkeley
Berkeley, California
Berkeley is a city on the east shore of the San Francisco Bay in Northern California, United States. Its neighbors to the south are the cities of Oakland and Emeryville. To the north is the city of Albany and the unincorporated community of Kensington...
,
California
California
California is a state located on the West Coast of the United States. It is by far the most populous U.S. state, and the third-largest by land area...
restaurant known for using local, organic foods and credited as the inspiration for the style of cooking known as
California cuisine
California Cuisine
California cuisine is a style of cuisine marked by an interest in fusion cuisine and in the use of freshly prepared local ingredients.The food is typically prepared with strong attention to presentation...
. Well-known restauranteur, author, and food activist
Alice Waters
Alice Waters
Alice Louise Waters is an American chef, restaurateur, activist, and author. She is the owner of Chez Panisse, a Berkeley, California restaurant famous for its organic, locally-grown ingredients and for pioneering California cuisine.Waters opened the restaurant in 1971. It has consistently ranked...
co-founded Chez Panisse in 1971 with film producer Paul Aratow, then professor of Comparative Literature at the University of California, Berkeley. From the beginning, Waters advocated a style of cooking that uses the freshest, most delicious local food available, often prepared and presented simply and/or traditionally. The restaurant prides itself on relationships with producers, and buys through its established network of local farmers, ranchers, and dairies.
Chez Panisse has been listed by
Restaurant magazine
Restaurant (magazine)
Restaurant is a British magazine aimed at chefs, restaurant proprietors and other catering professionals that concentrates on the fine dining end of the industry. It produces an annual list of what it considers to be the best 50 restaurants, based on the votes of 600 "chefs, restaurateurs, critics...
as one of the top 100 restaurants in the world for the last several years. From 2002 to 2008 it was one of the top fifty restaurants in the world, and was ranked number 12 in 2003. In 2007, Alice Waters won Restaurant Magazine's Lifetime Achievement Award, and was cited as one of the most influential figures in American cooking over the past 50 years.
Michelin
Michelin Guide
The Michelin Guide is a series of annual guide books published by Michelin for over a dozen countries. The term normally refers to the Michelin Red Guide, the oldest and best-known European hotel and restaurant guide, which awards the Michelin stars...
awarded the restaurant a one-star rating in its guide to San Francisco Bay Area dining from 2006 through 2009. In 2001,
Gourmet
Gourmet (magazine)
Gourmet magazine was a monthly publication of Condé Nast and the first U.S. magazine devoted to food and wine. Founded by Earle R. MacAusland and first published in 1941, Gourmet also covered "good living" on a wider scale....
magazine named Chez Panisse the Best Restaurant in America.
About Chez Panisse
In 1971, Alice Waters founded Chez Panisse in an Arts and Crafts house along Shattuck Avenue, in Berkeley, California. The restaurant was designed to foster an intimate, comfortable atmosphere. Chez Panisse is named after Honore Panisse, a character in a trilogy of
Marcel Pagnol
Marcel Pagnol
Marcel Pagnol was a French novelist, playwright, and filmmaker. In 1946, he became the first filmmaker elected to the Académie Française.-Biography:...
films about working class life in Marseille, France called
Marius

Marius (film)

Marius is a French theatre script written by Marcel Pagnol that was later converted into a film of the same name. The film is a part of a trilogy which includes the films César and Fanny .-Synopsis:The film takes place mostly in the waterfront bar of Cesar, Marius' father...


, Fanny

Fanny (1932 film)

Fanny is a 1932 French comedy film, directed by Marc Allégret based on the play by Marcel Pagnol. It's the second part in the Marseillaise film trilogy that started with Marius and concluded with César ...



and
César
César (film)
"César" is a 1936 French film, written and directed by Marcel Pagnol. It's the final part of his Marseille trilogy, which began with the film Marius and was followed by Fanny. In difference to these two movies "César"was not based on a play by Pagnol, but written directly as a film script...
.
From the beginning, the restaurant has sourced the highest-quality food available. Today, this entails sourcing food that is locally, organically, and sustainably grown. The menu is dictated by what is fresh and in season, and the restaurant has a network of farmers, ranchers, and dairies that produce and supply the food that is then cooked and served at Chez Panisse. The Chez Panisse website contains the following statement about the philosophy of Waters and her restaurant:
The restaurant has always served a set menu that changes daily and reflects the season's bounty. Monday nights at the restaurant generally feature more rustic or regional dishes, such as a lamb tagine or fisherman's stew, in addition to a first course and dessert. Tuesday through Thursday, the restaurant serves a 4-course set dinner menu, including dessert. On Friday and Saturday evenings, a more elaborate 4-course meal is served. The restaurant is closed on Sundays.
In 1980, Waters opened the Chez Panisse Café, which offers an alternative to the set menu of the downstairs restaurant. The upstairs café features the same local, organic ingredients as the restaurant, but the menu is a la carte and more modestly priced than the set menu of the restaurant. The menu still changes daily, while offering several selections of appetizers, main courses, and desserts. While the restaurant serves only dinner, the café is open for both lunch and dinner, Monday through Saturday. The upstairs café has its own kitchen which includes a charcoal grill and wood-burning pizza oven, although much of the prep work for the cafe is done in the main downstairs kitchen.
Staff
The restaurant and café have their own staff and are run separately. The restaurant has two head chefs, David Tanis and Jean-Pierre Moulle. Each runs the kitchen for six months out of the year. The cafe has two co-chefs, Cal Peternell and Beth Wells. In addition to these chefs, there are many other cooks and interns working in the kitchen. The pastry kitchen is run by pastry chefs Carrie Lewis and Stacie Pierce.
Alice Waters has served as the executive chef at Chez Panisse since 1971, although her role has changed over the years. Now, she is no longer in the kitchen on a day-to-day basis. Instead, she does tastings, provides input on menus, and is in charge of the operations of the restaurant and of the Chez Panisse Foundation, a non-profit organization that funds the
Edible Schoolyard
Edible schoolyard
The Edible Schoolyard is a garden at the Martin Luther King Jr. Middle School in Berkeley, California. The Edible Schoolyard was established by chef and activist Alice Waters through the Chez Panisse Foundation...
, in Berkeley, and that Waters founded in 1996.
Inspirations and history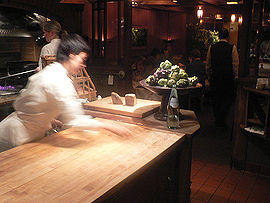 Originally, Chez Panisse was designed to cultivate the atmosphere of an intimate dinner party, with hosts who paid attention to even the smallest details of the dining experience and guests who enjoyed the same meal around the table. As an active participant in the Free Speech Movement that swept UC Berkeley's campus in the 1960s, Waters learned to love cooking for others while she hosted gatherings to discuss politics with her peers.
The culinary influences for Chez Panisse were largely French, inspired by the 1920's cookbook of French
cuisine bourgeoise
,
La bonne cuisine de Madame E. Saint-Ange
La bonne cuisine de Madame E. Saint-Ange
La bonne cuisine de Madame E. Saint-Ange is a French cookbook written by Evelyn Ébrard and published in 1927 by Larousse...
. This book has been translated into English by Paul Aratow, who was also the first chef de cuisine at Chez Panisse. Although Waters never preferred the fancy and predictable restaurants of Paris, she became enamored with the small, country restaurants of France that cooked whatever was fresh that day and created menus based on what the market had to offer. She first traveled to France as an undergraduate at UC Berkeley, where she majored in French Cultural Studies, and immediately was drawn to the food and market culture around her. In particular, Waters found inspiration from Lulu and Lucien Peyraud, owners of the Domaine Tempier vineyard in Bandol, in the south of France. Their enjoyment of food and wine and their simple preparations of the fresh, local produce had strong influence on the food and atmosphere of Chez Panisse. Aratow had lived for years in Italy and France, exploring the language, cuisine and culture of both countries, and had a finely developed talent for hands-on culinary craftsmanship. He also designed and supervised the transition of an ordinary two story apartment house into the restaurant structure, working with the carpenters on a nearly non-existent budget.
In addition to Waters' travels in France, the writings of
Richard Olney
Richard Olney (food writer)
Richard Olney was an American painter, cook, food writer, editor, and memoirist, best known for his books of French country cooking....
, an American cook who spent most of his life in France, and of
Elizabeth David
Elizabeth David
Elizabeth David CBE was a British cookery writer who, in the mid-20th century, strongly influenced the revitalisation of the art of home cookery with articles and books about European cuisines and traditional British dishes.Born to an upper-class family, David rebelled against social norms of the...
, a British cook and food writer, served as inspirations for the restaurant's menu.
Waters wrote in 1980:
In 1971 Waters and Aratow opened the restaurant to a twice sold out house. Victoria Wise served as the first cook, and Lindsey Shere, a friend of Alice's, was the pastry chef.
Due to Waters' insistence on using the highest-quality ingredients she could find regardless of cost, coupled with her lack of experience working in—not to mention running—a restaurant, Chez Panisse struggled financially for many years after it opened. The restaurant also gained a reputation for its staff's partying and illegal drug use, which contributed to the environment of the young Chez Panisse. Nonetheless, Waters and Aratow continued on, cooking country French-inspired meals with local California ingredients. In the process, Waters and the restaurant began building up their network of local producers, which continues to provide the restaurant with the majority of its ingredients today.
In 1972, Jeremiah Tower became the chef de cuisine of Chez Panisse, replacing Victoria Wise. While at Chez Panisse he was in charge of the kitchen and the menus. He left in 1978 and went on to open Stars, in the 1980s. He, along with Alice Waters, Paul Aratow and several other chefs, are often credited with creating the style of cooking known as "California Cuisine." Paul Bertolli served as the head chef of Chez Panisse from 1982-1992. With Waters, Bertolli co-wrote the cookbook Chez Panisse Cooking. He later went on to become the head chef of Oliveto, an Italian restaurant in Oakland, California, and now owns the salumi company Fra'mani.
Jean-Pierre Moulle joined the Chez Panisse kitchen in 1975, as Jeremiah Towers' sous chef, and eventually worked his way to head chef. He continues to serve as head chef of the restaurant for 6 months out of the year. David Tanis, who started at Chez Panisse in the 1980s, holds the post for the other half of the year.
Biographer Thomas McNamee has characterized the restaurant's history as bipolar, with triumphs alternating with disasters leading to more successes. This cycle could be seen in the aftermath of a March 1982 fire that came within 10 minutes of destroying the building. Influenced by the book
A Pattern Language
A Pattern Language
A Pattern Language: Towns, Buildings, Construction is a 1977 book on architecture, urban design, and community livability. It was authored by Christopher Alexander, Sara Ishikawa and Murray Silverstein of the Center for Environmental Structure of Berkeley, California, with writing credits also to...
, Waters collaborated with co-author
Christopher Alexander
Christopher Alexander
Christopher Wolfgang Alexander is a registered architect noted for his theories about design, and for more than 200 building projects in California, Japan, Mexico and around the world...
on a redesign (principally by the great cabinetmaker, designer and builder Kip Mesirow) that removed the partially burned wall previously separating the kitchen from the dining room. Today, the former is clearly viewable from the latter, and diners interested in the kitchen and its cooking are often invited in. Famous diners include the Dalai Lama and President
Bill Clinton
Bill Clinton
William Jefferson "Bill" Clinton is an American politician who served as the 42nd President of the United States from 1993 to 2001. Inaugurated at age 46, he was the third-youngest president. He took office at the end of the Cold War, and was the first president of the baby boomer generation...
. With the help of Alice Waters, filmmaker
Werner Herzog
Werner Herzog
Werner Herzog Stipetić , known as Werner Herzog, is a German film director, producer, screenwriter, actor, and opera director.He is often considered as one of the greatest figures of the New German Cinema, along with Rainer Werner Fassbinder, Margarethe von Trotta, Volker Schlöndorff, Werner...
cooked his shoe at Chez Panisse, eating it at the nearby
UC Theater
UC Theater
The UC Theatre was a movie theater at 2036 University Avenue near Shattuck Avenue in Berkeley, California.-History:Opened in 1917, the 1,300-seat theater was acquired in 1974 by theater owner Gary Meyer as one of the first theaters—along with the Nuart Theatre in Los Angeles—in his Landmark...
before the premier of the film
Gates of Heaven
Gates of Heaven
Gates of Heaven is a 1978 documentary film by Errol Morris about the pet cemetery business. It was made when Morris was unknown and did much to launch his career.-Description:...
, an event recorded in the documentary
Werner Herzog Eats His Shoe
Werner Herzog Eats His Shoe
Werner Herzog Eats His Shoe is a short documentary film directed by Les Blank in 1980 which depicts director Werner Herzog living up to his promise that he would eat his shoe if Errol Morris ever completed the film Gates of Heaven. The film includes clips from both Gates of Heaven and Herzog's...
.
Legacy
Beyond its broad influence on
American cuisine
Cuisine of the United States
American cuisine is a style of food preparation originating from the United States of America. European colonization of the Americas yielded the introduction of a number of ingredients and cooking styles to the latter...
, Chez Panisse has contributed to the success of many prominent chefs and the founding of a number of notable food-related businesses.
Acme Bread Company

Acme Bread Company

The Acme Bread Company is a Berkeley, California-based bakery that is one of the pioneers of the San Francisco Bay Area's "Bread Revolution", which in turn created the modern "artisan bread" movement in America, and remains a "benchmark" for commercial handmade bread.- Origin of Acme :Founder...


, a pioneer of the artisan bread movement and the restaurant's bread supplier, whose founder was the restaurant's first in-house baker from 1979-1983.
Dianne Dexter, founder of Artisan baker Metropolitan Bread Company, was Pastry Chef

Pastry chef

A pastry chef or pâtissier is a station chef in a professional kitchen, skilled in the making of pastries, desserts, breads and other baked goods...


at Chez Panisse.
Head chef Jeremiah Tower

Jeremiah Tower

Jeremiah Tower is an American celebrity chef who, along with Wolfgang Puck, Alice Waters, and Jonathan Waxman, is generally credited with developing the culinary style known as California cuisine.-Biography:...


, whose first professional cooking job was at Chez Panisse, later opened the landmark Stars

Stars (restaurant)

Stars was a landmark restaurant in San Francisco, California from 1984 through 1999. Along with Spago, Michael's and Chez Panisse it is considered one of the birthplaces of California Cuisine, New American cuisine, and the institution of the celebrity chef....


and is along with Waters and Wolfgang Puck

Wolfgang Puck

Wolfgang Johannes Puck is an Austrian-American celebrity chef, restaurateur, businessman and occasional actor. Wolfgang Puck restaurants, catering services, cookbooks and licensed products are run by Wolfgang Puck Companies, with three divisions...


credited with inventing California Cuisine.
Mark Miller, chef after Jeremiah Tower, left for Berkeley's Santa Fe Bar and Grill, then later opened the Coyote Cafe in Santa Fe, New Mexico

Santa Fe, New Mexico

Santa Fe is the capital of the U.S. state of New Mexico. It is the fourth-largest city in the state and is the seat of . Santa Fe had a population of 67,947 in the 2010 census...


as the first of a string of Southwestern-themed restaurants throughout the United States, including a Coyote Cafe in Las Vegas

Las Vegas metropolitan area

The Las Vegas Valley is the heart of the Las Vegas-Paradise, NV MSA also known as the Las Vegas–Paradise–Henderson MSA which includes all of Clark County, Nevada, and is a metropolitan area in the southern part of the U.S. state of Nevada. The Valley is defined by the Las Vegas Valley landform, a ...


, Nevada

Nevada

Nevada is a state in the western, mountain west, and southwestern regions of the United States. With an area of and a population of about 2.7 million, it is the 7th-largest and 35th-most populous state. Over two-thirds of Nevada's people live in the Las Vegas metropolitan area, which contains its...


and Red Sage in Washington, DC.
Paul Bertolli

Paul Bertolli

Paul Bertolli is a chef, writer, and artisan food producer in the San Francisco Bay area of California. Until mid-2005, he was the executive chef of the Oliveto restaurant in Oakland, California...


, Chef from 1982–1992, was executive chef of Oliveto in Oakland, California

Oakland, California

Oakland is a major West Coast port city on San Francisco Bay in the U.S. state of California. It is the eighth-largest city in the state with a 2010 population of 390,724...


from 1993 until 2005 before forming Fra' Mani, a maker of Salumi

Salumi

Salumi are Italian cured meat products and predominantly made from pork. It comes from the italian word salume, pl. salumi, coming from the latin word salumen, that means salty meat. The term salumi also encompasses bresaola, which is made from beef, and also cooked products such as mortadella and...


for wholesale and retail sales.
Chez Panisse alumni Richard Mazzera, Dennis Lapuyade, and Stephen Singer, who in 1998 founded César, a popular tapas

Tapas

Tapas are a wide variety of appetizers, or snacks, in Spanish cuisine. They may be cold or warm ....


restaurant next door
Judy Rodgers and Gilbert Pilgram, the two chef-owners of Zuni Cafe

Zuni Cafe

Zuni Cafe is a restaurant in San Francisco, California. Named after the Zuni tribe, it was established in 1979 by Billy West, and with chef Judy Rodgers . It is located on Market Street in San Francisco. Rogers was with Zuni as chef and co-owner since it was founded in 1987...


in San Francisco, California

San Francisco, California

San Francisco , officially the City and County of San Francisco, is the financial, cultural, and transportation center of the San Francisco Bay Area, a region of 7.15 million people which includes San Jose and Oakland...


, are both alumni of Chez Panisse.
Deborah Madison

Deborah Madison

Deborah Madison is an American chef, writer and cooking teacher. She has been called an expert on vegetarian cooking and her gourmet repertoire showcases fresh garden produce...


, who worked with Judy Rodgers at lunchtime, later opened Greens Restaurant

Greens Restaurant

Greens Restaurant is a landmark vegetarian restaurant in the Fort Mason Center in the Marina District, San Francisco, California, overlooking the Golden Gate Bridge....


and became a cookbook star.
Lindsey Remolif Shere, pastry chef from the restaurant's founding until her retirement in 1997, along with daughter Thérèse, and friend Kathleen Stewart (also of Chez Panisse), opened Downtown Bakery and Creamery in Healdsburg, California

Healdsburg, California

Healdsburg is a city located in Sonoma County, California, in the United States. As of the 2010 United States Census, the city had a population of 11,254...


in 1987.
Peggy Smith ran the cafe at Chez Panisse from 1980 to 1997, before leaving to form Cowgirl Creamery, maker of cheeses including Red Hawk

Red Hawk (cheese)

Red Hawk is a triple-crème cow's milk cheese with a brine washed rind. This cheese is made by Cowgirl Creamery in California. It was awarded "Best in Show" at the 20th annual conference of the American Cheese Society.- External links :*...


, as well as a cheese retailer in the Bay Area and Washington, DC.
Jonathan Waxman

Jonathan Waxman

Jonathan Waxman is an American chef who was one of the pioneers of California cuisine and is credited with being the first to bring its style, fusing French cooking techniques with the freshest local ingredients, to New York....


, after getting his start at Chez Panisse, opened Michael's in Santa Monica, California

Santa Monica, California

Santa Monica is a beachfront city in western Los Angeles County, California, US. Situated on Santa Monica Bay, it is surrounded on three sides by the city of Los Angeles — Pacific Palisades on the northwest, Brentwood on the north, West Los Angeles on the northeast, Mar Vista on the east, and...


, Jams, Buds, Hulot's, Washington Park, and Barbuto in New York City

New York City

New York is the most populous city in the United States and the center of the New York Metropolitan Area, one of the most populous metropolitan areas in the world. New York exerts a significant impact upon global commerce, finance, media, art, fashion, research, technology, education, and...


(where he partnered with and mentored future Food Network

Food Network

Food Network is a television specialty channel that airs both one-time and recurring programs about food and cooking. Scripps Networks Interactive owns 70 percent of the network, with Tribune Company controlling the remaining 30 percent....


star Bobby Flay

Bobby Flay

Robert William "Bobby" Flay is an American celebrity chef, restaurateur and reality television personality. He is the owner and executive chef of 12 restaurants: Mesa Grill in Las Vegas, New York City, and the Bahamas ; Bar Americain in New York City and Uncasville, Connecticut; Bobby Flay Steak...


), Jams in London, England, and Table 29 in Napa, California

Napa, California

-History:The name Napa was probably derived from the name given to a southern Nappan village whose people shared the area with elk, deer, grizzlies and cougars for many centuries, according to Napa historian Kami Santiago. At the time of the first recorded exploration into Napa Valley in 1823, the...


.
Mary Canales, former pastry chef, owns and operates Ici, a gourmet ice creamery in Berkeley, CA.
Suzanne Goin

Suzanne Goin

Suzanne Goin is a chef and restaurateur from Los Angeles, California. As a restaurateur, she runs four restaurants in the Los Angeles area: The A.O.C., Lucques, and Tavern, which she runs with partner Caroline Styne, and The Hungry Cat, where she shares duties with her husband, David Lentz...


, owner of AOC, Lucques and The Hungry Cat in Los Angeles.
David Lebovitz, author of several cookbooks and a popular food blog, worked in pastry at Chez Panisse.
Dan Barber

Dan Barber

Dan Barber is a chef and owner of several restaurants including Blue Hill in Manhattan and Blue Hill at Stone Barns in Pocantico Hills, New York. He is a 1992 graduate of Tufts University with a B.A. in English.- Achievements :...


, owner of the Blue Hill restaurants in New York, worked at Chez Panisse.
Other alumni who went on to become chef-owners of renowned restaurants include Charlie Hallowell, chef-owner of local pizza restaurant Pizzaiolo, Michael Tusk of Quince, Mary Jo Thoresen of Jojo, Gayle Pirie of Foreign Cinema, Christopher Lee of Eccolo, Joyce Goldstein of Square One, Amaryll Schwertner of Boulettes Larder, Alison Barakat of Bakesale Betty's, and Russell Moore and Allison Hopelain of Camino in Oakland, all in the
San Francisco Bay Area
San Francisco Bay Area
The San Francisco Bay Area, commonly known as the Bay Area, is a populated region that surrounds the San Francisco and San Pablo estuaries in Northern California. The region encompasses metropolitan areas of San Francisco, Oakland, and San Jose, along with smaller urban and rural areas...
, and Mark Peel of Campanile Restaurant in
Los Angeles, California
Los Angeles, California
Los Angeles , with a population at the 2010 United States Census of 3,792,621, is the most populous city in California, USA and the second most populous in the United States, after New York City. It has an area of , and is located in Southern California...
. In addition, April Bloomfield, the head chef of The Spotted Pig in New York City, cooked for a time at Chez Panisse.
Culinary innovations
California-style pizza

California-style pizza

California-style pizza is a style of single-serving pizza that combines New York and Italian thin crust with toppings from the California cuisine cooking style. Wolfgang Puck popularized this style of pizza...


, baked in an in-house pizza oven and topped with a variety of local ingredients, was created at the cafe in 1980.
Goat Cheese Salad: first offered in the late 1970s, the salad contains rounds of chèvre marinated in olive oil and herbs, coated in bread crumbs, and baked, served with lightly dressed mesclun

Mesclun

Mesclun is a salad mix of assorted small, young salad leaves which originated in Provence, France. The traditional mix includes chervil, arugula, leafy lettuces and endive in equal proportions, but in modern iterations may include an undetermined mix of fresh and available lettuces, spinach,...


.
In-house carbonated tap water: this filtered version of the East Bay Municipal Utility District

East Bay Municipal Utility District

East Bay Municipal Utility District , colloquially referred to as "East Bay Mud", provides water and sewage treatment for customers in portions of Alameda County and Contra Costa County in California, on the eastern side of San Francisco Bay, including the cities of Richmond, El Cerrito, Hercules,...


offering first replaced conventional bottled water at the restaurant in summer 2006.
Fruit Bowls: seasonal fruit that is served simply in a bowl for dessert.
External links