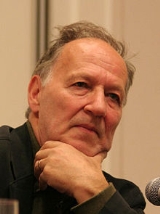 Werner Herzog
Werner Herzog Stipetić
(ˈvɛɐ̯nɐ ˈhɛɐ̯tsoːk ˈstɪpɛtɪtʃ; born 5 September 1942), known as
Werner Herzog
, is a German
film director
Film director
A film director is a person who directs the actors and film crew in filmmaking. They control a film's artistic and dramatic nathan roach, while guiding the technical crew and actors.-Responsibilities:...
,
producer
Film producer
A film producer oversees and delivers a film project to all relevant parties while preserving the integrity, voice and vision of the film. They will also often take on some financial risk by using their own money, especially during the pre-production period, before a film is fully financed.The...
,
screenwriter
Screenwriter
Screenwriters or scriptwriters or scenario writers are people who write/create the short or feature-length screenplays from which mass media such as films, television programs, Comics or video games are based.-Profession:...
, actor, and
opera
Opera
Opera is an art form in which singers and musicians perform a dramatic work combining text and musical score, usually in a theatrical setting. Opera incorporates many of the elements of spoken theatre, such as acting, scenery, and costumes and sometimes includes dance...
director.
He is often considered as one of the greatest figures of the
New German Cinema
New German Cinema
New German cinema is a period in German cinema which lasted from the late 1960s into the 1980s. It saw the emergence of a new generation of directors...
, along with
Rainer Werner Fassbinder
Rainer Werner Fassbinder
Rainer Werner Maria Fassbinder was a German movie director, screenwriter and actor. He is considered one of the most important representatives of the New German Cinema.He maintained a frenetic pace in film-making...
,
Margarethe von Trotta
,
Volker Schlöndorff
Volker Schlöndorff
Volker Schlöndorff is a Berlin-based German filmmaker who has worked in Germany, France and the United States...
, Werner Schröter, and
Wim Wenders
Wim Wenders
Ernst Wilhelm "Wim" Wenders is a German film director, playwright, author, photographer and producer.-Early life:Wenders was born in Düsseldorf. He graduated from high school in Oberhausen in the Ruhr area. He then studied medicine and philosophy in Freiburg and Düsseldorf...
. His films often feature heroes with impossible dreams, people with unique talents in obscure fields, or individuals who find themselves in conflict with nature.
You are all wrong.

Responding to booing crowds at the Berlin Film Festival, who disapproved of his Lessons of Darkness|Lessons of Darkness (1992).
Well they are very frightening for me because their stupidity is so flat. You look into the eyes of a chicken and you lose yourself in a completely flat, frightening stupidity. They are like a great metaphor for me... I kind of love chicken, but they frighten me more than any other animal.

About chickens, on the Signs of Life (1968) DVD audio commentary (2005).
I believe the common denominator of the Universe is not harmony, but chaos, hostility and murder.

"Grizzly Man" (2006)
Together, I said, we shall boil fire and stop fish.

To Lotte H. Eisner|Lotte Eisner in Paris after walking from Munich to meet her, Of Walking in Ice (ISBN 978-0-9796121-0-7).
If you switch on television it's just ridiculous and its destructive. It kills us. And talk shows will kill us. They kill our language. So we have to declare holy war against what we see every single day on television. Commercials and – I think there should be real war against commercials, real war against talk shows, real war against "Bonanza" and "Rawhide", or all these things.

If you want to do a film, steal a camera, steal raw stock, sneak into a lab and do it!

As you see [filmmaking] makes me into a clown. And that happens to everyone — just look at Orson Welles or look at even people like Truffaut. They have become clowns. "Minnesota declaration: truth and fact in documentary cinema", Walker Art Center, Minneapolis, Minnesota (30 April 1999)

By dint of declaration the so-called Cinema Verité is devoid of verité. It reaches a merely superficial truth, the truth of accountants.

Cinema Verité confounds fact and truth, and thus plows only stones. And yet, facts sometimes have a strange and bizarre power that makes their inherent truth seem unbelievable.