Caudillo
Caudillo
is a Spanish word for "leader" (kauˈðiʎo; ) and usually describes a political-military leader at the head of an authoritarian power. The term translates into English as
leader
or
chief
, or more pejoratively as
warlord
Warlord
A warlord is a person with power who has both military and civil control over a subnational area due to armed forces loyal to the warlord and not to a central authority. The term can also mean one who espouses the ideal that war is necessary, and has the means and authority to engage in war...
,
dictator
Dictator
A dictator is a ruler who assumes sole and absolute power but without hereditary ascension such as an absolute monarch. When other states call the head of state of a particular state a dictator, that state is called a dictatorship...
or
strongman
Strongman (politics)
A strongman is a political leader who rules by force and runs an authoritarian regime. The term is often used interchangeably with "dictator," but differs from a "warlord".A strongman is not necessarily always a formal head of government, however...
.
Caudillo
was the term used to refer to the charismatic populist leaders among the people.
Caudillos
have influenced a sizable portion of the
history of Latin America
History of Latin America
Latin America refers to countries in the Americas where Romance languages are spoken. This definition, however, is not meant to include Canada, in spite of its large French-speaking population....
.
The term originally referred to military power:
Indíbil and Mandonio
,
Viriathus
Viriathus
Viriathus was the most important leader of the Lusitanian people that resisted Roman expansion into the regions of Western Hispania , where the Roman province of Lusitania would be established...
,
Almanzor
Al-Mansur Ibn Abi Aamir
Abu Aamir Muhammad Ibn Abdullah Ibn Abi Aamir, Al-Hajib Al-Mansur , better known as Almanzor, was the de facto ruler of Muslim Al-Andalus in the late 10th to early 11th centuries. His rule marked the peak of power for Moorish Iberia.-Origins:He was born Muhammad Ibn Abi Aamir, into a noble Arab...
(sometimes in the modern historiography), Don Pelayo and other fighters of the Reconquista, even
Simón Bolivar
Simón Bolívar
Simón José Antonio de la Santísima Trinidad Bolívar y Palacios Ponte y Yeiter, commonly known as Simón Bolívar was a Venezuelan military and political leader...
,
Francisco Franco
Francisco Franco
Francisco Franco y Bahamonde was a Spanish general, dictator and head of state of Spain from October 1936 , and de facto regent of the nominally restored Kingdom of Spain from 1947 until his death in November, 1975...
, etc., but in Latin America another sense has developed: the liberal caudillo lawyer and politician
Jorge Eliécer Gaitán
Jorge Eliécer Gaitán
Jorge Eliécer Gaitán Ayala was a politician, a leader of a populist movement in Colombia, a former Education Minister and Labor Minister , mayor of Bogotá and one of the most charismatic leaders of the Liberal Party.He was assassinated during his second presidential campaign in 1948, setting off...
was honored with the title "Caudillo of The Colombian People" (and other nuances with a significance mostly demagogic -accused by the right wing opposition and some landowners-) and even without state responsibilities like
cacique
Cacique
Cacique is a title derived from the Taíno word for the pre-Columbian chiefs or leaders of tribes in the Bahamas, Greater Antilles, and the northern Lesser Antilles...
in Spain and
oligarchical
Oligarchy
Oligarchy is a form of power structure in which power effectively rests with an elite class distinguished by royalty, wealth, family ties, commercial, and/or military legitimacy...
–
plutocratic
Plutocracy
Plutocracy is rule by the wealthy, or power provided by wealth. The combination of both plutocracy and oligarchy is called plutarchy. The word plutocracy is derived from the Ancient Greek root ploutos, meaning wealth and kratos, meaning to rule or to govern.-Usage:The term plutocracy is generally...
power.
Origin
The related
caudillismo
is a cultural phenomenon that first appeared during the early 19th century in revolutionary South America, as a type of
militia
Militia
The term militia is commonly used today to refer to a military force composed of ordinary citizens to provide defense, emergency law enforcement, or paramilitary service, in times of emergency without being paid a regular salary or committed to a fixed term of service. It is a polyseme with...
leader with a charismatic personality and enough of a populist program of generic future reforms to gain broad sympathy, at least at the outset, among the common people. Effective
caudillismo
depends on a personality cult.
The root of
caudillismo
lies in Spanish colonial policy of supplementing small cadres of professional, full-time soldiers with large militia forces recruited from local populations to maintain public order. Militiamen held civilian occupations but assembled at regular times for drill and inspection. Their salary from the Crown was a token; their recompense was in prestige, primarily because of the
fuero militar
("military privilege"), that exempted them from certain taxes and obligatory community work assignments (compare the feudal
corvée
Corvée
Corvée is unfree labour, often unpaid, that is required of people of lower social standing and imposed on them by the state or a superior . The corvée was the earliest and most widespread form of taxation, which can be traced back to the beginning of civilization...
), and more significantly, exempted them from criminal or civil prosecution. Away from colonial capitals, the militias were at the service of the
criollo
Criollo people
The Criollo class ranked below that of the Iberian Peninsulares, the high-born permanent residence colonists born in Spain. But Criollos were higher status/rank than all other castes—people of mixed descent, Amerindians, and enslaved Africans...
landowners.
Charismatic image
Typically, the caudillos took it upon themselves to attain power over society and place themselves as its leader. Caudillos were capable of commanding large numbers of people and holding the attention of large crowds with growing excitement. In the late
Roman Republic
Roman Republic
The Roman Republic was the period of the ancient Roman civilization where the government operated as a republic. It began with the overthrow of the Roman monarchy, traditionally dated around 508 BC, and its replacement by a government headed by two consuls, elected annually by the citizens and...
men like
Gaius Marius
Gaius Marius
Gaius Marius was a Roman general and statesman. He was elected consul an unprecedented seven times during his career. He was also noted for his dramatic reforms of Roman armies, authorizing recruitment of landless citizens, eliminating the manipular military formations, and reorganizing the...
along with his army of devoted scholars were populist commanders who had strong personal ties with their soldiers, and imagery of revived Roman values is often brought to bear in support of
caudillismo.
A similar phenomenon in Italy from the 13th to the 16th century repeatedly brought the
condottieri
Condottieri
thumb|Depiction of [[Farinata degli Uberti]] by [[Andrea del Castagno]], showing a 15th century condottiero's typical attire.Condottieri were the mercenary soldier leaders of the professional, military free companies contracted by the Italian city-states and the Papacy, from the late Middle Ages...
, the charismatic leader of a band of mercenaries, to power, when institutions of power temporarily failed.
Gaining of support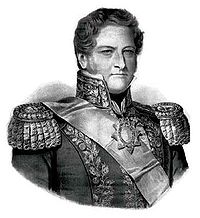 In the upheavals of the decades of revolution and its aftermath, leaders who were able to draw to themselves bands of loyal followers and keep them well armed and otherwise well cared for could assume the title of "general." Caudillos began to attain this power in the course of the Spanish American wars of independence, where the militias did much of the fighting and earned a heroic reputation. The caudillos used their small armed bands to overthrow the vulnerable newly independent states in South America. These caudillos were not always welcome, but they were not publicly condemned either. Some were large landowners (
hacendados
Hacienda
Hacienda is a Spanish word for an estate. Some haciendas were plantations, mines, or even business factories. Many haciendas combined these productive activities...
) who sought to secure their private interests, but more typically they began as vigilantes keeping the local peace for the
hacienda
Hacienda
Hacienda is a Spanish word for an estate. Some haciendas were plantations, mines, or even business factories. Many haciendas combined these productive activities...
, then gained independence of action and developed an anti-oligarchic public stance and finished by supporting an acquiescent establishment that included the Catholic Church.
Government structure
Since the caudillo typically held power by controlling a
patronage
Patronage
Patronage is the support, encouragement, privilege, or financial aid that an organization or individual bestows to another. In the history of art, arts patronage refers to the support that kings or popes have provided to musicians, painters, and sculptors...
network that brooked no rival structure, some caudillos took up an anti-clerical stand. Many of the caudillos used their newly gained power, which was unchecked because it was extra-constitutional, to promote their own wealth and interests. At the height of
caudillismo
, as in Venezuela, the national army was rendered superfluous by the personal armies of the caudillos: in 1872 Venezuela's federal troops were dismissed entirely.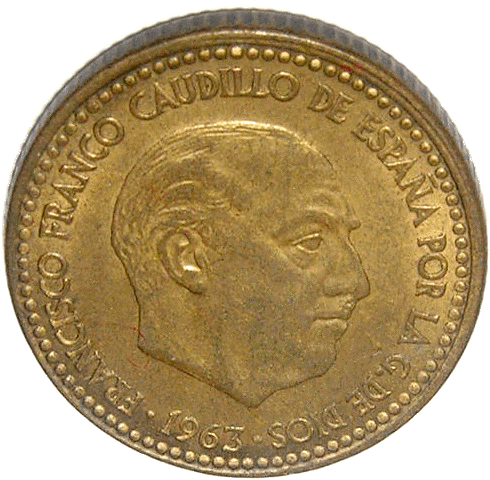 See also
Coronelismo

Coronelismo

Coronelismo was the system of machine politics in Brazil under the Old Republic . Known also as the "rule of the coronels", the term referred to the classic boss system under which the control of patronage was centralized in the hands of a locally dominant oligarch known as a coronel, particularly...



Dictator

Dictator

A dictator is a ruler who assumes sole and absolute power but without hereditary ascension such as an absolute monarch. When other states call the head of state of a particular state a dictator, that state is called a dictatorship...



Duce

Duce

Duce is an Italian title, derived from the Latin word dux, and cognate with duke. National Fascist Party leader Benito Mussolini was identified by Fascists as Il Duce of the movement and became a reference to the dictator position of Head of Government and Duce of Fascism of Italy was established...



Generalissimo

Generalissimo

Generalissimo and Generalissimus are military ranks of the highest degree, superior to Field Marshal and other five-star ranks.-Usage:...



Facundo

Facundo

Facundo: Civilization and Barbarism is a book written in 1845 by Domingo Faustino Sarmiento, a writer and journalist who became the seventh president of Argentina...



Führer

Führer

Führer , alternatively spelled Fuehrer in both English and German when the umlaut is not available, is a German title meaning leader or guide now most associated with Adolf Hitler, who modelled it on Benito Mussolini's title il Duce, as well as with Georg von Schönerer, whose followers also...



Bonapartist
The Dictator Novel
External links