 Castello Ursino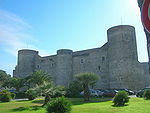 Castello Ursino
is a castle in
Catania
Catania
Catania is an Italian city on the east coast of Sicily facing the Ionian Sea, between Messina and Syracuse. It is the capital of the homonymous province, and with 298,957 inhabitants it is the second-largest city in Sicily and the tenth in Italy.Catania is known to have a seismic history and...
,
Sicily
Sicily
Sicily is a region of Italy, and is the largest island in the Mediterranean Sea. Along with the surrounding minor islands, it constitutes an autonomous region of Italy, the Regione Autonoma Siciliana Sicily has a rich and unique culture, especially with regard to the arts, music, literature,...
, southern
Italy
Italy
Italy , officially the Italian Republic languages]] under the European Charter for Regional or Minority Languages. In each of these, Italy's official name is as follows:;;;;;;;;), is a unitary parliamentary republic in South-Central Europe. To the north it borders France, Switzerland, Austria and...
.
History
Built circa from 1239 to 1250, it belonged to Emperor
Frederick II
Frederick II, Holy Roman Emperor
Frederick II , was one of the most powerful Holy Roman Emperors of the Middle Ages and head of the House of Hohenstaufen. His political and cultural ambitions, based in Sicily and stretching through Italy to Germany, and even to Jerusalem, were enormous...
, King of Sicily, and was considered impregnable at the time. In 1295, during the
Sicilian Vespers
Sicilian Vespers
The Sicilian Vespers is the name given to the successful rebellion on the island of Sicily that broke out on the Easter of 1282 against the rule of the French/Angevin king Charles I, who had ruled the Kingdom of Sicily since 1266. Within six weeks three thousand French men and women were slain by...
, the Parliament which declared deposed
James II of Aragon
James II of Aragon
James II , called the Just was the King of Sicily from 1285 to 1296 and King of Aragon and Valencia and Count of Barcelona from 1291 to 1327. In 1297 he was granted the Kingdom of Sardinia and Corsica...
as King of Sicily, replacing him with
Frederick III
Frederick III of Sicily
Frederick II was the regent and subsequently King of Sicily from 1295 until his death. He was the third son of Peter III of Aragon and served in the War of the Sicilian Vespers on behalf of his father and brothers, Alfonso and James...
, was held here. The following year it was captured by Robert of Anjou but was later again in Aragonese hands.
King Frederick III resided in the castle, as well as his successors
Peter II
Peter II of Sicily
Peter II was crowned King of Sicily in 1321 and gained full sovereignty when his father died in 1337....
,
Louis
Louis of Sicily
Louis the Child was King of Sicily from 1342 to 1355.Born in Catania, he was the son of Peter II, whom he succeeded at the age of five, and his mother was Elisabeth of Carinthia. His reign began under the joint regency of his uncle John, Duke of Randazzo, and his mother.He lived at Randazzo...
,
Frederick IV
Frederick III the Simple
Frederick III , called the Simple, was King of Sicily from 1355 to 1377. He was the second son of Peter II of Sicily and Elisabeth of Carinthia. He succeeded his brother Louis...
and Maria. Here the latter was kidnapped by Guglielmo Raimondo III Moncada to avoid her marriage with
Gian Galeazzo Visconti
Gian Galeazzo Visconti
Gian Galeazzo Visconti , son of Galeazzo II Visconti and Bianca of Savoy, was the first Duke of Milan and ruled the late-medieval city just before the dawn of the Renaissance...
(1392). King
Martin I
Martin I of Sicily
Martin I of Sicily , called "The Younger", was King of Sicily from 1390 to 1409.Martin's father was the future King Martin I of Aragon, and his grandparents were King Peter IV of Aragon and Eleanor of Sicily. In 1389/1390/February, 1392 he married Maria of Sicily, born in 1362/1363...
held also his court in the castle.
After the move of the capital away from Catania and the appearance of powder weapons, the castle lost its military role and was used as a prison. It is one of the few buildings in Catania to have survived the
earthquake of 1693
1693 Sicily earthquake
The 1693 Sicily earthquake refers to a powerful earthquake that struck parts of southern Italy, notably Sicily, Calabria and Malta on January 11, 1693 around 9 pm local time. This earthquake was preceded by a damaging foreshock on January 9th...
. The castle has a rectangular plan, with a large circular
tower
Tower
A tower is a tall structure, usually taller than it is wide, often by a significant margin. Towers are distinguished from masts by their lack of guy-wires....
at each corner and an open-air inner courtyard.
When the castle was first built, it was on a
cliff
Cliff
In geography and geology, a cliff is a significant vertical, or near vertical, rock exposure. Cliffs are formed as erosion landforms due to the processes of erosion and weathering that produce them. Cliffs are common on coasts, in mountainous areas, escarpments and along rivers. Cliffs are usually...
looking out to sea, however as the result of volcanic eruptions, and earthquakes, it is now a kilometre inland. The former
moat
Moat
A moat is a deep, broad ditch, either dry or filled with water, that surrounds a castle, other building or town, historically to provide it with a preliminary line of defence. In some places moats evolved into more extensive water defences, including natural or artificial lakes, dams and sluices...
too in the 17th century was filled with
lava
Lava
Lava refers both to molten rock expelled by a volcano during an eruption and the resulting rock after solidification and cooling. This molten rock is formed in the interior of some planets, including Earth, and some of their satellites. When first erupted from a volcanic vent, lava is a liquid at...
from an eruption by
Mount Etna
Mount Etna
Mount Etna is an active stratovolcano on the east coast of Sicily, close to Messina and Catania. It is the tallest active volcano in Europe, currently standing high, though this varies with summit eruptions; the mountain is 21 m higher than it was in 1981.. It is the highest mountain in...
. Its present location, surrounded by streets and shops in a typical Catania piazza, may strike some visitors as unusual.
Today the castle houses the Catania Civico Museum and a gallery of local art. On display in the museum are artifacts and artwork from the castle as well as the greater geographical area. These items date from the Classical era onward, representing the diverse influences throughout
Sicilian history
History of Sicily
The history of Sicily has seen Sicily usually controlled by greater powers—Roman, Vandal, Byzantine, Islamic, Norman, Hohenstaufen, Catalan, Spaniard—but also experiencing short periods of independence, as under the Greeks and later as the Emirate then Kingdom of Sicily...
.
External links