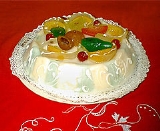 Cassata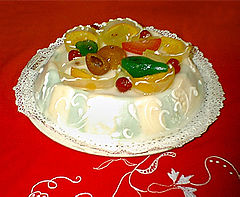 Cassata
or
Cassata siciliana
is a traditional sweet from the area of
Palermo
Palermo
Palermo is a city in Southern Italy, the capital of both the autonomous region of Sicily and the Province of Palermo. The city is noted for its history, culture, architecture and gastronomy, playing an important role throughout much of its existence; it is over 2,700 years old...
,
Sicily
Sicily
Sicily is a region of Italy, and is the largest island in the Mediterranean Sea. Along with the surrounding minor islands, it constitutes an autonomous region of Italy, the Regione Autonoma Siciliana Sicily has a rich and unique culture, especially with regard to the arts, music, literature,...
,
Italy
Italy
Italy , officially the Italian Republic languages]] under the European Charter for Regional or Minority Languages. In each of these, Italy's official name is as follows:;;;;;;;;), is a unitary parliamentary republic in South-Central Europe. To the north it borders France, Switzerland, Austria and...
.
Cassata
may also refer to a
Neapolitan ice cream
Neapolitan ice cream
Neapolitan ice cream is made up of blocks of chocolate, vanilla and strawberry ice cream side by side in the same container ....
containing candied or dried fruit and nuts.
The
Sicilian
Sicilian language
Sicilian is a Romance language. Its dialects make up the Extreme-Southern Italian language group, which are spoken on the island of Sicily and its satellite islands; in southern and central Calabria ; in the southern parts of Apulia, the Salento ; and Campania, on the Italian mainland, where it is...
word
cassata
did not derive from Arabic
qashatah
("bowl"), as is often claimed, but from
caseata
("cheese concoction"), according to John Dickie, who observes that
cassata
did not even signify a dessert until the late 17th century and did not take on anything like its current striped green-and-white form until the 18th century. "Cassata" he finds, "is the subject of an invented tradition based on the claim that its roots lie in the Muslim Middle Ages. Many other local food traditions purport to be as old."
Traditional
The
cassata siciliana
consists of round
sponge cake
Sponge cake
Sponge cake is a cake based on flour , sugar, and eggs, sometimes leavened with baking powder which has a firm, yet well aerated structure, similar to a sea sponge. A sponge cake may be produced by either the batter method, or the foam method. Typicially the batter method in the U.S. is known as a...
moistened with fruit juices or
liqueur
Liqueur
A liqueur is an alcoholic beverage that has been flavored with fruit, herbs, nuts, spices, flowers, or cream and bottled with added sugar. Liqueurs are typically quite sweet; they are usually not aged for long but may have resting periods during their production to allow flavors to marry.The...
and layered with
ricotta
Ricotta
Ricotta is an Italian dairy product made from sheep milk whey left over from the production of cheese. Although typically referred to as ricotta cheese, ricotta is not properly a cheese because it is not produced by coagulation of casein...
cheese, candied peel, and a
chocolate
Chocolate
Chocolate is a raw or processed food produced from the seed of the tropical Theobroma cacao tree. Cacao has been cultivated for at least three millennia in Mexico, Central and South America. Its earliest documented use is around 1100 BC...
or
vanilla
Vanilla
Vanilla is a flavoring derived from orchids of the genus Vanilla, primarily from the Mexican species, Flat-leaved Vanilla . The word vanilla derives from the Spanish word "", little pod...
filling similar to
cannoli
Cannoli
Cannoli are Sicilian pastry desserts. The singular is cannolo , meaning "little tube", with the etymology stemming from the Latin "canna", or reed. Cannoli originated in Sicily and are an essential part of Sicilian cuisine...
cream. It is covered with a shell of
marzipan
Marzipan
Marzipan is a confection consisting primarily of sugar and almond meal. Persipan is a similar, yet less expensive product, in which the almonds are replaced by apricot or peach kernels...
, pink and green pastel colored
icing
Icing (food)
Icing, also called frosting in the United States, is a sweet often creamy glaze made of sugar with a liquid such as water or milk, that is often enriched with ingredients such as butter, egg whites, cream cheese, or flavorings and is used to cover or decorate baked goods, such as cakes or cookies...
, and decorative designs. The cassata is finally topped with
candied fruit
Candied fruit
Candied fruit, also known as crystallized fruit or Glacé fruit, has been around since the 14th century. Whole fruit, smaller pieces of fruit, or pieces of peel, are placed in heated sugar syrup, which absorbs the moisture from within the fruit and eventually preserves it...
depicting cherries and slices of citrus fruit characteristic of Sicily.
Variations
Unlike the round, traditional shape some cassata are made in the form of a rectangle, square, or box. It's interesting to note that the word "box" in Italian is "cassa", although it's unlikely that the word "cassata" originated from this term.
When making a cassata, layers of
gelato
Gelato
Gelato is the italian word for ice cream and sorbet. Italians use the word gelato to mean a sweet treat that is served frozen. Indeed, gelato, just like ice cream, is made with Milk, cream, various sugars, flavoring including fresh fruit and nut purees....
(Italian ice cream) can be substituted for the layers of cheese, producing a dessert similar to an
ice cream cake
Ice cream cake
Ice cream cake is either ice cream in the shape of a cake or ice cream and cake layered together to make a single form. The idea of ice cream cake came from desserts composed of cream and cookies or cake called trifles, which first turned up in the Renaissance...
.
Cassata Catanese
, as it is often prepared in the Sicilian
province of Catania
Province of Catania
Catania is a province in the autonomous island region of Sicily in Italy. Its capital is the city of Catania.It has an area of 3,552 km², and a total population of 1,073,881 . There are 58 comunes in the province, see Comunes of the Province of Catania...
, is made similar to a
pie
Pie
A pie is a baked dish which is usually made of a pastry dough casing that covers or completely contains a filling of various sweet or savoury ingredients....
, containing a top and bottom crust, filled with ricotta, and baked in the oven.
The
Cassatella di Sant'Agata
(
pl.
cassatelle)--colloquially named Minni di Vergini, meaning "virgin breasts"--are a similar dessert, but made in a smaller, personal-serving size, with a candied cherry on top, and often a specifically green-coloured marzipan. It is typically made in
Catania
Catania
Catania is an Italian city on the east coast of Sicily facing the Ionian Sea, between Messina and Syracuse. It is the capital of the homonymous province, and with 298,957 inhabitants it is the second-largest city in Sicily and the tenth in Italy.Catania is known to have a seismic history and...
for the festival of Saint Agatha. The allusion to the female breast relates the specific torture Saint Agatha faced as a Catholic martyr.
In and around the city of Cleveland, Ohio (USA), the term "cassata cake" refers to a sponge cake soaked in syrup or rum, filled with strawberries and custard, and covered with sweetened whipped cream. The "Cleveland" casatta first appeared in the early 1920s at the local Italian bakery LaPuma Spumoni & Bakery. The children of the owners did not like traditional casatta cake, made with sweetened ricotta, chocolate chips, and candied fruit. Using what they had in the bakery, Tomasso LaPuma created what was to become the Cleveland casatta cake. The fifth generation of this bakery still continues to make the original version of this cake at their bakery of the same name on Cleveland's Eastside.