Calcareous grassland
Calcareous grassland
is an
ecosystem
Ecosystem
An ecosystem is a biological environment consisting of all the organisms living in a particular area, as well as all the nonliving , physical components of the environment with which the organisms interact, such as air, soil, water and sunlight....
associated with thin basic
soil
Soil
Soil is a natural body consisting of layers of mineral constituents of variable thicknesses, which differ from the parent materials in their morphological, physical, chemical, and mineralogical characteristics...
, such as that on
chalk
Chalk
Chalk is a soft, white, porous sedimentary rock, a form of limestone composed of the mineral calcite. Calcite is calcium carbonate or CaCO3. It forms under reasonably deep marine conditions from the gradual accumulation of minute calcite plates shed from micro-organisms called coccolithophores....
and
limestone
Limestone
Limestone is a sedimentary rock composed largely of the minerals calcite and aragonite, which are different crystal forms of calcium carbonate . Many limestones are composed from skeletal fragments of marine organisms such as coral or foraminifera....
downland
Downland
A downland is an area of open chalk hills. This term is especially used to describe the chalk countryside in southern England. Areas of downland are often referred to as Downs....
. Plants on calcareous grassland are typically short and
hardy
Hardy
-Canada:* Port Hardy, British Columbia* Hardy Island Marine Provincial Park, British Columbia-United States:* Hardy, Arkansas* Hardy, California* Hardy, Iowa* Hardy, Kentucky* Hardy, Nebraska* Hardy, Virginia* Hardy, Mississippi* Hardy County, West Virginia...
, and include
grass
Grass
Grasses, or more technically graminoids, are monocotyledonous, usually herbaceous plants with narrow leaves growing from the base. They include the "true grasses", of the Poaceae family, as well as the sedges and the rushes . The true grasses include cereals, bamboo and the grasses of lawns ...
es and herbs such as
clover
Clover
Clover , or trefoil, is a genus of about 300 species of plants in the leguminous pea family Fabaceae. The genus has a cosmopolitan distribution; the highest diversity is found in the temperate Northern Hemisphere, but many species also occur in South America and Africa, including at high altitudes...
. Calcareous grassland is an important habitat for insects, particularly butterflies, and is kept at a plagioclimax by
grazing
Grazing
Grazing generally describes a type of feeding, in which a herbivore feeds on plants , and also on other multicellular autotrophs...
animal
Animal
Animals are a major group of multicellular, eukaryotic organisms of the kingdom Animalia or Metazoa. Their body plan eventually becomes fixed as they develop, although some undergo a process of metamorphosis later on in their life. Most animals are motile, meaning they can move spontaneously and...
s, usually sheep and sometimes cattle. Rabbits used to play a part but due to the onset of Myxomatosis their numbers decreased so dramatically that they no longer have much of a grazing effect.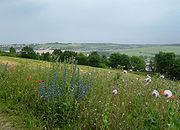 There are large areas of calcareous grassland in northwestern
Europe
Europe
Europe is, by convention, one of the world's seven continents. Comprising the westernmost peninsula of Eurasia, Europe is generally 'divided' from Asia to its east by the watershed divides of the Ural and Caucasus Mountains, the Ural River, the Caspian and Black Seas, and the waterways connecting...
, particularly areas of southern
England
England
England is a country that is part of the United Kingdom. It shares land borders with Scotland to the north and Wales to the west; the Irish Sea is to the north west, the Celtic Sea to the south west, with the North Sea to the east and the English Channel to the south separating it from continental...
, such as
Salisbury Plain
Salisbury Plain
Salisbury Plain is a chalk plateau in central southern England covering . It is part of the Southern England Chalk Formation and largely lies within the county of Wiltshire, with a little in Hampshire. The plain is famous for its rich archaeology, including Stonehenge, one of England's best known...
and the
North
North Downs
The North Downs are a ridge of chalk hills in south east England that stretch from Farnham in Surrey to the White Cliffs of Dover in Kent. The North Downs lie within two Areas of Outstanding Natural Beauty , the Surrey Hills and the Kent Downs...
and
South Downs
South Downs
The South Downs is a range of chalk hills that extends for about across the south-eastern coastal counties of England from the Itchen Valley of Hampshire in the west to Beachy Head, near Eastbourne, East Sussex, in the east. It is bounded on its northern side by a steep escarpment, from whose...
.
The
machair
Machair (geography)
The machair refers to a fertile low-lying grassy plain found on some of the north-west coastlines of Ireland and Scotland, in particular the Outer Hebrides...
forms a different kind of calcareous grassland, where fertile low-lying plains are formed on ground that is
calcium-rich
Calcium
Calcium is the chemical element with the symbol Ca and atomic number 20. It has an atomic mass of 40.078 amu. Calcium is a soft gray alkaline earth metal, and is the fifth-most-abundant element by mass in the Earth's crust...
due to shell sand (pulverised sea shells).