 Busscar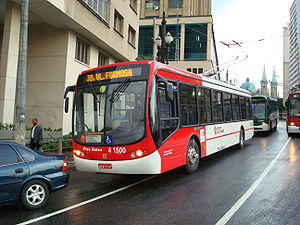 Busscar Ônibus S.A.
is a
Brazil
Brazil
Brazil , officially the Federative Republic of Brazil , is the largest country in South America. It is the world's fifth largest country, both by geographical area and by population with over 192 million people...
ian
bus
Bus
A bus is a road vehicle designed to carry passengers. Buses can have a capacity as high as 300 passengers. The most common type of bus is the single-decker bus, with larger loads carried by double-decker buses and articulated buses, and smaller loads carried by midibuses and minibuses; coaches are...
manufacturer that builds
coach
Coach (vehicle)
A coach is a large motor vehicle, a type of bus, used for conveying passengers on excursions and on longer distance express coach scheduled transport between cities - or even between countries...
es,
trolleybus
Trolleybus
A trolleybus is an electric bus that draws its electricity from overhead wires using spring-loaded trolley poles. Two wires and poles are required to complete the electrical circuit...
es, charter and tour buses. The company is based in
Joinville
Joinville
Joinville is a city in Santa Catarina State, in the Southern Region of Brazil. Joinville is Santa Catarina's largest city. In 2010, its population has reached approximately 520,000, many of whom are of German descent....
in the south of Brazil, where it has industrial premises that cover 1,000,000 m
2
, including a building of 84,000 m
2
.
History
The business has its origins in a firm created on September 17, 1946, when two brothers of Swedish descent, Augusto Bruno Nielson and Eugênio Nielson, opened a carpentry shop in Joinville, where they made wooden furniture, window frames and desks. One year later, Nielson & Brother remodeled the first bus body. In 1949 they built a bus body entirely in wood, attached to a large
Chevrolet
Chevrolet
Chevrolet , also known as Chevy , is a brand of vehicle produced by General Motors Company . Founded by Louis Chevrolet and ousted GM founder William C. Durant on November 3, 1911, General Motors acquired Chevrolet in 1918...
chassis
Chassis
A chassis consists of an internal framework that supports a man-made object. It is analogous to an animal's skeleton. An example of a chassis is the underpart of a motor vehicle, consisting of the frame with the wheels and machinery.- Vehicles :In the case of vehicles, the term chassis means the...
.
This was the starting point of a business that in a few decades would turn into an important bus manufacturing company in the worldwide market.
When Harold Nielson (Augusto's elder son) joined the company in 1956 it was en route to becoming the segment leader in Brazil, with innovative and revolutionary products, as the Diplomata model in 1961, the Urbanuss in 1987, the Panorâmico DD in 1998, and many others.
In 1990, the business, by then called
Carrocerias Nielson
, launched a new family of vehicles and changed its name to Busscar Ônibus, creating the mark that is known today in international and Brazilian markets.
Models
Transit buses
:
Busscar Urbanuss
Busscar Urbanuss Ecoss II
Busscar Urbanuss Pluss
Pluss Híbrido
Pluss Low Floor
Pluss Troley
Pluss Tour
Articulado Low Floor

Low-floor bus

A low-floor bus is a bus that has no steps between one or more entrances and part or all of the passenger cabin. Being low floor improves the accessibility of the bus for the public, particularly the elderly or infirm, or those with push chairs, and increasingly, those in wheelchairs.In the modern...



Coaches
:
Panorâmico DD
Jum Buss 400
Jum Buss 380
Jum Buss 360
Vissta Buss Elegance 360
Vissta Buss Elegance 380
Vissta Buss HI
Vissta Buss LO
El Buss 340
El Buss 320
Interbuss
Former models
Transit buses
:
Nielson Urbanus
Busscar Urbanus I
Busscar Urbanus II
Busscar Urbanus II SS
Coaches
:
Nielson Diplomata 2.40
Nielson Diplomata 2.50
Nielson Diplomata 2.60
Nielson Diplomata 310
Nielson Diplomata 330
Nielson Diplomata 350
Nielson Diplomata 380
El Buss 320 I
El Buss 340 I
El Buss 360 I
Jum Buss 340 I
Jum Buss 360 I
Jum Buss 380 I
Jum Buss 340T I
Jum Buss 360T I
Jum Buss 380T I
El Buss 320 II
El Buss 340 II
Jum Buss 360 II
Jum Buss 380 II
Jum Buss 400 Panorâmico
Interbus
Vissta Buss
External links