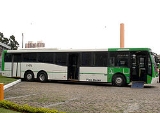 Low-floor bus
A
low-floor bus
is a
bus
Bus
A bus is a road vehicle designed to carry passengers. Buses can have a capacity as high as 300 passengers. The most common type of bus is the single-decker bus, with larger loads carried by double-decker buses and articulated buses, and smaller loads carried by midibuses and minibuses; coaches are...
that has no steps between one or more entrances and part or all of the passenger cabin. Being low floor improves the
accessibility
Accessibility
Accessibility is a general term used to describe the degree to which a product, device, service, or environment is available to as many people as possible. Accessibility can be viewed as the "ability to access" and benefit from some system or entity...
of the bus for the public, particularly the elderly or infirm, or those with
push chairs
Baby transport
Baby transport consists of devices for transporting and carrying infants. A "child carrier" or "baby carrier" is a device used to carry an infant or small child on the body of an adult...
, and increasingly, those in
wheelchair
Wheelchair
A wheelchair is a chair with wheels, designed to be a replacement for walking. The device comes in variations where it is propelled by motors or by the seated occupant turning the rear wheels by hand. Often there are handles behind the seat for someone else to do the pushing...
s.
In the modern context, "low floor bus" refers to a bus that is accessible from a certain minimum height of step from ground level, to distinguish it from some historical bus designs that did feature a level interior floor throughout but with a relatively
high-floor
High-floor
High-floor is an expression used to distinguish tram, light rail and other rail vehicles, along with buses and trolleybuses, built to formerly conventional design, from their counterparts of low-floor design....
height.
Many low-floor buses are low-floor over only a part of the bus, with the rear section raised to accommodate
powertrain
Powertrain
In a motor vehicle, the term powertrain or powerplant refers to the group of components that generate power and deliver it to the road surface, water, or air. This includes the engine, transmission, drive shafts, differentials, and the final drive...
equipment.