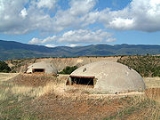 Bunker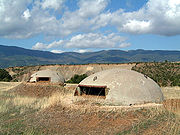 A military bunker is a hardened shelter, often buried partly or fully underground, designed to protect the inhabitants from falling bombs or other attacks. They were used extensively in
World War I
World War I
World War I , which was predominantly called the World War or the Great War from its occurrence until 1939, and the First World War or World War I thereafter, was a major war centred in Europe that began on 28 July 1914 and lasted until 11 November 1918...
,
World War II
World War II
World War II, or the Second World War , was a global conflict lasting from 1939 to 1945, involving most of the world's nations—including all of the great powers—eventually forming two opposing military alliances: the Allies and the Axis...
, and the
Cold War
Cold War
The Cold War was the continuing state from roughly 1946 to 1991 of political conflict, military tension, proxy wars, and economic competition between the Communist World—primarily the Soviet Union and its satellite states and allies—and the powers of the Western world, primarily the United States...
for weapons facilities, command and control centers, and storage facilities (for example, in the event of
nuclear war
Nuclear warfare
Nuclear warfare, or atomic warfare, is a military conflict or political strategy in which nuclear weaponry is detonated on an opponent. Compared to conventional warfare, nuclear warfare can be vastly more destructive in range and extent of damage...
).
Trench
This type of bunker is a small concrete structure, partly dug into the ground, which is usually a part of a trench system. Such bunkers give the defending soldiers better protection than the open
trench
Trench
A trench is a type of excavation or depression in the ground. Trenches are generally defined by being deeper than they are wide , and by being narrow compared to their length ....
and also include top protection against aerial attack (
grenade
Grenade
A grenade is a small explosive device that is projected a safe distance away by its user. Soldiers called grenadiers specialize in the use of grenades. The term hand grenade refers any grenade designed to be hand thrown. Grenade Launchers are firearms designed to fire explosive projectile grenades...
s,
mortar
Mortar (weapon)
A mortar is an indirect fire weapon that fires explosive projectiles known as bombs at low velocities, short ranges, and high-arcing ballistic trajectories. It is typically muzzle-loading and has a barrel length less than 15 times its caliber....
shell
Shell (projectile)
A shell is a payload-carrying projectile, which, as opposed to shot, contains an explosive or other filling, though modern usage sometimes includes large solid projectiles properly termed shot . Solid shot may contain a pyrotechnic compound if a tracer or spotting charge is used...
s). They also provide shelter against the weather.
The front bunker of a trench system usually includes
machine gun
Machine gun
A machine gun is a fully automatic mounted or portable firearm, usually designed to fire rounds in quick succession from an ammunition belt or large-capacity magazine, typically at a rate of several hundred rounds per minute....
s or mortars and forms a dominant shooting post. The rear bunkers are usually used as command posts or
Tactical Operations Center
Tactical Operations Center
A tactical operations center is a command post for police, paramilitary, or military operations. A TOC usually includes a small group of specially trained officers or military personnel who guide members of an active tactical element during a mission....
s (TOCs), for storage and as field
hospital
Hospital
A hospital is a health care institution providing patient treatment by specialized staff and equipment. Hospitals often, but not always, provide for inpatient care or longer-term patient stays....
s to attend to wounded soldiers.
Pillbox
Dug-in guard posts, normally equipped with loopholes through which to fire weapons, made from concrete are also known as "pillboxes". The originally jocular name arose from their perceived similarity to the cylindrical boxes in which medical pills were once sold. They are in effect a trench firing step hardened to protect against small-arms fire and grenades and raised to improve the field of fire.
Their use seems to have developed during the period of the
First World War
World War I
World War I , which was predominantly called the World War or the Great War from its occurrence until 1939, and the First World War or World War I thereafter, was a major war centred in Europe that began on 28 July 1914 and lasted until 11 November 1918...
when
defence in depth
Defence in depth
Defence in depth is a military strategy; it seeks to delay rather than prevent the advance of an attacker, buying time and causing additional casualties by yielding space...
using the
Machine Gun Corps
Machine Gun Corps
The Machine Gun Corps was a corps of the British Army, formed in October 1915 in response to the need for more effective use of machine guns on the Western Front in World War I. The Heavy Branch of the MGC was the first to use tanks in combat, and the branch was subsequently turned into the Tank...
was being perfected. However, most of those seen in Britain, having been left over from the
1940 invasion scare
British anti-invasion preparations of World War II
British anti-invasion preparations of the Second World War entailed a large-scale division of military and civilian mobilisation in response to the threat of invasion by German armed forces in 1940 and 1941. The British army needed to recover from the defeat of the British Expeditionary Force in...
, are designed for use by riflemen rather than for
machine gun
Machine gun
A machine gun is a fully automatic mounted or portable firearm, usually designed to fire rounds in quick succession from an ammunition belt or large-capacity magazine, typically at a rate of several hundred rounds per minute....
ners. The concrete nature of pillboxes means that they are a feature of prepared positions. They were probably first used in the
Hindenburg Line
Hindenburg Line
The Hindenburg Line was a vast system of defences in northeastern France during World War I. It was constructed by the Germans during the winter of 1916–17. The line stretched from Lens to beyond Verdun...
. This is likely to have been the time when they acquired their incongruous English name. The
Oxford English Dictionary
Oxford English Dictionary
The Oxford English Dictionary , published by the Oxford University Press, is the self-styled premier dictionary of the English language. Two fully bound print editions of the OED have been published under its current name, in 1928 and 1989. The first edition was published in twelve volumes , and...
s earliest record of the use of the word pillbox in connection with a defensive post is from 13 September 1917, after the German withdrawal onto the Hindenburg Line.
Pillboxes are often
camouflaged
Military camouflage
Military camouflage is one of many means of deceiving an enemy. In practice, it is the application of colour and materials to battledress and military equipment to conceal them from visual observation. The French slang word camouflage came into common English usage during World War I when the...
in order to conceal their location and to maximize the element of surprise. They may be part of a trench system, form an interlocking line of defence with other pillboxes by providing covering fire to each other (
defence in depth
Defence in depth
Defence in depth is a military strategy; it seeks to delay rather than prevent the advance of an attacker, buying time and causing additional casualties by yielding space...
), or they may be placed to guard strategic structures such as bridges and jetties.
Pillboxes for the
Czechoslovak border fortifications
Czechoslovak border fortifications
The Czechoslovak government built a system of border fortifications from 1935 to 1938 as a defensive countermeasure against the rising threat of Nazi Germany that later materialized in the German offensive plan called Fall Grün...
were built before WWII in
Czechoslovakia
Czechoslovakia
Czechoslovakia or Czecho-Slovakia was a sovereign state in Central Europe which existed from October 1918, when it declared its independence from the Austro-Hungarian Empire, until 1992...
in defence against the German invasion of Czechoslovakia. None of these were actually used against its intended enemy, since the German military met no resistance when invading the country because it was effectively forced to capitulate as a result of
Allies annexing
Munich Agreement
The Munich Pact was an agreement permitting the Nazi German annexation of Czechoslovakia's Sudetenland. The Sudetenland were areas along Czech borders, mainly inhabited by ethnic Germans. The agreement was negotiated at a conference held in Munich, Germany, among the major powers of Europe without...
the country's border areas and handing them to Germany, but some were used against the liberating Russian armies. The
Japan
Japan
Japan is an island nation in East Asia. Located in the Pacific Ocean, it lies to the east of the Sea of Japan, China, North Korea, South Korea and Russia, stretching from the Sea of Okhotsk in the north to the East China Sea and Taiwan in the south...
ese also made use of pillboxes in their fortifications of
Iwo Jima
Battle of Iwo Jima
The Battle of Iwo Jima , or Operation Detachment, was a major battle in which the United States fought for and captured the island of Iwo Jima from the Empire of Japan. The U.S...
.
Artillery
Many artillery installations, especially for
coastal artillery
Coastal artillery
Coastal artillery is the branch of armed forces concerned with operating anti-ship artillery or fixed gun batteries in coastal fortifications....
have historically been protected by extensive bunker systems. These usually housed the crews serving the weapons, protected the ammunition against counter-battery fire, and in numerous examples also protected the guns themselves, though this was usually a trade-off reducing their fields of fire. Artillery bunkers are some of the largest individual pre-Cold War bunkers. The walls of the 'Batterie Todt' gun installation in northern France were up to 3.5 m thick, and an underground bunker was constructed for the
V-3 cannon
V-3 cannon
The V-3 was a German World War II supergun working on the multi-charge principle whereby secondary propellant charges are fired to add velocity to a projectile....
.
Industrial
Typical industrial bunkers include mining sites, food storage areas, dumps for materials, data storage, and sometimes living quarters. They were built mainly by nations like Germany during World War II to protect important industries from aerial bombardment. Industrial bunkers are also built for control rooms of dangerous activities, e.g. tests of rocket engines or explosive experiments. They are also built in order to perform dangerous experiments in them or to store radioactive or explosive goods. Such bunkers also exist on non-military facilities.
Personal
When a house is purpose-built with a bunker, the normal location is a reinforced below-ground bathroom with large cabinets. One common design approach uses
fibre-reinforced plastic
Fibre-reinforced plastic
Fibre-reinforced plastic is a composite material made of a polymer matrix reinforced with fibres. The fibres are usually fibreglass, carbon, or aramid, while the polymer is usually an epoxy, vinylester or polyester thermosetting plastic...
shells. Compressive protection may be provided by inexpensive earth arching. The overburden is designed to shield from radiation. To prevent the shelter from floating to the surface in high groundwater, some designs have a skirt held-down with the overburden. It may also serve the purpose of a safe room.
Blast protection
Bunkers deflect the blast wave from nearby
explosion
Explosion
An explosion is a rapid increase in volume and release of energy in an extreme manner, usually with the generation of high temperatures and the release of gases. An explosion creates a shock wave. If the shock wave is a supersonic detonation, then the source of the blast is called a "high explosive"...
s to prevent ear and internal injuries to people sheltering in the bunker. While frame buildings collapse from as little as 3 psi (0.2
bar
Bar (unit)
The bar is a unit of pressure equal to 100 kilopascals, and roughly equal to the atmospheric pressure on Earth at sea level. Other units derived from the bar are the megabar , kilobar , decibar , centibar , and millibar...
) of
overpressure
Overpressure
The term Overpressure is applied to a pressure difference, relative to a "normal" or "ambient" pressure, in various circumstances:* In engineering: the pressure difference over the wall thickness of a pressure vessel...
, bunkers are regularly constructed to survive several hundred psi (over 10 bar). This substantially decreases the likelihood that a
bomb
Bomb
A bomb is any of a range of explosive weapons that only rely on the exothermic reaction of an explosive material to provide an extremely sudden and violent release of energy...
(other than a
bunker buster
Bunker buster
A bunker buster is a bomb designed to penetrate hardened targets or targets buried deep underground.-Germany:Röchling shells were bunker-busting artillery shells, developed by German engineer August Cönders, based on the theory of increasing sectional density to improve penetration.They were tested...
) can harm the structure.
The basic plan is to provide a structure that is very strong in physical compression. The most common purpose-built structure is a buried, steel
reinforced concrete
Reinforced concrete
Reinforced concrete is concrete in which reinforcement bars , reinforcement grids, plates or fibers have been incorporated to strengthen the concrete in tension. It was invented by French gardener Joseph Monier in 1849 and patented in 1867. The term Ferro Concrete refers only to concrete that is...
vault
Vault (architecture)
A Vault is an architectural term for an arched form used to provide a space with a ceiling or roof. The parts of a vault exert lateral thrust that require a counter resistance. When vaults are built underground, the ground gives all the resistance required...
or
arch
Arch
An arch is a structure that spans a space and supports a load. Arches appeared as early as the 2nd millennium BC in Mesopotamian brick architecture and their systematic use started with the Ancient Romans who were the first to apply the technique to a wide range of structures.-Technical aspects:The...
. Most expedient (makeshift) blast shelters are civil engineering structures that contain large buried tubes or pipes such as sewage or rapid transit tunnels. Improvised purpose-built blast shelters normally use earthen arches or vaults. To form these, a narrow (1-2 metre) flexible tent of thin wood is placed in a deep trench (usually the apex is below grade), and then covered with cloth or plastic, and then covered with 1–2 metres of tamped earth.
A large ground shock can move the walls of a bunker several centimetres in a few milliseconds. Bunkers designed for large ground shocks must have sprung internal buildings to protect inhabitants from the walls and floors.
Nuclear protection
Nuclear bunkers must also cope with the underpressure that lasts for several seconds after the
shock wave
Shock wave
A shock wave is a type of propagating disturbance. Like an ordinary wave, it carries energy and can propagate through a medium or in some cases in the absence of a material medium, through a field such as the electromagnetic field...
passes, and block
radiation
Radiation
In physics, radiation is a process in which energetic particles or energetic waves travel through a medium or space. There are two distinct types of radiation; ionizing and non-ionizing...
. Usually these features are easy to provide. The overburden (
soil
Soil
Soil is a natural body consisting of layers of mineral constituents of variable thicknesses, which differ from the parent materials in their morphological, physical, chemical, and mineralogical characteristics...
) and structure provide substantial radiation shielding, and the negative pressure is usually only 1/3 of the overpressure.
General features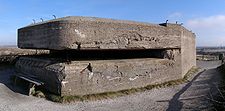 The doors must be at least as strong as the walls. The usual design is a trap-door, to minimize the size and expense. To reduce the weight, the door is normally constructed of steel, with a fitted steel lintel and frame. Very thick wood also serves, and is more resistant to heat because it chars rather than melts. If the door is on the surface and will be exposed to the blast wave, the edge of the door is normally counter-sunk in the frame so that the blast wave or a reflection cannot lift the edge. A bunker should have two doors. Door shafts may double as ventilation shafts to reduce digging.
In bunkers inhabited for prolonged periods, large amounts of
ventilation
Ventilation (architecture)
Ventilating is the process of "changing" or replacing air in any space to provide high indoor air quality...
or
air conditioning
Air conditioning
An air conditioner is a home appliance, system, or mechanism designed to dehumidify and extract heat from an area. The cooling is done using a simple refrigeration cycle...
must be provided in order to prevent ill effects of heat. In bunkers designed for war-time use, manually-operated ventilators must be provided because supplies of electricity or gas are unreliable. One of the most efficient manual ventilator designs is the
Kearny Air Pump
Kearny Air Pump
The Kearny Air Pump is an expedient air pump used to ventilate a shelter. The design is such that a person with normal mechanical skills can construct and operate one. It is usually human powered and employed during a time of crisis...
. Ventilation openings in a bunker must be protected by
blast valve
Blast valve
A blast valve is used to protect a shelter, such as a fallout shelter or bunker, from the effects of sudden outside air pressure changes. A nuclear weapon creates a shock wave, which may produce sudden pressure changes of more than an atmosphere even several miles or kilometers from the detonation...
s. A blast valve is closed by a shock wave, but otherwise remains open. One form of expedient blast valve is tyre-treads nailed or bolted to frames strong enough to resist the maximum overpressure.
If a bunker is in a built-up area, it may have to include water-cooling or an immersion tub and breathing tubes to protect inhabitants from fire storms.
Bunkers must also protect the inhabitants from normal weather, including rain, summer heat and winter cold. A normal form of rainproofing is to place plastic film on the bunker's main structure before burying it. Thick (5-mil or 0.13 mm), inexpensive
polyethylene
Polyethylene
Polyethylene or polythene is the most widely used plastic, with an annual production of approximately 80 million metric tons...
film serves quite well, because the overburden protects it from degradation by wind and sunlight.
Countermeasures
Bunkers can be destroyed with powerful explosives and bunkerbusting warheads. The crew of a pillbox can be killed with
flamethrower
Flamethrower
A flamethrower is a mechanical device designed to project a long controllable stream of fire.Some flamethrowers project a stream of ignited flammable liquid; some project a long gas flame. Most military flamethrowers use liquids, but commercial flamethrowers tend to use high-pressure propane and...
s. Complex, well-built and well-protected fortifications are often vulnerable to attacks on access points. If the exits to the surface can be closed off, those manning the facility can be trapped. The fortification can then be bypassed.
Famous installations
Famous bunkers include the post-World War I
Maginot Line
Maginot Line
The Maginot Line , named after the French Minister of War André Maginot, was a line of concrete fortifications, tank obstacles, artillery casemates, machine gun posts, and other defences, which France constructed along its borders with Germany and Italy, in light of its experience in World War I,...
on the French eastern border and
Czechoslovak border fortifications
Czechoslovak border fortifications
The Czechoslovak government built a system of border fortifications from 1935 to 1938 as a defensive countermeasure against the rising threat of Nazi Germany that later materialized in the German offensive plan called Fall Grün...
mainly on the northern Czech border facing Germany (but to lesser extent all around),
Fort Eben-Emael
Fort Eben-Emael
Fort Eben-Emael is an inactive Belgian fortress located between Liège and Maastricht, on the Belgian-Dutch border, near the Albert Canal, and designed to defend Belgium from a German attack across the narrow belt of Dutch territory in the region. Constructed in 1931–1935, it was reputed to be...
in Belgium, World War II
Führerbunker
Führerbunker
The Führerbunker was located beneath Hitler's New Reich Chancellery in Berlin, Germany. It was part of a subterranean bunker complex which was constructed in two major phases, one part in 1936 and the other in 1943...
, the V-weapon installations in Germany (
Mittelwerk
Mittelwerk
Central Works was a World War II factory that used Mittelbau-Dora forced labor in 2 main tunnels in the Kohnstein. The underground facility produced V-2 rockets, V-1 flying bombs, and other Nazi weapons.-Mittelwerk GmbH:...
) & France (e.g.
La Coupole
La Coupole
La Coupole , codenamed Bauvorhaben 21 , Schotterwerk Nordwest or Wizernes, is a Second World War bunker complex built by the forces of Nazi Germany between 1943 and 1944 to serve as a launch base for V-2 rockets against London and southern England...
, and the Blockhaus d'Éperlecques) and the Cold War installations in the
United States
United States
The United States of America is a federal constitutional republic comprising fifty states and a federal district...
(
Cheyenne Mountain
Cheyenne Mountain
Cheyenne Mountain is a mountain located just outside the southwest side of Colorado Springs, Colorado, U.S., and is home to the Cheyenne Mountain Air Force Station and its Cheyenne Mountain Directorate, formerly known as the Cheyenne Mountain Operations Center .Throughout the Cold War and...
,
Site R
Site R
The Raven Rock Mountain Complex is a United States government facility on Raven Rock, a mountain in the U.S. state of Pennsylvania. It is located in Liberty Township, Adams County, about east of Waynesboro, Pennsylvania, and north-northeast of Camp David, Maryland. It is also called the Raven...
, and
The Greenbrier
The Greenbrier
The Greenbrier is a Forbes four-star and AAA Five Diamond Award winning luxury resort located just outside the town of White Sulphur Springs in Greenbrier County, West Virginia, United States....
), United Kingdom (Burlington), Sweden (
Boden Fortress
Boden Fortress
Boden Fortress is a modern fortress consisting of several major and minor forts and fortifications surrounding the city of Boden, Norrbotten, in northern Sweden. The fortress was originally intended to stop or delay attacks from the east or coastal assaults, which at the time of construction meant...
) and Canada (
Diefenbunker
Diefenbunker
Emergency Government Headquarters are nuclear fallout bunkers built by the Government of Canada at the height of the Cold War during the infancy of the ICBM threat...
).
The
Soviet Union
Soviet Union
The Soviet Union , officially the Union of Soviet Socialist Republics , was a constitutionally socialist state that existed in Eurasia between 1922 and 1991....
maintained huge bunkers (one of the secondary uses of the very deeply dug Moscow Subway system was as nuclear shelters). A number of facilities were constructed in
China
China
Chinese civilization may refer to:* China for more general discussion of the country.* Chinese culture* Greater China, the transnational community of ethnic Chinese.* History of China* Sinosphere, the area historically affected by Chinese culture...
, such as
Beijing
Beijing
Beijing , also known as Peking , is the capital of the People's Republic of China and one of the most populous cities in the world, with a population of 19,612,368 as of 2010. The city is the country's political, cultural, and educational center, and home to the headquarters for most of China's...
's
Underground City
Underground City (Beijing)
The Underground City , also known as Dixia Cheng, is a bomb shelter comprising a network of tunnels located beneath Beijing, China, which has since been transformed into a tourist attraction. It has been called the Underground Great Wall because it was built for the purpose of military defense...
and
Underground Project 131
Underground Project 131
Underground Project 131 is a system of tunnels in China's Hubei province constructed in the late 1960s and the early 1970s to accommodate the Chinese military command headquarters in case of a nuclear war...
in
Hubei
Hubei
' Hupeh) is a province in Central China. The name of the province means "north of the lake", referring to its position north of Lake Dongting...
; in
Albania
Albania
Albania , officially known as the Republic of Albania , is a country in Southeastern Europe, in the Balkans region. It is bordered by Montenegro to the northwest, Kosovo to the northeast, the Republic of Macedonia to the east and Greece to the south and southeast. It has a coast on the Adriatic Sea...
,
Enver Hoxha
Enver Hoxha
Enver Halil Hoxha was a Marxist–Leninist revolutionary andthe leader of Albania from the end of World War II until his death in 1985, as the First Secretary of the Party of Labour of Albania...
dotted the country with
hundreds of thousands of bunkers
Bunkers in Albania
Bunkers in Albania were built in the Socialist People's Republic of Albania during the rule of Enver Hoxha, to avert possible external invasion. The pill box bunkers are still prominent in the landscape of Albania...
.
External links
BunkerBlog: All about German fortifications 1933-1945
Bunkersite.com: About bunkers built by the Germans during 1933-1945 in the whole of Europe