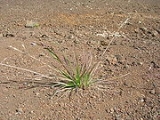 Bromus
Bromus
is a large
genus
Genus
In biology, a genus is a low-level taxonomic rank used in the biological classification of living and fossil organisms, which is an example of definition by genus and differentia...
of the grass
family
Family (biology)
In biological classification, family is* a taxonomic rank. Other well-known ranks are life, domain, kingdom, phylum, class, order, genus, and species, with family fitting between order and genus. As for the other well-known ranks, there is the option of an immediately lower rank, indicated by the...
(
Poaceae
Poaceae
The Poaceae is a large and nearly ubiquitous family of flowering plants. Members of this family are commonly called grasses, although the term "grass" is also applied to plants that are not in the Poaceae lineage, including the rushes and sedges...
). Estimates in the scientific literature of the number of species have ranged from 100 to 400, but plant taxonomists currently recognize around 160–170 species. They are commonly known as
bromes
,
brome grasses
,
cheat grasses
or
chess grasses
.
Bromus
is part of the cool-season grass lineage (subfamily Pooideae), which includes about 3300 species. Within Pooideae,
Bromus
is classified in tribe Bromeae (it is the only genus in the tribe).
Bromus
is closely related to the wheat-grass lineage (tribe Triticeae) that includes such economically important genera as
Triticum
(wheat),
Hordeum
Hordeum
Hordeum is a genus of about 30 species of annual and perennial grasses, native throughout the temperate Northern Hemisphere, temperate South America, and also South Africa....
(barley) and
Secale
Secale
Secale is a genus of grasses in the Triticeae tribe. The most known member is rye .Other species include:*Secale montanum Guss.*Secale sylvestre Host....
(rye).
Description
Bromus
species occur in many habitats in
temperate
Temperate
In geography, temperate or tepid latitudes of the globe lie between the tropics and the polar circles. The changes in these regions between summer and winter are generally relatively moderate, rather than extreme hot or cold...
regions of the world, including
America
Americas
The Americas, or America , are lands in the Western hemisphere, also known as the New World. In English, the plural form the Americas is often used to refer to the landmasses of North America and South America with their associated islands and regions, while the singular form America is primarily...
,
Eurasia
Eurasia
Eurasia is a continent or supercontinent comprising the traditional continents of Europe and Asia ; covering about 52,990,000 km2 or about 10.6% of the Earth's surface located primarily in the eastern and northern hemispheres...
,
Australia
Australia
Australia , officially the Commonwealth of Australia, is a country in the Southern Hemisphere comprising the mainland of the Australian continent, the island of Tasmania, and numerous smaller islands in the Indian and Pacific Oceans. It is the world's sixth-largest country by total area...
, and
Africa
Africa
Africa is the world's second largest and second most populous continent, after Asia. At about 30.2 million km² including adjacent islands, it covers 6% of the Earth's total surface area and 20.4% of the total land area...
. There are considerable morphological differences between some species, while the
morphological
Morphology (biology)
In biology, morphology is a branch of bioscience dealing with the study of the form and structure of organisms and their specific structural features....
differences between others (usually those species that are closely related) are subtle and difficult to distinguish. As such, the
taxonomy
Taxonomy
Taxonomy is the science of identifying and naming species, and arranging them into a classification. The field of taxonomy, sometimes referred to as "biological taxonomy", revolves around the description and use of taxonomic units, known as taxa...
of the genus is complicated.
Bromus
is distinguished from other grass genera by a combination of several
morphological
Morphology (biology)
In biology, morphology is a branch of bioscience dealing with the study of the form and structure of organisms and their specific structural features....
characteristics, including leaf sheaths that are closed (connate) for most of their length, awns that are usually inserted subapically, and hairy appendages on the
ovary
Ovary (plants)
In the flowering plants, an ovary is a part of the female reproductive organ of the flower or gynoecium. Specifically, it is the part of the pistil which holds the ovule and is located above or below or at the point of connection with the base of the petals and sepals...
. The leaf blades and sheaths, which comprise the
leaves
Leaf
A leaf is an organ of a vascular plant, as defined in botanical terms, and in particular in plant morphology. Foliage is a mass noun that refers to leaves as a feature of plants....
can be hairless, sparsely hairy or hairy. The
inflorescence
Inflorescence
An inflorescence is a group or cluster of flowers arranged on a stem that is composed of a main branch or a complicated arrangement of branches. Strictly, it is the part of the shoot of seed plants where flowers are formed and which is accordingly modified...
is a dense or open
panicle
Panicle
A panicle is a compound raceme, a loose, much-branched indeterminate inflorescence with pedicellate flowers attached along the secondary branches; in other words, a branched cluster of flowers in which the branches are racemes....
, usually drooping or nodding, sometimes spreading (as in Japanese Brome,
B. japonicus
).
Ecology
The
caterpillar
Caterpillar
Caterpillars are the larval form of members of the order Lepidoptera . They are mostly herbivorous in food habit, although some species are insectivorous. Caterpillars are voracious feeders and many of them are considered to be pests in agriculture...
s of some
Lepidoptera
Lepidoptera
Lepidoptera is a large order of insects that includes moths and butterflies . It is one of the most widespread and widely recognizable insect orders in the world, encompassing moths and the three superfamilies of butterflies, skipper butterflies, and moth-butterflies...
use
Bromus
as a foodplant, e.g. the
Chequered Skipper
Chequered Skipper
The Chequered Skipper or Arctic Skipper , is a butterfly of the Hesperiidae family.-Description:This butterfly has a wingspan of 29 to 31 mm. The uppersides are a dark brown with a dusting of orange scales at the base of the wings and golden spots, giving it its English name of Chequered Skipper...
(
Carterocephalus palaemon
).
Bromus
species are generally considered to have little economic value to humans, at least in present times. The Tarahumara Indians in northern Mexico use the grains of some native Bromus species to aid fermentation in making one of their cultural beverages. As names like
Bromus fibrosus
, Poverty Brome (
Bromus sterilis
Bromus sterilis
-Introduction:Bromus sterilis is an annual or biennial species of bromegrass known as barren brome, poverty brome, and sterile brome.-Range:...
) or Ripgut Brome attest, some species are not very useful as
fodder
Fodder
Fodder or animal feed is any agricultural foodstuff used specifically to feed domesticated livestock such as cattle, goats, sheep, horses, chickens and pigs. Most animal feed is from plants but some is of animal origin...
because their leaves
sclerotize
Sclerosis (medicine)
In medicine, sclerosis refers to the stiffening of a structure, usually caused by a replacement of the normal organ-specific tissue with connective tissue.Types include:...
quickly and may even be harmful to livestock due to the high silica content. Others, such as meadow brome (
Bromus riparius
), native to parts of Russia, are planted as forage in the Great Plains of North America. Brome grasses are not usually grown as
ornamental plant
Ornamental plant
Ornamental plants are plants that are grown for decorative purposes in gardens and landscape design projects, as house plants, for cut flowers and specimen display...
s due to most species' nondescript appearance. Some are useful to prevent
erosion
Erosion
Erosion is when materials are removed from the surface and changed into something else. It only works by hydraulic actions and transport of solids in the natural environment, and leads to the deposition of these materials elsewhere...
but such use must be cautiously controlled as most
Bromus
have the ability to spread, becoming invasive weeds. Cheatgrass (
Bromus tectorum
) is a particularly troublesome weed across much of western North America (from southern British Columbia to California.)
Taxonomy and systematics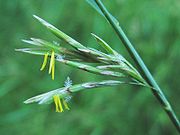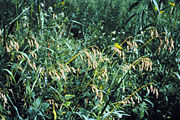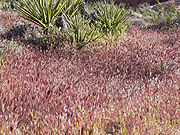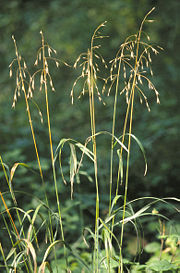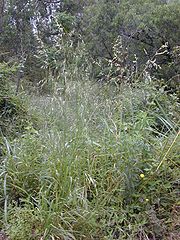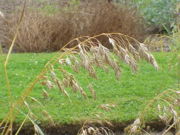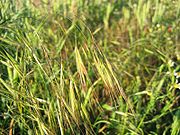 Taxonomists
Taxonomy
Taxonomy is the science of identifying and naming species, and arranging them into a classification. The field of taxonomy, sometimes referred to as "biological taxonomy", revolves around the description and use of taxonomic units, known as taxa...
have generated various classification schemes to reflect the morphological variation that is seen in
Bromus
. In North America, five morphologically similar groups of species, called
section
Section (botany)
In botany, a section is a taxonomic rank below the genus, but above the species. The subgenus, if present, is higher than the section, and the rank of series, if present, is below the section. Sections are typically used to help organise very large genera, which may have hundreds of species...
s, are generally recognized:
Bromus
,
Genea
Genea
Genea is a genus of truffle-like fungi in the family Pyronemataceae. There are about 32 species in the genus that are found in North America and Europe...
,
Ceratochloa
,
Neobromus
, and
Bromopsis
. Sections
Bromus
and
Genea
are native to the Old World (Eurasia), but many species are introduced into North America. Sections
Bromopsis
,
Neobromus
, and
Ceratochloa
have several native species in North America.
Selected species
Bromus aleutensis – Aleutian Brome
Bromus alopecuros

Bromus alopecuros

Bromus alopecuros is a species of brome grass known by the common name weedy brome.It is native to the Mediterranean Basin, and it is known in other places, including Australia, South Africa, and California, as an introduced species and sometimes a weed. It is an annual grass producing stems up to...


– Weedy Brome
Bromus anomalus – Nodding Brome
Bromus arenarius

Bromus arenarius

Bromus arenarius is a species of brome grass known by the common name Australian brome.It is native to much of Australia, and it is known in New Zealand and parts of North America as an introduced species. It is an annual grass growing up to 60 centimeters tall. Its narrow leaves are coated in soft...


– Australian Brome
Bromus arizonicus

Bromus arizonicus

Bromus arizonicus is a species of brome grass known by the common name Arizona brome.It is native to the Southwestern United States, California, and Baja California, where it grows in many types of grassy valley and desert habitat. It is an annual grass growing 40 to 90 centimeters tall with an...


– Arizona Brome
Bromus arvensis – Field Brome, Schrader's Brome
Bromus benekii – Lesser Hairy Brome
Bromus berteroanus – Chilean Chess (B. berterianus is a common lapsus

Lapsus

A lapsus is an involuntary mistake made while writing or speaking. According to Freud's early psychoanalytic theory, a lapsus represents a missed deed that hides an unconscious desire....


)
Bromus biebersteinii – Meadow Brome
Bromus briziformis

Bromus briziformis

Bromus briziformis is a species of brome grass known by the common name rattlesnake brome.It is native to Eurasia and it can be found in North America as an introduced species. It is an annual grass growing up to 70 centimeters tall. The inflorescence is an open arrangement of nodding, flat spikelets...


– Rattlesnake Brome, Quake Grass.
Bromus bromoideus

Bromus bromoideus

Bromus bromoideus is a species of grass in the genus Bromus.It was found in the calcareous meadows of the provinces of Liege and Luxembourg in Belgium, notably around the towns of Rochefort, Beauraing and Comblain-au-Pont, where it was first discovered in 1821...


– Ardennes Brome, Brome of the Ardennes
Bromus carinatus

Bromus carinatus

Bromus carinatus is a species of brome grass known by the common names California brome and mountain brome.It is native to western North America from Alaska to northern Mexico, where it can be found in many types of habitat...


– California Brome, Mountain Brome
Bromus catharticus

Bromus catharticus

Bromus catharticus is a species of brome grass known by the common name rescuegrass.It is native to South America but it can be found in other places, including Europe, Australia and North America, as an introduced species. It is an annual or perennial grass growing up to a meter in height...


– Rescuegrass, Australian Oat
Bromus ciliatus

Bromus ciliatus

Bromus ciliatus is a species of brome grass known by the common name fringed brome.It is native to most of North America, including most of Canada, most of the United States except for some portions of the South, and northern Mexico. It is a plant of many habitats, including temperate coniferous...


– Fringed Brome (syn. B. canadensis)

Bromus ciliatus subsp. ciliatus
Bromus ciliatus subsp. richardsonii

Bromus commutatus

Bromus commutatus

Meadow Brome is a species of plant in the grass family Poaceae. In the United States it is known as Hairy Chess.-Characteristics:...


– Meadow Brome
Bromus danthoniae
Bromus diandrus

Bromus diandrus

Bromus diandrus is a species of grass known by the common names great brome and "ripgut brome".This is a brome grass which is native to the Mediterranean but has been introduced to much of the rest of the world...


– Great Brome, "Ripgut Brome"
Bromus erectus

Bromus erectus

Bromus erectus, commonly known as either upright brome or meadow brome, is a dense, course, tufted perennial grass. It can grow to 120cm. Like many brome grasses the plant is hairy.-Description:...


– Upright Brome, Erect Brome
Bromus exaltatus
Bromus fibrosus
Bromus frigidus
Bromus frondosus – Weeping Brome
Bromus grandis

Bromus grandis

Bromus grandis is a species of brome grass known by the common name tall brome.It is native to California and Baja California, where it grows in many types of habitat from forest to coastal scrub. It is a perennial grass growing up to 1.5 meters tall. It has hairy leaves and open inflorescences of...


– Tall Brome
Bromus grossus – Great Rye Brome, Whiskered Brome
Bromus hordeaceus

Bromus hordeaceus

Bromus hordeaceus, the Soft Brome, is an annual or biennial species of plant in the true grass family . It is also known in North America as Bull Grass, Soft Cheat or Soft Chess....


– Soft Brome, Bull Grass, Soft Cheat, Soft Chess

Bromus hordeaceus ssp. ferronii – Least Soft Brome
Bromus hordeaceus ssp. hordeaceus
Bromus hordeaceus ssp. molliformis
Bromus hordeaceus ssp. pseudothominii
Bromus hordeaceus ssp. thominei – Lesser Soft Brome

Bromus inermis

Bromus inermis

Bromus inermis is a species of the true grass family . This bunchgrass is native to Europe- Common names :* Arctic brome – English [Bromus inermis subsp. pumpellianus]* Austrian bromegrass – English [Bromus inermis subsp. inermis]...


– Hungarian Brome

Bromus inermis ssp. inermis – Awnless Brome

Bromus inermis ssp. inermis var. divaricatus
Bromus inermis ssp. inermis var. inermis

Bromus inermis ssp. pumpellianus – Pumpelly's Brome

Bromus inermis ssp. pumpellianus var. arcticus
Bromus inermis ssp. pumpellianus var. pumpellianus

Bromus interruptus

Bromus interruptus

Bromus interruptus, commonly known as the interrupted brome, is a plant in the true grass family.It is endemic to southern and central England, but is believed to have been extinct in the wild since 1972...


– Interrupted Brome
Bromus japonicus – Japanese Brome
Bromus kalmii

Bromus kalmii

Bromus kalmii, Arctic brome and Prairie brome, is a species of brome grass. It is a native bunchgrass in the North-central and Northeastern United States, the Great Lakes region, and eastern Canada.-External links:**...


– Kalm's Brome, Prairie Brome
Bromus kinabaluensis
Bromus koeieanus
Bromus kopetdagensis
Bromus laevipes

Bromus laevipes

Bromus laevipes is a species of brome grass known by the common name Chinook brome.It is native to western North America from Washington to Baja California, where it grows in many types of habitat. It is a perennial grass which may exceed 1.5 meters in height. The leaf blades may be nearly 2...


– Chinook Brome
Bromus lanatipes – Woolly Brome
Bromus lanceolatus – Mediterranean Brome
Bromus latiglumis – Earlyleaf Brome
Bromus lepidus – Slender Soft Brome
Bromus luzonensis – Hoary Brome
Bromus macrostachys
Bromus madritensis

Bromus madritensis

Bromus madritensis is a species of brome grass known by the common name compact brome.It is native to Europe but it has been widely introduced elsewhere, such as North America, where it is found in many areas. It is now known nearly worldwide...


– Compact Brome

Bromus madritensis ssp. rubens – Red Brome, Foxtail Brome

Bromus mango – Mango Brome
Bromus marginatus – Mountain Brome
Bromus maritimus

Bromus maritimus

Bromus maritimus is a species of brome grass known by the common names maritime brome and seaside brome. It is native to the coastal areas of California and Oregon....


– Seaside Brome
Bromus mucroglumis – Sharpglume Brome
Bromus nottowayanus – Nottoway Valley Brome
Bromus orcuttianus

Bromus orcuttianus

Bromus orcuttianus is a species of brome grass known by the common name Orcutt's brome.It is native to western North America from Washington to Baja California, where it grows in many types of habitat....


– Orcutt's Brome
Bromus pacificus – Pacific Brome
Bromus polyanthus – Great Basin Brome

Bromus polyanthus ssp. paniculatus
Bromus polyanthus ssp. polyanthus

Bromus porteri – Porter Brome
Bromus pseudolaevipes – Coast Range Brome
Bromus pseudosecalinus – False Rye Brome
Bromus pseudothominii – Hybrid Soft Brome
Bromus pubescens – Hairy Woodland Brome
Bromus ramosus – Hairy Brome

Bromus ramosus ssp. benekii – Lesser Hairy Brome
Bromus ramosus ssp. ramosus – Smooth Brome

Bromus rigidus – Stiff Brome, "Ripgut Brome"
Bromus scoparius – Broom Brome
Bromus secalinus

Bromus secalinus

Bromus secalinus is a species of bromegrass known as rye brome.This grass is native to Eurasia but is well-known in many other parts of the world where it has been introduced. It is a noxious weed throughout much of North America. This is an annual grass reaching maximum heights of one half to one...


– Rye Brome, Chess grass, Cheat Grass
Bromus sitchensis – Alaska Brome
Bromus squarrosus – Rough Brome, Corn Brome
Bromus stamineus – Roadside Brome
Bromus sterilis

Bromus sterilis

-Introduction:Bromus sterilis is an annual or biennial species of bromegrass known as barren brome, poverty brome, and sterile brome.-Range:...


– Barren Brome, Poverty Brome, Sterile Brome Grass
Bromus suksdorfii – Suksdorf's Brome
Bromus tectorum – Drooping Brome, Downy Brome
Bromus texensis – Texas Brome
Bromus vulgaris

Bromus vulgaris

Bromus vulgaris is a species of brome grass known by the common name Columbia brome.It is native to western North America from British Columbia to California to Wyoming, where it grows in many types of habitat, including temperate coniferous forest. It is a perennial grass which may reach 1.1...


– Columbia Brome
Bromus willdenowii – Rescue Brome
External links