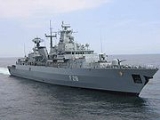 Brandenburg class frigate
The
F123 Brandenburg class
is a class of
German
Germany
Germany , officially the Federal Republic of Germany , is a federal parliamentary republic in Europe. The country consists of 16 states while the capital and largest city is Berlin. Germany covers an area of 357,021 km2 and has a largely temperate seasonal climate...
frigate
Frigate
A frigate is any of several types of warship, the term having been used for ships of various sizes and roles over the last few centuries.In the 17th century, the term was used for any warship built for speed and maneuverability, the description often used being "frigate-built"...
. They were ordered by the
German Navy
German Navy
The German Navy is the navy of Germany and is part of the unified Bundeswehr .The German Navy traces its roots back to the Imperial Fleet of the revolutionary era of 1848 – 52 and more directly to the Prussian Navy, which later evolved into the Northern German Federal Navy...
in June 1989, and then completed and commissioned between 1994 and 1996 to replace the
Hamburg class destroyer
Hamburg class destroyer
The Type 101 Hamburg class was the only class of destroyers built in post-war Germany. They were specifically designed to operate in the Baltic Sea, where armament and speed are more important than seaworthiness. They were named after the "Bundesländer" of West Germany.The German shipyard...
s. These frigates primarily carry out antisubmarine warfare, but they also contribute to antiaircraft warfare defenses, the tactical command of
squadron
Squadron
Squadron has different meanings:*Squadron , a cavalry or other unit that consists of a number of troops.*Squadron , a unit of aircraft that consists of three or four "flights", with a total of 12 to 24 aircraft, depending on aircraft type and air force.*Squadron , a unit of 3-4 major naval vessels...
s, and surface-to-surface warfare operations. Their design includes some
stealth
Stealth ship
A stealth ship is a ship which employs stealth technology construction techniques in an effort to ensure that it is harder to detect by one or more of radar, visual, sonar, and infrared methods...
features.
Currently the F123 class is being upgraded under the auspices of the Fähigkeitsanpassung FüWES (FAF) project. The primary component being upgraded under this program is the Combat Management System, for which a version of the
Thales Nederland
Thales Nederland
Thales Nederland B.V. is a subsidiary of Thales Group involved primarily in naval defence systems...
TACTICOS system will be used. The ships will also receive an
IFF
IFF
IFF, Iff or iff may refer to:Technology/Science:* Identification friend or foe, an electronic radio-based identification system using transponders...
upgrade, to the
EADS
EADS
The European Aeronautic Defence and Space Company N.V. is a global pan-European aerospace and defence corporation and a leading defence and military contractor worldwide...
MSSR 2000 I secondary radar system. However, its primary radars, specifically its long-range 2D search radar, the
Thales Nederland
Thales Nederland
Thales Nederland B.V. is a subsidiary of Thales Group involved primarily in naval defence systems...
LW08, and its medium-range 3D surveillance radar, the
Thales Nederland
Thales Nederland
Thales Nederland B.V. is a subsidiary of Thales Group involved primarily in naval defence systems...
SMART-S, are to remain.
List of ships
Pennant

Pennant number

In the modern Royal Navy, and other navies of Europe and the Commonwealth, ships are identified by pennant numbers...



Name
Call
sign

Call sign

In broadcasting and radio communications, a call sign is a unique designation for a transmitting station. In North America they are used as names for broadcasting stations...



Laid down
Shipyard

Shipyard

Shipyards and dockyards are places which repair and build ships. These can be yachts, military vessels, cruise liners or other cargo or passenger ships. Dockyards are sometimes more associated with maintenance and basing activities than shipyards, which are sometimes associated more with initial...



Launched
Commissioned
F215
Brandenburg
DRAH
February 11, 1992
Blohm + Voss
August 28, 1992
October 14, 1994
F216
Schleswig-Holstein
DRAI
July 1, 1993
Howaldtswerke

Howaldtswerke

Howaldtswerke-Deutsche Werft is a German shipbuilding company, headquartered in Kiel. In 2009 it was the largest shipyard in Germany and has more than 2,400 employees. It has been part of ThyssenKrupp Marine Systems owned by ThyssenKrupp, since 2005...



June 8, 1994
November 24, 1995
F217
Bayern
DRAJ
December 16, 1993
Nordseewerke

Nordseewerke

Nordseewerke is a shipbuilding company located in Emden, Germany. The name Nordseewerke means "North Sea shipyard" in German. The shipyard employs some 1,400 people and is the second-largest plant in Emden, following Volkswagen...



June 30, 1994
June 15, 1996
F218
Mecklenburg-Vorpommern
DRAK
November 23, 1993
Bremer Vulkan

Bremer Vulkan

Bremer Vulkan AG was a great German shipbuilding company located at the Weser river in Bremen-Vegesack. It was founded in 1893 and closed in 1997 because of financial problems and mismanagement....



February 23, 1995
December 1, 1996
All ships of the class were named after German
Bundesländer
States of Germany
Germany is made up of sixteen which are partly sovereign constituent states of the Federal Republic of Germany. Land literally translates as "country", and constitutionally speaking, they are constituent countries...
and are based in
Wilhelmshaven
Wilhelmshaven
Wilhelmshaven is a coastal town in Lower Saxony, Germany. It is situated on the western side of the Jade Bight, a bay of the North Sea.-History:...
as
2. Fregattengeschwader
(
2nd Frigate Squadron
) of the Deutsche Marine.
See also
External links