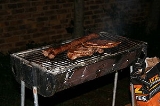 Braai
The word
braaivleis
is Afrikaans for "grilled meat."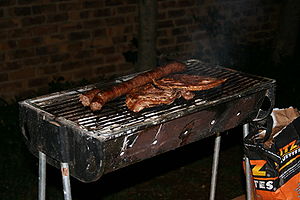 The word
braai
(plural
braaie
) is Afrikaans for "
barbecue
Barbecue
Barbecue or barbeque , used chiefly in the United States, Canada, the United Kingdom, New Zealand and Australia is a method and apparatus for cooking meat, poultry and occasionally fish with the heat and hot smoke of a fire, smoking wood, or hot coals of...
" or "
grill
Grilling
Grilling is a form of cooking that involves dry heat applied to the surface of food, commonly from above or below.Grilling usually involves a significant amount of direct, radiant heat, and tends to be used for cooking meat quickly and meat that has already been cut into slices...
" and is a social custom in
South Africa
South Africa
The Republic of South Africa is a country in southern Africa. Located at the southern tip of Africa, it is divided into nine provinces, with of coastline on the Atlantic and Indian oceans...
,
Botswana
Botswana
Botswana, officially the Republic of Botswana , is a landlocked country located in Southern Africa. The citizens are referred to as "Batswana" . Formerly the British protectorate of Bechuanaland, Botswana adopted its new name after becoming independent within the Commonwealth on 30 September 1966...
,
Namibia
Namibia
Namibia, officially the Republic of Namibia , is a country in southern Africa whose western border is the Atlantic Ocean. It shares land borders with Angola and Zambia to the north, Botswana to the east and South Africa to the south and east. It gained independence from South Africa on 21 March...
,
Lesotho
Lesotho
Lesotho , officially the Kingdom of Lesotho, is a landlocked country and enclave, surrounded by the Republic of South Africa. It is just over in size with a population of approximately 2,067,000. Its capital and largest city is Maseru. Lesotho is a member of the Commonwealth of Nations. The name...
,
Zimbabwe
Zimbabwe
Zimbabwe is a landlocked country located in the southern part of the African continent, between the Zambezi and Limpopo rivers. It is bordered by South Africa to the south, Botswana to the southwest, Zambia and a tip of Namibia to the northwest and Mozambique to the east. Zimbabwe has three...
and
Zambia
Zambia
Zambia , officially the Republic of Zambia, is a landlocked country in Southern Africa. The neighbouring countries are the Democratic Republic of the Congo to the north, Tanzania to the north-east, Malawi to the east, Mozambique, Zimbabwe, Botswana and Namibia to the south, and Angola to the west....
. The term originated with the
Afrikaner
Afrikaner
Afrikaners are an ethnic group in Southern Africa descended from almost equal numbers of Dutch, French and German settlers whose native tongue is Afrikaans: a Germanic language which derives primarily from 17th century Dutch, and a variety of other languages.-Related ethno-linguistic groups:The...
people, but has since been adopted by South Africans of many ethnic backgrounds. The word
vleis
is
Afrikaans
Afrikaans
Afrikaans is a West Germanic language, spoken natively in South Africa and Namibia. It is a daughter language of Dutch, originating in its 17th century dialects, collectively referred to as Cape Dutch .Afrikaans is a daughter language of Dutch; see , , , , , .Afrikaans was historically called Cape...
for "meat".
The word has been adopted by
English
English language
English is a West Germanic language that arose in the Anglo-Saxon kingdoms of England and spread into what was to become south-east Scotland under the influence of the Anglian medieval kingdom of Northumbria...
-speaking South Africans and can be regarded as another word for barbecue, in that it serves as a
verb
Verb
A verb, from the Latin verbum meaning word, is a word that in syntax conveys an action , or a state of being . In the usual description of English, the basic form, with or without the particle to, is the infinitive...
when describing how food is cooked and a
noun
Noun
In linguistics, a noun is a member of a large, open lexical category whose members can occur as the main word in the subject of a clause, the object of a verb, or the object of a preposition .Lexical categories are defined in terms of how their members combine with other kinds of...
when describing the cooking equipment, such as a
grill
Grill (cooking)
A barbecue grill is a device for cooking food by applying heat directly from below. There are several varieties of such grills, with most falling into one of two categories: gas-fueled and charcoal. There is a great debate over the merits of charcoal or gas for use as the cooking method between...
. The traditions around a braai can be considerably different from a barbecue, however, even if the method of food preparation is very similar.
While
wood
Wood
Wood is a hard, fibrous tissue found in many trees. It has been used for hundreds of thousands of years for both fuel and as a construction material. It is an organic material, a natural composite of cellulose fibers embedded in a matrix of lignin which resists compression...
formerly was the most widely-used braai fuel, in modern times the use of
charcoal
Charcoal
Charcoal is the dark grey residue consisting of carbon, and any remaining ash, obtained by removing water and other volatile constituents from animal and vegetation substances. Charcoal is usually produced by slow pyrolysis, the heating of wood or other substances in the absence of oxygen...
and
briquette
Briquette
A briquette is a block of flammable matter used as fuel to start and maintain a fire. Common types of briquettes are charcoal briquettes and biomass briquettes.-Constituents of charcoal briquettes:...
s have increased due to their convenience, as with barbecues elsewhere in the world. There has however been a renewed interest in the use of wood after the
South African government
Government of South Africa
The Republic of South Africa is a constitutional democracy with a three-tier system of government and an independent judiciary, operating in a nearly unique system that combines aspects of parliamentary and presidential systems. Legislative authority is held by the Parliament of South Africa...
started with its invasive plant species removal program. An important distinction between a braai and a barbecue used to be that it was fairly uncommon for a braai to use gas rather than an open flame. However, over the last few years, mainly for the sake of the convenience it offers, many household own a gas braai together with a wood or charcoal braai. Of course open flames remain the favourite for braais away from home.
The "Bring and Braai"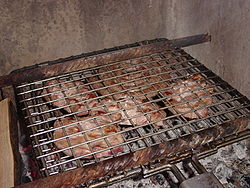 Similar to a
potluck party
Potluck
A potluck is a gathering of people where each person or group of people contributes a dish of food prepared by the person or the group of people, to be shared among the group...
, this is a social event which is casual and laid-back, where family and friends converge on a picnic spot or someone's home (normally the garden or verandah) with their own meat, salad, or side dish in hand. Meats are the star of the South African braai. They typically include
boerewors
Boerewors
Boerewors is a sausage, popular in South African cuisine. The name comes from the Afrikaans words and , and is pronounced , with a trilled .-History:...
,
sosatie
Sosatie
Sosatie is a traditional South African dish of meat cooked on skewers. The term derives from sate and saus...
s,
kebab
Kebab
Kebab is a wide variety of meat dishes originating in Middle East and later on adopted by the Middle East, and Asia Minor, and now found worldwide. In English, kebab with no qualification generally refers more specifically to shish kebab served on the skewer...
s, marinated chicken, pork and lamb chops, steaks, sausages of different flavors and thickness, and possibly even a rack or two of spareribs. Fish and
Rock Lobster
Jasus lalandii
Jasus lalandii is a species of spiny lobster found off the coast of Southern Africa. It is not known whom the specific epithet lalandii commemorates, although it may be the French astronomer Jérôme Lalande.J...
commonly called "crayfish" or
kreef
in Afrikaans, are also popular in coastal areas.
The other main part of the meal in some regions of the country is
pap
Pap (food)
Pap , a traditional porridge made from mielie-meal , is a staple food of the Bantu inhabitants of South Africa...
(ˈ, meaning
porridge
Porridge
Porridge is a dish made by boiling oats or other cereal meals in water, milk, or both. It is usually served hot in a bowl or dish...
), actually a thickened porridge, or the
krummelpap
("crumb porridge"), traditionally eaten with the meat. Made from finely ground corn/
maize
Maize
Maize known in many English-speaking countries as corn or mielie/mealie, is a grain domesticated by indigenous peoples in Mesoamerica in prehistoric times. The leafy stalk produces ears which contain seeds called kernels. Though technically a grain, maize kernels are used in cooking as a vegetable...
(similar to
polenta
Polenta
Polenta is a dish made from boiled cornmeal. The word "polenta" is borrowed from Italian.-Description:Polenta is made with ground yellow or white cornmeal , which can be ground coarsely or finely depending on the region and the texture desired.As it is known today, polenta derives from earlier...
), it is a staple of local African communities and may be eaten with a
tomato
Tomato
The word "tomato" may refer to the plant or the edible, typically red, fruit which it bears. Originating in South America, the tomato was spread around the world following the Spanish colonization of the Americas, and its many varieties are now widely grown, often in greenhouses in cooler...
and
onion
Onion
The onion , also known as the bulb onion, common onion and garden onion, is the most widely cultivated species of the genus Allium. The genus Allium also contains a number of other species variously referred to as onions and cultivated for food, such as the Japanese bunching onion The onion...
sauce
Sauce
In cooking, a sauce is liquid, creaming or semi-solid food served on or used in preparing other foods. Sauces are not normally consumed by themselves; they add flavor, moisture, and visual appeal to another dish. Sauce is a French word taken from the Latin salsus, meaning salted...
,
monkeygland sauce
Monkeygland sauce
Monkeygland Sauce is a restaurant item in South Africa. The piquant sauce features a blend of fruit and spices and is often used with steak, hamburgers, pork ribs or chicken. Several popular South African fast-food chains serve a Monkeygland Burger....
or the more spicy
chakalaka
Chakalaka
Chakalaka is a spicy African vegetable relish traditionally served with bread, pap, samp, stews or curries. To balance its fiery flavour, it is sometimes served with amasi . Chakalaka is said to have originated in the townships of Johannesburg. Chakalaka is similar to spicy baked beans...
at a braai.
Sometimes this activity is also known as a "dop en tjop" (
dop
being Afrikaans
slang
Slang
Slang is the use of informal words and expressions that are not considered standard in the speaker's language or dialect but are considered more acceptable when used socially. Slang is often to be found in areas of the lexicon that refer to things considered taboo...
for an alcoholic drink, literally meaning "cap" or "bottle top", and "tjop" being the informal Afrikaans term for lambchop) when more alcohol than the odd beer is involved.
Social norms
A
braai
is a social occasion that has specific traditions and social norms. In black and white
South African culture
Culture of South Africa
South Africa is known for its ethnic and cultural diversity. Therefore, there is no single culture of South Africa.The South African black majority still has a substantial number of rural inhabitants who lead largely impoverished lives...
, women rarely
braai
(cook) meat at a social gathering, as this is normally the preserve of men. The men gather round the
braai
or
braaistand
(the grill) outdoors and cook the food, while women prepare the
pap
Pap (food)
Pap , a traditional porridge made from mielie-meal , is a staple food of the Bantu inhabitants of South Africa...
,
salad
Salad
Salad is any of a wide variety of dishes, including vegetable salads; salads of pasta, legumes, eggs, or grains; mixed salads incorporating meat, poultry, or seafood; and fruit salads. They may include a mixture of cold and hot, often including raw vegetables or fruits.Green salads include leaf...
s,
dessert
Dessert
In cultures around the world, dessert is a course that typically comes at the end of a meal, usually consisting of sweet food. The word comes from the French language as dessert and this from Old French desservir, "to clear the table" and "to serve." Common Western desserts include cakes, biscuits,...
s, and
vegetable
Vegetable
The noun vegetable usually means an edible plant or part of a plant other than a sweet fruit or seed. This typically means the leaf, stem, or root of a plant....
s for the meal in the kitchen. The meal is subsequently eaten outside by the fire/braai, since the activity is normally engaged in during the long summer months. The
braaing
(cooking) of the meat is not the prerogative of all the men attending, as one person would normally be in charge. He will attend to the fire, check that the coals are ready, and
braai
(cook) the meat. Other men may assist but generally only partake in fireside conversation. This is very similar to how Australian, New Zealand, and American backyard barbecues often run.
"Braaivleis" in popular culture
General Motors South Africa
General Motors South Africa
General Motors South Africa, or GMSA is a wholly owned subsidiary of American automobile manufacturer General Motors. It manufacturers and distributes automobiles under the Chevrolet, Opel and Isuzu brands...
used the term in the 1970s in its localized jingle "Braaivleis,
rugby
Rugby union
Rugby union, often simply referred to as rugby, is a full contact team sport which originated in England in the early 19th century. One of the two codes of rugby football, it is based on running with the ball in hand...
, sunny skies, and
Chevrolet
Chevrolet
Chevrolet , also known as Chevy , is a brand of vehicle produced by General Motors Company . Founded by Louis Chevrolet and ousted GM founder William C. Durant on November 3, 1911, General Motors acquired Chevrolet in 1918...
" to advertise their cars in
South Africa
South Africa
The Republic of South Africa is a country in southern Africa. Located at the southern tip of Africa, it is divided into nine provinces, with of coastline on the Atlantic and Indian oceans...
—equivalent to the slogan "
baseball
Baseball
Baseball is a bat-and-ball sport played between two teams of nine players each. The aim is to score runs by hitting a thrown ball with a bat and touching a series of four bases arranged at the corners of a ninety-foot diamond...
,
hot dog
Hot dog
A hot dog is a sausage served in a sliced bun. It is very often garnished with mustard, ketchup, onions, mayonnaise, relish and/or sauerkraut.-History:...
s,
apple pie
Apple pie
An apple pie is a fruit pie in which the principal filling ingredient is apples. It is sometimes served with whipped cream or ice cream on top...
, and Chevrolet" in the US and, to a lesser extent, "
football
Australian rules football
Australian rules football, officially known as Australian football, also called football, Aussie rules or footy is a sport played between two teams of 22 players on either...
,
meat pies
Meat pie
A meat pie is a savoury pie with a filling of meat and other savoury ingredients. Principally popular in Europe, Australia and New Zealand, meat pies differ from a pasty in the sense that a pasty is typically a more portable, on-the-go item, as opposed to a more conventional pie.-History:The...
,
kangaroo
Kangaroo
A kangaroo is a marsupial from the family Macropodidae . In common use the term is used to describe the largest species from this family, especially those of the genus Macropus, Red Kangaroo, Antilopine Kangaroo, Eastern Grey Kangaroo and Western Grey Kangaroo. Kangaroos are endemic to the country...
s &
Holden
Holden
GM Holden Ltd is an automaker that operates in Australia, based in Port Melbourne, Victoria. The company was founded in 1856 as a saddlery manufacturer. In 1908 it moved into the automotive field, before becoming a subsidiary of the U.S.-based General Motors in 1931...
Cars" used in Australia.

Announcer: "Hey, South Africa, what's your favourite food?"
Crowd: "Braaivleis!"
Announcer: "Sport?"
Crowd: "Rugby!"
Announcer: "Weather?"
Crowd: "Sunshine!"
Announcer: "Car?"
Crowd: "Chevrolet!"
Announcer: "All together?"
Crowd (singing): Braaivleis, rugby, sunny skies and Chevrolet! Braaivleis, rugby, sunny skies and Chevrolet! They go together, in the good old RSA. Braaivleis, rugby, sunny skies and Chevrolet!

National Braai Day
Braai Day is a celebration of South Africa's rich cultural heritage and its unique national pastime, the braai. It aims to unite all South Africans by encouraging them to partake in a fun and tangible activity shared by all demographic groups, religious denominations and body types.
Braai Day is celebrated annually by South Africans across the world on 24 September (South Africa's
Heritage Day
Heritage Day (South Africa)
Heritage Day, 24 September, is a Public Holiday on which South Africans across the spectrum are encouraged to celebrate their cultural heritage and the diversity of their beliefs and traditions, in the wider context of a nation that belongs to all its people....
). The event was initiated by the Mzansi Braai Institute in South Africa in 2005 and since 2008 has been promoted under the Braai4Heritage banner, a non-profit initiative. On September 5, 2007, Emeritus
Archbishop
Archbishop
An archbishop is a bishop of higher rank, but not of higher sacramental order above that of the three orders of deacon, priest , and bishop...
Desmond Tutu
Desmond Tutu
Desmond Mpilo Tutu is a South African activist and retired Anglican bishop who rose to worldwide fame during the 1980s as an opponent of apartheid...
was appointed as
patron
Patrón
Patrón is a luxury brand of tequila produced in Mexico and sold in hand-blown, individually numbered bottles.Made entirely from Blue Agave "piñas" , Patrón comes in five varieties: Silver, Añejo, Reposado, Gran Patrón Platinum and Gran Patrón Burdeos. Patrón also sells a tequila-coffee blend known...
of National Braai Day (Now Braai4Heritage). The initiative received the endorsement of South Africa's National Heritage Council (NHC) in 2008.
The 2008 campaign poster shows a perfectly cooked T-bone steak in the shape of the African continent. At the tip of the "continent" where South Africa is situated the catch phrase "Do it for your country" is written.
In 2009, the initiative launched an official song, "Our Heritage", recorded by the multiple Grammy Award winners The Soweto Gospel Choir, the 2008 South African Music Awards male solo artist of the year HHP (
Hip Hop Pantsula
Hip Hop Pantsula
Hip Hop Pantsula, born Jabulani Tsambo, is a popular South African Motswako hip-hop MC who frequently performs in ethnic languages, though mostly in Setswana.- Career :...
), JR and
Die Heuwels Fantasties
Die heuwels fantasties
-Name:Die Heuwels Fantasties is an Afrikaans electronic band from Bellville, South Africa.Die Heuwels Fantasties is composed of Hunter Kennedy , Pierre Greeff , and Johnny de Ridder .-First Album, Die Heuwels Fantasties:Their...
. The song was launched exactly a month ahead of Braai Day.
See also