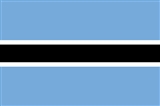 Botswana
Botswana, officially the Republic of Botswana , is a landlocked country located in
Southern Africa
Southern Africa
Southern Africa is the southernmost region of the African continent, variably defined by geography or geopolitics. Within the region are numerous territories, including the Republic of South Africa ; nowadays, the simpler term South Africa is generally reserved for the country in English.-UN...
. The citizens are referred to as "Batswana" (singular: Motswana). Formerly the British
protectorate
Protectorate
In history, the term protectorate has two different meanings. In its earliest inception, which has been adopted by modern international law, it is an autonomous territory that is protected diplomatically or militarily against third parties by a stronger state or entity...
of
Bechuanaland
, Botswana adopted its new name after becoming independent within the
Commonwealth
Commonwealth of Nations
The Commonwealth of Nations, normally referred to as the Commonwealth and formerly known as the British Commonwealth, is an intergovernmental organisation of fifty-four independent member states...
on 30 September 1966. It has held free and fair democratic
elections
Elections in Botswana
Elections in Botswana have been held regularly since independence, and have been consistently judged free and fair by international observers....
since independence.
Botswana is flat, and up to 70% is covered by the
Kalahari Desert
Kalahari Desert
The Kalahari Desert is a large semi-arid sandy savannah in Southern Africa extending , covering much of Botswana and parts of Namibia and South Africa, as semi-desert, with huge tracts of excellent grazing after good rains. The Kalahari supports more animals and plants than a true desert...
.