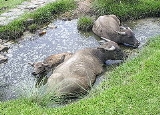 Bovinae
The biological subfamily
Bovinae
includes a diverse group of 10 genera of medium to large sized
ungulate
Ungulate
Ungulates are several groups of mammals, most of which use the tips of their toes, usually hoofed, to sustain their whole body weight while moving. They make up several orders of mammals, of which six to eight survive...
s, including domestic
cattle
Cattle
Cattle are the most common type of large domesticated ungulates. They are a prominent modern member of the subfamily Bovinae, are the most widespread species of the genus Bos, and are most commonly classified collectively as Bos primigenius...
, the
bison
Bison
Members of the genus Bison are large, even-toed ungulates within the subfamily Bovinae. Two extant and four extinct species are recognized...
,
African buffalo
African Buffalo
The African buffalo, affalo, nyati, Mbogo or Cape buffalo is a large African bovine. It is not closely related to the slightly larger wild Asian water buffalo, but its ancestry remains unclear...
, the
water buffalo
Bubalus
Bubalus is a genus of bovines, whose English name is buffalo. Species that belong to this genus are:* Subgenus Bubalus** Water Buffalo, Bubalus bubalis*** Carabao, Bubalus bubalis carabanesis...
, the
yak
Yak
The yak, Bos grunniens or Bos mutus, is a long-haired bovine found throughout the Himalayan region of south Central Asia, the Tibetan Plateau and as far north as Mongolia and Russia. In addition to a large domestic population, there is a small, vulnerable wild yak population...
, and the four-horned and spiral-horned antelopes. The evolutionary relationship between the members of the group is obscure, and their classification into loose tribes rather than formal sub-groups reflects this uncertainty. General characteristics include
cloven hoof
Cloven hoof
A cloven hoof is a hoof split into two toes. This is found on members of the mammalian order Artiodactyla. Examples of mammals that possess this type of hoof are deer and sheep. In folklore and popular culture, a cloven hoof has long been associated with the Devil.The two digits of cloven hoofed...
s and usually at least one of the sexes of a species having
true horn
Horn (anatomy)
A horn is a pointed projection of the skin on the head of various animals, consisting of a covering of horn surrounding a core of living bone. True horns are found mainly among the ruminant artiodactyls, in the families Antilocapridae and Bovidae...
s.
In most countries, bovids are used for food. Cattle are eaten almost everywhere except in major parts of
India
India
India , officially the Republic of India , is a country in South Asia. It is the seventh-largest country by geographical area, the second-most populous country with over 1.2 billion people, and the most populous democracy in the world...
and
Nepal
Nepal
Nepal , officially the Federal Democratic Republic of Nepal, is a landlocked sovereign state located in South Asia. It is located in the Himalayas and bordered to the north by the People's Republic of China, and to the south, east, and west by the Republic of India...
, where bovids are considered sacred by
Hindu
Hindu
Hindu refers to an identity associated with the philosophical, religious and cultural systems that are indigenous to the Indian subcontinent. As used in the Constitution of India, the word "Hindu" is also attributed to all persons professing any Indian religion...
s.
Systematics and classification
FAMILY BOVIDAE

Subfamily Bovinae

Tribe Boselaphini

Boselaphini

Boselaphini is a tribe of antelopes belonging to the subfamily Bovinae of the family Bovidae. It contains only two extant genera.-Description:...




Genus Tetracerus

Four-horned antelope

Four-horned Antelope

The Four-horned Antelope , or Chousingha, is a small antelope found in open forest in India and Nepal. It is the only species currently classified in the genus Tetracerus.-Description:...


, Tetracerus quadricornis

Genus Boselaphus

Nilgai

Nilgai

The nilgai , sometimes called nilgau, is an antelope, and is one of the most commonly seen wild animals of central and northern India and eastern Pakistan; it is also present in parts of southern Nepal. The mature males appear ox-like and are also known as blue bulls...


or blue bull, Boselaphus tragocamelus (not to be confused with the extinct bluebuck

Bluebuck

The Bluebuck or Blue Antelope , sometimes called Blaubok, is an extinct species of antelope, the first large African mammal to disappear in historic times. It is related to the Roan Antelope and Sable Antelope, but slightly smaller than either...


Hippotragus leucophaeus, Hippotraginae)

Tribe Bovini

Bovini

The Bovini tribe is made up of large to very large grazers, including large animals of great economic significance to humans in Domestic Cattle, Domestic buffalo, and the Yak, as well as smaller Asian relatives, and large free-roaming bovids in the African Buffalo and the American...



Tribe Strepsicerotini

Strepsicerotini

Where the Boselaphini and Bovini are mostly Asian, members of the Strepsicerotini tribe, the spiral-horned antelopes, are found only on the continent of Africa. This group tends to large size, a lighter build, longer necks and considerable sexual dimorphism...




Genus Tragelaphus

Tragelaphus

The genus Tragelaphus contains several species of bovine, all of which are relatively antelope-like. Species in this genus tend to be large sized, lightly built, have long necks and considerable sexual dimorphism. The Common Eland was once classified in this genus as T. oryz...


(antelope

Antelope

Antelope is a term referring to many even-toed ungulate species indigenous to various regions in Africa and Eurasia. Antelopes comprise a miscellaneous group within the family Bovidae, encompassing those old-world species that are neither cattle, sheep, buffalo, bison, nor goats...


-like)

Bongo

Bongo (antelope)

The western or lowland bongo, Tragelaphus eurycerus eurycerus, is a herbivorous, mostly nocturnal forest ungulate and among the largest of the African forest antelope species....


, Tragelaphus eurycerus
Greater kudu

Greater Kudu

The Greater Kudu is a woodland antelope found throughout eastern and southern Africa. Despite occupying such widespread territory, they are sparsely populated in most areas, due to a declining habitat, deforestation and hunting....


, Tragelaphus strepsiceros
Kéwel

Kéwel

The Kéwel is a small to medium sized antelope widespread in west and central Africa. Formerly and alongside the Imbabala it was generically known as the bushbuck, however, it has since been found to be a species in its own right, with a separate geographic distribution...


, Tragelaphus scriptus
Imbabala, Tragelaphus sylvaticus
Lesser kudu

Lesser Kudu

The lesser kudu is a forest antelope found in East Africa and the southern Arabian Peninsula. The southern lesser kudu is a subspecies found in Kenya and Tanzania....


, Tragelaphus imberbis
Mountain nyala

Mountain Nyala

The Mountain Nyala found in Oromia, Ethiopia as gadumsa, is an antelope found in high altitude woodland in a small part of central Ethiopia...


, Tragelaphus buxtoni
Nyala

Nyala

The Nyala is a Southern African antelope. It is a spiral-horned dense-forest antelope that is uncomfortable in open spaces and is most often seen at water holes. Nyalas live alone or in small family groups of up to 10 individuals.The male stands up to 110 cm , the female is up to 90 cm ...


, Tragelaphus angasii
Sitatunga

Sitatunga

The situtunga or marshbuck is a swamp-dwelling antelope found throughout Central Africa, centering on the Democratic Republic of the Congo, Cameroon and parts of Southern Sudan as well as in Ghana, Botswana, Zambia, Gabon, Tanzania, Uganda and Kenya.-Description:Situtunga stand about one and a...


, Tragelaphus spekeii

Genus Taurotragus

Taurotragus

Taurotragus, commonly called Eland, is a genus of antelopes of the African savannah, containing two species: the Common Eland and the Giant Eland...




Common eland

Common Eland

The common eland , also known as the southern eland or eland antelope, is a savannah and plains antelope found in East and Southern Africa. It is the largest antelope in the African continent...


, Taurotragus oryx
Giant eland

Giant Eland

The giant eland is an open forest savannah antelope. It is found in Central African Republic, South Sudan, Cameroon and Senegal. There are two subspecies: the endangered T. d. derbianus, found in Senegal's Niokolo-Koba National Park, and the low risk T. d...


, Taurotragus derbianus
Etymology
Bovine is derived from
Latin
Latin
Latin is an Italic language originally spoken in Latium and Ancient Rome. It, along with most European languages, is a descendant of the ancient Proto-Indo-European language. Although it is considered a dead language, a number of scholars and members of the Christian clergy speak it fluently, and...
bos
, "ox", through
Late Latin
Late Latin
Late Latin is the scholarly name for the written Latin of Late Antiquity. The English dictionary definition of Late Latin dates this period from the 3rd to the 6th centuries AD extending in Spain to the 7th. This somewhat ambiguously defined period fits between Classical Latin and Medieval Latin...
bovinus
. Bos comes from the
Indo-European
Proto-Indo-European language
The Proto-Indo-European language is the reconstructed common ancestor of the Indo-European languages, spoken by the Proto-Indo-Europeans...
root
*gwous
, meaning ox.