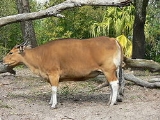 Bos
Bos
is the
genus
Genus
In biology, a genus is a low-level taxonomic rank used in the biological classification of living and fossil organisms, which is an example of definition by genus and differentia...
of wild and
domestic
Domestication
Domestication or taming is the process whereby a population of animals or plants, through a process of selection, becomes accustomed to human provision and control. In the Convention on Biological Diversity a domesticated species is defined as a 'species in which the evolutionary process has been...
cattle
Cattle
Cattle are the most common type of large domesticated ungulates. They are a prominent modern member of the subfamily Bovinae, are the most widespread species of the genus Bos, and are most commonly classified collectively as Bos primigenius...
.
Bos
can be divided into four
subgenera
Subgenus
In biology, a subgenus is a taxonomic rank directly below genus.In zoology, a subgeneric name can be used independently or included in a species name, in parentheses, placed between the generic name and the specific epithet: e.g. the Tiger Cowry of the Indo-Pacific, Cypraea tigris Linnaeus, which...
:
Bos
,
Bibos
,
Novibos
, and
Poephagus
, but these divisions are controversial. The genus has five extant species. However, this may rise to seven if the domesticated varieties are counted as separate species, and nine if the closely related genus
Bison
Bison
Members of the genus Bison are large, even-toed ungulates within the subfamily Bovinae. Two extant and four extinct species are recognized...
is also included.
Modern species of cattle are believed to have originated from the extinct
aurochs
Aurochs
The aurochs , the ancestor of domestic cattle, were a type of large wild cattle which inhabited Europe, Asia and North Africa, but is now extinct; it survived in Europe until 1627....
.
Anatomy and morphology
Most species are grazers, with long tongues to twist the plant material they favor and large teeth to break up the plant material they ingest. They are
ruminant
Ruminant
A ruminant is a mammal of the order Artiodactyla that digests plant-based food by initially softening it within the animal's first compartment of the stomach, principally through bacterial actions, then regurgitating the semi-digested mass, now known as cud, and chewing it again...
s, having a four-chambered stomach that allows them to break down plant material.
Range and distribution
There are about 1.3 billion domestic cattle alive today, making them one of the world's most numerous mammals. Members of this genus are currently found in Africa, Asia, eastern and western Europe and parts of North America. Their habitats vary greatly depending on the particular species; they can be found in prairies, rain forests, wetlands, savannas and temperate forests.
Ecology, behavior and life history
Most
Bos
species have a lifespan of 18–25 years in the wild, with up to 36 being recorded in captivity. They have a 9-11 month
gestation
Gestation
Gestation is the carrying of an embryo or fetus inside a female viviparous animal. Mammals during pregnancy can have one or more gestations at the same time ....
, depending on the species and birth one, or rarely two young in the spring.
Most species travel in herds ranging in size from 10 members into the hundreds. Within most herds, there is one
bull
Bull
Bull usually refers to an uncastrated adult male bovine.Bull may also refer to:-Entertainment:* Bull , an original show on the TNT Network* "Bull" , an episode of television series CSI: Crime Scene Investigation...
(male) for all the cows (female). Dominance is important in the herds; calves will usually inherit their mother's position in the
hierarchy
Hierarchy
A hierarchy is an arrangement of items in which the items are represented as being "above," "below," or "at the same level as" one another...
.
They are generally
diurnal
Diurnal animal
Diurnality is a plant or animal behavior characterized by activity during the day and sleeping at night.-In animals:Animals that are not diurnal might be nocturnal or crepuscular . Many animal species are diurnal, including many mammals, insects, reptiles and birds...
, resting in the hot part of the day and being active morning and afternoon. In areas where humans have encroached on the territory of a herd, they may turn nocturnal. Some species are also migratory, moving with food and water availability.
Evolutionary history
Modern species of
Bos
are thought to have evolved from a single ancestor, the
aurochs
Aurochs
The aurochs , the ancestor of domestic cattle, were a type of large wild cattle which inhabited Europe, Asia and North Africa, but is now extinct; it survived in Europe until 1627....
(
B. primigenius
). This particular species survived until the early 17th century when it was hunted to extinction as the last aurochs, a female died in
Poland
Poland
Poland , officially the Republic of Poland , is a country in Central Europe bordered by Germany to the west; the Czech Republic and Slovakia to the south; Ukraine, Belarus and Lithuania to the east; and the Baltic Sea and Kaliningrad Oblast, a Russian exclave, to the north...
.
Systematics and taxonomy
In 2003, the
International Commission on Zoological Nomenclature
International Commission on Zoological Nomenclature
The International Commission on Zoological Nomenclature is an organization dedicated to "achieving stability and sense in the scientific naming of animals". Founded in 1895, it currently comprises 28 members from 20 countries, mainly practicing zoological taxonomists...
resolved a long-standing dispute about the naming of those species (or pairs of species) of
Bos
that contain both wild and domesticated forms. The commission "conserved the usage of 17 specific names based on wild species, which are pre-dated by or contemporary with those based on domestic forms", confirming
Bos primigenius
for the aurochs and
Bos gaurus
for the gaur. If domesticated cattle and gayal are considered separate species, they are to be named
Bos taurus
and
Bos frontalis
; however, if they are considered part of the same species as their wild relatives, the common species are to be named
Bos primigenius
and
Bos gaurus
.
External links