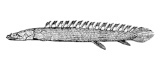 Bichir
The
bichirs
are a family,
Polypteridae
, of archaic-looking
ray-finned fishes
Actinopterygii
The Actinopterygii or ray-finned fishes constitute a class or sub-class of the bony fishes.The ray-finned fishes are so called because they possess lepidotrichia or "fin rays", their fins being webs of skin supported by bony or horny spines , as opposed to the fleshy, lobed fins that characterize...
, the sole family in the
order
Order (biology)
In scientific classification used in biology, the order is# a taxonomic rank used in the classification of organisms. Other well-known ranks are life, domain, kingdom, phylum, class, family, genus, and species, with order fitting in between class and family...
Polypteriformes
.
All species occur in freshwater habitats in tropical Africa and the
Nile
Nile
The Nile is a major north-flowing river in North Africa, generally regarded as the longest river in the world. It is long. It runs through the ten countries of Sudan, South Sudan, Burundi, Rwanda, Democratic Republic of the Congo, Tanzania, Kenya, Ethiopia, Uganda and Egypt.The Nile has two major...
River system, mainly swampy, shallow
floodplain
Floodplain
A floodplain, or flood plain, is a flat or nearly flat land adjacent a stream or river that stretches from the banks of its channel to the base of the enclosing valley walls and experiences flooding during periods of high discharge...
s and
estuaries
Estuary
An estuary is a partly enclosed coastal body of water with one or more rivers or streams flowing into it, and with a free connection to the open sea....
.
Anatomy and appearance
Bichirs are elongated fish with a unique, subdivided series of dorsal finlets which varies in number from seven to eighteen, instead of a single dorsal fin. Each of the dorsal finlets have bifid (doubleedged) tips, and are the only fins with spines, the rest of the fins being composed of soft rays. The body is covered in thick, bonelike and trapezoidal ganoid scales. Their
jaw
Jaw
The jaw is any opposable articulated structure at the entrance of the mouth, typically used for grasping and manipulating food. The term jaws is also broadly applied to the whole of the structures constituting the vault of the mouth and serving to open and close it and is part of the body plan of...
structure more closely resembles that of the
tetrapod
Tetrapod
Tetrapods are vertebrate animals having four limbs. Amphibians, reptiles, birds and mammals are all tetrapods; even snakes and other limbless reptiles and amphibians are tetrapods by descent. The earliest tetrapods evolved from the lobe-finned fishes in the Devonian...
s than that of the teleost fishes. Bichirs have a number of other primitive characteristics, including fleshy pectoral fins superficially similar to those of
lobe-finned fishes
Sarcopterygii
The Sarcopterygii or lobe-finned fishes – sometimes considered synonymous with Crossopterygii constitute a clade of the bony fishes, though a strict classification would include the terrestrial vertebrates...
. They also have a pair of slit-like
spiracle
Spiracle
Spiracles are openings on the surface of some animals that usually lead to respiratory systems.-Vertebrates:The spiracle is a small hole behind each eye that opens to the mouth in some fishes. In the primitive jawless fish the first gill opening immediately behind the mouth is essentially similar...
s used to exhale air, two gular plates and double ventral
lung
Lung
The lung is the essential respiration organ in many air-breathing animals, including most tetrapods, a few fish and a few snails. In mammals and the more complex life forms, the two lungs are located near the backbone on either side of the heart...
s (the left lung smaller than the right), which allow them to obtain oxygen from the air when in poorly oxygenated waters, by swimming quickly to the surface and back to the bottom. They are nocturnal, and feed on small vertebrates, crustaceans, and insects. Four pairs of gill arches are present.
Bichirs have a maximum body length of 97 centimetres (3.2 ft).
Bichirs as aquarium specimens
Bichirs are popular subjects of public and large hobby
aquaria
Aquarium
An aquarium is a vivarium consisting of at least one transparent side in which water-dwelling plants or animals are kept. Fishkeepers use aquaria to keep fish, invertebrates, amphibians, marine mammals, turtles, and aquatic plants...
. Though predatory, they are otherwise peaceful and relatively nonactive, preferring to lie on the bottom, and make good tank-mates with other species that are large enough not to be prey. Some aquarists note that
Loricariid
Loricariidae
Loricariidae is the largest family of catfish , with almost 700 species and new species being described each year. Loricariids originate from fresh water habitats of Costa Rica, Panama, and tropical and subtropical South America. These fish are noted for the bony plates covering their bodies and...
catfish and common
Plecostomus
Plecostomus
Hypostomus plecostomus is the scientific name for a type of freshwater tropical Central and South American fish belonging to the family Loricariidae. They are large algae eaters, and to differentiate them from small algae eaters, they are often referred to as plecostomus, often abbreviated as...
may attack bichirs and suck on their skin.
Species
There are twelve extant species in two genera: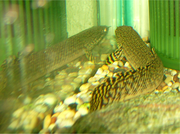 Order
Polypteriformes
Family Polypteridae

Genus Erpetoichthys J. A. Smith, 1865

Erpetoichthys calabaricus J. A. Smith, 1865 (Reedfish)

Genus Polypterus

Polypterus

Polypterus is a genus of freshwater fish in the bichir family of order Polypteriformes. The type species is the Nile bichir . Fishes in this genus live in various areas in Africa...


Lacépède, 1803
Extinct species include:
Polypterus faraou Otero et al., 2006 — late Miocene

Miocene

The Miocene is a geological epoch of the Neogene Period and extends from about . The Miocene was named by Sir Charles Lyell. Its name comes from the Greek words and and means "less recent" because it has 18% fewer modern sea invertebrates than the Pliocene. The Miocene follows the Oligocene...


.
External links