Benetton Group
Benetton Group S.p.A.
is a global luxury fashion
brand
Brand
The American Marketing Association defines a brand as a "Name, term, design, symbol, or any other feature that identifies one seller's good or service as distinct from those of other sellers."...
, based in
Treviso
Treviso
Treviso is a city and comune in Veneto, northern Italy. It is the capital of the province of Treviso and the municipality has 82,854 inhabitants : some 3,000 live within the Venetian walls or in the historical and monumental center, some 80,000 live in the urban center proper, while the city...
,
Italy
Italy
Italy , officially the Italian Republic languages]] under the European Charter for Regional or Minority Languages. In each of these, Italy's official name is as follows:;;;;;;;;), is a unitary parliamentary republic in South-Central Europe. To the north it borders France, Switzerland, Austria and...
. The name comes from the
Benetton family
Benetton family
Four members of the Italian Benetton family founded the Benetton Group S.p.A. fashion company in 1965. The three brothers and one sister were all born in Treviso, Veneto, Italy. Their father owned a bicycle shop...
who founded the company in 1965. Benetton Group is listed in
Milan
Borsa Italiana
The Borsa Italiana S.p.A., based in Milan, is Italy's main stock exchange. It was privatised in 1997 and is a part of the London Stock Exchange Group plc since 2007. In 2005, the companies listed on the Borsa were worth US$890 billion...
.
Benetton has a network of around 6,000 stores in 120 countries. The stores are managed by independent partners and generate a total turnover of over 2 billion euro.
Early years
In 1965, Luciano Benetton, the eldest of four children, was a 30-year-old salesman in Treviso. He saw a market for colourful clothes, and sold a younger brother's bicycle in order to buy his first second-hand knitting machine. His initial small collection of sweaters received a positive response in local stores in the
Veneto
Veneto
Veneto is one of the 20 regions of Italy. Its population is about 5 million, ranking 5th in Italy.Veneto had been for more than a millennium an independent state, the Republic of Venice, until it was eventually annexed by Italy in 1866 after brief Austrian and French rule...
region, and soon after he asked his sister and two younger brothers, Gilberto and Carlo, to join him. In 1965, the entity known as the "Benetton Group" is formed.
In 1966, the Benettons opened their first store in
Belluno
Belluno
Belluno , is a town and province in the Veneto region of northern Italy. Located about 100 kilometres north of Venice, Belluno is the capital of the province of Belluno and the most important city in the Eastern Dolomiti's region. With its roughly 37,000 inhabitants, it the largest populated area...
and three years after in
Paris
Paris
Paris is the capital and largest city in France, situated on the river Seine, in northern France, at the heart of the Île-de-France region...
, with Luciano as chairman, his brother Gilberto in charge of administration, their younger brother Carlo running production, and Giuliana as a chief designer.
Brands
The company's core business remains their clothing lines. Casual clothing is marketed under the brand
United Colors of Benetton
; there are also a fashion-oriented
Sisley
Sisley
Sisley may refer to:*Alfred Sisley, a French impressionist painter of English origin*Sisley, a Benetton Group brand, established in 1974*Sisley Paris, , a French cosmetics company founded in Paris in 1976 by Roland de Saint Vincent and Jean Francois Laporte, before being taken over by the famous...
division,
Playlife
Playlife
Playlife is a fashion company based in Treviso, Italy.The company is owned by the Benetton family and is the sporting label of the clothes manufacturer....
leisurewear. Their products include womenswear, menswear, childrenswear and underwear and they have expanded into toiletries, perfumes, and items for the home such as kitchen accessories and baby products.
The Group produces over 150 million garments every year and has a network of around 6,000 contemporary stores around the world.
Production
As well as having over 9,000 employees, Benetton has developed a network of small suppliers who do contracting in the Northern Italian region around Treviso.
Marketing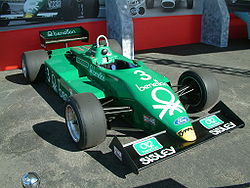 The company is known for sponsorship of a number of sports, and for the provocative and original "United Colors" publicity campaign. The latter originated when
photographer
Oliviero Toscani
Oliviero Toscani
Oliviero Toscani is an Italian photographer, best-known worldwide for designing controversial advertising campaigns for Italian brand Benetton, from 1982 to 2000...
was given
carte blanche
Full Powers
Full Powers is a term in international law and is the authority of a person to sign a treaty or convention on behalf of a sovereign state. Persons other than the head of state, head of government or foreign minister of the state must produce Full Powers in order to sign a treaty binding their...
by the Benetton management. Under Toscani's direction, ads were created that contained striking images unrelated to any actual products being sold by the company.
These graphic, billboard-sized ads included depictions of a variety of shocking subjects, one of which featured a deathbed scene of a man (
AIDS
AIDS
Acquired immune deficiency syndrome or acquired immunodeficiency syndrome is a disease of the human immune system caused by the human immunodeficiency virus...
activist David Kirby) dying from AIDS. Others included a bloodied, unwashed newborn baby with umbilical cord still attached, which was highly controversial. This 1991 advert prompted more than 800 complaints to the British Advertising Standards Authority during 1991 and was featured in the reference book
Guinness World Records

Guinness World Records

Guinness World Records, known until 2000 as The Guinness Book of Records , is a reference book published annually, containing a collection of world records, both human achievements and the extremes of the natural world...


2000
as 'Most Controversial Campaign'. Others included a black horse mating over a white one, close-up pictures of tattoos reading "
HIV
HIV
Human immunodeficiency virus is a lentivirus that causes acquired immunodeficiency syndrome , a condition in humans in which progressive failure of the immune system allows life-threatening opportunistic infections and cancers to thrive...
Positive" on the bodies of men and women, a cemetery of many cross-like tombstones, a collage consisting of genitals of persons of various races, a priest and nun about to engage in a romantic kiss, pictures of inmates on
death row
Death row
Death row signifies the place, often a section of a prison, that houses individuals awaiting execution. The term is also used figuratively to describe the state of awaiting execution , even in places where no special facility or separate unit for condemned inmates exists.After individuals are found...
, an electric chair, an advert showing a boy with hair shaped into the devil's horns, three different hearts with 'black', 'white' and 'yellow' written onto them (from March 1996), and a picture of a bloodied t-shirt and pants ridden with bullet holes from a soldier killed in the
Bosnian War
Bosnian War
The Bosnian War or the War in Bosnia and Herzegovina was an international armed conflict that took place in Bosnia and Herzegovina between April 1992 and December 1995. The war involved several sides...
(this one appeared in February 1994). The company's logo served as the only text accompanying the images in most of these advertisements. Most of the advertisements, although not all, saw a plain white background behind the image.
Sport and Sponsorship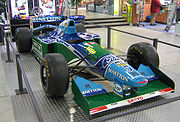 Benetton Group entered
Formula One
Formula One
Formula One, also known as Formula 1 or F1 and referred to officially as the FIA Formula One World Championship, is the highest class of single seater auto racing sanctioned by the Fédération Internationale de l'Automobile . The "formula" designation in the name refers to a set of rules with which...
as a sponsor of
Tyrrell
Tyrrell Racing
The Tyrrell Racing Organisation was an auto racing team and Formula One constructor founded by Ken Tyrrell which started racing in 1958 and started building its own cars in 1970. The team experienced its greatest success in the early 1970s, when it won three drivers' championships and one...
in , then Alfa Romeo in ; this arrangement was extended to both Alfa and
Toleman
Toleman
Toleman Motosport was a Formula One constructor based in the UK. It was active between 1981 and 1985 and attended 70 Grands Prix.-Origins:In the 1970s, businessmen and motorsport fans Ted Toleman and Alex Hawkridge began their involvement in various car racing formulae in the UK. Ted was also noted...
in .
Benetton Formula
Benetton Formula
Benetton Formula Ltd., commonly referred to simply as Benetton, was a Formula One constructor that participated from to . The team was owned by the Benetton family who run a worldwide chain of clothing stores of the same name. In 2000 the team was purchased by Renault, but competed as Benetton for...
Ltd. was formed at the end of 1985 when the Toleman and
Spirit
Spirit (racing team)
Spirit Racing was a racing car constructor and racing team from Britain, who participated in 25 World Championship Formula One Grands Prix between and .Founded in 1981 by Gordon Coppuck and John Wickham, Spirit had a close relationship with Honda...
teams were sold to the Benetton family. The team saw its greatest success under
Flavio Briatore
Flavio Briatore
Flavio Briatore is an Italian businessman. During the 1980s, he was convicted for multiple counts of fraud, receiving two prison sentences, only one of which he served. As a fugitive from Italy, he set up restaurants and then a number of successful Benneton franchises in the Virgin Islands and the...
, who managed the team from to .
Michael Schumacher
Michael Schumacher
Michael Schumacher is a German Formula One racing driver for the Mercedes GP team. Famous for his eleven-year spell with Ferrari, Schumacher is a seven-time World Champion and is widely regarded as the greatest F1 driver of all time...
won his first
Drivers' Championships
with the team in and , and the team won their only
Constructors' title
in 1995. From , the team raced under an Italian licence although it continued to be based, like Toleman, in
Oxfordshire
Oxfordshire
Oxfordshire is a county in the South East region of England, bordering on Warwickshire and Northamptonshire , Buckinghamshire , Berkshire , Wiltshire and Gloucestershire ....
in England. The team was bought by
Renault
Renault
Renault S.A. is a French automaker producing cars, vans, and in the past, autorail vehicles, trucks, tractors, vans and also buses/coaches. Its alliance with Nissan makes it the world's third largest automaker...
for US$120m in and was rebranded
Renault F1
Renault F1
Lotus Renault GP, formerly the Renault F1 Team, is a British Formula One racing team. The Oxfordshire-based team can trace its roots back through the Benetton team of the late 1980s and 1990s to the Toleman team of the early 1980s. Renault had also competed in various forms since , before taking...
.
In 1979, Benetton first sponsored their (then amateur) local rugby team, A.S. Rugby Treviso.
Benetton Rugby
Benetton Rugby Treviso
Benetton Rugby Treviso are an Italian professional rugby union club currently competing in the RaboDirect Pro12 and the Heineken Cup.They are based in Treviso in Veneto, and owned by the Benetton clothing company....
has since become a major force in Italian rugby, with 11 league titles and supplying many players to the national team.
In 1982, the company bought its local basketball team,
Pallacanestro Treviso
Pallacanestro Treviso
Pallacanestro Treviso, more often known by its sponsorship name of Benetton Basket, or Benetton Treviso, is an Italian Serie A League professional basketball club from Treviso, the headquarters city of its longtime owner Benetton Group...
, now commonly known as Benetton Basket. Their Sisley brand sponsors the local volleyball team,
Sisley Volley Treviso
Sisley Volley Treviso
Sisley Volley Belluno is a professional volleyball team based in Belluno, Italy. It is historically known as Sisley Treviso.It plays in Italian Volleyball League.-Achievements:* Italian Volleyball League: 9* Coppa Italia: 4...
.
Criticisms
Benetton has faced criticism from
Mapuche
Mapuche
The Mapuche are a group of indigenous inhabitants of south-central Chile and southwestern Argentina. They constitute a wide-ranging ethnicity composed of various groups who shared a common social, religious and economic structure, as well as a common linguistic heritage. Their influence extended...
organizations, over its purchase of traditional Mapuche lands in
Patagonia
Patagonia
Patagonia is a region located in Argentina and Chile, integrating the southernmost section of the Andes mountains to the southwest towards the Pacific ocean and from the east of the cordillera to the valleys it follows south through Colorado River towards Carmen de Patagones in the Atlantic Ocean...
. The Curiñanco-Nahuelquir family was evicted from their land in 2002 following Benetton's claim to it, but the land was restored in 2007.
See also Benetton's position regarding the Mapuche in Patagonia.
Benetton aroused suspicion when they considered using RFID tracking chips on clothes to monitor inventory. A boycott site alleges the tracking chips "can be read from a distance and used to monitor the people wearing them." Issues of consumer privacy were raised and the plan was shelved.
See also Benetton's position on RFID technology.
PETA
Peta
Peta can refer to:* peta-, an SI prefix denoting a factor of 1015* Peta, Greece, a town in Greece* Peta, the Pāli word for a Preta, or hungry ghost in Buddhism* Peta Wilson, an Australian actress and model* Peta Todd, English glamour model...
launched a boycott campaign against Benetton for buying wool from farmers who practiced
mulesing
Mulesing
Mulesing is a skilled surgical task that involves the removal of strips of wool-bearing skin from around the breech of a sheep to prevent flystrike in regions where it is common....
. Benetton has since agreed to buy nonmulesed wool and has further urged the wool industry to adopt the PETA and Australian Wool Growers Association agreement to end mulesing.
See also Benetton's position regarding the controversy on mulesing between the Australian Wool Industry and PETA.
Sales by Brand
"United Colors of Benetton Adult" represents the 52% (983 millions) of total sales in 2010. Another 30% (591 millions) of sales have been achieved through the "United Colors of Benetton Kid" brand. The third highest percentage of 16% (299 millions) is represented by the "Sisley" brand and the 2% (30 millions) by "Playlife".
Fabrica
Since 1994, the Benetton Group has financed a communication research centre in Treviso. The centre aims to combine culture with industry and offers young people the opportunity for creative growth and multicultural interchange. The centre accepts young people from around the world, and its base was restored and enlarged by
Tadao Ando
Tadao Ando
is a Japanese architect whose approach to architecture was once categorized by Francesco Dal Co as critical regionalism. Ando has led a storied life, working as a truck driver and boxer prior to settling on the profession of architecture, despite never having taken formal training in the field...
.
Young artists and designers are invited to the centre and given a one-year study grant together with professional training and resources. Residents work in the areas of design, visual communication, photography, interaction, video, music and publishing under the guidance of experts.
Controversial advertisement and legal action
In autumn 2011 Benetton started the advertisement campaign featuring pictures of the world leaders kissing each other which they called "'Unhate' campaign".
On November 17, 2011
Vatican
Holy See
The Holy See is the episcopal jurisdiction of the Catholic Church in Rome, in which its Bishop is commonly known as the Pope. It is the preeminent episcopal see of the Catholic Church, forming the central government of the Church. As such, diplomatically, and in other spheres the Holy See acts and...
has announced that it would take legal action against Benetton after the company used a photo purportedly showing
Pope Benedict XVI
Pope Benedict XVI
Benedict XVI is the 265th and current Pope, by virtue of his office of Bishop of Rome, the Sovereign of the Vatican City State and the leader of the Catholic Church as well as the other 22 sui iuris Eastern Catholic Churches in full communion with the Holy See...
kissing Ahmed Mohamed el Tayeb, the imam of the Al Azhar mosque in
Egypt
Egypt
Egypt , officially the Arab Republic of Egypt, Arabic: , is a country mainly in North Africa, with the Sinai Peninsula forming a land bridge in Southwest Asia. Egypt is thus a transcontinental country, and a major power in Africa, the Mediterranean Basin, the Middle East and the Muslim world...
. The image offended "not only the dignity of the Pope and the Catholic Church, but also the sensibilities of believers." In response, Benetton pulled the photograph and said "sorry that the use of the image had so hurt the sensibilities of the faithful ... The point of this campaign was solely to battle the culture of hate in all its forms."
Benetton also stated that the advertisement using kissing world leaders was inspired by the historic photo of leaders of
Soviet Union
Soviet Union
The Soviet Union , officially the Union of Soviet Socialist Republics , was a constitutionally socialist state that existed in Eurasia between 1922 and 1991....
and
German Democratic Republic
German Democratic Republic
The German Democratic Republic , informally called East Germany by West Germany and other countries, was a socialist state established in 1949 in the Soviet zone of occupied Germany, including East Berlin of the Allied-occupied capital city...
Leonid Brezhnev
Leonid Brezhnev
Leonid Ilyich Brezhnev – 10 November 1982) was the General Secretary of the Central Committee of the Communist Party of the Soviet Union , presiding over the country from 1964 until his death in 1982. His eighteen-year term as General Secretary was second only to that of Joseph Stalin in...
and
Erich Honecker
Erich Honecker
Erich Honecker was a German communist politician who led the German Democratic Republic as General Secretary of the Socialist Unity Party from 1971 until 1989, serving as Head of State as well from Willi Stoph's relinquishment of that post in 1976....
kissing.
External links